What do you believe to be your core strengths that set you apart from regional competitors?
We would start by outlining our precision mold manufacturing, which is the core foundation of our business itself, and the core technology that we possess. Those precision molds themselves are the foundation of any monozukuri out there, and in many ways, we contribute to the globally known Japanese quality. Customers use our high-precision molds in their production, resulting in high-quality products, which together escalate the quality of materials and products released. We believe that our number one outstanding point and strength is the ability to create such high-quality and precise molds that serve as a tool in assisting Japanese firms in producing the highest quality products possible.
Of course, we aren't just a precision mold manufacturing company and we have so many tools in our arsenal. The list of our precision expertise is endless, but inevitably that all lead back to the core foundation of molds. All these technologies such as plastic work treatment and in-house CAD/CAM design can somewhat be described as the company's pillars alongside precision mold manufacturing.
A new challenge facing SMEs like yourself is how you will preserve expertise and pass it on to the next generation, especially for a company like yours in a rural area. It can be really difficult to recruit young people who are interested in manufacturing to replace aging engineers who have retired. Can you tell us how you are facing some of the challenges associated with Japan's demographic line?
It is good you mentioned this problem, and being a local company on the outskirts of Nagano prefecture we definitely see the extent of this issue. The big point here is the lack of labor force; enough that it is difficult to sustain proper business. That itself is very painful for any company which is located away from bigger metropolitan areas.
The overall problem locally is coming from the birthrate which is declining year-to-year, and that means that it is becoming more problematic to attract new graduates from schools. This year we have successfully recruited 13 people during the springtime recruitment period. Although we are now at capacity it is not enough because you also have to factor in the quality of human resources. It is not enough to just recruit people; you also have to have skilled engineers to pass on knowledge to the new generation.
Technology inheritance is inevitably a very difficult task, especially when we talk about die manufacturing. The technology is considered historically conventional, and the accumulated knowledge of engineers on how to produce precision dies has been kept in the minds of those engineers or even in their muscle memory. It is very hard to put that in words and relay it to the next generation.
We try to utilize more digital tools these days to expedite this process. DX and data accumulation can help new workers to see how manufacturing processes work and to see performance and accuracy written as numbers and statistics. It assists in many ways, but of course, it is not enough to compensate for everything that has been accomplished by skilled engineers and personnel. At this point in time, we say that these tools are complementary and help to promote the best production practices. DX itself is ever-evolving and new technologies are emerging almost daily. It is very important to keep your eyes on what else can be introduced to existing production lines. Embedding these technologies is also a big part of this process and it is crucial to have personnel that can handle these technologies accurately and get the best use out of the production lines.
One important aspect of your business that you've alluded to briefly was TASCAM, an in-house developed design system for automatic mold processing and dies. We understand that the main benefit of TASCAM is that it can improve the speed, quality, and cost efficiency of these kinds of operations, which is helpful in terms of prototyping. This is especially relevant for many Japanese manufacturers who are now embracing high-mix-low-volume production styles to stay competitive globally. Could you give us a brief introduction to TASCAM and its development history? How are you integrating these kinds of new technologies into your manufacturing operations?
TASCAM was developed with some affiliate companies and not solely developed by Taiyo. We came to the understanding that it was necessary because back in the 1980s there weren't many software developers, however, the necessity was high back then. We started using robotics in our production but that was very costly and not very efficient. We felt that we needed to introduce a system that was more efficient and faster while escalating our quality and technology. This resulted in the development of TASCAM with affiliated companies.
By having this system integrated into our production lines we have observed a 30% increase in overall efficiency and increased visibility because CAD is a 3D environment. This is very important for any engineer out there to see what the end result will look like. When you talk about cost-cutting you also have to talk about speed, quality, and cost efficiency, all of which can be improved with streamlined automated prototyping. This method is extremely fast and is vital in allowing our customers a level of transparency in what is going on.
Mold manufacturing itself is a conventional method of producing standardized parts, and before the final product prototype is produced TASCAM picks the appropriate parts in terms of quality. This all comes before the actual production stage, and some very important steps before the real manufacturing starts.
You take the pursuit of cutting-edge technology very seriously here at your Technology Center TERU. We read extensively before this interview about how you account for any perceivable condition or variation; whether that is from the temperature, humidity, or any other customer request. Your company strives to ensure the exact precise dimensions and specificity for the molds that you manufacture. Could you give us an introduction to the Technology Center TERU and your current R&D focus?
As we mentioned, we value the core service that we have introduced to our customers, that being precision mold manufacturing. When we talk about these techniques we are referring to cast iron or die-cast molding, and therefore it is very important to think about the environment and sustainability. That was one of the first reasons we came up with this technological center.
Underground we are capable of preserving the perfect conditions such as temperature control to an accuracy of plus or minus 0.3 degrees. The next control we have is over vibrations, and we have now almost reached the level of 0% during our die manufacturing. This is another aspect that came about purely because of our underground facilities. Last but not least it is also important to mention the product itself, and as you probably know when metal is exposed to sunlight or temperature drops it will change in size. All of the precise technology results in good levels of commitment to production and serves the best needs of the customers. This facility became a triggering point to that effect, and that was important in the decision to set up the technology center.
Your last part of your question was about new challenges that we are seeing, and again these challenges are coming up from our foundation of production and the production floor itself. We have set up the base and we can now say that we are capable of producing high-precision molds for manufacturing, thus serving many needs for different industries. In this way we are open to the many possibilities of precision die manufacturing, being capable of introducing precision die manufacturing to many industries out there.
On your website, it mentions your ability to be precise within 1 micron, which is an incredible achievement. This has allowed you to be a trusted partner and cater to a lot of different sectors that are very quality-sensitive such as the automotive sector, as well as electronics and medical devices. All of these are areas where safety is at the forefront and precision is necessary. Is there a particular sector or type of client that you are looking to appeal more to or that you've identified for further market growth?
That preciseness of 1 micron you mentioned is very important, especially when you talk about industries like automotive and electronics parts manufacturing. Our sales right now are 60% automotive, with the other 40% roughly going to electronics parts manufacturing. The automotive industry as a whole right now is experiencing tremendous change with electrification and EV production. Many new kinds of parts need to be introduced here as the engine itself is being replaced by motors and batteries. Along with that comes related parts such as sensors and there is a huge demand for these components. We are looking to challenge ourselves and go to this area more in-depth to introduce precision die as well as our technologies and techniques to automotive component manufacturing.
---
---
The second big part of our business is electronics manufacturing, which in many ways is related to the electrification of cars. Essentially cars are now becoming computers on wheels and we see a demand in this sector as well as smart device components. One example might be in camera manufacturing and this is another aim for the company.
We are curious to know more about the role that collaboration or partnerships play in your development process. Are you interested in collaborating with international companies?
I would say that Taiyo is open to cooperation with companies out there, especially companies that possess technologies that we don't. That could come in the form of deeper knowledge of plastic manufacturing or cutting techniques, which are things that we don't have. This can complement the strength we have and help to promote our business for expansions both domestically and overseas. Customer requests continue to increase in sophistication and complexity, and while we may be able to design something on paper there may be times when we struggle to realize that design without the assistance of an affiliated company. In those cases, it would be important to group up with related companies to achieve mutual goals.
In 2011 you first went to Thailand, where you now maintain operations. What is next in terms of your international development?
Right now we have ambitions but we don't have the proper tools. SMEs in general are very dependent on customers for expansion, basically bringing the company along with them and we are no different in this regard. At some point in the past, we wanted to go to Mexico by ourselves because there is a lot of automotive manufacturing there and right now it is still booming. Unfortunately, we gave up that idea. To answer your question; I think if the customer would like us to follow them to a location for foreign expansion then we will always be willing to serve the needs of the customer and do so. To do so by ourselves is very problematic and without good reason we will not go to a location. We need existing customers and support from local companies to consider a location for future expansion. All things need to be considered carefully before making that kind of decision.
Can you tell us in a little more detail about how your technology can help your clients achieve a more sustainable manufacturing process?
We have many activities in Taiyo that fall under the umbrella of SDGs as well as serving the collective goal of carbon neutrality. Region revitalization is also something that the company takes very seriously and we pride ourselves on our contributions to the Lake Suwa area. First of all, we are located in a very beautiful natural habitat, and Lake Suwa is known worldwide for its beauty. The scrap material we use throughout the manufacture of precision die and press operation is itself 100% recyclable and we use a designated company to pick up the scrap for us. That scrap is then reused for one-to-one production with no by-product left over. That by itself already goes a long way to describing how environmentally friendly we are, but there are other activities. One such activity is air purification; the company makes efforts to lessen the exhaust smoke that comes from our factory and we also make significant efforts to reduce energy consumption. Most of the machinery run here is run by electricity, so making sure that the energy used does not exceed a conventional amount is part of the overall process of contributing to the environment.
Education is another important factor, and we go to local schools and teach students there about the manufacturing process we use as well as precision die, with the hope of inspiring young minds and perhaps sparking an interest that may one day result in excellent new employees for the company. All of these activities at the end of the day are necessary to continue both our operations into the future and continue the revitalization of Nagano prefecture as a whole.
---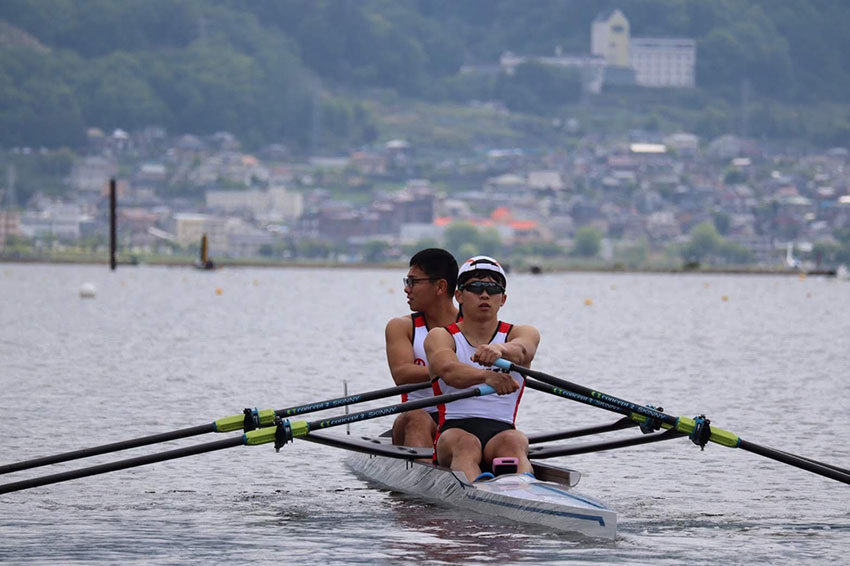 Taiyo rowing team contributing to the revitalization around Lake Suwa area participated in the national tournament
---
Imagine that we come back six years from now and have this interview all over again. What goals or dreams would you like to have achieved by the time we come back for that new interview?
That is a hard question and it is hard for me to give you just one goal or aim for the next 6 years. Something that I must mention is the fact that we are a local company and for that reason, I think it is important for us to remember who and where we are. Most of our employees are local recruits and most of our facilities are located here in Nagano, so we need to approach the local community and make contributions to the sustainability of the local region. Obviously, as a company, there are goals for profitability and appeasing the stakeholders, but past those goals, sustainable contributions to the local environment are the only way I feel the company can continue to grow and flourish.