Can you please share your manufacturing philosophy? What do you believe to be the strengths of AIDA that have allowed you to maintain such a dominant market share?
Our strengths can be divided into three areas. The first is our product development capabilities. The second is our advanced production technologies, and the third is that we have sufficient capital to support them. They are our three main strengths. When it comes to our own production sites, we operate near our customers. This allows us to meet our customers' needs and demands, and develop according to their needs.
There are different types of presses. We use the same mold and the same die; however, our presses are applied in different sectors. We can adjust the tolerance and shape of the press, which allows us to develop and provide optimal solutions for our customers. When it comes to press machines, feeding machines and the other automatic machines, everything is different depending on the customer and the area they will be applied in. For example, the auto sector and motor precision sector are very different. Therefore, our machines and products are all custom made. We always do our best to the meet specific needs of each client.
Another strength of our company is that we have a very high insourcing rate. Our insourcing rate is at 75% for large components, which is high enough, especially if you compared with our competitors. All the necessary components are manufactured internally, so we can better manage the costs, quality and delivery time. We strive for continuous improvement when it comes to our machines. After designing each machine, we apply improvements quickly, as speed is very important. Those are our strengths.
We know some fabless companies are growing in other sectors. However, we are the total opposite. The potential risk in our business model is, if the demand is low, we may not generate enough revenue to absorb the fixed costs, including depreciation expenses.
---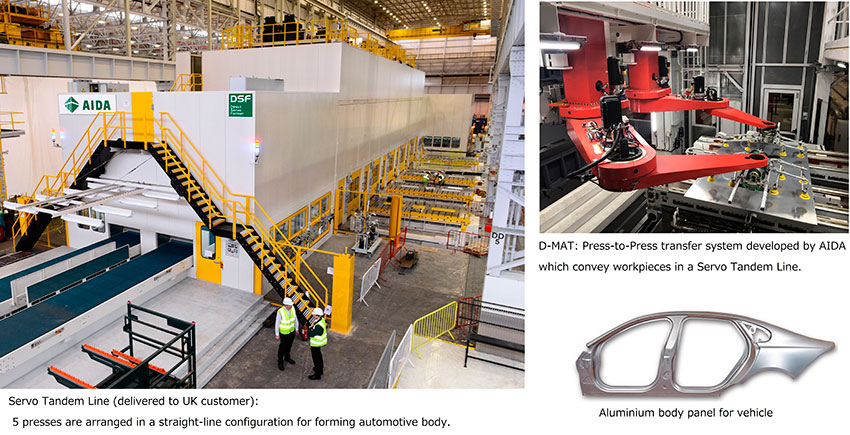 ---
You company has set itself up well as an indispensable partner for manufacturers across Japan. One of the main trends or impacts many companies are now feeling is trying to make their production process more sustainable. How can your machines help your clients achieve energy saving?
Recently, demand for high-tensile steel has been increasing in order to lighten the body of automobiles, however, this high-tensile steel is too hard for traditional mechanical stamping to prevent spring-back. Therefore, most of our customers use "hot stamping" in order to prevent the spring-back. They put the steel into the furnace, which makes the steel very soft. It is then transferred to the hydraulic press system. However, a lot of CO2 is generated from the furnace. We do not provide that kind of system. Rather, we have been pursuing a "cold stamping" method by utilizing our servo press. Slide motion control is enhanced by our servo motor, our original backpressure forming system and die technology which prevents spring-back of the materials without heating. It will help reducing CO2 in client manufacturing site.
Our UL Series of precision forming press machines also reduce energy consumption in machining process of clients.
---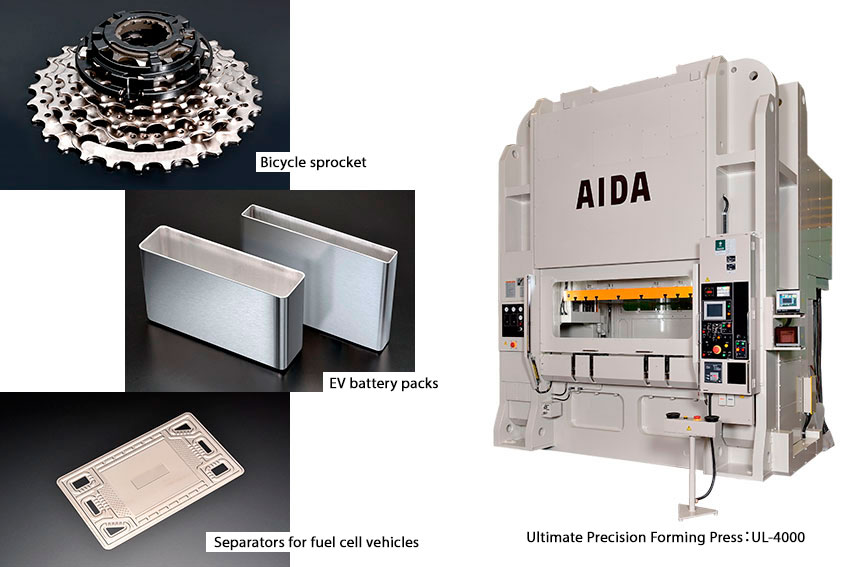 ---
We have heard great things about your Ultimate Precision Forming Press UL Series, which as we understand is an extremely accurate press. Can you tell us more about the UL Series and its development history?
This is a video that explains the structure of the UL Series and how unique it is. A conventional vertical press is taller as the capacity and the slide area increases, resulting in compromised precision. UL is more compact than conventional presses, and this compactness increases its precision. We have simplified the structure by eliminating the connecting rod that drives the slide moving up and down and making the point conveying the force into a single slide. Such structuring minimizes thermal deformation as well as maximizing accuracy of the slide motion. UL is one of our best products. We developed it around twenty years ago. It is a very high precision machine with a highly rigid frame.
Due to the preciseness, our clients can reduce machining or grinding processes after forming by UL, resulting in energy savings and reduction of material loss. Our UL series are used for forming components such as sprockets for bicycles, battery packs, separators, motorized bicycles and other automotive components.
Another great product of ours is the MSP. The demand for MSP is increasing rapidly because it is used for producing drive motors of EVs. It is a totally different design from UL and the formed object is also different. This machine is suitable for the lamination processing, which is used for motor cores, etc., which creates a single product in multiple processes. By conveying the force to the slide thorough multiple points, deflection of the slide is minimized. The name MSP stands for Multi Suspension Press. Motor cores for EVs are made by laminating about 300 silicon steel sheets with a thickness of 0.25 mm. A 3700mm area slide moves up and down at a high speed of 360 times per minute at maximum rate, and several tiny dowels are formed on the surface of each thin plate while punching. During lamination, the dowels (protrusions and dents) are aligned and caulked to join the thin plates together to complete the core block. Punching of 0.25mm thin plate, dowel forming, laminating and caulking are performed simultaneously at high speed. You can easily imagine extremely high accuracy is required for the press machine.
You mentioned earlier that the automotive sector is one of your main clients, with the MSP being described as an "ally of EV". Can you tell us more about the impact of the automotive sector's evolution on your company?
It has had a big impact on our business. As you mentioned, there are big changes. For example, there will be no engine, no transmission, no exhaust pipe, or no steering wheel suspension. Automobiles are undergoing many changes. They will perhaps lose 30% of the components. On top of that, they are now thinking about using different materials to make the cars more lightweight. Therefore, we will lose a lot of business. Altogether around 40 to 45% of components will be lost. It is very serious issue.
On the other hand, demand for drive motors and batteries have been increasing as productions of EV increases. The change is bringing us business chance also, such as MSP and UL.
When it comes to the MSP, we change the structure of the machine depending on its purpose. In order to achieve the highest accuracy, we have made various changes and improvements. This machine has the best reputation in the world. Some of our European customers have said that the MSP is the best. The only drawback is that the MSP is expensive.
---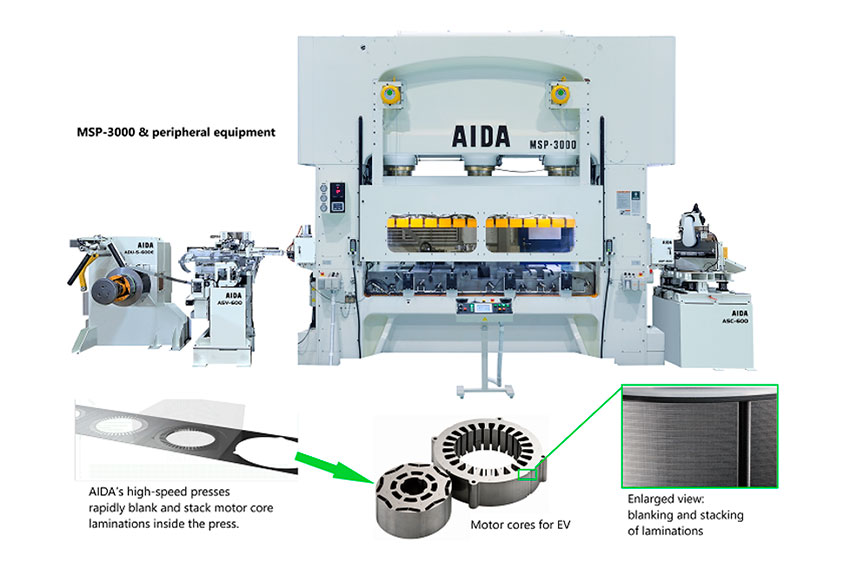 high-speed precision press MSP-3000 & peripheral equipment
---
The pressing can be done with a margin of 0.25 millimetres. There are three types of methods we can use. The first is the caulking method I explained just now. The stamping speed is the fastest, accordingly the productivity is optimal in this method. The second one is a glue method that we use, and the third one is a laser method. If the material is thinner than 0.25 millimetres then the laser method is recommended. The first two are commonly used in EV motor manufacturing. The pressing is done at high speeds, so it requires mold and die technology. Of course, it also requires high precision pressing. We came up with this design after discussions with many of our customers. It operates at high speeds to reduce the unit cost per stamping. When we use the glue type, a gluing process is added. The slide area of the press machine is bigger and the stamping speed is slower in this case due to the gluing process, which means that the unit cost per stamp is higher. The die is also bigger and heavier, which is another factor to prevent the quick slide motion.
The machine has a shaft and there are parts that may be extended due to the heat. In order to avoid this extension of the material, we add lubricant which helps us to control the machine. The machine height also needs to be shorter. All of these technologies are included in the design of the machine. No matter which method you choose, caulking, gluing or laser, there are advantages and disadvantages. AIDA proposes machine specifications that match the users' needs.
Unlike automobile parts, which are mass-produced and standardized, it is difficult to standardize press machine parts. Depending on the slide area, the number of points will change, and so will the parts. Even with the same MSP, the specifications and the parts differ depending on the ability and the slide area. Other manufacturers focus on standardizing parts which means they cannot accommodate various needs of clients.
We manufacture standardized presses also. Our Malaysian subsidiary, that is 100% owned by us, focuses on manufacturing small, standardized presses. Their parts and manufacturing process are also standardized; accordingly, the price of these presses is low, and they sell to the US, Europe and Asia.
At the beginning, you spoke about development as being one of the three main strengths of your company, alongside production and capital. I have noticed a lot of collaboration taking place as part of your development process both internally, but also externally with customers to really make sure that you are meeting their exact needs. It has almost become a problem in one sense as you said, because it is hard to standardize, when every machine is tailored. Could you tell us a little more about the importance of collaboration as part of your development process? Are you looking for new development partners?
We work closely with other companies when we enter into new fields or markets. For instance, when we started building servo lines, we cooperated with a Japanese car manufacturer, and they helped us a lot. A UK car manufacturer also helped us and we learned from them about the European production system, which is completely different form Japanese ones. We do cooperate with different customers and change product concepts or specifications depending on the country or the region.
You mentioned your foreign customers. In recent years there have been logistics disruptions related to the Covid pandemic as well as container availability and rising gas prices. The problem has not been the manufacturing of the goods. Rather it has been the shipping and delivery. Can you tell us more about the impact that Covid has had on your operations and what your strategy has been to overcome some of these disruptions?
We were very much affected by logistics disruptions over recent years. We are facing difficulties to acquire many electrical components from suppliers on a global basis. There were many other components that we cannot get on time. This led to delays in the delivery of our machines. We have still been getting many orders. However, revenue from some of our most expensive machines, such as the MSP, has been delayed due to lockdowns in Shanghai. We still have risk that we cannot get our turnover on time.
You mentioned that part of that challenge has been sourcing electronic components for your production process. We have seen a trend from many Japanese manufacturers in finding new suppliers, or diversifying their supply chain as a means to more productively source components. This often means moving away from China to suppliers in Southeast Asia or elsewhere. Has that been part of your strategy as well in terms of supply chain management?
Yes, we are trying to find different suppliers. However, this has not been easy. Of course, we also have obligations with the people who we have always worked with. Therefore, it has been a little difficult. We are also asking our overseas operations' people to supply their components to us as well, if they are not using them. We are trying to source components from wherever we can, and as conveniently as we can.
What is next for your international business? What is your current international development strategy?
We have offices in 40 countries, and we have manufacturing operations in five countries. They are in the areas where the biggest markets are located. They are Japan, Europe, the US, China and Malaysia.
We have engineers at our manufacturing bases that have discussions with the customers on how to best design the press machines. We have many machines at all of our plants. While our Malaysian subsidiary are manufacturing small standardized presses, Europe and the US are manufacturing mid-to-large size customized presses .
Our competitors in emerging countries are also gaining strength, and competition is becoming more intense. At the same time, the environment surrounding the automobile industry is changing rapidly, and we do not expect the press business to grow as much as it has in the past. We will change our international strategy by watching the situation carefully.
You mentioned earlier that you do not manufacture many standardized machines. Rather you focus on custom made machines. Are you currently looking for new customers, and if yes, which specific sector do you believe you can get the most customers for your company?
The automotive sector is the area that we are most focused on, as the EV market is growing. The second sector we are focusing on is the medical health equipment sector. We also see opportunities in the food sector. However, they are reducing the use of plastics and instead using recycled plastic, or better materials.
Our strength is that we are always looking for engineers and technicians worldwide. If we have a manufacturing base with engineers, we can come up with many different ideas.
Currently 40% of your sales are in Japan, with the rest coming from overseas. You have a very balanced turnover in terms of your overseas and domestic sales. What new country or geographic region would you like to emphasise your presence in?
China is a very large market. However, we have a lot of issues to solve in case we expand operations there. The region we are looking at now is North America, and Mexico in particular. We also want to expand our operations in Europe as it is a very stable market. However, our press machines are expensive, and therefore, we have to find the customers with secure financial capabilities. We have many issues to overcome.
This year your company is celebrating its 105th year anniversary. Imagine that we come back five years from now for your 110th year anniversary, and have this interview all over again. What would you like to tell us? What are your dreams for this company and what goals would you like to have accomplished by then?
I think that 105 years sounds nice. Our company has a very long history. However, we have to be careful that the dust does not accumulate. In five years, I hope that we will be acting in a different area. Of course, we will still be producing press machines, but I want us to expand to other areas. When you come back the next time, I would like to tell you about what we will have done in those new areas.