Can you tell us in more detail about Kyowa Cardboard's monozukuri? What are your core strengths or core competencies that set you apart from regional manufacturing competitors in places such as China, Korea, or Southeast Asia?
I would first like to talk about the particularities of this area, and the reason why the paper and pulp industry has flourished here. This area encompasses the industry due to the abundance of rivers and access to water here. First, there is the upper-stream paper mill industry. This is followed by the corrugated board industry and the processing of paper. After this comes the consumption of said paper. The flow of production, processing and consumption are all encompassed in this one area.
Later, Toyota started automotive production here in the Chubu area. That led to an increase in Tier 1, Tier 2, and Tier 3 companies linked to the automotive industry that used cardboard boxes. This led to our company having more clients. Regardless of the size of the other companies, whether they are SMEs or large companies, we probably have the largest industry share out of all the companies that are engaged with corrugated cardboard in the Chubu area. Thanks to yearly production volume increases, the industry has become quite competitive with many companies now engaged in the industry. However, in comparison with our competitors in other areas, what is different about our area is that we need to meet Toyota's just-in-time strategy. The lots are also much smaller which makes it easier to meet the requirements.
In overseas factories, they produce large lots of products for a small number of people in a very efficient way. However, in the Chubu area, we produce small lots of multiple products with different production volumes. That is where our profit comes from. Compared with overseas production, the characteristics of production here in Japan are different. While it is difficult to achieve, we aim to produce each lot without any failures.
The corrugated cardboard industry is a facility-led industry. If you have money, you can buy the same machines regardless of the size of your company. What is needed is an image testing function that is attached to the processing machines. This means that even if there is a failure, we can stop it internally. This leads to trust and credibility, and that is what we are pursuing. Therefore, when it comes to our capital expenditure (CapEx), we actively focus on improving our facilities. We are also focused on development as well.
As I mentioned, it is not good to leak failures to the outside, as there are many cardboard-making companies. However, there are not very many cardboard-making companies that have logistics and transportation companies in their group. The larger ones such as Tomoku and Rengo have logistics companies under their umbrella.
When it comes to SMEs, usually transportation and logistics are outsourced to other companies. We on the other hand have our transportation and logistics divisions, and there are many merits to this. For example, our drivers also check the quality of the cardboard. Therefore, we have a system in which many people can check the quality of our products and prevent failures from being leaked to the outside.
When it comes to cardboard, we make outside boxes. However, when our customers make requests, we also make buffers and separators for the inside of the box, which come together with the outside box. Usually, cardboard companies outsource the production of buffers and separators. In our case, our group companies produce these. Therefore, we have a consistent production system. The ratio of our company's outsourcing is as small as 10%.
What has been the impact of Japan's aging population and birth rate decline on your company?
The population in Japan is decreasing, which means that consumption will decrease. Alongside this trend, the labor force will also decrease. However, at our company where the buffers and separators are produced, you can start working there from the age of 60. There is no retirement age. It is up to the worker to decide when they want to give up their work. The people who start work at the age of 60 are all experienced and possess knowledge of cardboard. There is no need for training. That is how we ameliorate the impact of the labor shortage. Other companies are having problems with labor shortages. However, we have been able to offset the impact.
The other side of this issue has been the shrinking domestic market in Japan. This has been the inspiration for many SMEs to look overseas and find new clients or partners in the overseas market. What has been your experience in facing this part of the challenge?
Sadly, the price of cardboard means that it cannot be exported from anywhere. For example, China is the world's production center. However, even in China, there is no cardboard imported independently. There is always something inside.
About ten years ago, we entered a joint venture business with a local company in Thailand named Marubun. It is there that we make packages for export from Thailand to other Southeast Asian countries. However, we only provide our design and technologies to the local Thai manufacturer, and they produce under our instructions. We then purchase their products and export them.
Initially, it took us six months to find a local partner which could produce high-quality products. Our people carried out their research. After that, we only communicated with them remotely. We received product information and we conducted our design processes. We then sent this data to Thailand. Our local staff then held negotiations and discussions with the local people there. As a result, our Japanese employees did not need to go there.
Are all of your customers from Japanese the market?
Yes, they are. For example, the medical testing equipment manufacturer Sysmex export 80% of its sales. They use our packaging for the export of their products. However, it is not directly from us.
We know that your company is an FSC-accredited company and that you have a very strong recycling scheme for your cardboard materials. Could you tell us a little more about your recycling process and scheme, and what makes you a great choice to supply packaging material for a circular economy?
Domestically, the ratio of the recycling of cardboard is 95%. That means that there is almost no trash. In our case, the sheets that are produced here are shredded in one place and then purchased by paper mill companies as raw materials. Therefore, no trash is generated.
When it comes to our SDGs, cardboard is an excellent player, and there will be many possibilities going forward. Our expectations are very high when it comes to proposing the replacement of other materials with cardboard, and we have been very active with our proposals since last year. Our design and sales divisions work together to make proposals to users to replace other materials with cardboard.
A very good example of what you are talking about is the Dampare 300, which is a low-weight pallet. Could you tell us more about this product? What inspired you to come up with this product, and how has it been received? What has been the feedback from your clients for this product?
---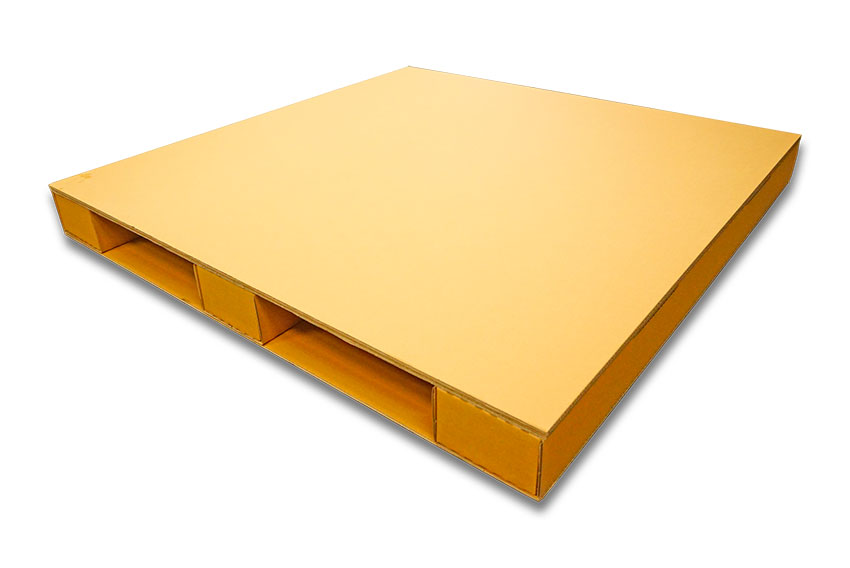 Dampare 300
---
First of all, the re-collection of plastic pallets is very difficult. We also faced the 2024 challenge, which was the government's policy to limit the working hours of drivers in the logistics industry. We needed to follow this government policy. Therefore, we worked together with our customers to improve our logistics operations. In the case of cardboard, the drivers manually load and unload our products. We wanted to use a pallet to make this more efficient. From the point of our SDGs, we could not use plastic pallets. Also, as I mentioned the re-collection of plastic pallets is difficult and expensive. That was why we came up with this idea.
The use of cardboard pallets has a long history in the field of exports to Western markets. They used to use wooden pallets. However, there were issues related to pests, and smoking procedures were necessary for the sake of exports. There was a lot of work required. Therefore, they were replaced by cardboard pallets. However, domestically, many plastic pallets are still being used. Currently, around 90% of pallets in Japan are plastic.
We want to increase the usage of cardboard pallets to 10% or even 5% of the overall number of pallets being used. From the point of SDGs, durability may be shorter. However, we would like to replace the use of plastic with cardboard, and we are currently conducting tests.
What is the current focus of your R&D? Are there any new projects or products that you are currently developing that you would like to share with a global audience?
---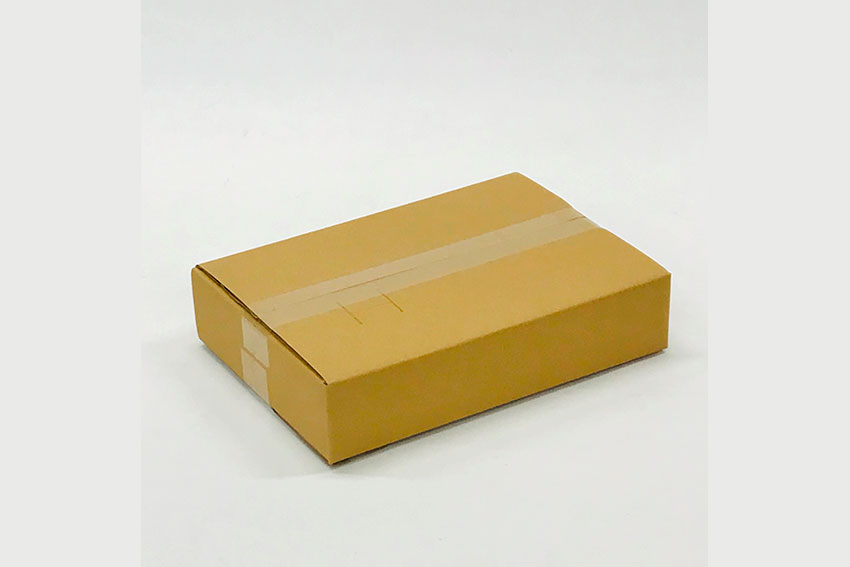 Raksul Box
---
The focus of our current R&D projects is SDGs, and the replacement of other products with cardboard. We are actively working on this together with our salespeople, who go to various companies with our proposals. Our group companies are currently carrying out tests. When you want to switch from other materials to cardboard, you need to conduct testing and inspections, such as vibration tests. To do so, we have testing equipment, which may also become a business for us in the future. That is what we have in our sights in terms of R&D.
Are you interested in product development or cocreation with a foreign company?
In the future, I think the need for such collaboration will grow. There will be many opportunities. What I want to do is to introduce our success stories from the domestic Japanese market to the overseas markets, and see how successful our products can be. The method that I mentioned earlier will have the lowest risk when bringing our successful Japanese cases overseas. I believe that the requirements in the Japanese market are very high. When I look at the Thai market, for example, the requirements are completely different. Therefore, I believe that if we export our successful Japanese cases, they will be successful overseas too. I think this will be the case in Southeast Asia. This will allow us to form relationships with local companies there in the future.
When it comes to overseas development, Oji Paper and Rengo are accelerating their entrance into overseas markets. We are lagging slightly, and therefore, it will be difficult to catch up to them even if we set up factories there and start producing. Our design ability is how we can compete.
Earlier you spoke about your joint venture with Marubun in Thailand. You send the design and oversee the implementation, while Marubun does the production. Would you be interested in a new collaboration like that with a foreign maker??
Our main customers are in the automotive industry. Right now, they are very active in Thailand. That is why we established our partnership there. However, the major players in the automotive do move, and some are currently looking at India as their next destination. Therefore, if our customers say that they want us in India, then we will need to consider cooperating with local companies there. What is good about recent technology is that thanks to the development of the internet, we do not have to go there, as we can send and receive data regardless of the time differences.
Going forward, I think that the leaders of companies should be able to speak English. Therefore, when I considered my successor, I believed that that person should be a good English speaker. That person is studying English in Singapore right now.
Imagine that we come back four years from now for your company's 65th anniversary, and have this interview all over again. What are your dreams for this company, and what goals would you like to have accomplished by then?
I would describe my dream image of this company for the future as being a packaging, logistics, and consulting company that can provide consistent total service solutions to our clients that include all the functions related to logistics. For example, we want to be able to provide materials that can be used to produce things. When it comes to our warehouses, we do not just want them to be used for keeping the products of our customers. Rather, we want to be able to receive the data of the order and shipment from our customers and take care of the entire process. Of course, we can also provide packaging for their products. In this way, we can become a total service solution provider. That is my goal for the next five years.