First, please introduce Kowa Co. Also, what are the strengths of Kowa as regional competition intensifies?
First, before I introduce my company, I must tell you about a major Japanese automobile manufacturer that has a direct relationship with Kowa. This company was founded in 1926 under a different name than it has today with the invention of a series of manual and mechanical looms. Kowa brushes were used on this first generation of looms. Originally, this type of machine had to run for eight hours continuously, and after eight hours, impurities and yarn had to be removed.
Kowa introduced a brush that could automate this process of removing impurities and yarn. This not only simplified the process but also enabled the loom to operate continuously 24 hours a day, 365 days a year, contributing greatly to increased productivity. This was the first brush that realized maintenance-free technology, this is our know-how and strength.
Kowa offers a full range of brushes. A wide variety of industrial brushes can meet all cleaning and deburring needs. Examples include roll brushes for cleaning steel plates on car bodies and large brushes for road sweepers that sweep the streets. Also, not surprisingly, brushes are used to stir eggs when making mayonnaise, we also provide such brushes for food. This emulsification process is very delicate and requires highly precise brushes.
Deburring is the process of removing small irregularities called burrs from processed metal products. Currently, we have 49 types of brushes for deburring.
Roll products are used to remove oil and dirt in the cleaning process of steel plates of car bodies. In the process of pressing flat steel plates into shape, uneven surfaces or oil stains left on the surface will result in defects. The roll brush removes foreign matter by cleaning, and the non-woven fabric roll removes excess oil, leaving only the minimum uniform oil film necessary to maintain quality. Our roll products are used as an integral part of these cleaning processes.
The cleaning of these steel sheets affects not only the pressing process but also the coating process. Ensuring the removal of foreign substances during the cleaning process helps maintain the quality of the coating. At least Japanese automobile manufacturer has this cleaning process in place before painting.
Our products are not limited to automobiles and the automotive industry. In recent years, we have had particular success with our cleaning brushes for the separator film of lithium-ion batteries. This separates the anode and the cathode preventing short circuits. The latest separator technology also contributes to the thermal stability and safety of batteries, a high-precision cleaning process is required.
---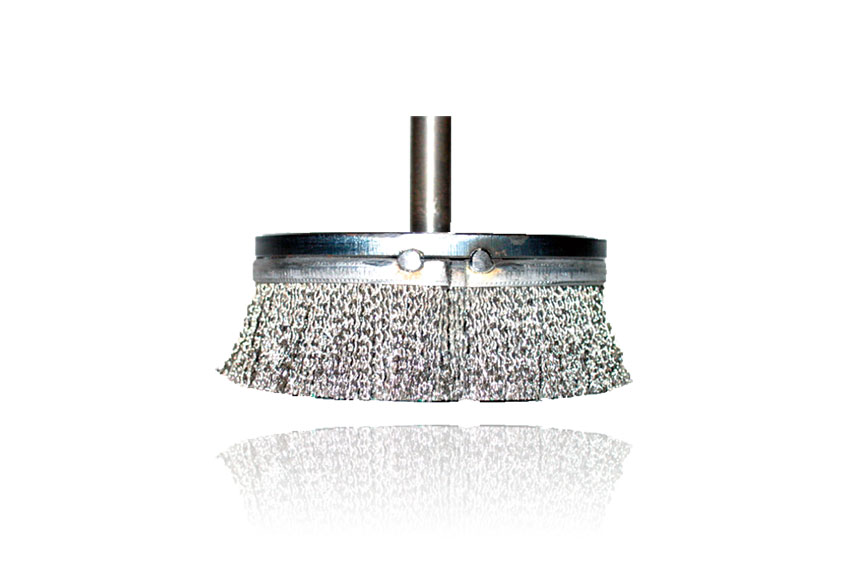 ---
You have many patented technologies, one of which is the "triple spiral brush" technology that reduces brush marks during cleaning. How did you develop this technology and where did the idea come from?
The triple spiral brush consists of three-channel brushes wrapped around a shaft in a triple-helix configuration, as opposed to the usual one-channel brush wrapped around a shaft in a helical configuration for roll brushes. This reduces brush marks that occur between brushes when cleaning steel plates.
This structure is
what we got through repeated trial and error in response to customer requests for improvement of brush marks.
There are few general-purpose products, so you need to manufacture products for each customer. Does your company deal with overseas automakers as well, or are your clients exclusively Japanese automakers?
Currently, most of our clients are domestic manufacturers, but we also deliver many of our products to overseas manufacturing sites, mainly in China and the United States. In recent years, we have seen a lot of lithium-ion battery production shift to China and Taiwan. We hope to further expand our sales channels in the future.
Kowa is developing brush products not only for automobiles but also for home appliances. Could you please tell us about the products in the home appliance division?
The most typical brush for home appliances is the rotating brush for vacuum cleaner heads.
Kowa has been developing and manufacturing rotary brushes since vacuum cleaners first became popular in Japan more than 50 years ago, and we have been making products that adapt to changing needs as vacuum cleaners evolve and the living environment changes. One of the most significant breakthroughs for Kowa was the development of the spiral-shaped aluminum rotor in the 1980s. This successful development enabled us to establish performance, strength, and productivity that could not be achieved with conventional rotary brushes, and we obtained a patent for the core of our know-how, which gave us an edge in the industry.
Even today, when lightweight stick cleaners are the mainstream and higher quality and precision are demanded, we continue to manufacture and provide brushes and heads with solid technical capabilities.
We developed and offered a unit that automatically cleans air conditioner filters using a brush. This unit not only dramatically reduces the frequency of filter maintenance but also saves energy. In other words, the constant cleaning of debris that obstructs the filter's passage increases air conditioning performance, decreases power consumption, and saves on electricity costs. This product not only reduces the burden on the end-user but also reduces environmental impact.
We have developed a mechanism that automatically cleans lint and other debris from the drying filter, which is used not only by air conditioner manufacturers but also by washing machines.
You developed your own brand, tanQest. Please tell us more about this brand.
As you can see, Kowa's brushes are used in a wide range of applications, not only for industrial use but also for home use. As you can see, we have been mainly engaged in the BtoB business, in which we propose and manufacture elements and structures to be installed in final products and deliver them to manufacturers.
At the same time, we have accumulated technologies and experience in brushes, vacuum cleaners, cleaning, and washing. We launched our own brand, tanQest, in the hope of applying this accumulated technology directly to end-user products.
Why is the tanQest α-1, not like conventional vacuum cleaners?
If we had to sum up tanQest α-1 in one word, it would be "innovation".
Commercial vacuum cleaners have changed very little over the past 30 to 40 years, and conventional models are still in use. We, therefore, combined our accumulated expertise in vacuum cleaners and rotary brushes to create a high-specification vacuum cleaner that meets the needs of the times.
The first innovation is the dust removal capacity, which is about twice as powerful as conventional models.
The second is the design. In the commercial industry, a field that does not require cool or beautiful-looking products, we aimed for "attractive cleaning" to completely change the image of cleaning work itself by providing products with high-quality designs.
The third is to improve productivity. The overwhelming performance in removing debris and ease of use leads to improved work efficiency, the most important factor for cleaners. A certain luxury hotel used to spend a long time cleaning with adhesive tape and other auxiliary cleaning tools in addition to the vacuum cleaner, but with the introduction of α-1, these auxiliary cleaning tools are no longer necessary and a significant amount of time can be saved.
You raised funds through crowdfunding to develop the "ONE STROKE" broom for home use. Can you tell us more about it?
---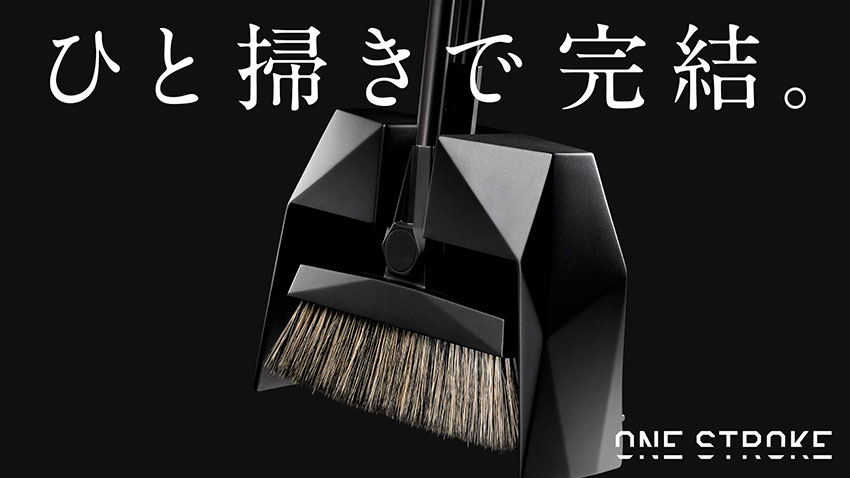 ---
We developed the ultimate broom/dustpan "ONE STROKE" as a product of our brand tanQest for general consumers as mentioned above. We aimed to create a brush that boasts a high performance by combining the brush technologies we have cultivated over the years as a comprehensive brush manufacturer. After a long period of research,
As the name "One Stroke" suggests, we have created a brush with innovative performance never seen before, capable of removing even the smallest dust particles on flooring with a single sweep.
The dustpan also has many excellent features, such as the ability to prevent dust from sticking to the dustpan by suppressing static electricity generation to make it easier to dispose of dust.
The crowdfunding approach allowed us to get customer feedback and requests before the product was launched, so we developed a better product.
This product is reported in the media since its launch, it helped increase brand awareness of Kowa.
In addition to industrial and household brushes, Kowa has a cosmetics division. Can you tell us about the cosmetics division?
Kowa offers cosmetics made from a variety of natural ingredients. Among them, the tea seed oil is one of the most widely used ingredients in our lineup. As you know, Japan is a land of tea, especially green tea, but many of you may have seen tea leaves but never seen tea seeds. Tea seed oil is extracted from tea seeds grown in Ibigawa Town, Gifu Prefecture, which is famous for its tea plantations. Tea seeds are usually discarded, there are no workers to pick up those seeds in the fields.
Kowa focused its attention on these discarded tea seeds, conducted research and development of tea seed oil, and discovered a new species of beneficial bacteria from the tea seeds that had not been found before. This tea seed oil is used in many of Kowa's products because it helps maintain the balance of bacteria in the skin. Kowa is the only company in Japan that utilizes this tea oil in cosmetics.
We call this highly useful tea seed oil "miracle drops" due to its rarity, as only 7% of the tea seed oil is extracted from the tea seeds.
---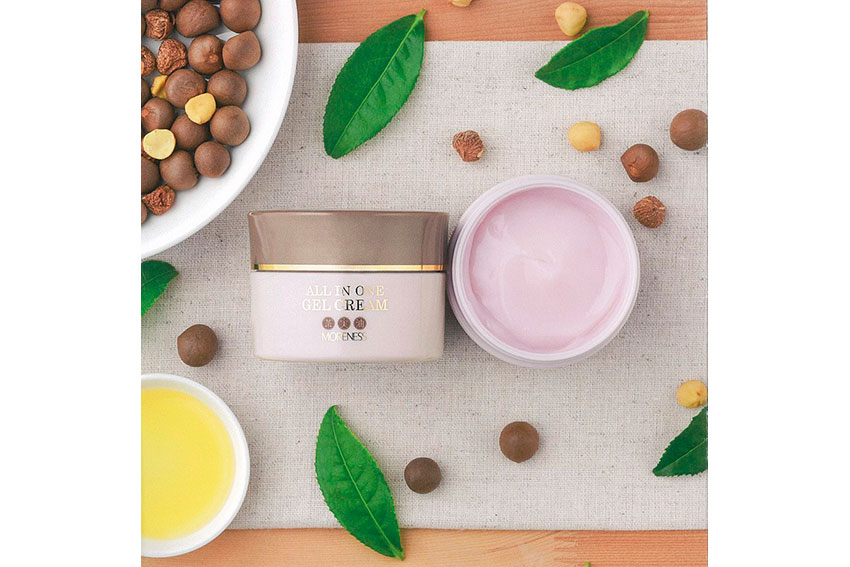 ---
How did you get started in the cosmetics business?
This new approach is nothing new for us; in fact, we have tried about 30 different businesses in addition to our traditional brush business. We have tried restaurants, jewelry, golf, and many other things, but the most successful business was cosmetics.
During the "lost decade" of the 1990s and 2000s, the economy was not doing so well, so we had to sell businesses that were not doing well. As a result, we had to concentrate on what we do best: brushes and brush-related applications. Cosmetics are the result of such rationalization and new concentration.
The aforementioned research on tea seed oil was conducted at our R&D center in Aichi, and we were able to receive a government grant for our excellent research.
Currently, there is a manufacturing company in China that makes baby shampoo and oil, and that company has started to handle this product as an OEM product. China historically understands the health benefits of green tea and has a long history of utilizing green tea for the skin. The product is unisex, so both men and women can use it, and we hope everyone will be happy to use it.
If we interview you again on the last day of your tenure as president, what are your future dreams or goals with Kowa?
Of course, there are financial goals that I would like to achieve, and I think the president of any other company would say the same. However, I would like to introduce more products to the world that would make us No.1 in our field. Our company has a very good track record in many aspects, and as long as I am president, I would like to continue on this successful path and become the No.1 company bringing new, exciting concepts to the Japanese market.
One last thing I would like to share with you, now we're developing the world's thinnest brush. It is as thin as the hole in a syringe needle. This is my personal goal, and I hope you will look forward to it.