Over the past few decades Japan has seen the rise of manufacturers in South East Asia who can replicate certain manufacturing processes and products from Japan but at a cheaper cost and often with economies of scale. How have Japanese firms been able to remain so competitive in the face of this tough price competition?
I cannot talk on behalf of all Japanese companies, but in the case of our company, Kohzu Precision, the reason why we are internationally competitive is because of the high quality and high precision technology that we offer. At the same time, we provide stable supply as well as stable quality. If you only compare the price, our product may be less competitive but we make efforts to reduce the clients' costs and make sure that our prices are commensurate to the technology that we provide.
The Japanese population has the oldest average life expectancy in the world at 85 years. More than 1/3 of the population is over 65, which means a reduced labor force and less demand for products in general. How has this declining and ageing demographic affected your company and how are you reacting to this particular challenge?
It is true that we are actually struggling in terms of securing our labor force, so we are making continuous efforts to make sure we have enough engineers. We not only focus on new university or school graduates, we also encourage job transfers.
In terms of the market, mass production has been shifted to other countries and I believe Japan needs to continue to focus on the production of machinery as well as precision measurement devices. It needs to provide technology that is needed for the advancement of the industry worldwide.
For Kohzu the overseas market consists of two main business pillars. One is synchrotron radiation and the other is positioning stages. 30% of our income comes from overseas markets, especially China. Our stages are used in machinery that performs mass production. In Japan our stages are oftentimes incorporated in measurement and analytical devices, so our company is focusing on providing technology for mass production as well as more hi-tech analytical and measurement devices.
---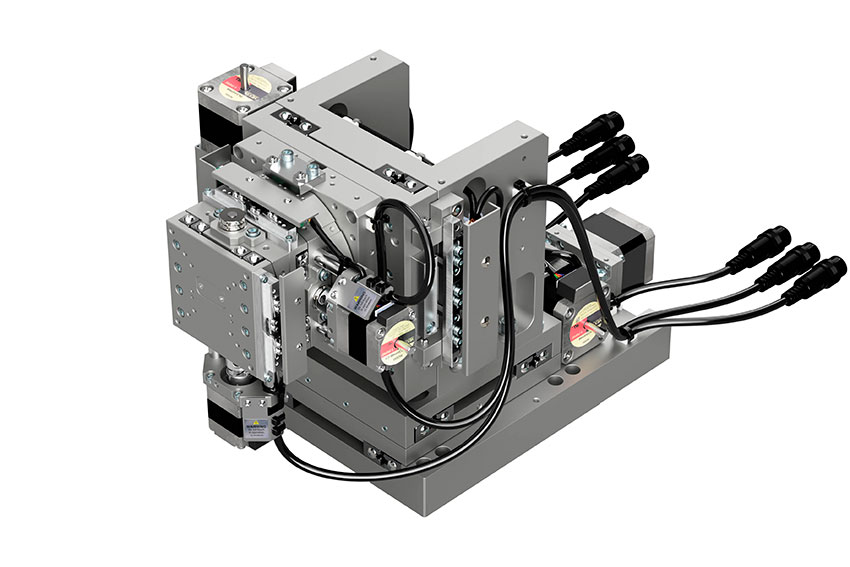 Compact 6-axis Manipulator MPS series product
---
The world has been living through very turbulent times over the last two years. We had corona, which has affected logistics supply chains throughout the world, and now we've had the war in Ukraine, which further exacerbates the situation. Your machines require a lot of intricate components to work seamlessly together. What was the impact of Corona and these world events on your business? What steps did you take to mitigate the impact component shortage?
Covid had a great impact. We supply our synchrotron radiation device to overseas companies and research institutes. It is a very big machine, so we disassemble it into smaller components and then reassemble it on the client's site before testing it with our engineers. However, since we cannot dispatch our engineers overseas, we cannot assemble our machines at the client's site even though the parts are all there already. Countries currently waiting in line for our installations include China, Taiwan, India, USA and Thailand. With the US, we were able to visit recently and do the installation. We'll be going to India at the end of this month, but China still needs to wait.
We're seeing an increase in the purchase of machinery, robotics and related tools by manufacturers looking to automate their factories, and this presents you with a good business opportunity. Regarding your mass production tools, what particular application do you believe has the highest growth potential for the future?
There's higher demand in many areas but with the shortage of components, we are not able to fabricate our products. Even with a one or two year lead time, we still cannot reliably predict when this shortage will be overcome so we are encouraging our customers to use manual instead of digitalized devices whilst we wait for components. It's very difficult for us to receive new orders in the current situation but fortunately the semiconductor market is still hot, and we have a client in the field who has given us a massive order.
What particular technologies in the semiconductor industry do your products cater to, and where do you see the biggest growth coming from in the semiconductor sector?
We have stages and synchrotron radiation devices, as well as custom made units for semiconductor machines, particularly wafer cutting machines and measurement devices. Our unit is incorporated into our customers' machines.
---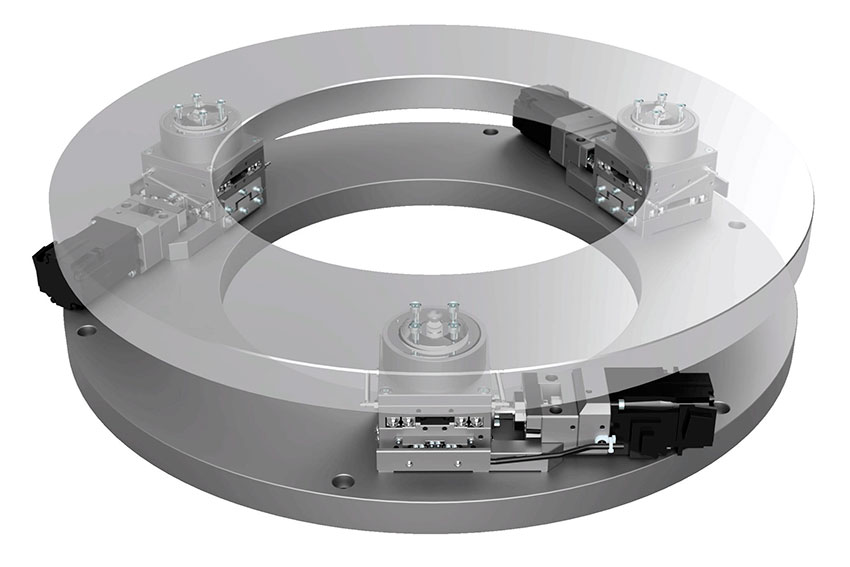 synchrotron radiation device used with semiconductor production
---
Your units are modular and they fit into existing production lines. Modularization allows for a customized set up, but compatibility with other machinery and software is sometimes a problem. How do you overcome that challenge? How do you allow your customers to seamlessly integrate your equipment, and what follow-up service do you provide in that respect?
We don't need to worry about compatibility because we design modules according to our customers' machines. Our components are modular, but they're designed with the client's existing production line in mind.
Your company has undertaken many unique projects in collaboration with other companies. Is there one particular project you did that you're most proud about?
Personally speaking, the most remarkable project was the project on synchrotron radiation. I had been an engineer in this field when I was younger. To make such a massive device we had to have discussions with the client's researchers and understand their needs, what kind of measurements they would like to do and so on. We designed the machine itself and then fabricated and delivered it before doing the testing. That whole process was exciting for me, and of course its success gives me a lot of joy.
What role does collaboration and co-creation play in your company, and are you looking for collaborative partners to develop your business?
Actually, we don't collaborate with any private entities. We are unique in the way that we design and fabricate our product 100% by ourselves. However, we have a collaboration going on with a research institute in terms of developing new products. Currently we are developing an X-ray monochromator and we are collaborating with a facility that can use X-rays so that we can test our products and measure their effectiveness.
---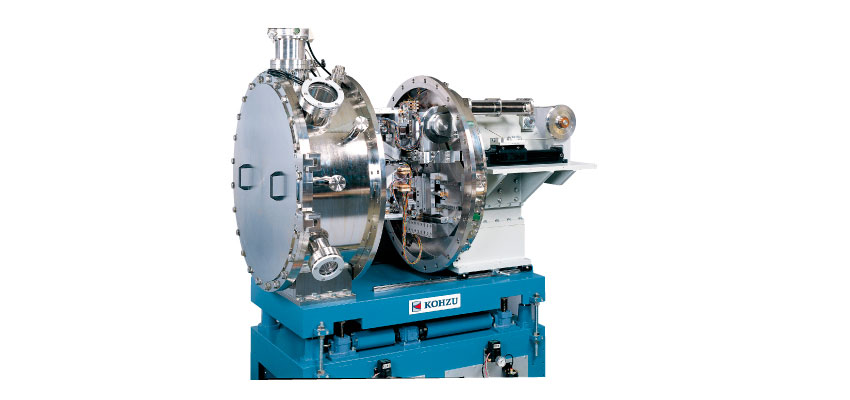 X-ray monochromator
---
As for overseas, there has been a request by a Chinese synchrotron radiation research institute that is using our machinery. We provided our core technology although the surrounding machine was built by the institute, so our technology is at the core of their facility.
Your business started in 1945. Could you quickly run us through the history of your company, and perhaps some of the key moments or technological milestones developments that marked the progress of Kohzu Precision over time?
Our company was founded in 1945, however it only really established itself in the 1960s, so we have 61 years of history as a company. In terms of our synchrotron radiation business, Japan's first synchrotron radiation research institute was set up by the University of Tokyo in early 1970s. We established a division to collaborate with the institute in 1975.
Tokyo University's research institute on synchrotron radiation no longer exists but it was very active in the 1980s. In Japan, there are other institutes such as Tsukuba's high energy research institute that were leading the world in synchrotron radiation research in the 1980s. There were many overseas researchers coming to Japan to conduct experimentation and learn about the technology. Since our devices were used in their testing devices, they noticed us and we received a large amount of orders, especially for the X-ray monochromators, which is one of our main strengths.
By the 1980s, three institutes spanning Japan, the US and France were the most advanced in synchrotron radiation research and of the three, the Japanese were taking the lead. Since we had a strong pipeline for the technology that was being incorporated into Japanese measuring devices, we were able to penetrate into the global market.
As for the stage division, we were doing custom made stages, but in the 1980s we felt that we needed to make a catalog of these stages so in 1985 we launched our first stage catalog. The reason why we were able to evolve our stage business is because our stage was used in our customers' production lines for the alignment of optical readers inside many devices at the time. Since 1985 we've been able to expand our stage business steadily.
However, over time, production of this optical reader shifted overseas. Then came the smartphone revolution, and our stage has been used to do things like position the camera assembly or align the LCD and touch panel. We don't have dealings directly with Apple, but we provide our device to production machine manufacturers in Japan who are engaged in iPhone production.
Making tools smaller is important for modularization, but it can also lead to a loss of precision. How do you overcome this challenge in products such as your SMR camera module series, which maintains very high precision in a miniaturized device?
Our MPS series was developed to make fine adjustments to the positioning of components using a liquid crystal projector and CCD camera sensor. Compared to other companies' products, ours may look a bit bigger in size, but they are very sturdy and we are able to achieve this precision using the adjustment of a hydraulic system. Although our product may not be seen as miniature, it is very precise and we are proud of our high technologies.
Our 6-axis module is focused on projectors, however they're not most in demand currently. There's more demand for the camera module assembly used in smartphones.
The latest 3-axis has X and Y rotation and we can add our common type on top of it to make it a 6-axis. And with the camera module, we combine about 60 units, so each unit should be smaller and we are trying to miniaturize. Although the parts may be small, we have to be very particular about the required precision involved in their positioning. We take very good care of the fabrication.
You've sold products all around the world, including France as well as Taiwan and China. In the 90s, you opened a direct representative office in California. Looking at the future, what markets do you consider key for your expansion and where will you prioritize your efforts?
Currently, we are focusing on the Japanese market. We have three pillars of business, one is stages, another is synchrotron radiation, and the new pillar that we have now is the DY range, which is a semiconductor surface measurement device that can be incorporated into a semiconductor production line.
---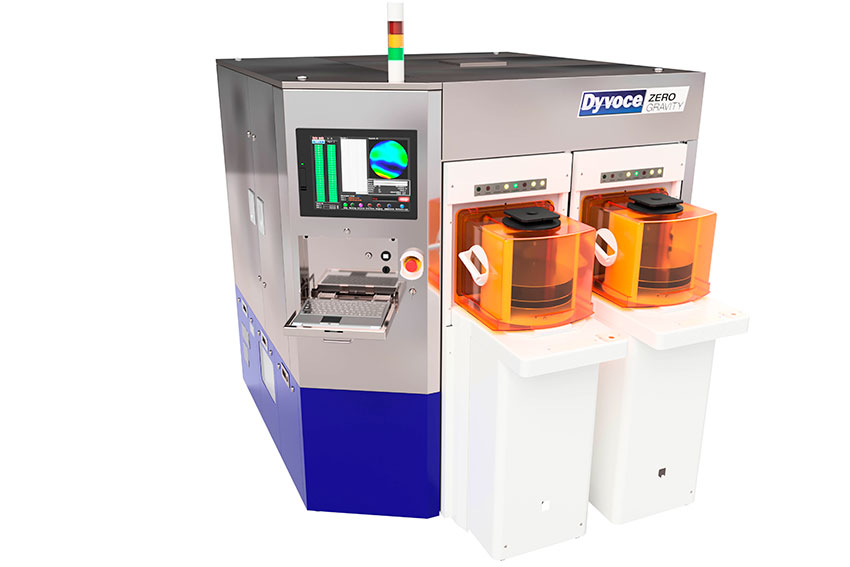 Dyvoce (Dynamic Servo Trace) flexible laser measurement system
---
Recently we received four orders for the unit, each of which is worth 100 million yen, and we have been very busy in the production as well as the installation on-site of this device. We actually want to focus on Japanese companies and revitalize the Japanese economy. Once we have a stable footing in Japan, maybe then we could go overseas.
As for the stage business, our products are incorporated into Chinese mass production machinery but we'd like to mainly focus on domestic machine manufacturing, particularly measurement and analytical devices, and hope that eventually our products will be exported overseas.
Let's say we come back to interview you again in three years' time for your company's 80th anniversary. What would you like to tell us about your goals and dreams for the company would you like to have achieved by then?
In three years' time when you come back, Kohzu Precision will hopefully be known in the semiconductor industry as the manufacturer of the DY product, and as a high quality, hi-tech company in the semiconductor field.