As a specialized manufacturer of Reeds and other Loom-related components, what does monozukuri mean to you and your firm? What do you believe to be some of the strengths of the Japanese manufacturers that allow them to remain competitive
Our product, the reed, is made to order which means we cannot make stocks of them. As soon as a weaver gets old, they need to be replaced with new reeds as quickly as possible and we need to do a quick delivery. The majority of our company's business is selling the core parts of reeds and exporting them to foreign countries.
---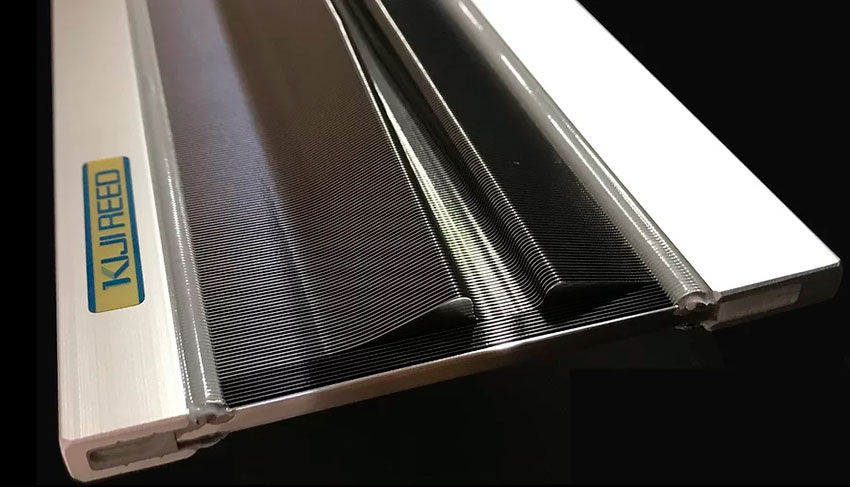 ---
This is a special type of reed called the Profile Reed. In order to have proper insertion, the shape of the dents here inside must be precise and this contributes to the efficiency of the weaving machines. Yes, it is true that we have competitors in China, as well as in other countries, and the cost there is very cheap. However, nowadays the labor cost in China is increasing. When I came back from France, I was working in the sales division specifically in the Chinese market in 2001. All the Chinese weavers preferred to use the local products because the cost is very low - they did not care about the efficiency of their machines. But nowadays, many Chinese weavers are paying attention to efficiency and energy costs - there has been a change in attitude. The efficiency and quality of our products is our strongest point.
---

---
This is a woven fabric made of glass and this is a high end electronic device. Almost all high end electronic devices all over the world are using Japanese glass fiber woven fabric. Furthermore we have a near 100% market share in Japan in this field. When we talk about textiles, many people think that they are only relevant to garments, but we are strong when it comes to all kinds of industrial fabric. This glass fiber weaving market is the biggest in China; next is Taiwan, Japan, Korea, and the US.
Let us say foreign weavers are trying to catch up with Japanese quality, for as long as Japanese weavers remain the global leader in terms of quality, these foreign weavers have to use our products. Our customers that are buying dents from us know that to maintain their quality, they have to use our products. Recently with the COVID pandemic, we are suffering a little but the biggest impact has been the ongoing trade dispute between China and the US. Lastly, we have a main factory in Hokkaido near Niseko. Reeds are an industrial product, but to make a good reeds, they need to be hand crafted. Handcraft work is important to create quality. I named the harmony of the industry and the Artisanal Handcraft as "ARTINDUSTRY", which is the keyword of our core technology.
In the next 15 years one out of three Japanese people will be over 65. This creates many challenges, one of which is a labor crisis. It is now much harder to find new talented, passionate graduates to pass on accumulated know-how and manufacturing knowledge. Secondly, the Japanese market is shrinking. Please tell us the challenges that this demographic decline poses to your company and your strategy to overcome them?
Japanese people lack communication skills. All craftsmen learn based on their own experience and our challenge is to squeeze out the information from the experience. This is something we must do as part of the Japanese monozukuri. Here in our factory, we have a lot of craftsmen, meanwhile in Hokkaido, the factory is more industrial. The craftsmen directly pass on their skills to another. It would be much easier if we can have some small core items to teach to the next generation. Now we are trying to get information on the kind of skills that we need.
In terms of combating labor shortages, there has been a trend amongst SMEs in Japan to source talent from overseas. Are you considering having a mentorship program with people outside of Japan?
Actually we have already moved out to Indonesia for some of our business operations that require more people. The number of workers in Indonesia is twice as high than here in Japan.
Looms are an ancient technology, and yet are still indispensable for manufacturing fabric, clothes, or high end electronic devices. For the modern loom, two main challenges remain: one being to be able to weave quickly, and the other being able to minimize the reloading time. Can you tell us some more technical details about how your products help overcome these two challenges?
---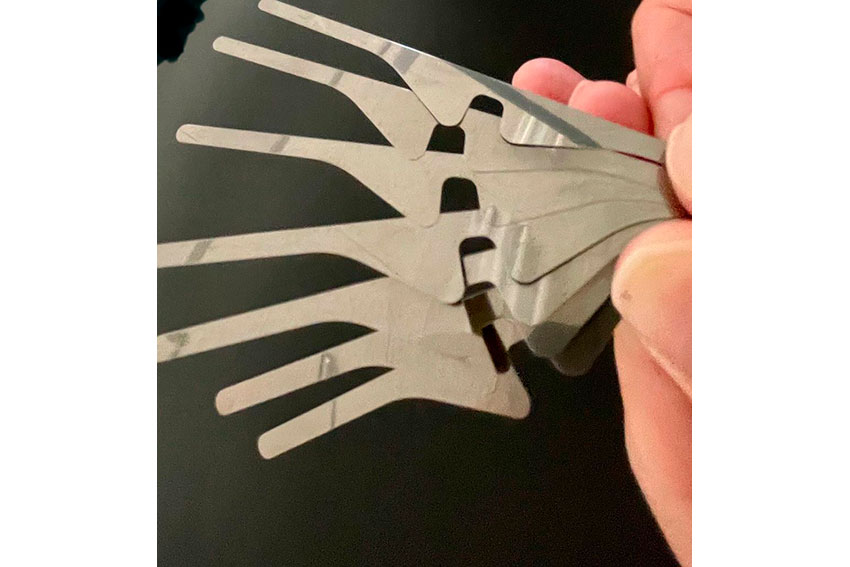 ---
This one is 0.08 to 0.012 millimetres in thickness. This small component can make such a big difference especially in terms of energy saving which ties into efficiency but also cost saving as well. This is our specialty.
How did you achieve your goal of differentiating yourself by developing such a different type of dent surface?
My product is a crossover section of warp and weft which means it touches every yarn. The customers of our weaver may need improvement on the product. Basically, the ideas that we have usually come from Japanese customers. It is important to listen to customers and consider their needs in product development.
You have a tie-up with Blue Reed in Spain as well as Technical partnership in Pakistan. What role does co-creation or collaboration play in your company? Are you looking for new tie-ups and partnerships overseas?
---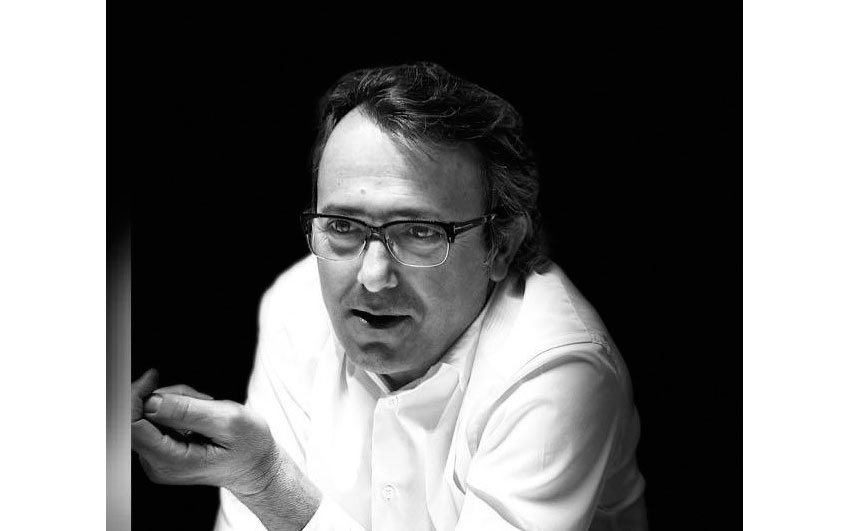 ---
The relationship that we have with Mr. Jaume Torra Cataluna from Spain was due to my father-in-law. He was a successful manufacturer in Europe and we collaborated together - he always thinks that Japan is number one. He was my mentor and he treated me like his brother. Sometimes we talked about his problems with workers, technical matters, or the future.
The relationship with Mr. Chang Ta Peng from Taiwan was also due to my father-in-law. He is also my teacher and my brother, moreover his father, Mr.Chang LuHua, is the god of business for me.
Our company has business-related relationships with foreigners, in fact we have an Indonesian-Chinese partnership as well. Now I am preparing for the new generation. We come from different nationalities but our relationships are very strong.

Can you share with us what you considered to be some of the key milestones or moments in the history of Kiji Reed?
At the time of our foundation, there were more than 100 companies like ours around this area. It was during the period when the textile industry was very important in Japan. Eventually the Japanese textile market began declining and then finally, the Air Jet Loom was the key to our success. When we were founded, our technology was only for assembly. When we found our kind of reeds in the market, we decided to change the technology that we used, and developed our own technology to ensure the quality. This is a milestone for us from a technical point of view. Then we shifted from assembly maker to supplier and maker of parts. Since then, we have been creating relationships worldwide because the textile market is moving around the world. It started in the US and Europe before it had begun in Japan. After Japan, we have Taiwan, Korea, Southeast Asian countries, China, and now India. On the other hand the global population is increasing, meaning the demand for glass fiber is also increasing. Mr. Chang Lu Hua always said that if you cannot sell your products in Japan, you cannot export them.
If you meet the standards of the Japanese industry that are very high in terms of quality and precision then you can go anywhere. Your technologies are used for woven fabrics made of glass fiber and the demand for fiber is increasing due to the increase of the global population. Is this something you are targeting in terms of your export strategy? Are you looking to expand globally, specifically in this field of glass fiber yarn? Are there other segments that you are interested in?
This glass fiber fabric requires the core of our technology. There are certain markets that we cannot compete in but we are a solution-provider business and we are using our network to discuss with weavers as our partners. For instance, my Chinese and Indonesian sales team are well-educated in discussing with weavers. Unfortunately due to the COVID situation, this is quite difficult for us, but this is a question of time. Our next target is India and we are going there within the next few years. Efficiency and collaboration is vital for our business and for our customers.
Can you tell us more specifically about your strategy for developing your overseas business? Are you looking for a joint-venture or finding distributors? What particular markets aside from India will you be focusing on?
Our focus is basically Taiwan and other East Asian countries. Our collaborative partners I mentioned, such as Blue Reed in Spain, handle the European and north and south American market. He forms a small alliance with his friends and customers, and so do I in East Asia as well as in Indonesia. We are talking about worldwide strategies together. We all are small companies and we are going to establish alliances or networks of small companies. Speaking of India, Blue Reed has its advantages and Kiji also has its own, and we are trying to develop synergies.
How are you able to share those strengths with these kinds of partner companies?
We simply trust each other. Very few people understand that Japanese and Europeans have such a close relationship. In this business, we treat each other like a family and the discussion on how to share profits comes next. Our relationship is based on how to be successful together.
In two years you will be celebrating your 120th anniversary. What are your key targets for your firm before you will celebrate your company's 120 years of existence?
To prepare for the next generation, I am from outside the family and I met my father-in-law when I was in high school. He wanted to educate me and brought me to the factory. I spent seven years in France. When I came back from Europe, I was in-charge of our Chinese business. Now I have my son who is still studying in university. I hired my son's friend and he could be the right hand of my successor. To continue the company's growth, we need technology and a market, but the key part is to develop our human resources. I was educated by my father-in-law and now it is my turn to cultivate the next generation. I am working very hard to that end.
In terms of your core products and technology, how do you see your products changing in the future? Do you see your technology remaining more or less than it is now?
The strongest point of SMEs is that the owner can decide by himself at his own risk. What I need to prepare for the next generation is to give them some ideas, but they can be flexible. I simply need to prepare the environment for them in terms of the hardware and software. I am now trying to train the older generations to accept the new generation. I was born in the '70s and after I finished university, Japan's economic situation was declining and the economy was not very good. It is vital to embrace new ideas - to embrace a paradigm shift. The Japanese people, especially the older generation, must accept the changes in the next generation. This creates a good environment for the next generation to be flexible which would also depend on the new technology.
When the Japanese economy was recovering those people were very clever. What they did was to break the old generation to create something new. This is something we must not forget. We Japanese believed that we are number one but our technology was copied from the US.
---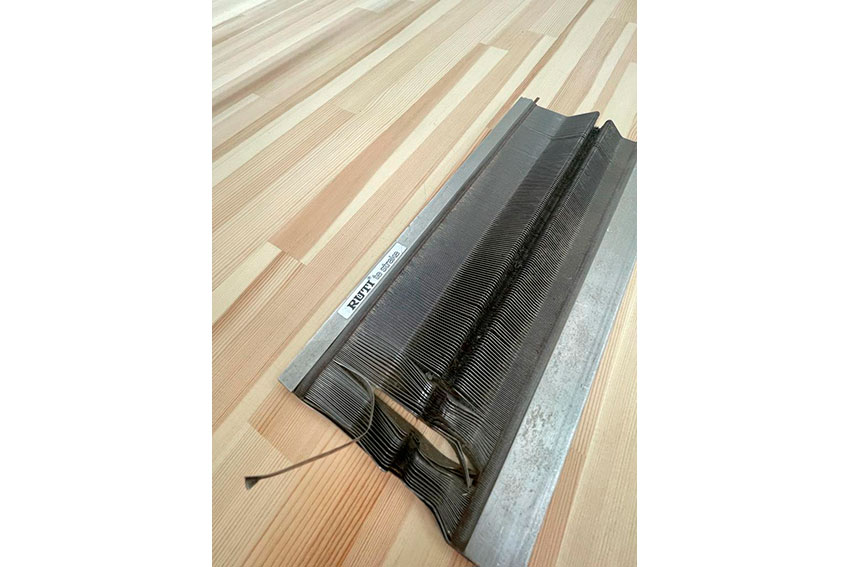 ---
This is a Swiss made reed. We keep this one because my father-in-law bought this from back from Switzerland before it was copied. While the Japanese people say that the Chinese copied our technology, it is also a fact that the Japanese also started by copying.