Over the last 30 years Japan has been subject to intense regional competition from companies in Korea, China, and Taiwan that have replicated Japanese monozukuri. Some commentators say Japan has lost its competitive, innovative edge. Despite this, we still see Japanese firms remaining niche leaders in certain B2B fields and KEYENCE is the perfect example of this, supplying up to 300,000 customers worldwide. How has KEYENCE remained so competitive despite this intense regional competition when it comes to product development?
Since our founding back in 1974, we have placed a lot of importance on the creation of added value. We believe that is the purpose of our existence, and by creating added value we have contributed to society, and that has driven our business forward. At the heart of our business are innovative products that realize value that does not exist anywhere else in the world. We have continued to create truly useful products by directly addressing the problems of our customers and the challenges they face at their production sites. This process has led to the result that "about 70% of our new products are world or industry firsts". We believe that these products are what our customers continue to recognize as high added values. Also, we are able to achieve this because our sales representatives in our direct sales system all over the world are able to directly communicate that value to our customers. We believe these two are the main factors of how we have achieved our competitive edge.
Since The 2021 United Nations Climate Change Conference (COP 26), companies worldwide are looking to be more sustainable when it comes to product development and KEYENCE is no different. You developed the PR series of photo sensor which reduce material usage due to its smaller size. There is, however, still a concern about the resources needed to produce such electronic components, particularly water and electricity when it comes to semiconductor fabrication. What can be done by the electronics industry to reduce the amount of resources it takes to produce electronic components?
Of course, we are trying to produce more eco-friendly products. That is absolutely necessary, but we also think it's necessary to have the users of our products reduce the burden at their manufacturing sites and on the environment of the whole society as a result of using our products. Our aim is to produce a product with high added value using less resources and energy. By supplying such products to the client, the client's productivity will be enhanced and this will reduce the burden on the environment. We believe that the constant pursuit of greater added value will lead us to contribute more to the environment.
Most of the products we produce are used in facilities and factories in support of the client's manufacturing or monozukuri, as we say here in Japan. Our production volume is really low compared to B2C businesses. We are a B2B business so we're trying to contribute to reducing the burden on the environment by supplying more eco-friendly products to mass production sites.
You mentioned the PR series. It was very necessary to make it smaller, but we think the most important thing was to reduce the amount of electricity it required, and also to enhance its durability. Our clients are therefore able to use those devices for longer periods on their manufacturing sites. This is one way in which we are trying to contribute to sustainable manufacturing.
---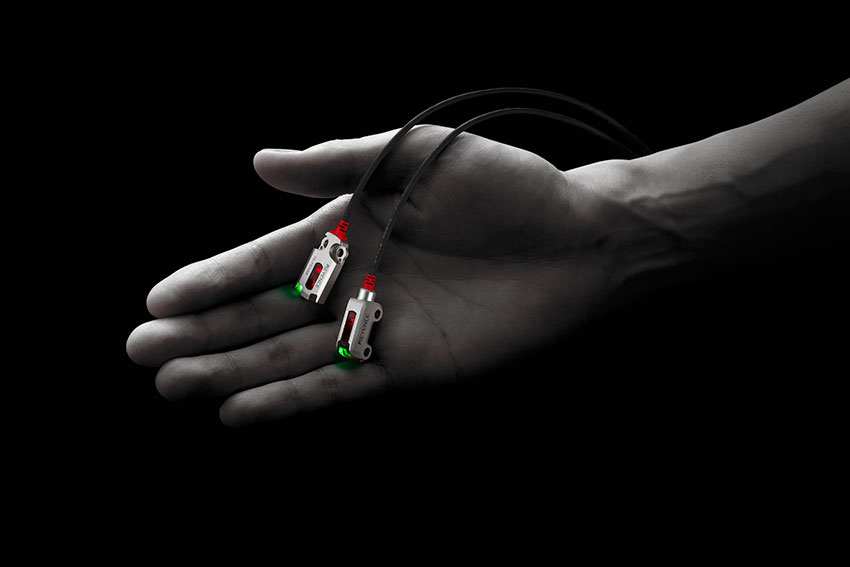 Self-contained Miniature Photoelectric Sensor PR-M/F Series
---
The automotive industry is obviously one of the biggest clients for KEYENCE, and it's living through a very transformational time with the shift to electric vehicles (EVs). Norway has already fully transitioned, and the UK and Germany will follow suit by 2025. How is KEYENCE helping clients adapt their manufacturing sites as the transition to the next generation of automotive vehicles currently takes place?
Our products are not assembled into the cars themselves, but they are used in the process for manufacturing cars. As the cars change, we believe that there will be innovation in the technology involved also. As the technology changes, the manufacturing process or the manufacturing site also needs to change to cater for the new technology. There are certainly challenges and problems but at the same time, as we focus on problem solving at the manufacturing sites, we think this can be an opportunity for our clients to realize the added value of our products. We will keep trying to supply our products so that we can solve those problems, and bring more added value to clients' processes.
As I mentioned, we place a lot of importance on direct sales to the customers. Through direct communication with customers, we can listen to what problems they are facing, and by so doing we are able to take the appropriate action to address those problems. As things change, not limiting to the cars, we would take these as opportunities to keep growing in step with that change.
---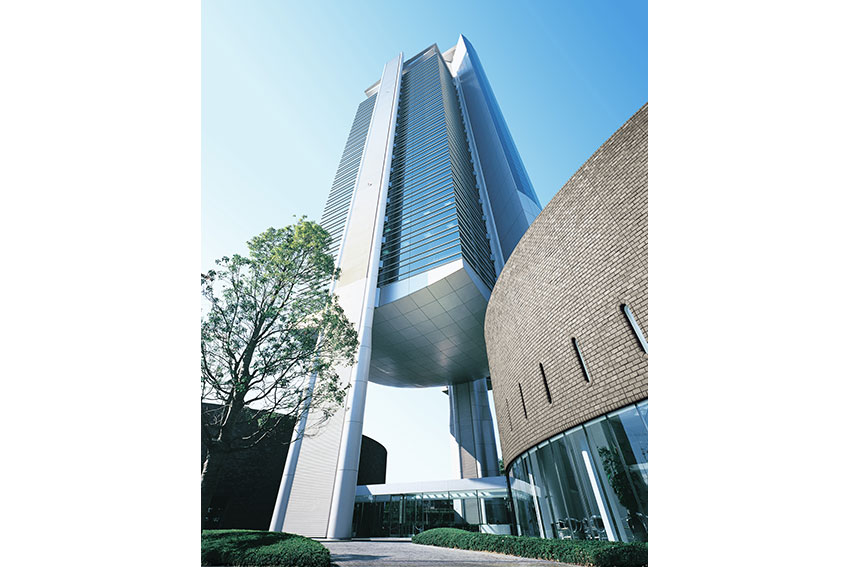 KEYENCE Global Headquarters
---
KEYENCE designs and plans products, but when it comes to manufacturing is fabless; meaning you outsource production of your products to a contracting manufacturer. What motivated you to adopt that approach to manufacturing? What are the advantages and disadvantages for a company like KEYENCE in supplying FA (Factory Automation) equipment using this fabless model?
We strongly believe that the meaning of our existence is to create added value, and we would like to produce products that have unprecedented value in the world and that's how we are trying to support our clients. If we had our own factory then we might not be able to produce things that optimally fit in with the client's processes to add value.
If we had our own factory then we might want to further integrate our own devices, for example, into a process and if we do the manufacturing in that way, then the underlying cause for production could end up being driven by ourselves, not by the customers, and that could compromise our ability to truly support our clients.
Since we have a strong desire to thoroughly focus on creating added value, we decided to take a structure that is to focus on the design and development of new products, and entrust the actual manufacturing process to our partners that have the skill to do that. This means a structure that can create what we really want to create.
However, when you outsource to the outside, a concern of confidential information leakage may arise. Therefore, we only limit our outsourcing in the actual manufacturing process. The core functions of product planning and development, designing, procurement and planning for the manufacturing process are still performed in-house and we are still accumulating our own know-how in those areas.
Direct sales is one of the pillars of your business model, and you've supplied to companies all over the world. However, in your recent annual report you stated that overseas sales have been underperforming and that there is more potential to expand internationally. Can you elaborate on how you will do that via your direct sales method? Which countries will you be focusing on for growth?
I believe it is very true that we have a lot of room to grow further, especially in the overseas market. If we look at the output volume of the manufacturing industry, Japan accounted for less than 10%, around 8%, but we have about half of the market share in the domestic market. We have to say that our overseas market share is still very low if we compare it with the market potential. We believe that we still have a lot of room for growth, and if you ask me which country I'm targeting, I believe that there are a lot of countries that have the potential for us to grow and it is important to grow our sales in all overseas markets. KEYENCE currently has a global network of 46 countries in the world, and we believe it is important to hire colleagues that have excellent potential so that we can strengthen our direct sales network across the world for further expansion.
---
All-in-One Fluorescence Microscope BZ-X Series
High-Performance Vision System
One Supplier for All Manufacturing Automation Solutions
Our innovative products for Factory Automation
---
Japan shines when it comes to factory automation, but the same cannot be said for its adoption of digital tools as it has been ranked the 28th most digitally competitive country in the world. KEYENCE has experience in this area having, for example, supplied the image pickup equipment for Araya's recently released AI supported visual inspection device set "InspectAI". Could you tell us more about this partnership with Araya and how you are developing digital tools that compliment your FA solutions? How do you expect DX technology to transform factory automation moving forward?
Regarding the project with Araya, we are in the position of supporting the project for the client, so I would like to refrain from explaining about the details of that project. Not only this case, we have many opportunities to support a lot of client projects around the world but it would undermine their trust in us to talk about their projects. Even only about the part where we are involved, we can only talk about one end of the project so we may want to avoid it.
It is often the case that our sales representatives are involved directly in the customers' projects all over the world, and when they are involved, they make an effort to propose a solution using our devices and products.
Regarding how digital transformation will affect factory automation, I believe that digital transformation will accelerate more advanced factory automation going forward. For example, in the automotive industry, they need to assemble tens of thousands of components. At their manufacturing site, you need to gather real time data so that they can optimize the manufacturing process.
As the industry 4.0 smart factory concept spreads, we need to improve the efficiency of the manufacturing side going forward, and we would like to supply products that can enhance manufacturing efficiency. We'd like to play our part in the digital transformation of factories.
Predictive maintenance is one of the key aspects of industry 4.0 – the idea that companies can have their machines fixed before they even fail. You have supplied solutions for that, such as the MD-X laser, which is the world's smartest laser marker. Can you explain this product in more detail? How is it helping your clients to prevent downtime on their production lines?
As an example, when you keep using a light bulb its strength will eventually become weaker and it will glow darker and darker. If that light bulb can monitor itself so it knows the volume of light it is emitting, we can avoid failure of the bulb. We have many products that are able to predict the maintenance that they will require. Regarding the MD-X which you mentioned, it is equipped with a monitoring function and diagnostic tools so that you can easily check predictive maintenance and trouble analysis only with this one device.
Not only this, but we have a lot of sensors that are able to predict maintenance or breakage and notify workers. In this way, we are contributing to eliminating downtime of manufacturing lines and increasing productivity by reducing both maintenance and breakdowns.
---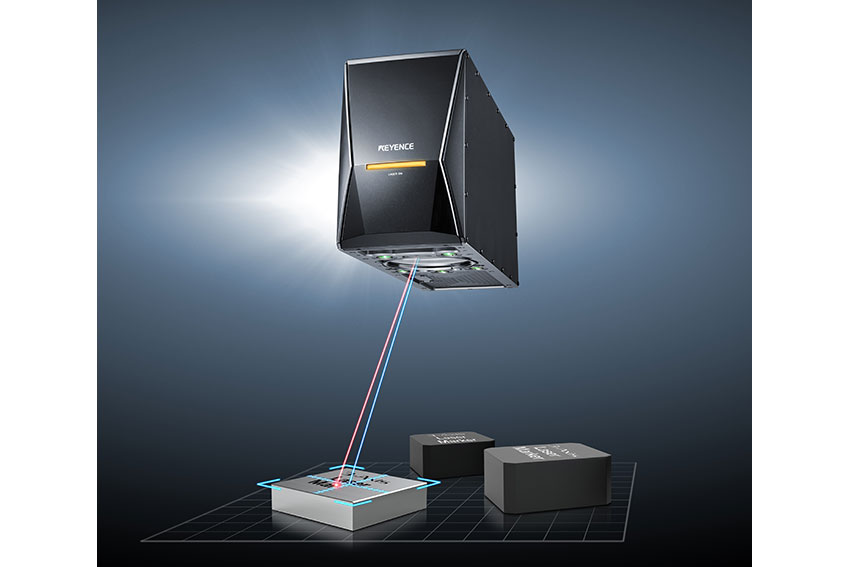 Axis Hybrid Laser Marker MD-X Series
---
You've spoken about working hand in hand with clients to create the solutions they needed. In terms of your own in-house R&D and product development, are you looking to collaborate with overseas companies in the USA or Europe, or even academic institutions there, to help you further enhance your product offerings?
What we are trying to produce is a product that can play a part in the customer's manufacturing side by adding value. We don't deny such collaboration with other companies, but when it comes to product planning and development, we try to focus on our in-house resources using our direct sales network as it is strongly connected to our strength. However, in order to create value for the product, we may need to seek collaboration with an external partner. Alternatively, if we think that we can produce more value by doing it on our own, then we might not seek a collaboration.
If, however, we decided to collaborate with an external partner, we wouldn't stick to the name of a particular country. It could be the US, China or Japan depending on the best possible way in which we could provide added value and support our clients.
Let's say we come back to interview you again in seven years' time for your company's 55th anniversary. What would you like to tell us about your goals and dreams for the company in that timeframe, and what would you like to have achieved by then?
Ever since the foundation of this company, we have stuck to added value creation. That's how we have grown this business. Seven years from now, if you visit us again then I would like to talk about added value creation again. I would like to still be adhering to added value creation as a guiding philosophy and bringing about success by following it.