Over the past 25-30 years, Japan has witnessed the emergence of regional manufacturing competitors who have replicated Japan's monozukuri processes by capitalizing on lower labor costs, consequently challenging Japan's position in mass industrial markets. However, many Japanese firms continue to lead in niche B2B fields. How have Japanese firms been able to maintain this leadership, despite the stiff regional competition?
It seems that the key lies in Japan's technological capabilities and commitment to added value. Technological prowess refers to their ability to deliver new technologies and offer more added value. Without distinct characteristics or uniqueness, companies would be susceptible to price competition. Therefore, KEL prefers not to engage in price competition, and we do not aim to be price leaders.
The difference between Japan and other East and Southeast Asian countries lies in Japan's ability to retain technological power and production capability. Japan possesses the necessary production facilities to develop and manufacture challenging products, which provides them with a competitive advantage. Additionally, Japanese operators possess the skills and expertise required to handle and produce such complex products. Even if a production facility for high-performance products exists, finding capable operators is often a challenge. Japan's culture of continuous improvement, known as Kaizen, plays a significant role in enabling these advantages.
Japan faces its own set of challenges due to its aging society and shrinking population. It becomes increasingly difficult to find new recruits. Moreover, the domestic market is also shrinking. How are you responding to these challenges posed by Japan's demographic shift?
Indeed, hiring young and high-quality engineers is becoming more difficult, a challenge shared by other companies as well. The number of younger engineers being hired is decreasing, while the number of senior engineers retiring is increasing. These veteran engineers possess a wealth of accumulated knowledge, but it is often implicit and not documented. We have started efforts to create a system whereby the knowledge of monozukuri can be passed down to younger workers. KEL is a manufacturing company, so engineering plays a crucial role for us. This year, we have introduced new initiatives to address this fact. We established the Technological Standardization Group, whose purpose is to standardize and visualize engineering technology using specific formats and rules. This enables the sharing of know-how among engineers and eliminates variations, but it is a gradual process.
Due to the labor shortage, we cannot afford to allocate excessive time for development. Therefore, we have incorporated various simulation software to expedite the development process. For example, in the past, we used to create tooling and prototypes for heat analysis or electronic analysis. We would verify various features before proceeding to mass production. However, now we have introduced simulation software. This software allows us to analyze everything without the need for tooling or prototypes. As a result, we can go directly to mass production, even without creating a prototype, which helps shorten the development time.
You offer the MRA series, a 0.5-millimetre pitch coaxial connector for single-ended RF communication, transmitting signals such as 5G, sub-G, LTE, and more. We also understand that you are looking to add products that offer magnetic field resistance to this lineup. What motivated you to develop the MRA series? What technologies will you employ to achieve magnetic field resistance?
Our product portfolio consists of four main segments: industrial, automotive, imaging, and medical. Last year, we decided to add "5G communication" as a new prioritized market segment to expand our business portfolio. As part of our initiatives in this area, we conducted extensive research on 5G communications, which eventually led us to develop the MRA series. In the 5G communication market, analog signals are commonly utilized for radio frequency (RF) communications. The RF signal is something that KEL has not tried yet. We discovered that there was a demand in the 5G communication area, specifically for applications such as optic repeater devices used in communications.
---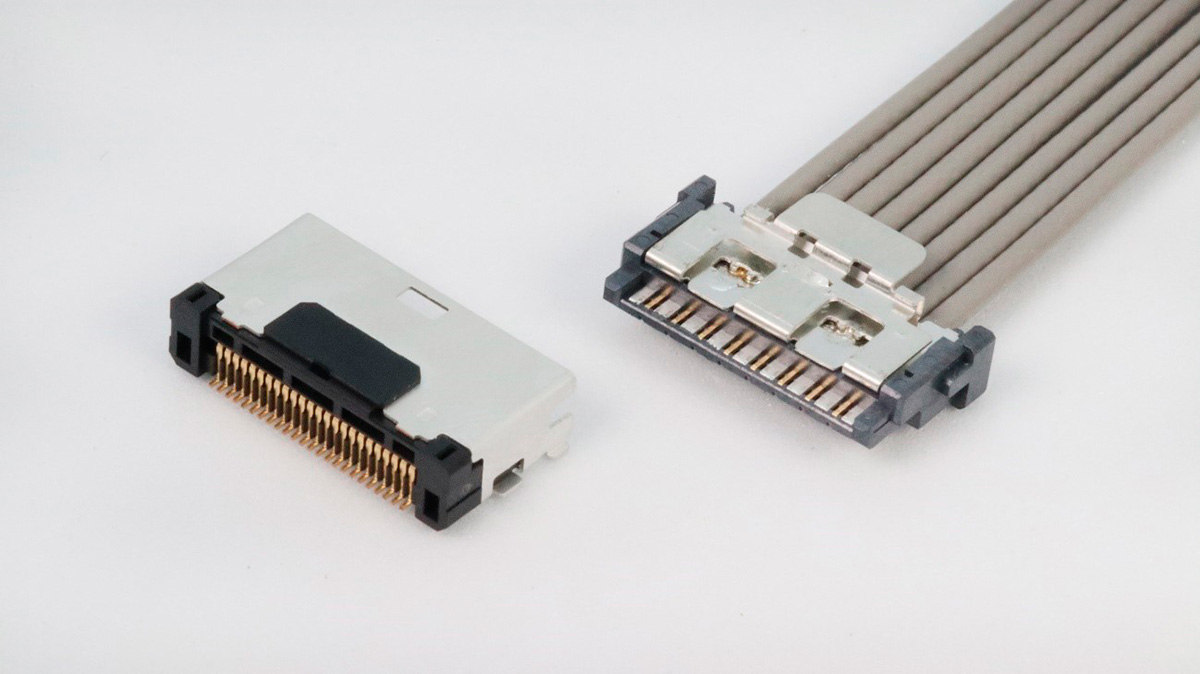 MRA series.
---
Additionally, the connector we developed will be used in 5G communication modules, routers, and MRIs. The key characteristics of this new product are miniaturization and the introduction of a multi-pin connector. For instance, when eight individual single-wired connectors are required, the MRA series can integrate all of them into a single connector. This allows for greater efficiency and space savings. The selling points are the miniaturization and the introduction of a multi-pin connector.
Now, moving on to the second question about achieving magnetic field resistance. Typically, we do not offer this spec, but due to demand and requests, we decided to develop a product that is not affected by magnetic fields. To achieve this, we use a non-magnetic material for plating the contact points. The specific details of the material used cannot be disclosed.
Do you believe that this product will be efficient and will meet the demands for 6G?
As for its applicability to the 6G market, we are currently approaching and are in communication with 6G customers. We have chosen a non-magnetic type of material because if we were to use a magnetic material, this would make it susceptible to external factors and generate noise, and potentially cause malfunctions. Therefore, for applications such as communication devices, medical devices, and aerospace components, a non-magnetic type is required.
What role do partnerships play in KEL Corporation's business model? Are you currently seeking partnerships in overseas markets?
Regarding partnerships, I can think of our collaboration with manufacturing organizations that we trust with the production and assembly of our products through outsourcing. We work with a domestic vendor to create the tooling and molds, and with both domestic and Chinese vendors for manufacturing and assembly. In terms of partnerships, we focus more on distribution partnerships rather than technological collaborations. Acquiring new customers and expanding our reach requires a strong network of distribution channels. Our net sales by region indicate that Japan accounts for 59.4% of our sales.
However, domestic demand in Japan has been shrinking, prompting us to expand our presence in overseas markets. Currently, our sales in Europe and the United States are relatively small. Therefore, we aim to achieve double-digit growth in these regions. Europe, in particular, has a strong market for communication and automotive applications. To sell our products effectively in these areas, we need to establish additional distribution channels and seek partners.
What strategies are you implementing to achieve this target and reach double-digit growth?
In Europe, there are many companies we have not reached out to in the communication sector. These companies present potential opportunities for us to approach and sell our products. Moreover, Europe is home to many strong automotive manufacturers, especially in Germany, which opens avenues for us to expand our market presence.
In the United States, although it is a robust automotive market, its vast size makes it challenging to cover the entire country. To address this, we will participate in exhibitions to showcase our KEL products, increase brand recognition among visitors, and acquire new customers through networking. We are fully aware that our global recognition is still limited, so we aim to aggressively promote our company and products.
Due to the semiconductor chip shortages caused by the COVID-19 pandemic, there has been a regional push by many leaders who are prioritizing the expansion of domestic semiconductor production capacity. How do these regional pushes impact KEL Corporation? What opportunities do you foresee for your firm?
Regarding the connectors, their usage is often associated with semiconductors. The more semiconductors are consumed and produced, the more connectors are used. For instance, when there is an increase in the usage of PCBs on which semiconductors are mounted, connectors that connect these PCBs see higher demand. This was evident during the global chip shortage of the past few years when demand declined due to the scarcity of semiconductors.
If semiconductor factories are established in Japan to address these shortages, it would be beneficial for KEL, as we would be less likely to be affected by the semiconductor shortages. Additionally, if semiconductor development and engineering return to Japan, it would facilitate application development and provide more opportunities for us to focus on specifications. Previously, it was challenging for KEL to participate in such activities overseas. The return of production and development to Japan, especially for automotive applications, would benefit us since we have numerous automotive manufacturer clients.
Is there any specific product you would like to showcase to our readers? How would you describe KEL Corporation as a company?
Certainly, as a manufacturer, we would like to showcase our products to readers. In June, at the Tokyo Big Sight, we participated in the COMNEXT exhibition, which focused on communication solutions. We exhibited our new products for 5G communications, along with a few other products that are sure to impress visitors, which included the board-to-board floating connector "JB series" capable of high-speed PCIe Gen5 and a harness product "HSP series" supporting 224 Gbps (PAM4) for the 6G era.
---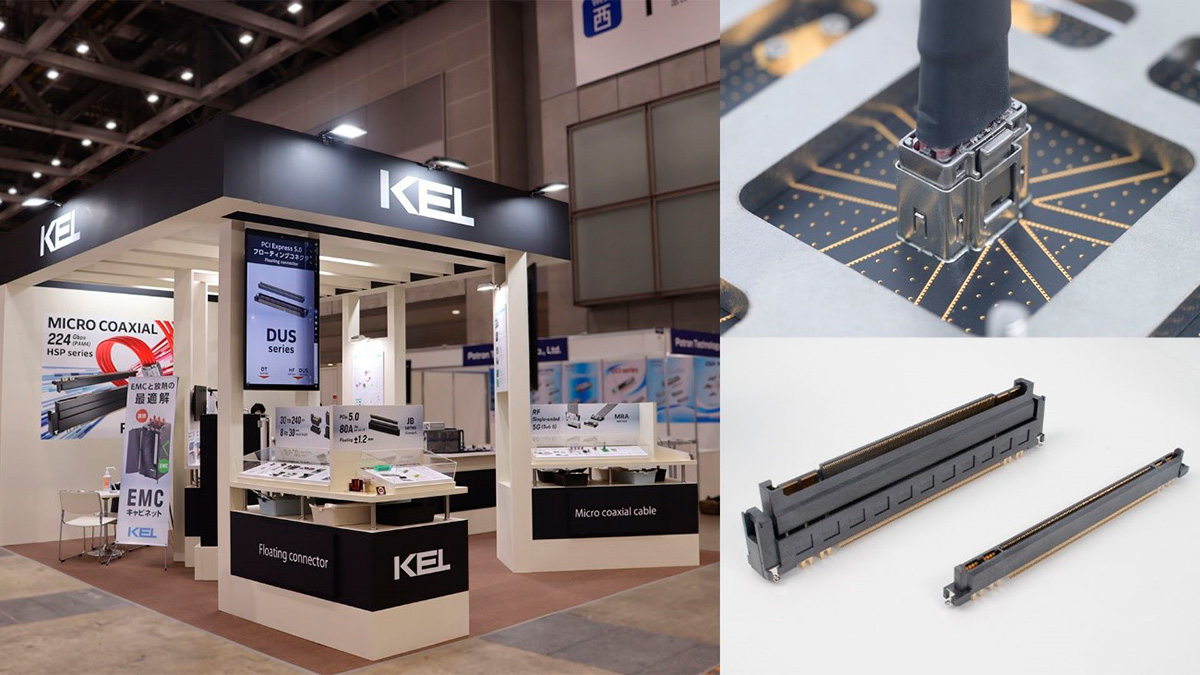 Clockwise from left, booth at COMNEXT, HSP series and JB series.
---
Was that in the communications field exclusively?
The exhibition's theme was "next-generation communication technology", so you could expect high-speed connectors and the latest innovations from us, including MRA. We have had many international visitors, providing an excellent opportunity for networking.
Regarding optic communications, NTT is involved in an initiative called IOWN. Their vision aims to transition from electronic to optic communications to achieve high-speed and low-latency connections with reduced power consumption. Historically, KEL has not been involved in connectors specifically designed for optic communications. However, in line with NTT's vision, we will look for a way to support this initiative. If the IOWN vision becomes a reality, we can expect significantly faster and more efficient communication.
---
Interview conducted by Karune Walker & Sasha Lauture