Could you please share with us your thoughts on the current state and strength of the chemical industry in Japan? Japan is known as a resource-poor country, but its expertise and specialized and innovative chemical solutions have made it the fourth largest chemical producer in the world. Despite these obstacles, why do you think Japan has been able to achieve so much success in this sector? What do you think are the key contributions of Japan's chemical industry to the global sector?
Historically, I think it started with the policies of the Meiji Era (1868-1912) that meshed very well with the nature of the Japanese people. At that time, Japan, in aiming to become a trading nation, was to introduce technology from Europe and gain superiority through its improvement. Perhaps this process suited the Japanese people very well. At the same time, the introduction of steel and chemical plants in the Kyushu region in line with this policy was probably a factor in its success. Japan had an isolationist policy during the Edo period (mainly from 1639 to 1858), but had a limited trading area with foreign countries in Nagasaki Prefecture in Kyushu. This made it easy to foster human resources in Kyushu who were willing to take on new challenges, and building factories in such areas was one of the keys to the success of our company and others. In the 1970s, when the IT revolution was just beginning, Kyushu had all the basic materials, technologies, and human resources needed to quickly develop new materials and products in the field of electronic materials research and development. I believe that Japan has maintained its competitiveness, especially in the fields of functional materials and chemistry, based on the accumulation of such resources since the Meiji Era.
Historically, the competitive advantage of Japanese chemical manufacturers has concentrated solely on quality and technology. In recent decades, competitors in regions such as Korea, China, and Taiwan have made great strides in these two areas; using JNC as a case study, what are your strengths and competencies that set your company apart from these competitors?
Since our founding, we have been supported by the bold spirit of challenge of our employees, with a corporate culture that is extremely pioneering and very tolerant of failure. In addition, we have been applying and promoting computational science to materials design for more than 20 years, and have reached a top-class level in Japan, which we believe will be a weapon to compete with Korea, China and other foreign countries in the future.
Furthermore, since we are also engaged in the development of functional materials, we are proud that we have reached a certain level not only in chemical technology but also in the technology to evaluate performance. We believe this is another point that differentiates us from our competitors.
You mentioned that one of our strengths is our many computational science and strong-willed researchers and our evaluation technology, but I think these strengths can be traced back to our human resources. However, with Japan's declining birthrate and aging population, I hear that securing human resources has become a major issue. How is JNC dealing with human resources in an aging society?
We are currently implementing various measures to tackle the challenges posed by our aging society, and one of these measures is the recruitment of individuals from Asian countries. For example, the head of our Silicon-related business is a Korean national. While it is true that elderly people have physical declines as they age, it is also true that they have accumulated valuable experience and wisdom. I believe there is still much room for us to incorporate their work methods and other innovations. We would also like to focus on improving the health of our employees as part of our welfare program.
One of the major trends affecting the global chemical sector is the concept of sustainability in both the production and use of finished chemical products. Japan has had a lot of success in this area with its emphasis on carbon neutrality and a strong awareness of the environmental impact of the products it produces. How is JNC working to meet these environmental expectations from the global chemical sector?
First, in terms of energy used for production activities, we are promoting the use of hydroelectric power, a natural energy source. We operate 13 hydroelectric power plants, including some that are more than 100 years old. These have been renewed over the past 10 years, so that for the next 100 years, all of the electricity used at the Minamata plant can be supplied by hydroelectric power. The plant located in Kumamoto, Japan manufactures a variety of products, and among them, silicon is attracting attention as an element that can replace carbon, and we are accelerating the development of this element. We are also developing other functional materials that can contribute to energy conservation. Liquid crystals and organic EL also fall into this category.
How was your company affected when COVID occurred from a logistics standpoint? Can you elaborate a bit more on how you were able to mitigate the problem from a supply chain management point of view?
Some raw materials and products were affected quite severely. In fact, some products were on the verge of being discontinued. In this case, the department in charge of logistics developed new raw material suppliers. We also developed technologies to ensure that the quality of products made with these new raw materials were such that we were able to continue providing products to our customers. In this way, we were able to offer our products to customers on an ongoing basis.
---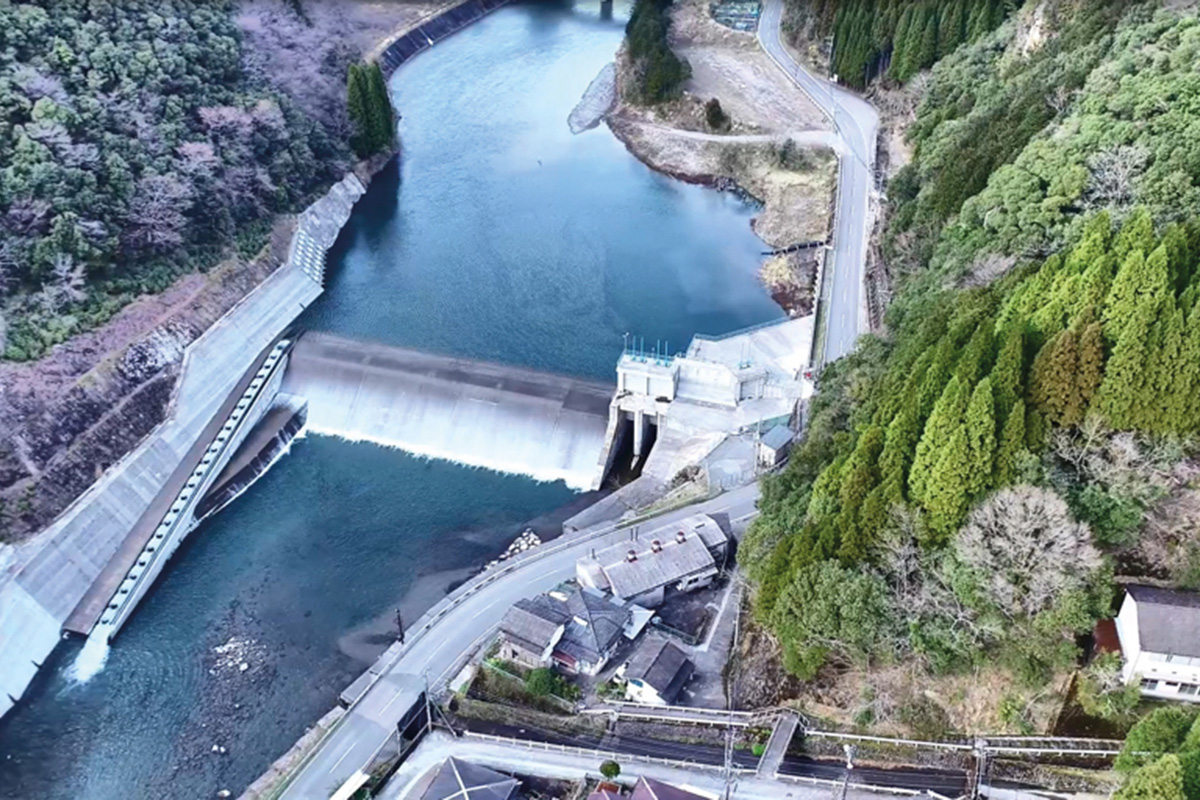 Hydroelectric power plant
---
Since COVID, corporate supply chains are becoming shorter. Japan has a highly skilled workforce, and with the weak yen and strong dollar, the situation is very interesting for Japan, as more manufacturers are moving production back to Japan. When we interviewed Scott Caron, president of Japan Display, he said, "We expect a lot of manufacturers to come back to produce locally, especially in this area." What are your thoughts on this? Do you think that production will really come back to Japan due to these various micro factors?
I totally agree with what he says. In fact, we are already seeing a move back to Japan. I see the return to Japan as essentially a move to shorten the supply chain and improve business profitability. For our part, we have moved our LCD production base from Japan to China, as China is the center of LCD panel manufacturing. This is because we do not have many transactions in Japan and two major Korean manufacturers are also shifting to OLED. This is also still in line with the trend of shortening the supply chain.
You recently announced the formation of a joint venture with Dalton Electronics in Shenzhen to gather alignment film materials for LCDs and to strengthen supply chain management. Please tell us about the status of this joint venture. Also, why did you choose Dalton?
The first reason for the collaboration with Dalton is to regain the market share that we have lost in alignment films. Another reason is that in addition to the materials we provide, the performance evaluation technology related to these products we supply is extremely important. In order to expand this, it is necessary to identify the polymer developments required in this area, and this will be achieved through collaboration with Dalton.
How do you "purchase and supply ethically and with minimal environmental impact" when procuring and developing materials?
Our procurement is based on our strict quality assurance standards. We conduct regular audits of our partners. If we find areas for improvement, we work with them to remedy them. In the event of ethical issues, especially those involving human rights as recognized by the Japanese Constitution, we immediately terminate our partnerships. To be honest, however, there is a limit to our ability to properly audit all of our partners. We must rethink what framework is best for us to use in the future. It is important to build a good relationship that allows for a more open exchange of information and to expand the scope of what we can audit.
What kind of partners are you looking for? And what role does collaboration play in overcoming these challenges and weaknesses?
First, we need to distinguish between the development, manufacturing, and sales phases of the product. First, if it is development, you need to know your customer target. To do this, you need a partner who can provide you with such information. In manufacturing, a good partner is a company that has tools and solutions to make facilities more efficient and more energy-efficient. In sales, the ideal partner would be one that minimizes the time and investment required to acquire new customers and expand the market. During COVID, we have reviewed our partnerships. Many of our customers want direct business. While it is important to deal directly with existing customers, it is also essential to work with other partners in order to find new customers.
Could you tell us about the focus of your R&D strategy?
Our current R&D focus is on silicone, life chemicals, and future materials. In the silicone field, we are developing a reactive silicon agent, SilaplaneTM that can be applied to contact lenses, heat dissipation materials and paint/coatings. Silane coupling agents, Sila-AceTM are also used as semiconductor encapsulants. We cannot disclose future materials, but we are working with our customers to develop them. In the life chemical field, we manufacture and sell chromatography resins for biopharmaceutical and vaccine purification. Recently, JNC's products have been used in the purification process of various types of coronavirus vaccines, thereby contributing to a healthier society.
More recently, JNC has been promoting development to meet the purification needs of next-generation pharmaceuticals, such as gene therapy vectors. I mentioned earlier that our company culture has a strong pioneer spirit, while some of the research on some of the materials I mentioned was initiated 30 years ago. That is how tenacious we are in our development of materials.
---
Image of silicone product use
---
Blue light generated by smartphones leads to all kinds of degenerative eye diseases such as myopia, which affects the elderly and young alike. It is a serious epidemic of myopia that is affecting the global population. How can organic electroluminescence limit people's exposure to blue light and improve eye health?
JNC possesses blue light-emitting materials with a narrow emission spectrum. To realize a display with high color reproducibility, a large amount of short-wavelength blue components are required, which tends to increase the load on the eyes. However, our blue light-emitting materials can reduce short-wavelength components, contributing to the realization of displays with high color reproducibility that are less stressful on the eyes.
In addition, since we possess the technology to freely control the emission wavelength range, we are able to meet the needs of the emission wavelength range required by the customer's device design.
What is your international development strategy?
We are focusing on expanding into markets with high purchasing power, i.e., regions with large populations such as ASEAN and India. We have also heard that India is interested in domestic production of LCDs. If this story is true, we would like to consider the possibility of entering that market.
Very recently, Japan Display announced that it will collaborate with HKC on OLED, and we believe that we can play a role in this collaboration. Some companies have expressed interest in our Silicon products in Europe and other regions outside of the US and Asia, and we would like to launch and spread our Silicon products in those regions in the near future.
Imagine doing this interview again on your last day as president. What goals would you like to have accomplished by then, that you would share with us in that new interview?
Right now, I feel that young Japanese researchers are quite uninspired. This may be partly because predecessors like us do not talk about their dreams. I would like to retire after igniting the hearts of as many researchers as possible and increasing the number of researchers with a fighting spirit.
And on the day of my retirement, I would like to hear from each and every one of these young researchers that this is their dream.