Traditionally, consumer electronics such as smartphones have been the drivers of growth in the semiconductor field. Today, though, we are seeing new technologies that once were thought only imaginary such as the Metaverse, autonomous driving and telemedicine becoming a reality. Since semiconductors for these new technologies will be required to be smaller, pack more transistors and be more energy efficient, new production techniques will be needed. In the case of your company, how are you developing your machinery toward these new trends in the semiconductor and FPD industry? What role does vacuum technology play in those developments?
Until recently, much of our revenue was from flat panel displays, and many people thought that ULVAC was an FPD equipment manufacturing company. However, FPD is an industry that is changing rapidly, so it was rather difficult for our management to predict how we were going to steer this business forward.
We believe we need another way to support the company when FPD market fluctuates drastically. As such, we are trying to increase the sales ratio of semiconductor and electronics manufacturing equipment.
In the semiconductor business, our company used to focus on manufacturing equipment for memory semiconductor such as NAND and DRAM, but we have succeeded in entering the logic semiconductor market with Metal Hard Mask process. There are only two companies that can provide semiconductor sputtering equipment. One is a major American company and other is us.
We have been working hard for a long time because our customer evaluation and the production certification of equipment is very strict. We are now able to offer our customers a superior product that is competitive in terms of performance, price and stability.
In the electronics business, we offer manufacturing equipment in five areas: communications devices, opto-devices, packaging, and electronic components such as MEMS, and power devices. One of our strengths is that we have a wide range of products.
Our company is a group of vacuum experts founded in 1952 by researchers of vacuum technology. We can go back and verify the vacuum principle for various technical challenges. And we can meet the needs of our customers. This is not only why customers trust us, but what they expect from us.
The main difference between ULVAC and other semiconductor equipment manufacturers appears when customer ask us "Can you do this?", and our R&D department will discuss day and night to seriously consider that whether we can do it or not. On the other hand, other manufacturers will have a board meeting with their salespeople to discuss about marketability or whether their technology is going to sell. To find delight in creating new technologies is our DNA. Doing this process in-house is the unique feature of ULVAC.
ULVAC cannot be defined by a single sector given your success operating multiple business such as the semiconductor manufacturing equipment business, the FPD manufacturing equipment business, and the electronics manufacturing equipment businesses. How have you applied your vacuum technology to these different types of businesses?
Our company started with the desire of vacuum technology specialists to contribute to the development of industry and science through vacuum technology, and has continued for 70 years. I believe this belief has led to results that meet the expectations of customers in such diverse fields.
We have pursued vacuum technologies over many years. Our predecessors compiled such findings into a "vacuum handbook" (ULVAC ed.,Ohmsha,). The vacuum handbook is a must-have book for vacuum engineers and has received many compliments from many people. We have received a lot of inquiries from those readers that led to business.
To realize a smart society, the evolution of display, semiconductors and electronic devices is required. Also, in recent years, automotives have been electrified. In an EV, the power train consists of a battery, inverter and motor. Manufacturing equipment from our company is often used for manufacturing the power devices which the main component of inverter that convert energy as the motor runs. In addition, there is a growing possibility that our vacuum technology will be used for manufacturing batteries.
Many engineers are excitedly discussing how our vacuum technology will contribute in the future.
Today, we live in a hyper-digitalized society and there are many new applications for digital products like the metaverse or remote surgery in medicine. In the future, what applications or industries do you think will be the new source of growth and revenue for ULVAC?
I would like to take advantage of the opportunity in semiconductors, so we will continue to invest resources aggressively, especially since the market size is 5 times larger than flat panels. It has various devices and applications in electronics that will continually evolve, although the market size is small in scale. Hence, we plan to keep on developing products in this area. Electronic devices actually use past semiconductor manufacturing technology, and I think we can leverage our know-how in this area. I believe that OLEDs and micro OLEDs along with their applications will expand, and the battery industry will also develop. We are participating in some battery projects worldwide, including national project funded by the Japanese government.
The regional vitalization of semiconductor industry is taking place worldwide. Through the COVID pandemic in past two years, there was a huge shortage of very advanced chips. The US Congress recently signing the Chips Act, which provided USD 52 billion in incentives to help the industry grow in the US. Do you see these developments as an opportunity?
In the semiconductor market, R&D investment has increased, which means that the field has become more competitive. Our equipment and materials have been able to continue to evolve because they have been certified by our customers. As a business-to-business manufacturing equipment company, it is important to realize our customer's goals. One of our company creeds says, " We can survive only by our customers." For us, the semiconductor field is a challenge. We will continue to develop our technology for customer.
The results of various technological developments have been utilized in recent miniaturization technologies. What technology does your company use to help customers solve their problems?
As semiconductor interconnects become finer, metal hard masks will be used instead of conventional resists. ULVAC has been able to provide a technological advantage over other companies with our metal hard mask manufacturing technology, and many customers have begun to adopt it. Metal hard masks are used as masks in the insulating film processing process of wafers. Hard masks require the following elements:
① Uniformity of film density
② Film stress controllability
③ Low Particles
These technologies enabled ULVAC to enter the semiconductor logic manufacturing process for the first time. We also have provided manufacturing technologies and continued developing new technologies for memories such as NAND and DRAM.
Could you give us an example of when you overcame a customer's problem using your vacuum technology?
The breakthrough for us was the success of sputtering equipment for FPD. We believe that our success was partly due to the fact that we possessed a wide range of vacuum technologies. We possess not only vacuum equipment but also vacuum core technologies such as vacuum pumps and vacuum gauges, and vacuum peripheral technologies such as target materials and power supplies. We tried to create a synergetic usage of these technologies in a way that can only be done by ULVAC. We developed optimal target materials and power sources for the sputtering equipment and mounted them on the equipment. By giving each other feedback, we further improved the performance. With these synergies, we were able to respond quickly to our customer's request and rapidly increased our market share.
 Behind these successes was an internal technical meeting involving researchers and engineers and management. It's a meeting in which everyone can speak freely. Great technology came out of that meeting. What's interesting about it is that nobody thinks about whether it will sell or how long it will take. Researchers and engineers believed and argued that really great things would come out of their efforts, and from that, great technologies and products actually came out.
---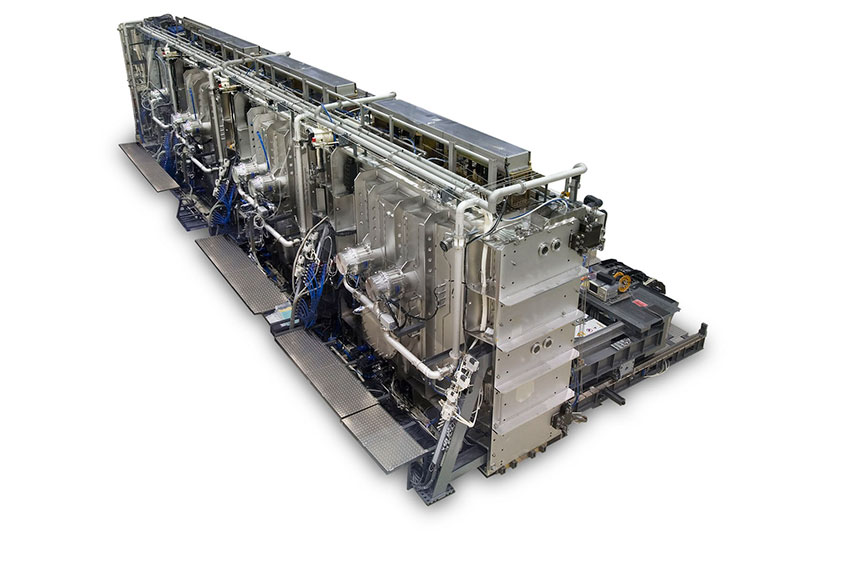 ---
PHOTO CAPTION: Single-substrate Sputtering Systems SMD Series: The SMD Series is a single-substrate sputtering system for deposition of films such as metal films and ITO films. ULVAC has delivered a large number of these systems, for use in a wide range of production environments. ULVAC responds rapidly to feedback from production sites to improve the reliability of these models.
In the 2021 fiscal year of your company, the orders you have received jumped by 36% year on year, and you have achieved the highest gross profit margin at 30% since the company's listing. What are the key reasons for being able to achieve such growth in revenue and profitability?
One of the reasons is the superb market in semiconductors and electronics. Another reason is that the FPD market was not as bad as expected and capital investment continued, partly due to increased demand for panels due to the expansion of remote work. A few years ago, we started a management reform in our group, which contributed to more profit.
We have been able to achieve some results from what we have been preparing for the last two years. Two or three years ago, we started to consolidate or limit the number of research items to be worked on. we have narrowed-down R&D themes, focusing on improved speed and increased profitability.
This year marks the 70th anniversary of your founding, and you have created a new vision toward 2032 to leverage your expertise in vacuum technology to explore the concept of the "Field of Potentiality". What inspired this concept, and what are some of the key targets that you have set as part of this 10-year plan leading toward 2032?
On the 70th anniversary of our founding, we established Vision 2032, which represents our ideal vision for the future 10 years from now."Field of potentiality" means having a space in your mind. If you don't have space in your mind, you can't try new things or hear voices other than your own. It has the potential to create something new by pouring will and passion into the margins of the mind. This Vision embodies the desire for each of us to continue to have an open mind and be such a Field of Potentiality.
Human resources are the most important thing for our company. And I believe that when each individual maximizes their strengths and individuality, it leads to the creation of something new. I believe that my role as a CEO is to create an environment where people can work voluntarily and simultaneously do whatever they have to do. We, as the management, would like to give people opportunities and goals that they can be inspired to achieve. Currently, Europe and America account for a rather small percentage of our company's sales. It means we still have a lot of opportunity to grow. Our strength was once FPD, a product of East Asia. From now on, we hope to maintain our FPD business while also taking on new markets. That's why we're trying to increase collaboration with our partners.
Moving forward, which particular countries or regions will you be focusing on, and what would be your process for growing your business there? Are you interested in joint ventures, M&As or new production bases?
Our company was founded with the desire to enrich the world through vacuum technology. The identity of our company is vacuum technology. We can respond to our customers' requests only because we can trace back to the principles of vacuum by pursuing vacuum technology over many years. We will continue to pursue vacuum technology.
In order to deliver the good products we provide to our customers, we need good leaders who can communicate well with our customers in different parts of the world. We are also committed to finding and growing human resources to be leaders in each region.
When in the far future you will eventually retire, and there will be a new generation of leaders at ULVAC, what would you like to be remembered for? What kind of goals or legacy would you like to leave behind?
I think a CEO is a person who pass the baton in a marathon relay. That baton implies the DNA never changes. I think people would remember me as the person who broadened the mindset or the perspective of the employees to the global market. I want this company to become global, which means that I want our employees to gain more experience overseas. I was abroad for 31 of the 39 years I have been with ULVAC. This experience has been very beneficial to me. That's why I want our employees to experience working overseas, using foreign languages and making friendships. I believe employee growth leads to our company's growth.