The first question is regarding the emergence of new technologies. In recent times, thanks to the advancement of digital technology and hardware services, we are seeing large and medium-sized enterprises integrating IoT, AI and Big Data into their processes. This is creating an ever-growing demand to store, treat, analyze and disseminate information. In this digital age, what is the impact of the increasing use of these technologies on your company?
We are a trading company, so we are not a company that manufactures physical products and sells our own products. When new products come out in the Japanese market, it is a business opportunity for us. The Japanese IT technology and Japanese DX trend are more than three years behind America. Because Japan is an island nation, the Japanese tried to incorporate information they received from foreign countries into Japan. It is part of the culture to welcome and accept new products in the Japanese market, as is seen with the IT and DX trend. If Japan remains conservative, we cannot survive in the world market.
With the COVID-19 pandemic, we have seen the emergence of new work style reforms. Many were work-at-home measures that were enforced by government authorities. During the work-at-home measures, many enterprises invested in IT infrastructure in order to accommodate remote meetings and heavier loads of online communication. What has been the impact of the coronavirus on your business performance?
I had doubts of what would happen considering Japanese commuting and office work style culture. I thought that we should be efficient in our precious life, such as putting effort into commuting and sacrificing family for company's restraint time. When I visited America, Germany, Holland, etc., I felt this strongly and that some Japanese equate work with going to the office. It is necessary to clarify the purpose of work and the expected results when working.
With the IT products and solutions that we handle we are making this possible. I thought we should take the lead in starting work style reform. With the Tokyo Olympics set for 2020, there had been a call for commuting peak shifts during the period. At that time, we also tried to promote a commuting shift internally, but it did not go so far. On the other hand, since April 1, 2020, the COVID-19 pandemic has forced us to change. I took this opportunity to change the way we work in the company. This way of working can make your personal life more fulfilling.
Compared to other countries, Japanese people tend to spend more resources on their companies, which leaves less resources for their personal lives. This issue used to be a concern for me, but the pandemic had helped move us in a more positive direction. Overall productivity declined as it took time for employees to adjust to the new way of working. Fortunately, demand for ICT (Information and Communication Technology) equipment used for remote work had started to increase, so sales were not affected in 2020. With the new work style taking root, I am confident that I will be able to work with high productivity and time efficiency in the future.
---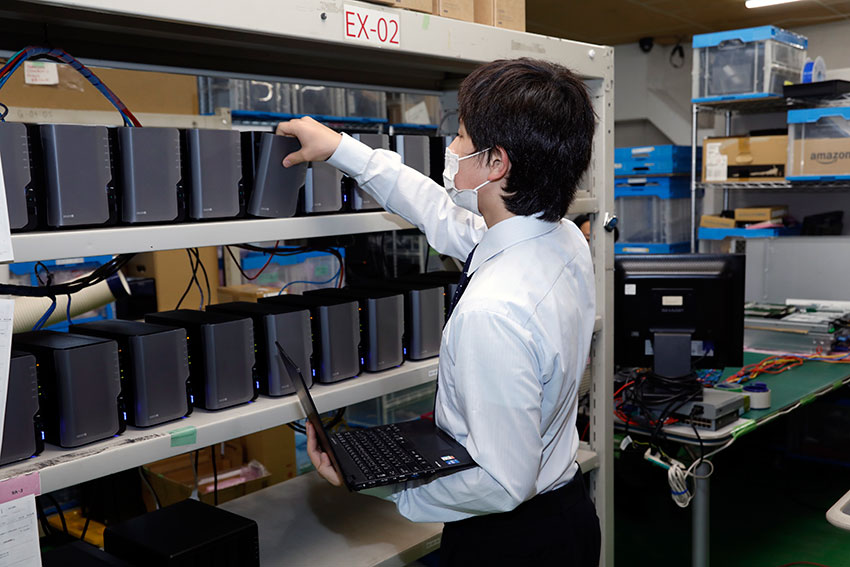 KSG staff
---
One of the big trends we are seeing, especially in enterprise service, is the democratization of server purchases. Before 2019, 60% of sales for enterprise servers came from very large enterprises. Today, however, we are seeing increased purchases by medium and small-sized companies. How are you reacting to this change in the market from buyers in the market?
Our company targets very few enterprise customers. The market is moving to the cloud. Server vendors are investing more in their enterprise customers, but our strategy is different. Even small and medium-sized enterprises (SMEs) with 50 or less employees are moving to the cloud, on-premises equipment though is still rising. The distribution networks for SMEs are dominated by copier and telephone vendors. Our market is stable now, but in the future we will move to the cloud, and offer some much different products and solutions from those vendors.
In Japan, 99% are SMEs. Only 30% of them have in-house IT engineers. Many bigger companies like IBM and Fujitsu have full system integration. As a niche company, how crucial are you in the IT support network system? What is your competitive advantage compared to big system integrators?
I can honestly say that our strengths and advantages have not yet been fully realized. In 2021, we sold over 6,000 servers. Most of them were for small businesses rather than large companies. The majority sell through integrators who sell copiers and telephones to small businesses. We are still exploring, and we are currently in the stage of test marketing, but we know that if there is a large buffer in the profit structure of this kind of integrator. In the future, we will be able to purchase in a form close to direct without going through the distribution network. We are working to improve cost-effectiveness and reliability in order to increase competitiveness in the services we provide directly.
With regard to your US business, you had a subsidiary where you originally exported Fujitsu-based products from Japan to the US. With the business being on hold at the moment, what are your expectations for the business in the future?
It's actually completely suspended because of COVID. And I don't think it's an opportunity now because of the weak yen. There are many advanced technologies in the world, and I believe that Japan has the power to refine these technologies. I would like to go back to the drawing board and restart.
Are you keen on opening offices in new markets or expanding your network in other countries?
Our main focus at the moment is the US, China, and Taiwan. I am going to Taiwan this week. Taiwan is another region that we think is very important in our business. In the future, we might consider Baltic countries, but we will not be able to do this on our own.
Your company was founded in 1986 and we know that it is going to be celebrating its 40th anniversary in four years' time. What personal goals and ambitions would you like to accomplish within that time?
Our revenue last year was JPY 3 billion. Our goal is to reach JPY 10 billion yen.