Japan is the oldest society in the world, so there is public pressure on social security and public finances. This has forced the Japanese government to start looking into shifting its healthcare model from treatment to prevention. How do the solutions you provide synchronize with this governmental push to reduce medical expenses through preventative medicine, and what advantages do you possess as both a trader and a manufacturing company in this specific regard?
Firstly, my company cannot help much with prevention. In Japan, treatment and prevention are two completely different markets. We are mainly licensed for generic medicines in Japan. However, that is not to say that preventative medicine is not important, and it is vital that the Japanese government promotes it to address the changing demographic domestically.
Additionally, there are drugs that are essentially nutrition-based drugs, and while they have their advantages, they are more closely related to the pharmaceutical field as over-the-counter (OTC) preventative measures. OTC drugs only account for 7% of the medical field in Japan, equivalent to approximately JPY 700 billion, but that figure is predicted to rise to 15% in the next 20 years. To expand the prevention market, OTC drugs are considered essential. The Japanese government is now focused on increasing the size of the OTC market. When drugs pass safety checks and are licensed for OTC use, they are categorized as Category A drugs and can be sold by a pharmacist. Category B and Category C drugs also exist, with Category A being high-risk drugs and Category C being low-risk drugs. Only Category A drugs require a pharmacist, while Category B and C drugs can be sold not only by pharmacists but also by licensed sellers or through online. OTC drugs can also benefit from tax reductions provided by the government to incentivize the expansion of the OTC market. This is advantageous for the government as it reduces the burden on public finances and social security, shifting costs to insurance companies and freeing up more funds for the public.
Additionally, there are natural forms of preventive medicine, such as Jerusalem artichokes, known to reduce hypertension. Unfortunately, health supplements cannot display pharmaceutical effects.
You mentioned how OTC is core to this prevention model, and one of your subsidiaries, KOA BIOTECH BAY works with packing operations for pharmaceuticals and the manufacturing of OTC drugs. We also know that the group consists of KOA ISEI, and yourselves, KOA SHOJI. Can you tell us some of the synergies you are able to generate among the group members and are you willing to expand the group going forward?
In Japan, efforts have been made to promote the use of generic drugs to reduce medical expenses.
KOA SHOJI is a trading company, and KOA ISEI is an industrial company. Within the holding company (which owns 100% of the share of the operating companies), KOA SHOJI imports APIs (Active Pharmaceutical Ingredients) and KOA ISEI engages in pharmaceutical manufacturing. . The aim of this organizational structure is to lead innovation as a group. When we discuss innovation, I am particularly interested in exploring its fundamental concept. Going back 100 years, we witnessed innovation driving the invention of the steam engine, which replaced more traditional means of transportation like horses and carriages. Innovation truly involves the birth of new combinations and the creation of something unique through the integration of different elements.
Moreover, innovation does not conclude with the mere creation of something; it marks just the beginning phase. From that initial idea, numerous new combinations emerge, ultimately leading to scalable advancements. The process encompasses the inception of an idea, its implementation, nurturing, and eventual scaling. This entire cycle encapsulates my vision of true innovation.
Around 30 years ago, I initiated the importation of APIs from various locations across Europe, India, and China, bringing them to Japan. Thus, KOA SHOJI commenced its activities, later joined by KOA ISEI as part of the group, and established a holding company, listing on the Tokyo Stock Exchange. Our group combines trading and manufacturing functions, creating an entirely new business model. From conceiving ideas to implementation and nurturing, we have come a long way and will continue to strive for scaling in the future.
Our group company aspires to become the foremost partner for generics, aligning with our group's corporate philosophy. The API procurement capability of KOA SHOJI and the manufacturing capacity of KOA ISEI have made significant contributions to achieving this. Our corporate slogan, "New Business Model Innovation," reflects our ability to amalgamate the roles of a trader, and manufacturer, thereby creating an entirely new business model of innovation. Within the group, KOA ISEI operates as a CDMO as part of its activities.
In 2020, we devised a mid-to-long-term strategy for our company, spanning a 10-year period until 2030. The strategy encompasses expanding our work on API procurement and formulations. To broaden the scope of API sales within KOA SHOJI, we aim not only to engage in API sales but also to enhance our capabilities as a pharmaceutical-specialized trading company. In addition to generics, we strive to diversify our product portfolio, necessitating the pursuit of licensing activities.
The market has continued to expand and face different forms of saturation. An upcoming expo in Barcelona will provide an opportunity to meet and connect with numerous API manufacturers. I firmly believe that KOA SHOJI is one of the top importers of APIs. As a trading company, the discovery and procurement of generic APIs play a crucial role in our business model. However, pure API import activities themselves pose profitability challenges due to narrow margins. To further expand, we aim to pursue more in-licensing activities. In the API market, our firm possesses a competitive advantage with our specialization in trading for specialized pharmaceuticals.
Currently, we plan to engage in manufacturing activities for vials and prefilled syringes in the Chinese market. This market is expected to grow substantially and holds significant importance for our continued growth. KOA SHOJI is already a leader in API sales within Japan. To further expand, KOA ISEI aims to specialize in a particular area. This is where our injectable products, particularly specialty syringes, come into play. By concentrating on this niche area, we believe we can distinguish ourselves and thrive in a market that can be ruthless at times. We view this path as our way forward in the pharmaceutical sector.
When we examine generic pharmaceutical giants like Sawai or Towa, we observe their substantial investment resources pooled from huge investment portfolios. However, achieving such massive investments is beyond the reach of a company like ours. Instead, we engage in CDMO activities, collaborating with other drug developers to provide them with the necessary resources for their drug development endeavours. This includes supplying samples for their phase 1 clinical trial, for which our company specializes in providing syringes and injectable drugs.
---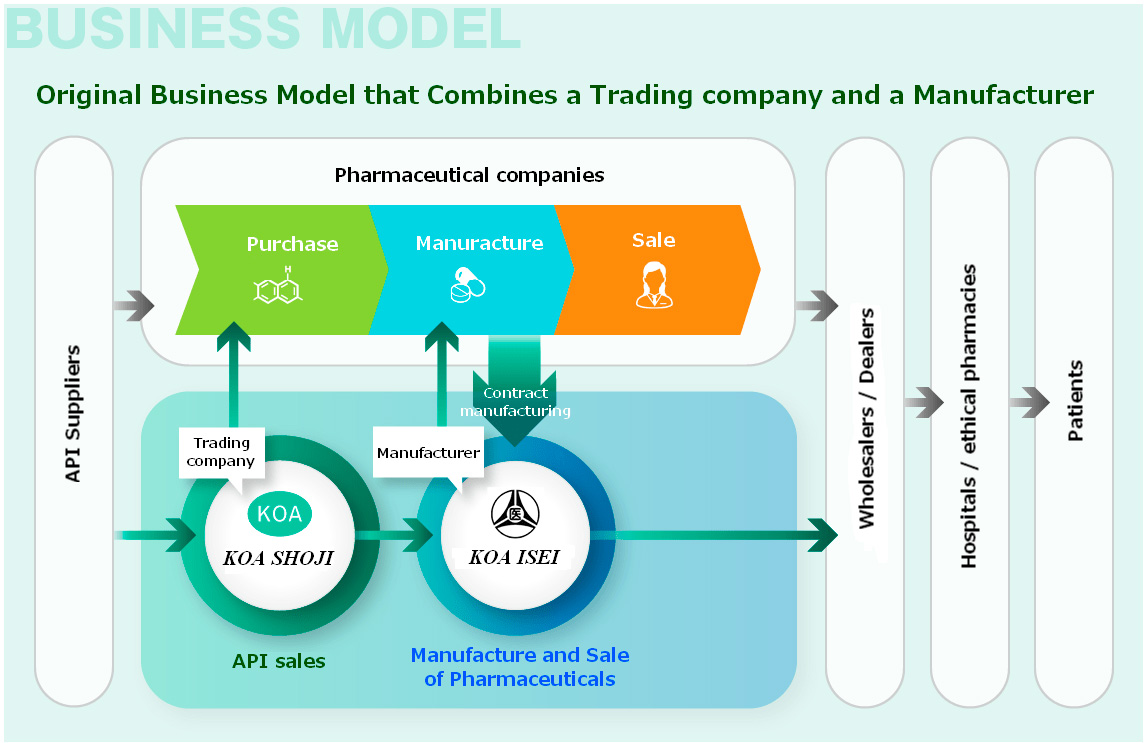 ---
In the past, many pharmaceutical companies have prioritized operating strategies in the face of competing business pressure. This is changing thanks to factors such as the COVID-19 pandemic, inflation, geopolitics, and new therapeutic modalities which have made it vital for pharmaceutical companies to carefully consider their long-term choices in sourcing, manufacturing, and the supply chain. As both a trader and a manufacturer, what operation strategies have been put in place to ensure you can continue to deliver to your clients in the face of these macroeconomic climates?
I believe it is crucial to closely monitor the government's management of regulations pertaining to the growth of the medical and pharmaceutical industries. It is important to be attentive to their initiatives and their target areas. Keeping our finger on the pulse allows us to anticipate market trends and align our strategies accordingly with the government's funding direction.
While it is essential to have dreams and ambitions, it is equally important to ensure they align with reality. By understanding the reality of the situation and identifying areas where we can realistically contribute, we can focus on finding our purpose. That is why our primary focus is the stable supply of generic medicine to those in need; a safe, reliable, and affordable provision of medication. To make this a reality, we must consistently monitor how taxpayers' money is allocated and how the government utilizes those funds.
You have mentioned how the company's goal is to become the best partner for generic drugs. Can you go into a little detail about some of the new partnerships that KOA SHOJI is currently interested in, and what role does the international market play in your business model? Are you interested in any international partnerships as well as domestic ones?
As a small company, we are just beginning to proactively explore overseas expansion in terms of partnerships. Currently, our primary focus remains on developing domestic partnerships. When venturing into the generic market and expanding internationally, it becomes challenging to innovate, expand, dominate, and grow. Understanding the diverse health insurance policies is crucial as it significantly impacts market growth. While Japan has universal healthcare, the US differs with its varied health insurance policies, resulting in varying drug affordability and accessibility across states. Considering these factors becomes paramount. It is worth noting that pharmaceutical companies succeeding abroad are often those engaged in drug development, but their success in generics may not be guaranteed, as generics operate within a different realm.
How do you foresee the overseas market for your injectable business?
Regarding injectables, our initial focus is on expanding within the Japanese market before considering opportunities in overseas markets. China could potentially be the next target market after Japan.
We know your company has a sales representative in China as well as a network of more than 90 API manufacturers in more than 10 countries around the world. Are there any specific countries or regions that you have identified as key for the corporate growth of KOA SHOJI Holdings?
You mentioned the 90 API companies and 50% of those are European companies, 15% are Indian companies, and 15% are Chinese companies, with the rest being made up of Korean, Thai, Taiwanese, companies.
---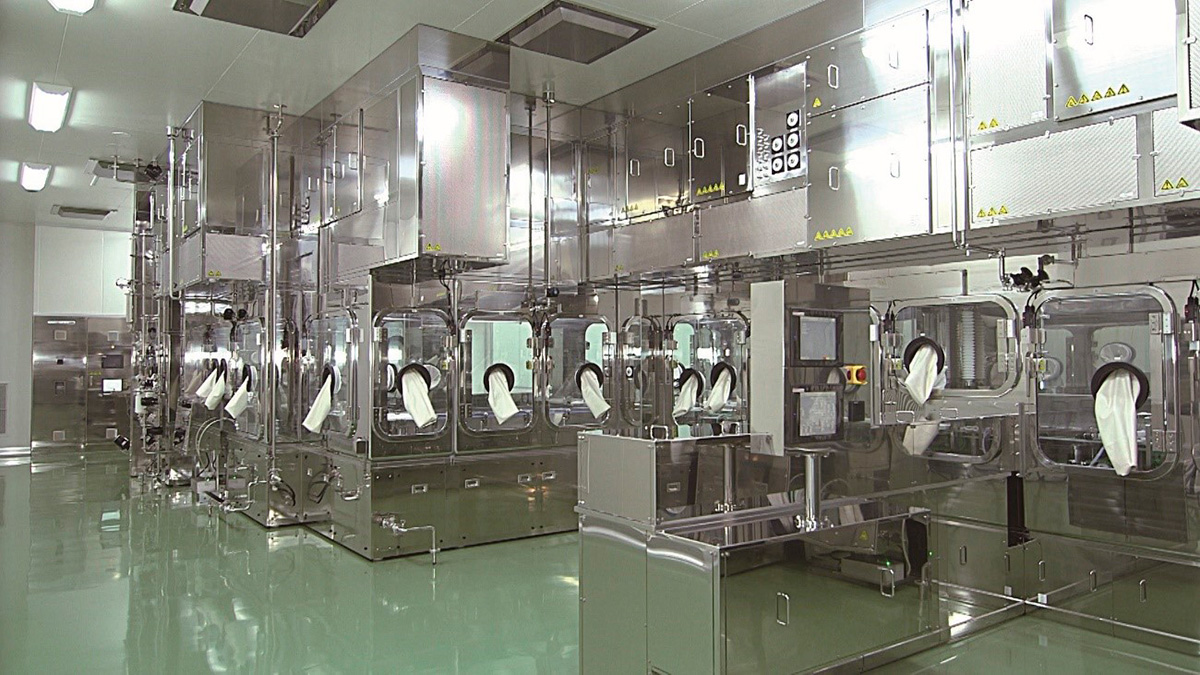 ---
Imagine that we come back in three years and have this interview all over again: what goals would you like to achieve by then?
I would like KOA ISEI to have expanded in the realm of specialty injectable drugs and have a factory in place to be able to launch this new business of ours fully.
---
Interview conducted by Karune Walker & Sasha Lauture