In the last 25-30 years Japan has seen a rise in regional manufacturing competitors from countries like China, Korea, and Taiwan, who have replicated Japanese monozukuri processes but a much cheaper labor cost, thus pushing Japan out of mass industrial markets. However, we still see that many Japanese firms are leaders when it comes to niche, B2B fields. How have Japanese firms, and specifically Photron, been able to maintain this leadership despite stiff competition?
Historically, Photron is a spin-off of J. Osawa Group Co., Ltd. The group itself went bankrupt over 40 years ago. At that time we were mainly importing measurement and projecting equipment, but one of the products was high-speed film cameras. We realized these cameras were still fully analog and we saw an opportunity to shift to the digital side. That is how we started manufacturing cameras ourselves, with the idea of not necessarily needing to import from American or European manufacturers but rather strike it out on our own. It was good timing because the whole measurement equipment industry was switching to digital. I want to begin our story by telling you why we are here.
With the film high-speed cameras there is a limit to what they can achieve. They can capture around 1,000 to 2,000 frames per second, but we were able to break that limit with the help of Hitachi, Ltd. We decided to plow in huge investments totaling almost USD 1 million. It has been certainly a long journey. For instance, at that time, Kodak had a patent on some kind of special treatment and they sued us for the breach of their patent. We discussed and settled the case. Kodak was happy to let us continue to sell under the Kodak branding, which was targeted at the Japanese market. That seemed like a good deal, but some of our customers started questioning why it was under the Kodak made-in-Japan branding.
From there we expanded our business and started distributing products to customers under our name. The history I just told details our beginnings, and now 40 years later most of our employees don't really know how Photron came into existence.
Going back to your question, in our case, it comes down to chasing the new technologies on the horizon such as CMOS sensor or polarization. Otherwise, we cannot survive in the competitive global market. Maybe we can survive in Japan with or without them but the local market is limited, and it is maturing. Our decision was to look at the global market, which is huge and is always growing. In order to compete in the global market you have to be willing to put in huge investments and willing to put the time into chasing technologies. I think these are key points for survival, especially in fast-changing market conditions.
To briefly touch upon the consumer market, the competition is always fierce, and there are huge global Japanese consumer companies like Panasonic or Sony, as well as there are the Chinese companies as you pointed out. We intend not to compete large players by focus what we are good at.
As you said, in Japan the population is rapidly aging and shrinking, in fact, in the next 15 years, it is estimated that one in three people will be over the age of 65. Another problem other than the Maturing market is that companies will be facing a smaller and smaller labor pool to replace older more seasoned workers. What are some of the other challenges and opportunities you see this demographic shift presenting for the future? How do you plan on adapting to those?
Of course, if I had the solution to this question then I would be prime minister by now! This is the problem facing the developed countries across the globe. The problem is that a country like the United States is very attractive and everyone wants to live there. As for Japan, however, the country is so isolated and peaceful after WWII that everyone wants to keep the status quo. Similarly, Japanese people are terrified of leaving the country because it really requires them to speak English and understand cultures that are foreign. I think this is a big issue.
To me, the key to answering your question is how to get out of Japan. The big markets globally are currently Europe or China, and possibly it will be India in the future. Looking even further into the future it might even be Africa. For us, these are huge potential markets, and globally there is always a need for high-speed cameras. R&D spending is a keyword in many markets around the globe. From my point of view, it means that there are plenty of opportunities outside of Japan right now. As a company with only 400 employees, it is a series of struggle to break the confines of the domestic market as it stands.
One solution we have heard in interviews is the adoption of digital technologies to help businesses with their operations. We know that Photron offers both 2D and 3D computer-aided manufacturing (CAM) solutions. In 5-10 years how will digital technologies further shape and change Japan's manufacturing?
One example can be seen with crash test data sent to automotive companies. While this piece of information remains important, the automotive companies no longer want to do actual physical tests anymore given the high costs. They want to shift to digital simulations, for example, using CAD systems to design an environment where they can simulate car crashes digitally.
Our relationships with car companies have been strong, and our proposal has been to integrate high-speed cameras into their total simulation systems. Here, 2D and 3D CAD-CAM systems help connect the dots. Obviously, our company cannot and should not try to build the entire system but we can definitely create integral parts of these systems, and help solve the car companies' problems.
---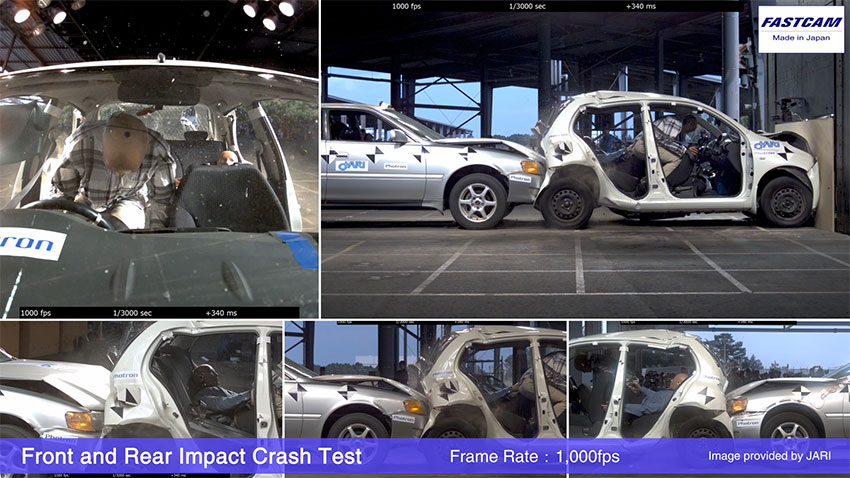 Automotive Crash Testing
---
You've talked about high-speed cameras today and we know that one of your most notable is the FASTCAM Series, but you have evolved upon that to develop the Nova-S which achieves ultra-high-speed shooting performance of up to 20,000 frames per second while also being the smallest and lightest high-speed camera in the industry. How were you able to achieve these unique features when developing the Nova-S series?
It really comes down to the CMOS sensor. For a CMOS sensor, there are basically three major factors; resolution, sensitivity, and speed. There are trade-offs between the three factors. For example, if you make it a higher resolution then there is a chance that the sensitivity goes down. Same with an increase in speed. We must think about striking the right balance between these three factors, and with each application, the importance of three factors defers.
A car company, for instance, they don't need as much speed, with the requirement of only around 4,000 frames per second. They need higher resolution and a higher sensitivity level because they require a clear picture. We make sure with our sales team that the requirements for each application are communicated.
We take the results of those discussions to a CMOS design company, and these chip design companies are often located in Europe or the United States. Large CMOS sensor companies require large amounts of volume for CMOS sensor orders to fill the fab capacities. We tend to work closely with smaller CMOS sensor design houses because a couple of thousand CMOS sensors are too small an order for the large semiconductor companies. Now, co-development with the CMOS design companies is critical part of realizing the unique balance or recipe, as it were.
---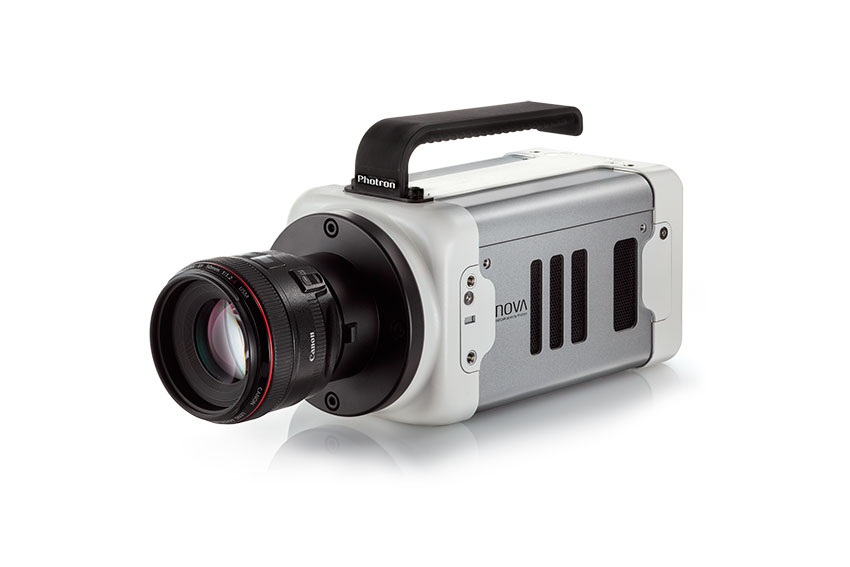 FASTCAM Nova S20
---
Your FASTCAM Series is your flagship lineup in terms of high-speed cameras. What are the main competitive advantages of this product? What benefit does it provide to your customers that use it?
Our major competitor is Vision Research, based out of New Jersey, the United States. Our advantage is product quality as well as support. Our field engineers know how to create fantastic shots based on the customer feedback. If you think about something we are known for, my mind goes to launching a space craft. Consider how much money goes into the development and the launch. If they fail to launch even one space craft, it is a lot of money down the drain. That is why camera quality is of the utmost importance for our customers. I think that our great support team is a key to our customer success and the reason why our customers around the globe choose to use our cameras.
While the FASTCAM series is known for its speed and ultra-lightweight, each customer has their own specification. I believe we have the capabilities to effectively cater to our customers' needs.
Recently you developed CRYSTA, the world's fastest polarized high-speed camera which can visualize the internal stress and orientation structure of transparent materials. Why did you develop the CRYSTA and can you tell us some of its applications?
Almost 20 years ago we were at a trade show and we were looking for new applications for high-speed cameras. We felt at the time that the market was both a little limited and maturing. We started to look for new ideas. When we met Tohoku University Venture Partners, an affiliated venture capital of Tohoku University that made an investment in a start-up with a polarization process technology, we thought of taking the technology and put it on our CMOS sensors to visualize phenomena otherwise invisible. The start-up and we started to study together on the idea, and then about 10 years ago we joined a co-development project. Finally last year, we made an investment and acquired the start-up.
Polarization is just one application of how high-speed cameras can expand its horizon. We believe the addressable market is large and growing.
We know that you have a variety of different business divisions; cameras, CAD solutions, medical imaging, LSI development, and many more. Could you tell us which business division you're currently focusing on?
In terms of sales numbers and volume, the high-speed cameras are our largest business segment. Our focus has been to be a leading company in each niche market. For high-speed cameras, our market share is around one fourth in the entire Japan. Medical and healthcare is a huge industry but the market we serve with our medical imaging is somewhat niche. We are the niche top leader with one third of market share. We are also proud of our 2D CAD, and with a strong brand recognition, we have been able to compete with global large CAD players in a certain niche market.
Could you elaborate on the solutions and services that you can provide to the medical field?
In the past, our focus was primarily on an encoder system, and since then we shifted to the hardware business first, then shifted to on-premises software. Clinics and cardiologists can access the large amount of video streaming data under a secure environment. While cloud applications are popular these days, in-house servers provide practical solutions in these specific areas.
It is clear that R&D plays a very important role here at Photron. Could you give us an overarching view of your R&D strategy? Are there any products or technologies that you would like to showcase for us?
Photron as a company is part of larger IMAGICA GROUP, and their industry focus is media, namely content creation and post-production. Two and a half years ago we integrated the software team and now we have over 100 software engineers at Photron, also working for the group. While I believe we need to grow the number to be comparable to the larger tech conglomerates, the idea is to leverage the software engineering capability to pursue and develop cloud-based or artificial intelligence solutions for our customers. Also the idea has been that we develop solutions not only for media and entertainment but also we go into medical, industrial, and other high-speed camera applications out there. That is why the engineering team was integrated under Photron two years ago.
Going cloud is one of the key technologies we want to pursue moving forward. The world of broadcasting and entertainment is drastically changing; people spend less time on the traditional (cable) TVs, favoring their cell phones instead. Similarly, traditionally high-speed cameras transfer their data via ethernet or USB ports, but we see potential with the transfers exclusively using the cloud. As you know, once up in the cloud, Amazon Web Service will take care of it, and helps analyze the data. This is amazing and we want to leverage this opportunity more aggressively.
Could you tell us any synergistic effects you get from being under the IMAGICA GROUP?
I will give you an example. We have an e-learning system that enables schools and universities to stream videos - a technology leapfrog to meet the online learning needs. The IMAGICA Group has a long history and expertise of video streaming while universities have been a strong customer base of high-speed camera business. Together we developed a user-friendly system for schoolteachers and university professors, who are not necessarily tech savvy. If you think about it, Metaverse is now coming out and it might be used for educational purposes. Metaverse really needs content right now, and under our group's umbrella, we have a lot of educational content.
If we look internationally we know that you have overseas operations in Vietnam, the US, and China. How are you able to ensure the quality of your products across your international operations?
Each customer has their own requests, and so does each country or region. Our marketing department is always asking and aware of what the needs of a specific region are, and then the knowledge is effectively passed on when they go and compare notes with each general manager or field manager. The key, as I said, is this integrated internal knowledge sharing. Operationally excelled, I believe we have been able to figure out what the top priority is, no matter how complicated the problems are for our customers.
Moving forward what strategies will you employ to further expand into China, the US, Europe, and India?
Our next step would be actually the ASEAN region with countries like Thailand, Indonesia, Malaysia, and Vietnam. Many Japanese companies already have a presence there and many of the automotive companies are building test facilities in ASEAN nations. Test facilities give us an opportunity for our high-speed cameras in these new markets. After that is India, which is a huge market. Given the uniqueness of the market though, I think the best strategy is to go and find a partner company or perhaps form a joint venture.
Looking to the not-so-distant future, what is your current mid-term strategy to continue your corporate growth?
Well, we have clearly laid out our growth path, however, we always need to stay flexible and adapt to the times. High-speed cameras will grow stably and sustainably, in some other areas however, we will have to overcome business hiccups. As we talked, we have a number of cash flow generative businesses, and we have identified our growth areas. Basically, our plan is to manage the cash flow generative businesses and then reinvest the profit and capital into growing areas.
Imagine that we come back 2 years from now and have this interview all over again. What goals or dreams will you hope to have achieved by then?
Right now, my personal goal is to scale the business to JPY 30 billion in sales, with at least JPY 3 billion in profit. A size is a size, and if we don't scale, there is so much that we can invest in the long term. My vision is also to ensure that all the employees are happy and are a part of the big picture, and that we have a good creative and productive working environment here at Photron.