In the last 25-30 years, Japan has seen the rise of regional manufacturing competitors who have replicated Japanese monozukuri processes but at cheaper costs, pushing Japan out of mass industrial markets. However, we still see many Japanese leaders in niche B2B fields. As a specialized trading company of machine tools and factory automation equipment, how have Japanese firms been able to maintain their lead despite the steep price competition?
We are a trading company, so the basics of our business are that we buy and sell things. When we buy Japanese products, we feel safe, and the reason for this feeling of safety is that with Japanese products, even small screws and parts are free from damage or defect. The finish of the product is scrutinized down to the finest details, meaning products are almost always of the highest quality. This means that even if a Japanese firm is producing products in small volumes, the quality will remain high.
Japanese products will often be good in functionality as well as appearance. High quality, good functionality, and great appearance are really the key factors that define what Japanese products are. When it comes to Japanese SMEs, in terms of size, they are much smaller than those in China or Taiwan for example. In those countries, even SMEs are employing 300-1000 people, but when it comes to Japanese SMEs, they tend to only employ 20-50 people. This leads to cheaper management costs, and thus more time, energy, and resources can be spent on quality management. I think this is a major aspect of why Japanese SMEs can maintain their competitive edge.
When it comes to these SMEs, many do not have the capabilities themselves to export their products. What role do trading companies play in supporting the Japanese industry?
As a matter of fact, we do not export too much. It is still difficult for Japanese SMEs to export by themselves in terms of language, export process and marketing. We do export our components and parts to our subsidiary in Indonesia, but our clients for our Indonesian factories are Japanese firms. Those Japanese companies that are our clients seek Japanese products and Japanese quality. Therefore, they have no interest in buying products from local companies, and as a result, our exports in terms of the amount are limited.
In the last two years, the COVID-19 pandemic has posed major challenges when it comes to global shipping. How have these disruptions in global shipping logistics affected Haneda Shokai and how have you been able to overcome them?
We were not impacted much by the COVID-19 pandemic, and the reason that is the case is that the amount we export is small. In addition to that, the relationship with the customer, and in the case of a few of them, enabled us to use their contacts so that exports of products continued to go smoothly. I think this can only come about from a good and stable relationship with customers.
On the other hand, we were importing materials from China, and as you can imagine, this completely stopped. All we could do was just sit and wait. I should preface the fact that we did not really do anything special during these troubling times. With the shortage of semiconductors, some parts and products are not being made. To overcome this, we partnered with a trading company that has good connections with those in China to get materials and parts from there. Additionally, we found a supply chain route to procure materials that were experiencing shortages domestically in Japan. Through this, we have been able to supply materials and parts that are in shortage to our customers. Obviously, we are still supporting and finding them regular products that they need in small numbers, but this must come at a higher cost.
What really is a mystery to me is the fact that there are some companies in China that are stockpiling these parts and materials somewhere. This supply chain route has resulted in substantial profit.
Are you looking to further expand your clientele with foreign companies and increase your company's client portfolio?
We have operations bases in Thailand and Indonesia, and our customers are Japanese companies operating in the area. We really want to expand our capabilities and our customers. We have managed to meet the demands from Japanese customers, therefore capacity wise, it is not possible now to expand. Take for example Indonesia, where we have a factory producing special-purpose machines. The problem that we are facing, however, is the hiring of good engineers. Add to that the fact that job hopping is much more prevalent, especially when compared to Japan. In terms of human resources, it is hard to meet expansion requirements.
---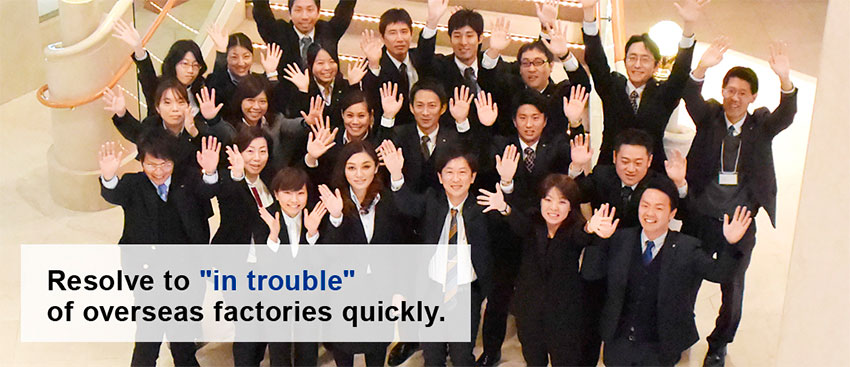 ---
Haneda Shokai began as a trading company, and since then you have evolved to also include manufacturing and development of automatic and dedicated machinery. As a trader, why did you decide to diversify into manufacturing?
I remember that it was around 2008-2009 that Japan was hit by the global financial crisis and the Lehman shock. Around that time, we started a factory in Thailand. Initially, we were selling equipment, however, our customers sometimes would ask us to relocate their machines and equipment to other factories, so in addition to just selling, we started to engage in manufacturing works. Once we started doing that, our customers then expected us to make conveyors dedicated to connecting their machines. Since those days, we have asked our subcontractors to manufacture these conveyors, however, then we faced the problem of quality because that subcontractor was local. Fed up and tired of quality issues, we thought that perhaps we can take over and manufacture them ourselves. We employed some engineers and started production.
What do you foresee in the future for your manufacturing capabilities?
That was what happened in our factory in Thailand, and at the peak, the factory had 60 people working there. After that, however, the economic situation in Thailand worsened, which led to a reduced amount of capital expenditure (CapEx). As a result of this, our company faced a deficit and therefore had to make the difficult decision to suspend production. Our company went back to only trading in the area around 2015.
During that time, investment in automation began to increase in Indonesia and Japanese companies started to relocate their factories to Indonesia. In Indonesia, we made sure to pay attention to the lessons we learned in Thailand and started small in terms of capacity. We made sure to gradually grow the number of employees and now we have around 60. It is thanks to this that we grew to be in the top five companies for specialized purpose machine production in Indonesia.
---
---
The automotive industry is going through a transformative time with the switch to EVs and domestically, Japan is committed to electrifying all new cars by the mid-2030s. What are some of the effects that this shift to EVs has had on your business and how are you catering to the new demands of the automotive industry?
Our business that will be impacted the most will be the cutting tool business. The amount of business we will get unfortunately will be less and less over time. We are anticipating that we will lose around JPY 1 billion by the end, so we need to think about ways to compensate and this is a challenge. We are looking for opportunities to replace the products that will be phased out by the changes in the industry.
We have thought about selling tightening tools or adhesives for cell batteries. One example is FUJI's plasma unit and mounting machine which we are now selling. This is where we can make up for that loss, therefore increasing the work we have that relates to electricity. Another approach is to find other industries besides the automotive sector. In fact, when you are situated in Aichi prefecture, all anyone ever talks about is the automotive industry. We are trying to enter the robotics field as well as the semiconductor manufacturing field. We have been intensely making efforts and the number of sales we have achieved has been increasing.
As a trading house, we are focusing on our added value concept and as such, have hired engineers now to give more support to our customers with the automation of their operations. Automation demand is not only limited to the automotive industry, and in various industries, this is required. For that reason, we are really trying to focus on this.
Historically traders were responsible for handling, distribution, and financing, however, this is slowly changing over time and many traders are asked to provide production and formulation services. How do you foresee the evolution of trading companies in Japan going forward?
I believe that all trading companies in Japan are at a crossroads, wondering which direction they should take. The role of distribution and financing will remain, however in many ways, can be replaced with online services, therefore, there is a risk. The reason why we think the function of distribution and financing will remain to some extent is that the just-in-time (JIT) required and demanded by Toyota and many others will inevitably lead to some companies having a good amount of stock in their hands. Online companies cannot meet this demand, and by that, I mean the security side. We established a system to respond to the demands of JIT.
Another thing we can do is expand the industries that we are covering and the regional areas. One more thing is the switching of mechanical parts to electronic ones, including software.
What role do partnerships play in your business model and are you looking for more overseas partners?
The simple answer is that we want partners, but with that said, we are now finding it difficult to find partners who can meet the demands of our customers in terms of quality. It comes down to it not being easy to find local partners.
As I mentioned earlier, we would like to switch from mechanical parts to electrical ones, which includes software. We are looking to partner with a good supplier of not only electrical components, but also a good software engineering company too. Our customers know their own technology, so we can make a partnership to sell new software to them. We will always study a product to understand it before we sell it. Unfortunately, this is no longer always possible as the technology level has become so high, so we need to partner with the manufacturers and developers.
Moving forward, what other countries or regions have you identified for further expansion into?
The region we are most interested in is India. As we hope to establish a business in India, we cannot close our base in Thailand, however, it is not profitable. We are also interested in Vietnam and we may see that happening before India.
Imagine that we come back four years from now and have this interview all over again. What would you like to tell us?
I am not sure I will be the president by then and I am thinking of handing over the position of president in the next five years. I became president at the age of 36 and my son will be 36 in five years' time. The company has a vision for the company for 2030, and that is to be a European type, high profitability company. With the situation in Japan right now, our profits are thin and we have been exposed to fierce competition. When we look at how relaxed some European companies are right now, it is something that we would like our company to adopt. This is only made possible by unique products and highly efficient ways of working. This is the business type we are looking for and aspire to reach. Targeting new and interesting markets, as well as diversifying the industries we cater to, is our vision to reach this level. This is how we define the trading house added-value business that we describe ourselves as.