In recent decades, Japan has seen the rise of regional manufacturing competitors that have replicated Japanese monozukuri by taking advantage of cheaper labor costs and pushing Japan out of mass industrial markets. However, Japan is still a leader when it comes to niche B2B fields. How have Japanese firms been able to maintain their leadership despite the stiff price competition?
China and other Asian manufacturers have been expanding in low end markets, as you said, because of cheaper labor and mass production. However, even if we are in the same industry, we are in different sectors since our target is different.
Our priority is to provide products that meet customers' requirements. In contrast, it seems to me that the Asian manufacturers assume that customers will fall in line with them. It is fortunate that the product specifications demanded by customers are becoming more precise every day because customers who were not our target market previously now require our products. On the other hand, if prices become the focus and high-end products are not required, then our role will become redundant. In that case, we would have to accept it.
In my opinion, Hamai is targeting different areas, so of course there is heavy competition between Chinese and other Asian manufacturers, but we are fighting in a different arena and that is why we can survive.
More than one third of the Japanese population is over 65, which means a reduced labor force and a shrinking domestic market. What are some of the challenges and opportunities this demographic shift is presenting for Hamai?
Demographic shift is inevitable and Japan needs to introduce overseas immigrants to avoid the decreasing population in the domestic market. As a result, the proportion of overseas sales increases, which illustrates a trend that was already foreseen.
Regarding the labor shortage, our products are too complicated to be made in an automated production process, so in order to achieve production volumes with less manpower, it is vitally important to train key personnel. For example, when a certain production line requires three workers of a certain skill level, we have to aim for the same performance to be achieved by one highly trained person with two less experienced workers.
Many companies are looking towards automation as a means to replace their aging workforce. You have said that some of your products are difficult to automate, but how are you adapting to this trend in your manufacturing processes?
In fact, it is very difficult to introduce automation to our products because our products are actually custom made and it is often a small lot. If it were a mass production line, we could introduce automation, but our products are focusing on smaller lots and also there is a heavy dependence on the manual work of engineers or craftsmen. The operations they perform are very complex, so it is very difficult for us to introduce robotics to take their place.
Of course, one of our aims is to produce machines that are less costly, but that is not the top priority. High quality and meeting the customers' demands are much more important for us. Our lead time is relatively slow and the volume of the sales is not so big and we do not produce many machines so the endeavor to reduce production costs is not so pressing at this point. Rather, we have to focus on better quality machines. That's more important.
Could you please tell us what are the main competitive advantages of your firm?
We are very proud of our machines' quality and we have customers that are top companies, dominant in their respective markets. They have very good technology and experience, and we have sold a lot of machines to them over the years. In the meantime, we have experienced and learned a lot of things from them in terms of their processing. I think that cumulative know-how is the most important strength needed to compete in the market.
---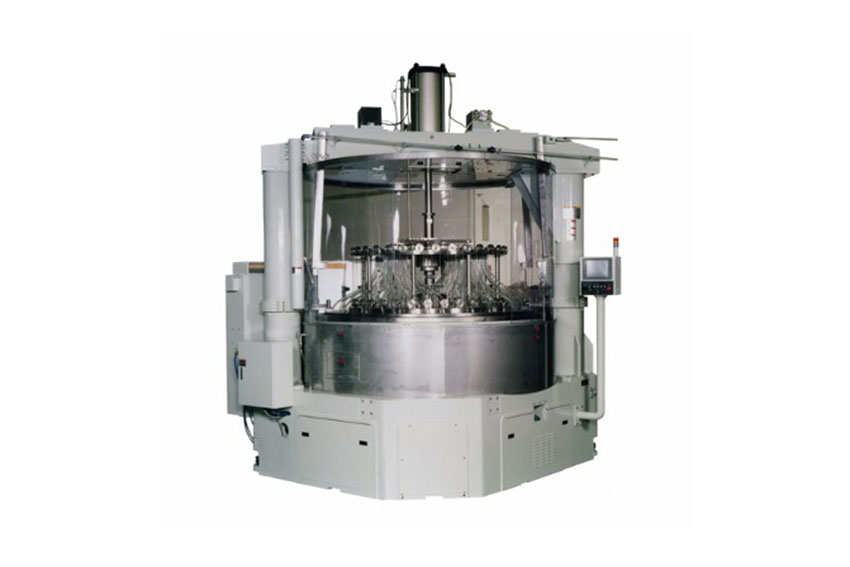 Ultra-Precision Double-sided Lapping Machine 32B
---
You have many product divisions. Lapping and polishing machines, gear hobbing machines and duplex milling machines, as well as special machines and parts processing. Which product division are you currently focusing on and which has the most potential for future growth in your opinion?
Lapping and polishing machines are almost 50% of our total sales and our parts processing division mostly comes from those machines. On the other hand, we started the business with hobbing machines, so we have strong emotions and feelings towards them. Actually, the founder of this company was my grandfather, so for me personally, the hobbing machine is very important.
Your lapping and polishing machines can work with new materials such as sapphire wafers, quartz and silicon carbide wafers. How are your lapping and polishing machines superior to more conventional ones?
Once again, our strength is meeting the precise needs of the customer. Rather than saying our product is unique in a certain way, we customize it for each client and make sure that the machine is entirely appropriate for their production process.
In addition to high-quality products, our strength lies in our accumulated production process know-how. For machine tools in general, there are three necessary factors - the hardware, the software, and the application.
For lapping or polishing machines, the application know-how is extremely important. For customers who bought our product, knowing how to get the best performance from our machines becomes vitally important in the manufacture of new products. In other words, supporting technology and experience is mandatory, and leads to value being added to our products.
One of your machines can polish new materials such as sapphire wafers and silicon carbide wafers. Why did you decide to enter that specific field? What motivated you to target the polishing of those newer types of wafers?
To answer that question, I will have to explain a bit about our history. We were founded in 1921 and established in 1938. As you know, our business started with the manufacture of hobbing machines, followed by the development and manufacture of lapping machines. At that time, however, the workpieces for lapping machines were mostly crystals so the market for lapping machines was not so substantial.
For some time, Hamai was known as a hobbing machine manufacturer, but as we entered the 1970s, we started manufacturing machining centers, but their success was not great. Our products were highly rated for their high precision but in large markets such as machining centers, it was required to expand sales volumes and market areas to overcome the competition.
---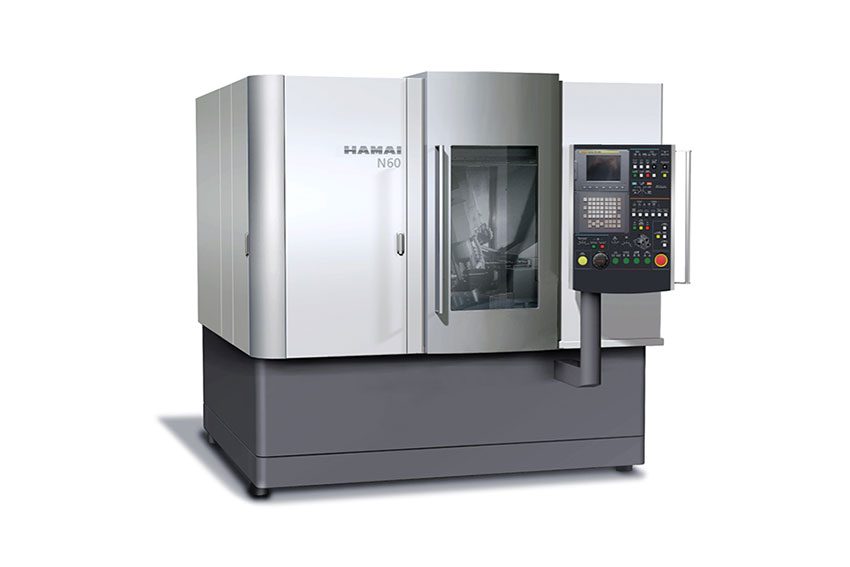 State-of-the-art N-series CNC Horizontal Hobbing Machine
---
At that time, the electronic parts market emerged gradually, and this demand fortunately extended to crystals, ceramics and other related materials. At the same time, we were well known in the market as good manufacturers of lapping and polishing machines.
Our customers know that our company is doing business with other top corporate customers, and when they have to deal with new materials, they consult us first. Our good reputation is very important. When they start a new business and deal with new materials, they call us first. That is both very gratifying and mutually convenient. Thus, we work together to solve the problem and meet the customer's demands by producing machines which fit their requirements.
What role does collaboration or co-creation play in your business model and are you currently looking for partners overseas?
As I mentioned before, our target is the high-end market and at this point, we are not considering manufacturing overseas because there are some difficulties associated with it such as procuring components, securing highly trained personnel, and maintaining know-how secrecy. All of these things have to be taken into consideration. Cheaper labor costs alone are not always the answer.
On the other hand, for sales, marketing and after sales services, we do need the cooperation of local partners and already work together with our agents in China, Korea, Taiwan, Southeast Asian countries and the United States also. We have overseas partners for those functions, but there is no plan to manufacture anything in collaboration with overseas makers.
Can you tell us more about your R&D strategy? Are there any products or technologies that you are currently working on that you would like to showcase to our readers?
Actually, we do not make our R&D budget separately as an annual plan. Each time an item becomes necessary, the R&D costs may be included in the product cost of the first machine. Therefore, the balance sheet at a glance does not necessarily indicate how much expenditure has already been made. We discuss the requirements of the customer and how and what can be best achieved. That is the way we handle R&D at this point.
Our customers are very sensitive to secrecy. We are working on silicon wafer polishing machines. As you know, we are very famous for lapping silicon wafers, but polishing requires a totally different approach to its machines.
Unfortunately, in the past we produced some polishing machines for silicon wafers, but it was not successful. We have been trying to develop our own polishing machines for silicon wafers for a long time and it is quite time consuming.
Due to logistical disruptions in recent years, many regional players are looking to bring their domestic production back home so they do not have to rely on pure-play foundries. With these pushes for increased regional capacity, what opportunities are there for Hamai?
When you look at the semiconductor industry, there are upstream and downstream companies involved in the manufacturing of semiconductors, and we are in the upstream group. Almost 55% of the upstream market share for 300mm silicon wafers is dominated by two major companies in Japan; Shin-Etsu and SUMCO, followed by Korean, German, and Taiwan manufacturers. These top five companies have almost 100% share of the market, and they are all our customers.
Basically, the changes we have seen in the semiconductor industry have more of an effect on downstream companies, so we are not greatly impacted as we are involved in the upstream part of the supply process.
In 2012, you established operations in Shanghai. Moving forward, are there any countries or regions that you have identified for further expansion in terms of introducing your products, and if so, what strategies would you employ to achieve that?
Due to the start of hobbing machine sales in China, our Shanghai sales office was established, and this became a subsidiary of ours. Together with the Shenzhen branch, it now has more than 10 Chinese staff. In cooperation with a local agent, they undertake all sales and after-sales activities for the whole Chinese market. Nowadays, China is an extremely large market for both hobbing and lapping machines.
For other areas, we are working with local agents for sales and after-sales services right now. We may decide to establish sales offices in other countries where increased market growth is expected in the mid to long term.
Which region do you think will have the most potential?
Mostly Asia, maybe. As I said, we already do business with agents in Korea, China, Taiwan, Southeast Asia and the United States.
Imagine we come back to interview you again in four years' time. What would you like to tell us about your goals and dreams for the company and what would you like to have achieved by then?
I took over the management of this company almost 10 years ago. During that time, I did not have many good years. We had very, very hard times over the first five years after I became the president. For the past five years, however, I think we have been doing very well, relative to the long history of Hamai.
To tell you the truth - this is not very ground-breaking - but you have to keep going. Of course we have to grow gradually anyway, but the top priority is to keep doing business in a stable way. For the next four or five years, we just want to keep the business steady. If the sales volume or profit remains the same as right now, that would be okay and that's the bottom line of my goal.