Japan is very famous worldwide for having the oldest population in the world. About 29% of the people are over the age of 65. Simultaneously, it has the oldest life expectancy at 84 years old. In healthcare, there is a big difference between life expectancy and healthy life expectancy. The Japanese government is pushing toward a more preventative approach to healthcare and adopting a healthy lifestyle has become a big social priority. How can brands like Mizuno help in extending a healthy lifestyle?
Sports means physical activity and moving your body which contributes to good health. We help set up a better sports environment to encourage more people to be involved in sports. We help increase people's healthy life expectancy by developing and producing sports goods that contribute to a healthier life, including for older and physically weaker people. Regular sports goods cannot provide them enough support for physical activities, so we are researching and developing new sports goods that can help them do more exercise and support them with their physical activities. These products can help the elderly maintain their physical strength. We also developed sports goods that can supplement some of the lost physical abilities and help them move about more comfortably. For ones with knee pains and difficulty in walking, our shoes can help them walk more than they normally can for example.
Mizuno has a "Motion DNA" program that seeks to go beyond just sporting goods. It is a collaboration with Professor Akira Iwata from Osaka Metropolitan University where you monitor and try to increase the walking performance of people of all ages. Can you tell us a bit more about why you decided to create the "Motion DNA" program? What goals are you trying to achieve with it?
The reason we decided to create the program is that we want to contribute to human health. The "Motion DNA" is a core theory that analyzes walking ability and walking type. Joint research with Professor Iwata revealed that walking types can be classified into four types and that the body parts used and the way they are used during walking differs depending on the type. We can suggest the best training menu and the best shoes for each walking pattern. This makes it easier for people to walk more on their own feet longer. As walking is one of the keys for human health, it is expected to extend their healthy life span.
---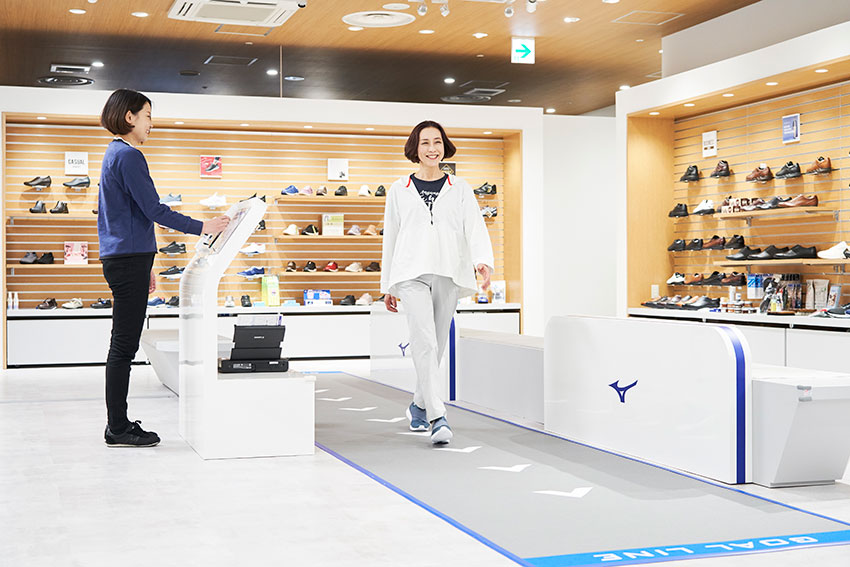 Motion DNA
---
The idea of understanding how people walk and offering tailored or personalized products is part of a global concept in sports goods brands. With the use of technology, consumers can order products specifically suited for them. Do you think this trend will continue in the years to come?
In the past, mass production was the standard because it was cost-effective. Products are cheaper and a wider audience can use them. Mass production brought about industrialization. In the field of sports, we offer products for people, so it is important to offer tailored or personalized products. This would add to the production cost, but the added value is important. We believe that consumers would be willing to pay for the added cost because they are satisfied with the product. We have been in the business of providing golf clubs through custom fitting for about 30 years, and this constitutes more than 50% of our golf club business. This has been an important factor in the growth of our golf business as well as customer satisfaction. We think this trend will expand further, and we will offer our service more widely in future.
COVID caused huge disruption to supply chains and healthcare systems. We saw many physical retail stores completely closed, and there was a big push towards shoppers using e-commerce channels to purchase goods. Today, new measures need to be taken to attract customers to brick-and-mortar stores such as introducing new ways of shopping that cannot be experienced digitally. How do you envision in-store experience in the future? What steps can retailers take to maintain the demand and make sure clients do not go to e-commerce channels?
In our experimental shop in Fukuoka(Japan), users can visit to see, touch and try the products. If they want something, they can order it online. Then, it will be delivered to them. There is no need for big inventory in the actual shop because the products delivered are taken directly from the warehouse. We can utilize the shop space to enhance user experience and not just display products. A virtual experience may be more convenient for most people. However, many still prefer to see, touch and try the products. There is a difference between looking at a product online and feeling the actual product. Photos can only give limited information to consumers. I believe many customers will still visit physical shops where they can have a personal interaction with the staff. For sports goods especially, some people would like to ask the staff for some information on how to use and maintain the goods. We would like to cater to both online customers and customers who come into the shop.
A megatrend nowadays is the athleisure trend. It is the combination of athletic and leisure-based equipment and clothing in our daily life. This was a pre-pandemic trend, but it has accelerated post-pandemic because the line between work and free time has become somewhat blurred. As a company with an extensive history in sports goods, how can you cater to that athleisure trend? What type of clothing and items are you offering to meet this demand?
It all depends on how one defines athleisure. Athletics and leisure are now being combined, and it is all a matter of how users use and define the products. Football boots are considered under athletics, but basketball shoes can be used for both sports and leisure. Running shoes can be used both for running and also for daily life. We do not necessarily separate our products into athletics and leisure. We leave it up to the consumers to decide how to use our products.
Your new innovation center,MIZUNO ENGINE opened last November. It is 6.5 square kilometers and a huge investment. Can you tell us why you launched this new center, and what are you hoping to achieve with it?
The reason we launched the center is to reinforce our research and development environment and to accelerate our innovation. We used to conduct research and development in this building (Mizuno Osaka Headquaters). However, the work environment has been found to be inadequate. Since we aim to help athletes improve up to 1/100 seconds and to help people improve their health, we decided to improve our research and development environment and build a new innovation center on the land next to this building. Innovation centers are typically based on engineers' opinions only, but for us, we asked everyone from all the different departments to participate in this project. Everyone came up with various ideas. The final concept is "measure, create and try" and "chemical reaction by all staff". A cycle in this concept shortens the lead time and facilitates faster development with a variety of new ideas. I am hoping to develop innovative products and services with this cycle. We now have the container which is the minimum requirement. It is not enough. We have to infuse an innovative spirit into the center.
---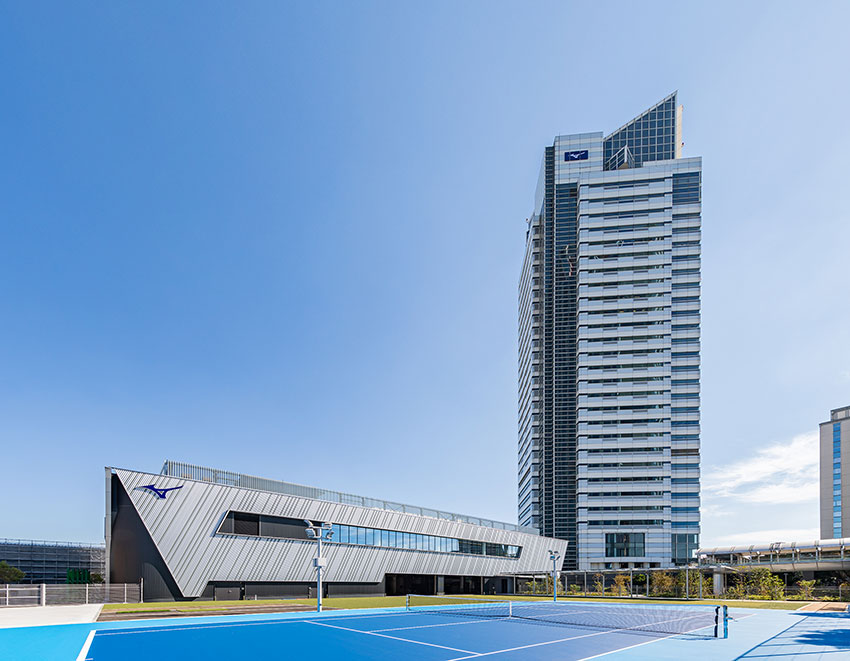 Innovation center MIZUNO ENGINE
---
Mizuno recently came out with the MIZUNO ENERZY technology. What makes your MIZUNO ENERZY technology better than its competitors?
We boast about its rebound ability. We created shoes "THE MIZUNO ENERZY" for PR Purpose.The basic concept of MIZUNO ENERZY is to improve sports performance with high rebound material. We have superior materials compared to our competitors. The question now is how we can design these into the actual products. Recently, in running, thick shoes are dominant in the market. As we are aiming to provide superior running experience to runners, we will develop excellent shoes with superior materials combined with other unique technologies.
---
---
Mizuno launched a product called "MizunoCane ST" recently that uses your golf club technology to help the visually impaired. It is made from carbon and is lightweight and strong. Can you tell us the story behind that product?
We originally developed the leaf spring for prosthetic legs for people who joined the Paralympics. This was developed for disabled people who want to join sports. We realized that disabled people deal with many challenges, so we want to cater to their needs. Our R&D applied the carbon technology that we use on golf shafts to create lighter canes for the visually impaired, and it was very well received.
---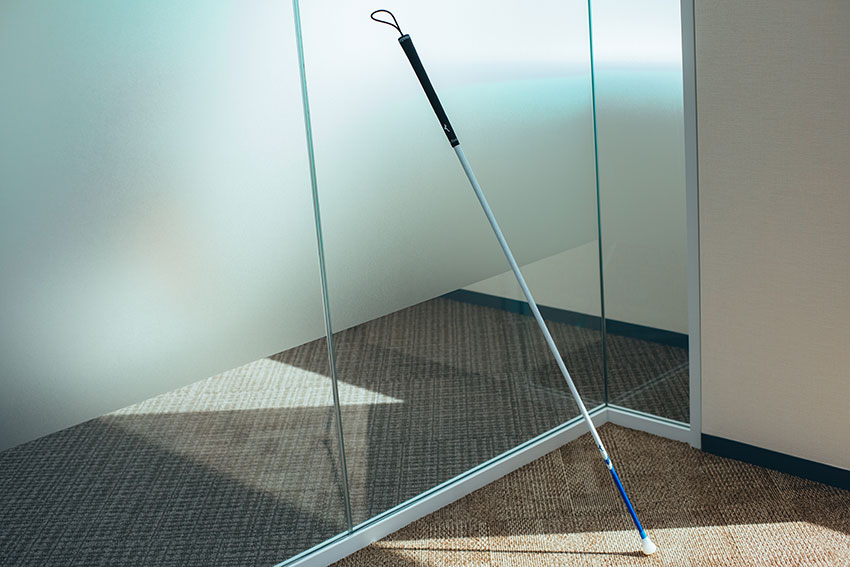 MizunoCane ST
---
These products to help the handicapped are a new venture for Mizuno. It seems to be venturing away from sports and entering into the medical field. Looking at the future, are you planning to continue your efforts in this field? Are we to expect more releases of products helping people overcome handicaps in sports?
We established the concept of "POWERED LIFE", a vibrant society where people live more active lives. For example, if you have lost physical ability and have difficulty living an active life, there are two causes. The first is due to aging. We lose certain abilities as we get older, even if we are healthy. The second is chronic illness or accident. Visual impairment is an example. We want to keep pursuing this field to help empower handicapped people. The medical field requires specialization and has very strict standards. As we are sports goods company, not a medical company, we cannot "cure" handicapped people, but we will keep working on providing support for them.
Your brand is associated with golf, baseball and running. Over this next five-year period, which new niche fields and markets in sports do you expect to grow and expand into?
Sport is a huge market. A large portion is taken by shoes and apparel. Now, we want to focus more on shoes and apparel. One of our initiatives is in football. We released football boots that are highly valued, especially in Japan and other Asian countries, and our market share is growing. In the past, some competitors used to dominate this area in Japan, but we now have the number one share because of the functionality and performance of our football boots. We do not spend a lot of money on promotional activities like contracting with big face players because we believe that as long as the products are good, the consumers will follow. We believe that our football boots have a lot of potential in the global market, particularly in Europe, so we are going to put some resources to spread our football boots in the global market. I would like to make football the next pillar of our business.
---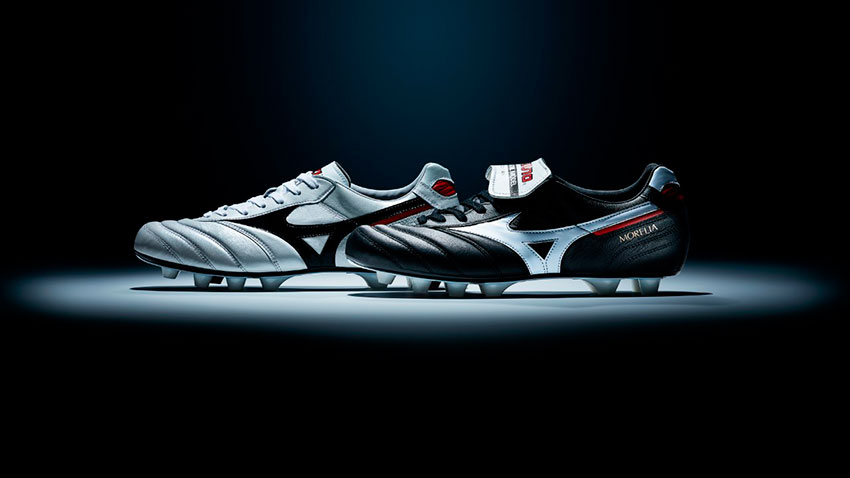 Football boots Morelia
---
Mizuno has sustainability targets. In line with the Japanese government's directive to be carbon-neutral by 2050, you have a goal that by 2030 you will reduce per-product emissions to 50% in comparison to 2018. Can you talk to us about the key environmental initiatives that you have identified to achieve your 2030 target?
We have set our objective, but I know that there will be plenty of challenges to achieve it. Carbon neutrality is a big goal for all of us. We have an initiative for our running shoes, "WAVE NEO COLLECTION" which are offsetting our carbon footprint by planting two trees for every pair. We have planted about 100,000 trees. This is one way that we can achieve our goal. Another initiative is to review our dyeing process. Dyeing uses a lot of water, but recently, there is a new technology that decreases the amount of water needed for dyeing. Printing can also replace dyeing, and it does not use any water. We are seeing new technologies come out and we are not holding back from incorporating them into our processes. If we continue on this path, we can get closer to realizing our goal. Cooperation within sports industry will be also needed. Our chances of realizing our objective get higher if we can cooperate with suppliers who can provide more environmentally friendly materials and processes.
---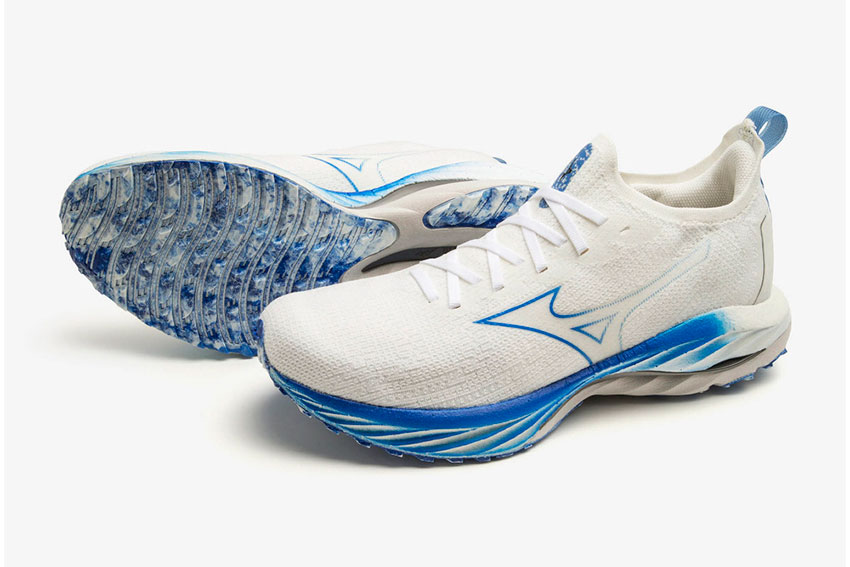 WAVE NEO WIND from WAVE NEO COLLECTION
---
What would you purchase with a USD100 in a Mizuno official store?
I would purchase Breath Thermo apparel because it is so cold now.(interviewed in December) The human body is constantly evaporating a small amount of moisture. Humans sweat about 900 ml a day. Breath Thermo technology converts moisture into heat for warmth. We started in the 1994 Olympic Games. We continued to improve the material since then and have now wider product range. Remaining sweat on apparel causes us to feel cold at later stage. Our products can keep you warm and also dry at the same time so you do not get cold after you sweat. Our products' performance is not comparable to our competitors. We aim to expand our business with this Breath Thermo in the global market.
If I come back on the very last day of your presidency, what personal ambition would you have liked to have achieved by then?
I do not have lofty goals. Growth is important, but too rapid growth can cause harm. I just want to slowly and consistently grow the company everyday and pass it on to the next generation on the last day of mine in a calm state of mind.
---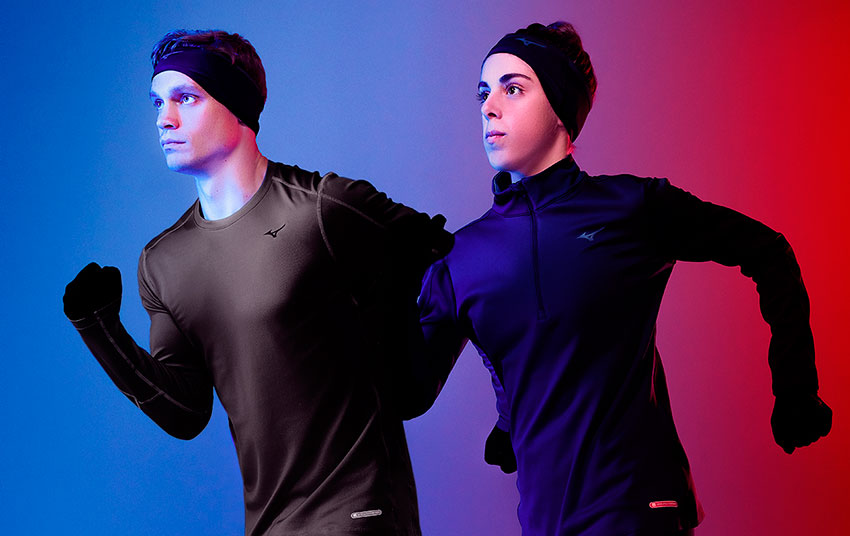 Running apparel with Breath Thermo