What is Fujitsu General's monozukuri? What are the strengths of your company that allow you to continue to excel in the global market?
Regarding the global AC (Air Conditioner) market, we have felt the impact of COVID-19, however, in both advanced and developing countries, there is a growing need for our products. Three years ago, the International Energy Agency (IEA) mentioned that they were expecting the global demand for ACs to triple in the next thirty years. Currently, in hot areas such as Asia and Africa, only 10% of people own AC units. We are foreseeing an increased penetration of ACs in these areas in the future.
In order to explain our strengths and international competitiveness, I would like to explain how we develop our products. I feel the same idea is kept and applied by all other Japanese companies. This may be a shared idea among Japanese companies, but we all share the desire to provide solutions and answers that cater to customer issues. I like to think of this not as business-to-business (B2B), but more business-for-business (B4B).
Currently, our main business is AC units. In 1964 we first developed wind AC and entered this industry. In 1971 we first exported our products to the Middle East, which had the worst possible conditions for ACs. At that time many Japanese companies focused on the domestic market, however, ever since founding the company, we have had the intention to go overseas. At that time, the Middle Eastern countries were using American AC units. However, the US companies did not adapt to the needs of the Middle East and continued to use the same specifications as the US. Their AC units struggled to deal with the heat, sandstorms and the change in electrical voltage. As such, these AC units often malfunctioned.
We dispatched an engineer to the Middle East. Living conditions at that time were very tough, and so the engineer was able to fully grasp the lifestyle and living conditions there. That engineer was able to modify and adapt our AC units to deal with the conditions and needs of the locality.
Ethnography is very important in understanding a market. Living there, together with local people, gives you the perspective to understand the needs and wants of those people. During that time, people in the Middle East felt that it was normal that an AC unit would malfunction after being run for some time. We were able to develop a product that runs continuously and provides cool air constantly. Not long after we were able to capture the top market share in the area. That is a key point to Fujitsu General, the fact that we provide unique products compared to other companies. We are not aiming for a short-term profit when we develop these unique products, rather we try to understand the needs of our customers and cater to those. That is our culture and core value that drives our company forward.
We are trying to expand our business in several fields, and one is commercial business. This business is not just to sell products, but rather a B4B system, where we take care of the customer, from designing, procuring the machinery, maintenance and remote monitoring. Our business ACs have a lifespan right now of more than 10 years, and we provide services to our customers throughout the entire lifecycle of the product. This business is based on the trust we are creating with our customers. We dispatch engineers to work with the customers, with the idea that once the lifecycle ends, the customer will repeat its business with Fujitsu General again. The product lifecycle has a limit, but the trust can be long lasting and create a next lifecycle with our customers.
We provide services to infrastructure-related facilities such as government buildings, airports, schools and commercial areas. These locations all require safety, assurance and trust, with these elements being the key to maintaining good relationships with our customers. Through this trust that our customers have in us, we are able to expand our business.
---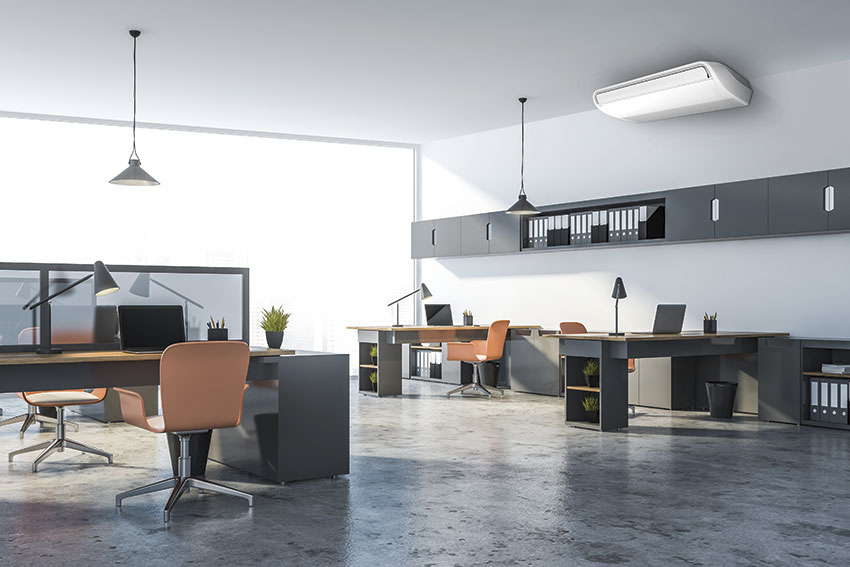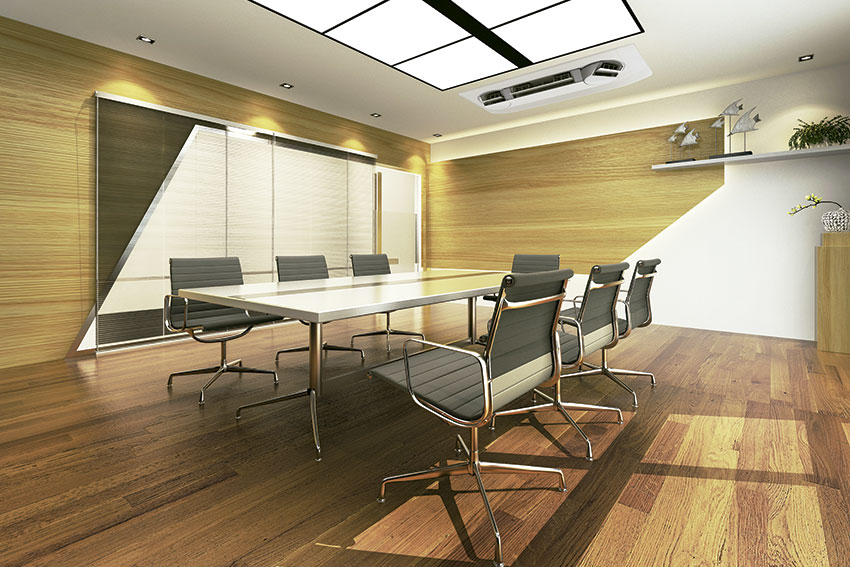 Ceiling type / Cassette type
---
Sometimes Japanese companies are trying to get out of monozukuri, however, I disagree with this sentiment. In our company philosophy, we call for continuous monozukuri innovation. Through that, we contribute to our customers and our society. We want to treasure this Japanese identity shown through monozukuri, not only domestically but across the globe.

Japan has been very ambitious in both the setting and realization of carbon-neutral targets. There is perhaps no better example than your company's switch in April to 100% renewable energy and your target for total carbon neutrality by 2025, 25 years ahead of Japan's 2050 mandate. Can you expand a little on your carbon neutrality plans and how your products help your clients achieve energy savings?
On April 1st, 2022, we achieved 100% electricity from renewable energy sources, and it was three years earlier than we initially expected. By replacing our electricity with renewable energy sources, we were able to cover 60% of carbon dioxide emissions that come from electricity. So only 40% remains for us to work on in order to achieve complete carbon neutrality. Initially, our target was 2030, but we have sped that up by 5 years to 2025. I understand that among Japanese companies, 2025 is a rare objective. In Europe, there are many companies targeting 2030, so we based it on the global standard and adjusted our projections to 2025.
The remaining 40% isn't something we can do entirely by ourselves. We are trying to approach the remaining 40% in various ways. One way is to replace the sales vehicles that currently use traditional combustion engines with EVs, and another is to use renewable LPG sources for our factories and device facilities. We are looking to make our production and our devices more energy-saving and efficient. Making more efficient refrigerants is an example of this ethos. This refrigerant is the key to manufacturing ACs and I truly believe that 2025 is an achievable target for us. We are now promoting "AKASURI activities" to eliminate waste and create new value in order to reveal the true products that are more efficient and more eco-friendly. Together as a company, we work to determine those areas and make improvements across the board.
The small steps that we take have a massive impact. For example, we have a room that is used for testing AC functionality, and we have discovered that we are able to reduce the electricity usage considerably by using a 30-minute timer. There are hundreds of cases like this throughout our company.
Through the past six years of "AKASURI activities", we have been able to reduce our carbon footprint by 20,000 tonnes, and have achieved JPY 3.3 billion worth of cost reduction. We are not only focusing on scope one and scope two but also on scope three in the reduction of carbon emissions. Approach wise we have taken a horizontal approach to other supply chain companies so we can help them by introducing our approach to achieve carbon neutrality at an early stage. The most challenging aspect we feel is scope three, the lower stream where our products are used and carbon dioxide is emitted. The dilemma lies in the fact that we are increasing the number of products we offer, but at the same time, we must reduce the amount of CO2 emitted from said products. That there lies a contradiction, and a balancing challenge we must face.
Your HM series is the first AC to have three independent air outputs using your own internal multi-flow technology and won an energy conservation grand prize here in Japan. Could you give us more details on how this multi-flow technology is an improvement both in terms of function and environmental impact compared to more conventional types of air conditioning systems?
This multi-flow fan technology is unique to us. We have been applying this to a B2C product, "nocria™ X", which has a "DUAL BALASTER™" on the side. The uniqueness of this multi-flow is that oftentimes conventional blowers have gaps that no cool air can reach. By using this multi-flow you are able to have an even room temperature. Multi-flow also allows you to aim the flow at a specific person that has a high body temperature. Without lowering the overall room temperature you can let a particular person feel cool, leading to energy savings. Women oftentimes do not want to have direct flow on them, in that case, you can control this multi-flow to have a more natural type of wind flow. Inside the AC unit, we have multiple heat exchangers as well as multiple fans. They are designed to decrease resistance and by doing so save energy. This led to us winning the energy-saving award. We are trying to minimize the energy used for the product, but that is not enough.
---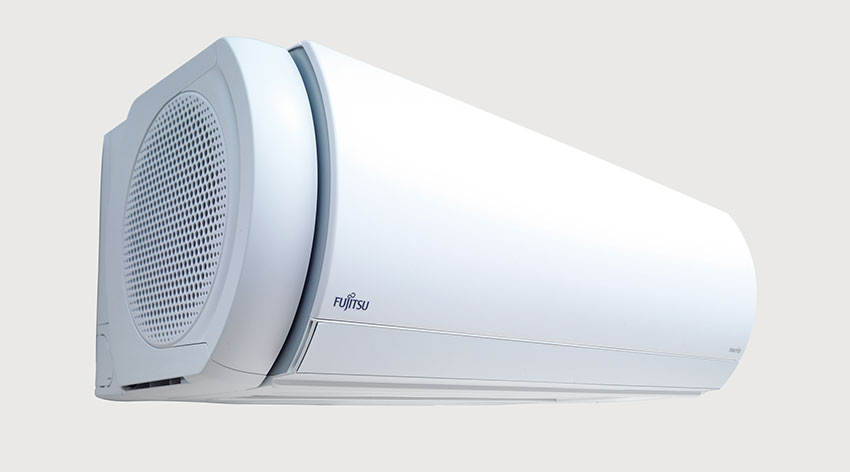 Wall-mounted type "nocria™ X"
---
Another approach we do is we select the products to designate as "Sustainable Products". To achieve carbon neutrality and sustainability we provide that to society. Heating and hot water boiling systems in Europe still mainly use fossil fuels, and I have heard that 70-80% of their carbon emissions come from this heating and hot water boiling. By replacing this with our ATW which is our heat pump, we can reduce CO2 emissions. By using this heat pump, you don't emit carbon dioxide or volatile gas.
France emits the lowest amount of CO2 when generating power, because of their utilization of nuclear power. If you use the ATW in France, compared to a conventional gas boiler, you can reduce CO2 emissions by 90%. Currently, we have seven products with this sustainable label including the ATW. These products generated JPY 22 billion in revenue for the 2020 fiscal year and JPY 40 billion for the 2021 fiscal year. Our target is to grow these products, and by 2030 we hope to have them account for 30% of our sales. We have a "Sustainable Management plan" along with sustainable product growth.
In a recent shareholder meeting, it was approved that board members will only receive additional bonuses if they are able to achieve their targets for sustainable product sales. You can tell that management is taking this very seriously.
Your company is taking serious steps to incorporate digital software technologies into your products. This is very well illustrated in your "nocria™" system which incorporates AI to adapt temperature settings according to the user's preference. What do you think the next 10 years of air conditioning systems will look like? How will the use of these digital technologies such as AI and IoT impact your business?
As you know Fujitsu Ltd. is our biggest shareholder, and we have been collaborating to incorporate AI and IoT into our heating, ventilation, and air conditioning (HVAC) systems. As you mentioned, we are able to use AI to adapt the settings according to the user's preferences, as well as use weather forecast data to propose appropriate room temperatures to the user. After collecting all of this data for analysis, we aim to diversify more into the health care, safety and elderly care fields. Recently the government's Ministry of the Environment launched a subscription AC project, and we are one of the designated manufacturers. The purpose of this project is to avoid heat strokes that occur in the elderly. By using sensors and cameras that check a person's temperature, recommended temperatures can be set either through a proposition to the user or remotely.
---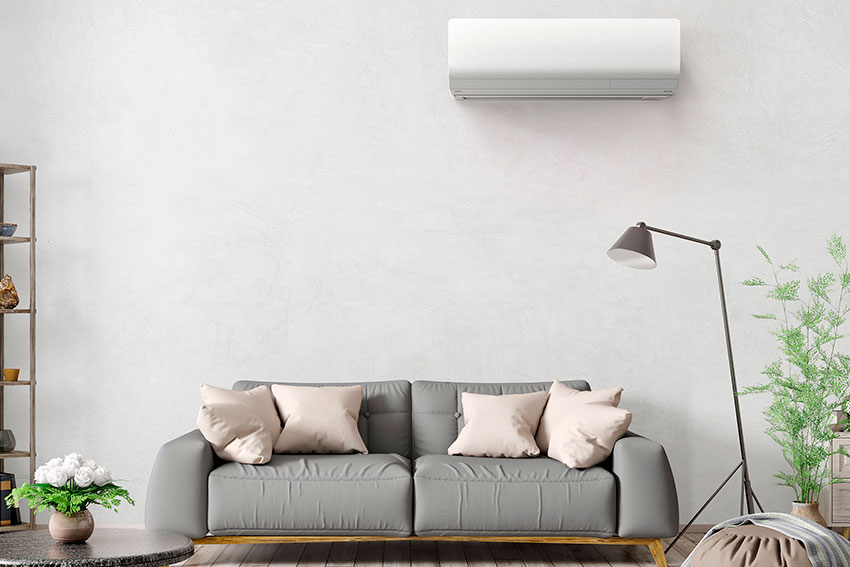 Wall-mounted type "nocria™ Z"
---
Could you elaborate more both on your module technology and your strategy to support the in-vehicle electronics business?
This project started as a way of dealing with the shortage of semiconductors used in our ACs. The focus was on having power semiconductor manufacturing dealt with in-house. We have already started applying our modules to our AC units. We have our electric device division, and they have relationships with many automotive and robotics companies. These companies are also experiencing a shortage in power semiconductor modules. When these companies found out that we were making our own, many of them reached out to us. In fact, even many our competitors contacted us.
On the in-vehicle applications, we already have a channel in terms of in-vehicle cameras. It seems like all component companies are focusing on EVs in-vehicle applications. This has resulted in a shortage in terms of home appliances and robotics. Of course, automotive in-vehicle is in the scope of our targets, but we want to focus ourselves more on home appliances and industrial devices that are currently experiencing a shortage of power semiconductors. The uniqueness of our service in terms of providing power semiconductor modules is that we designed these to be directly applied to our customer's devices. The customer does not have to design that themselves.
The chip shortage is one of many logistical disruptions that have happened as a result of COVID-19. Recently we have seen Shanghai locked down due to China's zero COVID policy. In our research, we saw that your company has a production base in Shanghai. How have you reacted to these major logistics disruptions?
The shortage in components is not only happening in our company but everywhere. In terms of power semiconductors, we have decided to create in-house, but we can't do everything in-house. What we have done is to diversify the supply chain to multi-use. We have a designated department just for that, which has also organized piling up stocks. Throughout we have been analyzing the situation very carefully.
There has been a disruption in the printed circuit board (PCB) supplies from Thailand, but slowly that is returning to normal. The Shanghai lockdown happened around that time. The lockdown occurred from the end of March 2022 to the end of May 2022. We had to close our factory there because several workers caught COVID-19. The Japanese market was impacted because that factory produces products mainly for Japan. The lockdown was lifted on June 1st, and by June 20th we had returned full production to the site. These logistics disruptions were not expected, and thus we have had a hard time dealing with them.
Last year the price of containers went up, and we could not secure containers. Luckily, we have now been able to secure the containers that are needed for the transport of our products. However, the price is still very high. Another issue we are experiencing is in the US, where domestic transport is lagging, and because of that, we have had problems delivering to our customers. We feel that compared to our competitors, the impact of the price surge in logistics has impacted us more. I think that is because we have two big factories, one in China and one in Thailand. We centralize the production of global ACs in these areas. Inevitably that meant higher costs for transportation. Based on the lessons learnt, we will reduce logistics time and costs by producing locally and consuming locally in North America, Europe and India, our three most important markets from a BCP perspective. In India, local production is scheduled to start this year.
What would you consider to be your next target market?
Where resources are limited, we focus on critical areas and plan strategies accordingly. These critical areas are North America, Europe and India. In Europe, part of our product lineup will be produced there. There are some areas we are looking at, but unfortunately, I cannot discuss them at this time. The reason these areas have been marked as critical is that they have huge potential for our sustainable management, not only in terms of sales but profit also. By adding India, we hope to grow that. The current American government has a high environmental consciousness, and areas such as Canada have very cold temperatures. Right now they use gas heaters, so replacing those with heat pumps is more environmentally friendly. We have launched a new product lineup targeting these areas. We are doing testing right now with New York State and Washington State to use our heat pumps to reduce carbon dioxide. Actually, Overseas accounts for higher sales percentages than Japan.
The Indian market currently is quite small when you compare sales to North America or Europe, but with the huge population and the temperatures there, we see it as a big potential market like China. The difference between China and India is that India recognizes our brand "GENERAL" as a premium. We had a joint venture with a local company in India, however, because that company decided not to invest, we have made them a 100% subsidiary last year. Since then there has been considerable growth in the market. We are not only doing direct sales, but we have also acquired a company that is designing maintenance solutions. By collaborating with local companies we are able to expand in providing solutions to our customers. With those three critical areas, we are adding Japan and Australia to that list, so now we see a total of five critical regions.
Mr Saito, you've now been President of Fujitsu General for six years. Are there any goals or ambitions you would like to achieve during your time as the President of the company?
I have two big major objectives. When I became the company president, a big part of my own vision was to revise the company mission and philosophy. In 2018 this new company mission "Living together for our future" was established. Recently we conducted a survey with our employees asking if they connect with the company mission. Overwhelmingly, 96% said yes. The next question in the survey was whether they base their daily work around this company philosophy, and a further 90% said yes to that. It has become clear that many of our employees make decisions based on this company mission. This company mission is a ten-year project, so penetration and implementation are big things that we need to continue.
---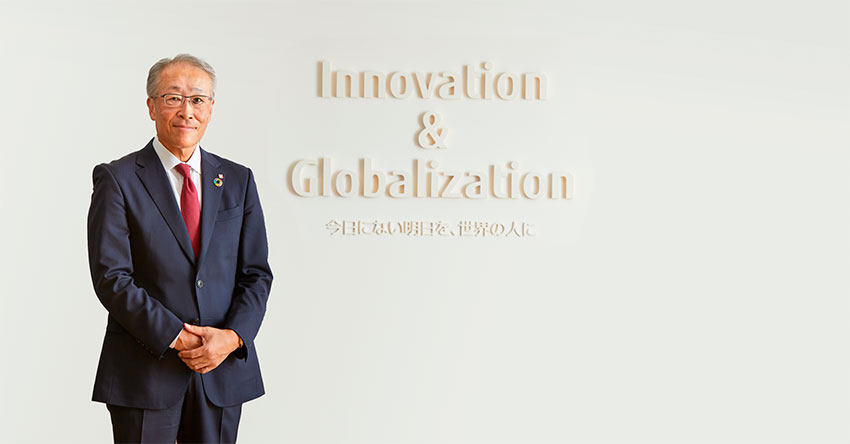 Mr Saito, President of Fujitsu General Limited
---
The second thing that I want to achieve is sustainable management. This isn't just for our company, but for our entire society, to take the lead and make valued contributions towards advancements in sustainable management. It is my belief that as a businessman that lives today, it is my responsibility to create a world for my children, and my children's children to live in.