A main criticism of Japan's industry has been that large firms have become too large or inflexible to appropriately respond to the needs of the times of the market. As a market leader, what is your take on this line of criticism? What has been your strategy to remain flexible and agile in this current market?
One thing I can definitely share with you in terms of how we've been able to develop a much quicker decision-making structure is that it was motivated by the fact that in 2019 we really hit a low in terms of our financial performance, and it was a historical low for us.
We took that bitter lesson and decided to see what we could do in order to improve our situation. From there, we decided to put more effort into reorganizing our corporate structure, and we decreased our top managerial staff and worked to clarify the roles and division of labor, to be able to create a more agile decision-making body which has since proven to be effective.
I think an important thing is that in Japan, it's really a by-consensus culture. Everything is decided based on consensus, so the more decision makers, the longer it takes to make decisions, so by decreasing the number of decision makers, we were able to take quicker steps.
To be honest, in our case, we had a head of R&D, a head of sales, a head of manufacturing, and in this way they should have been working more on a cross-functional level. However, what was happening was that too often, the division of labor was so divided that it led to an inability to operate the business in a consistent and integrated manner.
When it comes down to business, all of these functions need to work in tandem with one another in a really seamless way. R&D with sales and manufacturing are all integral, so in a sense what was happening was that we weren't able to optimize the cross functional processes due to the fact that eventually it would lead to slower decision making, and then the question of who eventually takes responsibility.
Perhaps this could also be the case for other Japanese corporations. I can share with you about our company in this way.
The turnaround of Fujikura is quite remarkable. You mentioned, of course, that the fiscal year 2019 was very bad, both in terms of sales and profit. The company then restructured. New corporate governance, cutting costs and reforming your FPC division as well as selling various subsidiaries in the energy business, and you've had remarkable results in fiscal year 2021. Your sales were at 670 billion Japanese yen. Operating profit was 10 times that of 2019, at 38 billion Japanese yen. Quite a turn around. You were nominated last year as the person that's supposed to take Fujikura to the next sustainable growth level. Why do you think you are the right person for the job, and what are some of the key objectives that you want to achieve during your time as president in this time of sustainable growth?
First of all, I was actually heading up and working in our factory in Sakura city up until 2019. My background is actually in engineering, and I was in charge of, and working in, R&D for a long time. The majority of my career is in engineering, so it was actually quite unexpected for me that I would be requested to transfer to the head office and then assume this position just a few years later.
I believe that the key lies in my ability to contribute to rebuilding the business, specifically, when it comes to the optical fiber cable business. What can be shared is that within telecommunications, the optical fiber cables market domestically is quite saturated, you could even say it's on the decline.
We had been able to focus our efforts in the domestic market and hadn't necessarily been able to expand overseas with our products. We see an incredible need for that in order to expand with our now-leading technology and our innovative new optical fiber cable technology. We can now export to the world and showcase our strengths in that way. Since 2019, we've been able to help regenerate the business, and I believe this is one of the major factors why I'm in this position today.
One of your core technologies is the SWR(Spider Web Ribbon)/WTC(Wrapping Tube Cable), a high density optical cable. We understand the advantage being incredible savings both in terms of the construction cost, the energy cost, and the cost of the entire telecommunication system, once it's been in place. Can you give us a basic introduction to the WTC, and how it allows for such impressive savings?
Have you ever seen a traditional type of optical fiber cable, and how it works? This is a fiber cable, 150 micron glass, coated with resin. The traditional optical fiber cables have the fibers aligned first and then covered with resin. This is the ribbon fiber, the traditional one.
This ribbon can only be bent in one direction. It's hard to bend it the other way, so it's difficult to use it in small spaces. This is the spider web structure, constructed with fibers in a different way. I invented the spider web cable, so some people call me Spiderman.
I used super glue to develop SWR. I really believed that if we are able to be successful with this spider web ribbon, we could really transform the optical fiber business.
If you're working with a ribbon fiber that can only be bent in one direction and you need multi-directional bending, you can use this product, which helps to stack the fibers and the ribbons in a vertical way in order to help increase its range of flexibility. However, in the case of SWR, when you twist it, it changes shape, and it can be bent in multi-direction. That cable has 2000 fibers. Double the usual capacity.
The 5G network holds a lot of promise both for mobile and neural network infrastructure, but it also comes with a series of big challenges. First, you have the high cost of 5G equipment. Secondly, you have infrastructure that involves MM-wave frequencies which only cover a very short distance. You need a lot of access points for 5G to be accessible to all. We saw that your firm made a collaboration with Global Foundries to develop Future Access - an integrated MM-Wave module for mobile and wireless networks. On top of this product, could you tell us a little bit about your work at Fujikura on the development of 5G networks? What technologies are you releasing to the market, and how do you think your firm can help address these challenges for the rolling out of the 5G network and telecommunications?
When it comes to 5G networking, even 6G, there need to be more and more access points, more and more antennas, in order to increase the coverage. When it comes to those antennas, the key is the optical fibers. You need optical fibers to connect the antennas and expand the infrastructure.
What's important for really being able to create a solidified 5G network infrastructure, is creating a solid optical fiber network. The penetration of optical fiber within Japan is some 99.5%, whereas comparatively in Europe or North America it's only 35 to 40%.
I believe that the future of 5G overseas is dependent on being able to develop solid 5G infrastructure, and I believe our optical fibers can be the key to enabling that to happen. We know that the governments of European and North American countries are well aware of the importance of doing so, and they've taken it as a matter of national interest to roll out 5G businesses and invested strategically make it happen. We believe we can contribute on that side of things.
The costliest aspect of building this infrastructure is building the optical fiber network. When it comes to optical fiber cables, our cables are thin and lightweight and this characteristic adds value to them because when it comes to installing these optical fiber cables, it's done underground, and they're actually installed into pipes.
At the moment, the pipes are already saturated with other cables. There's no room for these cables to be installed, so what's required in order to spread 5G with these optical fibers is to create new pipe ways and pipelines, which is a huge cost in terms of civil engineering.
Alternatively, the best solution would be to install these cables in the cracks within the existing saturated pipes, if you can somehow install them in the seams, that would be the most cost effective way.
I believe that the key is to what extent you can really cut the costs of the civil engineering involved, and if the carriers are able to do that, I think they'd be able to advance. When it comes to urban areas, for example, you don't see many of these telephone poles or these electric wire poles, but when you go to the more rural, outlying areas in the countryside, you see more and more of these electrical poles, and that's where they're installed.
In urban areas it's more underground, but in other countries as well you see these poles where all the optical fibers are installed. The heavier the cable, the more susceptible these poles are to collapsing or bending or not being able to withstand the weight of the massive amounts of cables required in order to roll out this infrastructure. To what extent you can really cut the cost of civil engineering is therefore key.
The second largest cost involved would be the work of laying down the cables and connecting them. One cable that we've been exporting to the UK, is this cable, our BT cable. What's very interesting about this is that compared to standard cables, the surface of these are a little bit bumpy. It's called air-blown WTC because it can be installed by air.
What do you mean exactly by air-blown installation?
What you do is, you already preinstall the smaller pipes within the underground pipe, and then you install it utilizing this air-blown process, which can push the cables up to two or three kilometers down the pipes without any human operators required.
We're exporting this air-blown method in the UK, who were originally using single fiber cables, but they began to utilize our WTC. What had enabled them to do it was that, whereas before they needed to connect one ribbon at a time, with this one they could connect 12 at once.
Our fusion splicers are number one in the global market. We actually have created a very relevant fusion splicer to work with SWR, so it's a complete package that is optimal for our clients.
---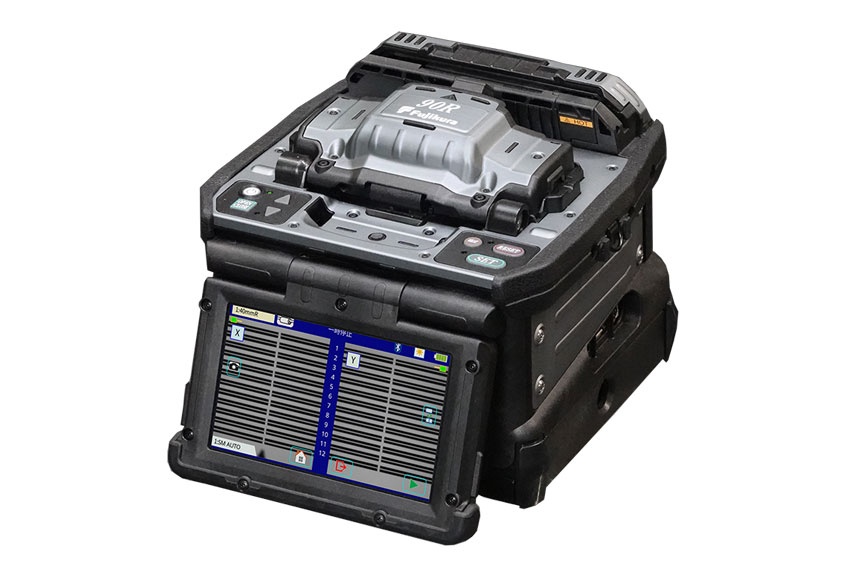 Mass Fusion Splicers
---
We manufacture and provide fibers, cables, fusion splicers, connectors, connecting devices and components. All the auxiliary components required to install the infrastructure of these optical fiber cables. The technology and the products, all of it, we have here in our company.
Using all of the products and technologies at our disposal, providing solutions in order to help our clients cut costs and optimize the process of building and developing this infrastructure is our business strategy and our objective moving forward.
Once the infrastructure is solidly in place, then it's about working on the level of 'fiber to the antenna', FTTA. We believe that in the future, MM-Waves will be more widely used, so we are developing and doing R&D in that department.
In many cases, we've learned through interviews that with renewables, the issue has less to do with energy generation, and more to do with transmission and storage, especially for intermittent energy sources like solar or wind, which aren't available 24 hours a day. How do your products and your technologies make renewable energies both more practical and more reliable for your clients?
In terms of electrical cables, the technology for power transmission in this field is already saturated, so it's really just a matter of who can bring down the cost. In that kind of area, it's very difficult to enter or leverage any of our advantages. With the model we've adopted, the strategy has been to work on the level of a subsidiary. One of our subsidiaries within the group takes care of it.
When it comes to power cables for larger currents, that is not necessarily what we're dealing with. We're dealing with low voltage levels as well as overhead power cables utilized for industrial use, such as in factories and so on.
With regard to renewable energy and the expanding markets for wind and solar power, we believe that you're going to need to connect the power plants of these specific and varied sources of energy, and our cables can play a role in connecting them.
I believe that these alternative renewable energy power plants are working on a smaller scale compared to nuclear power plants, which require large currents and large power cables, and that's why we believe that our power cables are more appropriate to power these smaller scale operations.
Another thing that we see a great opportunity for is the strengthening of cables and power cables utilized in general, because we're starting to see extreme weather events all over the world. Natural disasters, typhoons and hurricanes leading to more catastrophic damage than we have seen in the past.
Power cables and infrastructure that had been fine for so many years are now starting to be damaged by such disasters all over the world, and we believe that there is room there to really work on strengthening that infrastructure and strengthening the cables to withstand such disasters.
If I can ask you a question about one of your other businesses, which is the FPC business. Fujikura was a relative late comer in that industry, coming in around 1979, the early 1980s. Nevertheless, today your company is at the forefront of certain technologies, that allows certain types of FPC to bend and be used in medical devices or wearable electronics. Can you tell us a little bit more about your FPC business? I know that it went through a restructuring since 2019. Could you explain to us how you've restructured it? What are some of the targets for it and some of the applications that you're looking to develop with these, now that it's your leading technology?
Since 2019, we can say that the FPC business was dealing with difficult situations and circumstances, especially because our FPC business was catering primarily to smartphones, which was an area already quite saturated. Our competitors were the Chinese manufacturers, so we were facing stiff price competition.
In order to break through that situation and continue to consolidate our FPC market share, we had to specialize in the high-end market. We would do this through subsidiary companies that could specialize in those specific areas related to high end products.
Our strategy and direction in which we want to take the development of our FPC, is towards creating multi layered, very thin yet at the same time, high density performance.
Our strategy is to be able to create these extremely high functioning, highly complicated and complex FPCs using our leading technology to manufacture them at low cost.
In terms of our global strategy, 70% of our current total net sales are coming from our overseas business. As we've already discussed, with the global economic situation, and how this market works with China and India as emerging markets, when it comes to creating the ability to manufacture at lower cost, it's really creating this situation of stiff price competition.
How can we remain viable and succeed in such an environment? The key, I believe, is something that I want our company to aim for, and it is to continually be known for our technology. Fujikura should aim to be known for its technology and to really be selective in how we do business so that we are highly recognized and appraised by our clients in that field, where our unique technology can thrive.
If it's going to lead to consumer satisfaction, then we are ready and able to do the most complicated of FPC. I believe the only way to compete and beat these emerging countries and the kind of power that they bring, is to be a company that is constantly investing in R&D and able to continually reveal new technologies and bring new technologies to the market.
Our competitors already hold a large market share in their countries, so to compete in such markets with the same products is quite impossible, and considering the saturation of the Japanese market as well, that's no way forward.
My policy and my strategy is to consider new products and new technologies as a bundle, or set, in how we approach R&D. In addition to that, to really be able to also give rise to manufacturing technologies as a set together with these new products, in order to create this situation where we're able to manufacture these highly complex products which also require similarly complex product development, but to do so at a cheaper cost through lots of innovation when it comes to the manufacturing side as well.
Even when it comes to one of our cables, the SWR (Spider Web Ribbons) ribbons, it becomes very difficult to replicate. In order to be able to replicate this just by looking at it, to have the technology to replicate it and to manufacture it at scale, is highly difficult and almost impossible to do.
---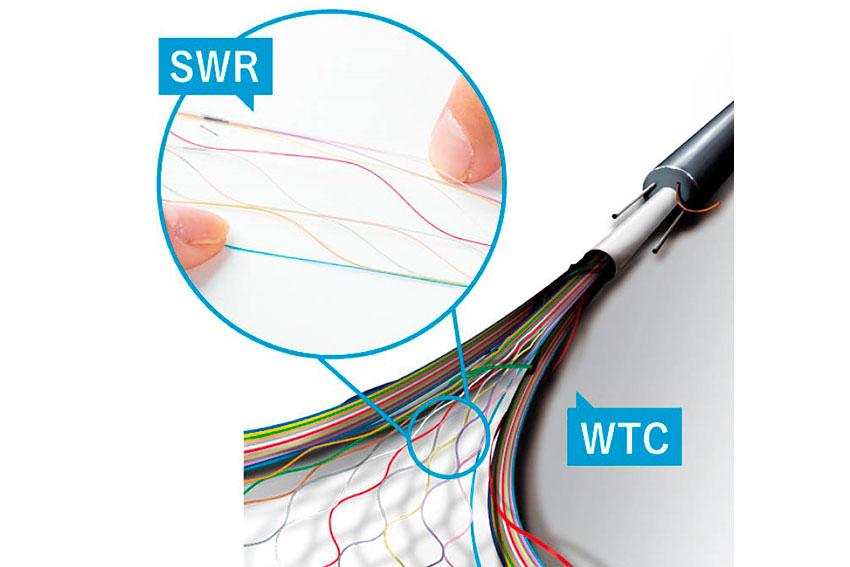 WTC with SWR full dry optical ribbon cable
---
We actually have developed a specialized manufacturing device in order to manufacture this cable as well, and that's all done in-house, creating the manufacturing machinery too.
When it comes to the inspection aspect of this phase, which is also integral and very challenging when it comes to highly complex cables, we have installed various AI into our inspection processes. We're also able to control and manage all of the manufacturing conditions utilizing DX, and gathering all of that data in order to do so.
I believe our strength when it comes to the global market is in being able to distinguish ourselves when it comes to not only the technology behind our products, but also the manufacturing process of that technology.
Of course, the manufacturing technology is closed. If we were to purchase our manufacturing machinery from other companies at the moment, our secrets would be revealed and we would lose our edge.
You spoke about R&D and how research and development is one of the keys for the future. We took a look at some of your R&D ventures, and we saw some interesting changes. Another big venture was Fujikura's entry into medical devices. This included, for example, your CMOS sensors that can be adjusted to certain types of equipment, among others. Could you give us very quickly an overview of your R&D, and some of the key fields that you're looking to enter?
I believe that superconductors also have that kind of potential to transform the future. Right now, we're putting efforts into nuclear fusion. In nuclear fusion, you require high critical current cables. Dealing with the global energy crisis and the Ukrainian crisis, I believe that this kind of solution is going to be a huge boon.
It's actually quite an environmentally friendly type of energy production. It emits hardly any toxic byproducts. However, in order for nuclear fusion to be applied in any real way, it will take another decade or so.
I believe our high critical current cables have the power to be number one in the world, so we believe that this can be a great strength in advancing this industry forwards, and we have a major role to play there.
When it comes to our FPCs and connectors for the medical field, I believe our extremely precise and detailed processing technology comes into play as miniaturization technology. One example is our board-to-board connector.
Our technology enables miniaturization and the creation of detailed yet small sized devices. Our FPC's and connectors can really play a big role when it comes to not only the medical sector, but in wearables and things like that.
We also have a wide range of sensors within our products, such as oxygen sensors or pressure gas sensors. The oxygen one was utilized especially in respirators during the covid pandemic. The gas and pressure sensors are more catered towards industrial use, especially in the semiconductor field. That's where we've started to see market growth.
---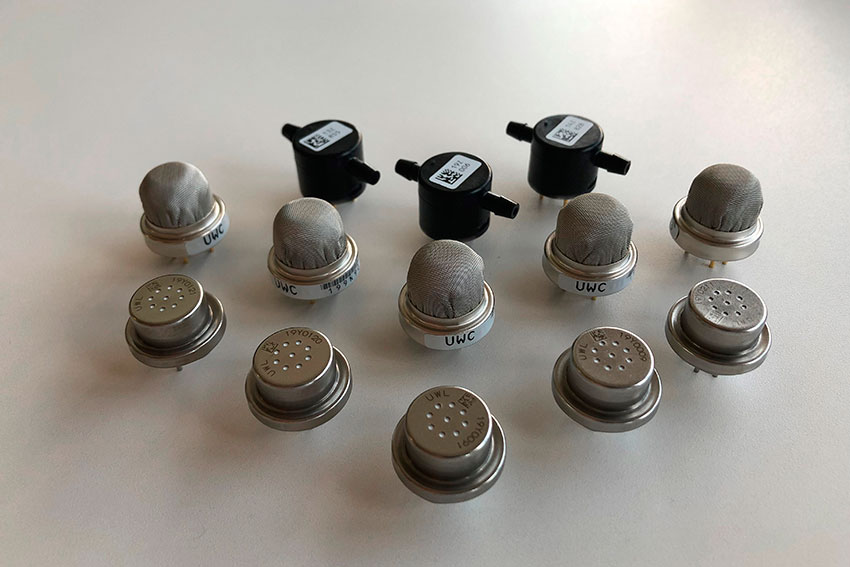 Oxygen sensor module
---
Let's say we come back to interview you again on the last day of your presidency. What would you like to tell us about your goals and dreams for the company by that time, and what would you like to have achieved by then?
I think ultimately, we want to be able to contribute to our clients and to society in a very tangible, real way, and for everyone working in the Fujikura group to feel that on a direct level. This leads to increasing their motivation and morale as well.
Optical fibers really enabled the acceleration of the digital world that we are living in, and has enabled humankind to be resilient even in the face of the covid-19 pandemic in a similar way. They're now extensively present in data centers worldwide.
In the same way, we want to be a company that gives birth to technologies that transform the world. In order to do that, we need to be a sustainable company. I believe that the best way to repay my debt of gratitude to the entire organization and contribute in the best way, is to ensure that the next generation is handed down a very successful business.
I believe that through enabling innovation and technology, we can drive the transformation of society and contribute to society. This is something that would ultimately bring great benefit to all of our stakeholders.
---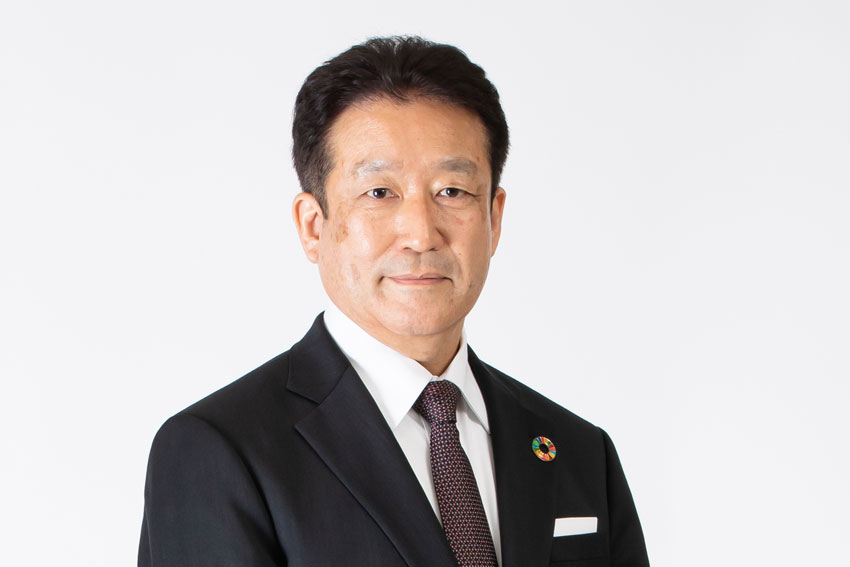 NAOKI OKADA, PRESIDENT OF FUJIKURA LTD.