Could you give us an introduction to your company? What are your strengths that allow you to compete in the international market?
Ohtsuka group's valuation is around JPY 14 billion and Ohtsuka Sangyo Material has around 700 employees spread across sites in China, Vietnam, Japan, and the United States of America. Actually now we are building a new factory in Shiga, Japan, and some of the functions done here will be moved to the new factory upon completion.
Let me explain a little about the company's history. Our primary focus has been on the automotive sector and recently we have begun to offer products other than automobiles. One example can be seen in the packages that we have provided for Sony to use. We primarily produce reinforcement cloth for urethane pads for automobile seats. There are two types of reinforcement cloth: One is sewing products, and the other is mold products.
We use a deep drawing technique to create unique products, and it really is the core strength of our company. There is no other company out there, even on a global scale, that has the technology to do what we do here at Otsuka Sangyo Material. In fact, we have won the number one prize at the Japan Package Design Awards, and this year we started providing picnic goods that combine the functions of a picnic basket and a dining table for a famous camping equipment manufacturer.
This picnic basket we have developed as a dust cover so that you can carry your lunch boxes and can also convert it into a table that you can use to eat your food off of. We want our fabric to contribute to society and be helpful to people all across the world. Embracing customers and employees with happiness is our mission. With non-woven fabric molding technology as a key technology, we provide new value with design and functionality to impress our customers. As I mentioned, the company began by developing interior automotive parts and components, but over the years we have diversified our portfolio to provide products for a variety of applications.
According to our surveys, Otsuka Sangyo Material has a 70% share of the market in Japan, but we are seeing the Japanese market getting smaller and smaller. We opened a new subsidiary in the US starting this January to appeal to the US market, which is expanding at the moment. My colleague Mr. Hitoshi Furukawa will be heading up that US operation, and he will be focused on expanding the reinforcement cloth business for automotive seat urethane pads.
If you take a look at the seats on the Shinkansen trains you will find that the seat contains a non-woven fabric cushion, and that is our product, produced using our unique mold technology. The office sector is another part of our business, and we produce office chair covers and partitions. One surprising application of our product is being used in conjunction with the Shinkansen trains, but not inside the vehicle. In fact, our non-woven fabric is being used as a buffer material between pieces of concrete on the tracks. The partitions I just mentioned are used in evacuation centers, and with the non-woven fabrics' ability to eliminate fires it makes the perfect material to protect people. We produce a product called Nano Barrier, and currently, it is used to prevent the transmission of Covid in evacuation centers during heavy rains.
When we look at market sizes right now in 2022, we see that China is the biggest with the US increasing and Japan decreasing, and this has played a big part in our decision to accelerate the establishment of our business in the United States. India is also a region that is rapidly growing, and it is an area that I've recently visited myself to scout for potential future expansion. We have had some talks with some Indian companies, as the Japanese market size is a cause for concern. Additionally, the automotive industry is experiencing huge transformations, so what we need to do is deep drive the existing business and expedite the creation of new businesses and opportunities. Expanding our business to international markets is key in this strategy as is developing new technologies. The plan is that while we are making money with our existing business, we invest that profit into a new business to secure our future. Using our core technology of non-woven fabrics and molding equipment we wish to expand further out and capture new opportunities.
In addition to the non-woven fabrics we can take care of many different types of materials, and it is the reason why we are seen in many different industries. We have additionally established many different techniques in moldings, such as insert molding, and multilayer molding. Currently, we purchase materials from suppliers and process them for nonwoven fabrics. When it comes to developing new materials, we are supposed to co-develop them with the supplier, which oftentimes takes some time. In order to speed up the development process for new materials, we are planning to increase our developing and machine capability on our own in the future. This has all been developed so that we can cater better to customer demands and tailor-make solutions to meet their needs.
In terms of our laminating business, we are thinking of buying a new laminating machine that can help with the production of molded products. Our technology includes laminating, cutting, and sewing, so we wish to combine all of these technologies and apply that to our products. As you can see across the board of our business, we are really looking to expand the scope of fields and industries that we cater to. We have set goals that we hope to achieve by 2031 and in this mid-term strategy we have outlined the targets to maintain our current business and expand internationally. It also outlines the need to create value-added products and achieve a high-profit business, with the ultimate goal of Otsuka Sangyo Material being to transform into a high-profit, global material processing manufacturer. As I mentioned earlier our main focus is in the automotive sector, but in 10 years time, we want to be able to list 5 big industries that are our focus. The 5 big industries we are targeting are mobility, office, construction, lifestyles, and medical hygiene.
---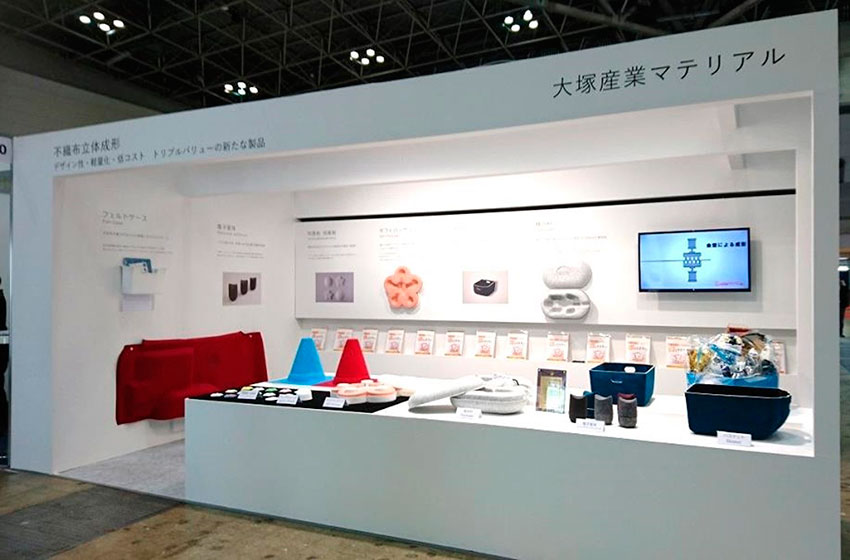 ---
We have designed an expo booth to reach new customers, and the representative of Sony said recently that our booth has the best design. We designed it ourselves and learned a lot about booth design from the many exhibitions we have been to over the years. The design itself is very simple but I would say elegant too. We were careful to avoid any unnecessary features and items.
You've mentioned how your strength and your monozukuri are rooted in your non-woven molding technology, and that it is a one of a kind technique, and very hard to replicate. Just so we can have a better understanding, could you give us an overview of how this technology works and why you believe it is so hard to replicate?
This non-woven technique actually comes from the customers' requests, Toyota in particular wanted to have this kind of 3D product, and Ohtsuka became the one who materialized the idea. We started taking these requests, but we didn't have any employees with training for this kind of technology. Therefore, we started developing human resources, hiring talented molding engineers, and educating pre-existing engineers to work with this technology.
Our non-woven technology uses continuous movement in different directions of the mold. I think there are some companies who are able to use a single vertical direction, but there are very few that continuously move them in multiple directions as we do. This is all achieved using our deep drawing technology. Usually, the material will be thinner or will possibly break during the process of deep drawing, but we can average out the thickness and remain consistent. The maximum height that the material can be stretched is three times as long as the width of the front opening. This proprietary technology has enabled us to meet customer demands and that is why they choose us time and time again.
Could you tell us more about your strategy and the timeline of how you plan to gain the expertise of a material maker as well as a material processor?
We do have a strategy in place, and currently, that strategy covers the next 10 years. I was actually the one who personally prepared this, and we are looking to ultimately achieve JPY 15 billion in sales in 10 years, with revenue of JPY 1.5 billion. Previous years have seen almost JPY 10 billion in sales, but with the recent struggles from the automotive industry it has now settled down to around JPY 7 billion. We are very open about our plans and share all of this information with all of our employees. A focus on collaborations with other non-woven fabric companies is key to us, and with strong material and a strong molding technique we can make exceptional products.
Our reinforcement cloth products are now manufactured in Vietnam and then shipped to the United States. This sector has a target of JPY 3 billion in 10 years, and as I mentioned previously, this is a vision we share with all of our employees.
Your collaboration with Pharmaceutical is in my opinion a great example of how your company works well with others. Are you looking for more of these kinds of collaborations or partnerships with foreign companies?
We have been contacted by several interested foreign parties, however, unfortunately, I can't disclose more information on any of them as I have several NDAs in place right now. We are researching if we can go ahead with these and I think that exciting times are coming.
For now, your core business is in the automotive sector, which as you mentioned is going through a very transformative time in terms of vehicle electrification, autonomous driving, and the lightweight material revolution. Another way cars are changing is in the cabin, the space inside the car is changing and a new stress is on comfort for the space inside the vehicle. What is your perspective on these changes? How is this shift to the next generation of automobiles impacting your business and how are your product offerings changing to accommodate the new needs of the automotive sector?
Regarding the cabin, the specific area that we work on is the seat, and we have seen more demands from customers to make the cushions thinner. At the same time, however, strength needs to be higher and thus there was a need for more advanced molding techniques.
The key area we need to work on is decarbonization and the reduction of CO2 emissions. Non-woven fabrics are actually made of plastics, so there is a need for us to make our materials more sustainable, and ultimately escape the usage of plastics. I think in terms of environmental initiatives Europe is much more advanced than Japan. Europe has even said that thermal processing is not recycling, so what we have been doing is taking our scraps from production and loosening them so that they may be reused to produce non-woven fabrics again. These scraps have been applied to our seating products and are used in bank partitions to protect tellers. Obviously, our business right now requires a lot of artificial materials, and we are aware that these are not sustainable, so we understand that whilst maintaining our current businesses we also must expand into greener businesses and work towards creating a more sustainable business model.
Unfortunately, I personally don't have enough knowledge on these environmental issues, so this calendar year we joined the Sustainable Promotions Institute, and through this institute, we can gain valuable information on how we can reduce our plastic usage and create a more sustainable future for Otsuka Sangyo Material.
Earlier you mentioned the five pillars for the next 10 years, those being mobility, office, construction, lifestyle, and healthcare. We found in our research that this year you started an initiative to take the scraps from your non-woven fabric and use those as raw material for construction sheets. Could you tell us a little bit more about this initiative and how else are you targeting the construction sector?
Unfortunately at the beginning, we didn't have the knowledge on how to take advantage of those scraps. We asked for help from Mitsui Sumitomo Bank, and they found us a bender that could loosen those scraps, and although our company does some crushing, we have basically outsourced this to that vendor.
Actually, the volume for the construction field is not too big at the moment, with most of our volume coming from our success in providing reinforcement cloth for automotive seat urethane pads. This success is something we are very proud of, and during exhibitions, we display this molding technology front and center to appeal to new customers.
Would you say that finding new partners is your main strategy to diversify your business?
Yes, I would say so. There are two types of strategies for our products in relation to our customers. One is to find a sponsor who will use our technology, and the way to find said sponsors is through the exhibition circuit. The second is to produce the products by ourselves and propose the products by ourselves too.
You've mentioned how in terms of your own technology, the role of HR and the cultivation of expertise is crucial. This is a major problem many SMEs in Japan are facing right now; the departure of skilled workers due to age, and an associated loss of technical expertise. What are some of the opportunities and challenges in developing new businesses in this demographic environment?
The big challenge is the labor shortage, and we ourselves have been having hiring issues. In order to tackle these issues we need to make our company more attractive and a more appealing place to work.
A keyword for us is "well-being," and in order to be a company with greater well-being, we need to make each and every element of the company better. Culture and a shared vision of the future direction of the company is critical to maintaining good relationships with not only our employees but also our clients too.
In addition to the labor shortages, it is equally important for us to observe the changes happening right now in the automotive sector and address the changes that are taking place for car makers and manufacturers. In Japan right now Toyota is number one, and in total there are around seven major car manufacturers, but there is a future scenario where that number drops to only three. With the emergence of foreign car manufacturers in the Japanese market such as Tesla, Japanese car makers could end up going down the route of becoming OEMs. Nevertheless, whatever the changes are, we as a company need to survive and in order to do that, we must be flexible and change with the times. Those that cannot change and cannot address new market demands will die out like the dinosaurs.
This change in the automotive sector, do you see it as a threat or as an opportunity?
I see it as more opportunities for us here at Otsuka Sangyo Material. Obviously, we cannot change the environment around us ourselves, so it is important to see these changes in a positive light and take them as chances to create new businesses and ways to become successful in the eyes of our clients. Turning these kinds of changes into positives for me personally is the key to success. Positivity is very important to us within our company's culture, and we want people to not only feel happy about their work here, but happy about changes, challenges, and opportunities.
You've just opened a new location in Michigan this January and for quite some time now you've also been in China, and Vietnam. What is your strategy to further develop your international business?
We have shifted our focus to expanding our business in the United States. Current sales are around JPY 100 million, and we are looking to increase that to JPY 3 billion in the next ten years. Our goal for this year is around 50% which is quite a high number, but we are working very hard to achieve this vision. In the global market, our main business is going to focus on the automotive sector because without taking advantage of our strengths we cannot compete on a new global scale.
Imagine we come back four years from now to celebrate your company's 320th anniversary and have this interview all over again. What would you like to tell us? What are your goals and dreams for the next four years of Otsuka Sangyo Material?
My biggest goal is to make all my employees happy. The first step towards achieving this goal is to make my company a much more attractive place to work. Next I want to have my son and daughter join the company and continue the family tradition. I recently have been studying a lot about business, and I have discovered that simply making my company better is not enough. If the customers are happy, then the society is happy, and this needs to happen at the same time. I think it is very important to think about others instead of only thinking of yourself, and that is the key to success in business.