Can you give us a brief overview of your company?
We are a company that provides freezers and cold equipment engineering for food processing plants and cold logistic distribution centres, in other words, we provide integrated services from layout and line design, manufacturing, delivery, installation and commissioning of cold equipment, mainly freezers, as well as post-delivery maintenance and after-sales service. In addition, by proposing energy-saving, manpower-saving and production line automation solutions, we provide change and solutions for customer sites and food processing plants.
Our engineering capability is to continue to create new answers for our customers through a synergy effect of people, ideas and technology. We continue to move forward while constantly addressing global environmental issues and responding to changes in dietary habits and lifestyles.
Firstly, we would like to introduce two facilities that demonstrate FTE's unique capabilities.
The first is the FTE laboratory, which houses a test room equipped with various types of freezers. The second is the FTE Academy, where industry, government and academia share and research new technologies to solve global environmental problems.
These two facilities will be explained in detail later, with a tour of the site and a look at the actual equipment.
Next, we will introduce the Group companies that have expanded since our founding.
The five group companies, with FTE at the core, aim to provide more flexible and high-quality solutions through increased synergies between group companies.
(i) Food Techno Service provides meticulous service to various equipment and facilities with maintenance technology that is based on a thorough knowledge of food factories. It also provides skills training to develop engineers of a high-quality level.

(ii) TECHCEED is a manufacturing plant for freezers, a core product of FTE. Also, develops and manufactures its own unique equipment for food processing plants.
(iii) TMK develops, designs and manufactures various types of equipment to realise manpower saving and automation in food processing plants with its unique ideas and exceptional technical capabilities.
(iv) FTE Dalian China is an overseas base for the global market and a manufacturing plant. It also provides consulting services for Japanese companies entering overseas markets and support for customers setting up factories in China.
(v) Cool Innovation's new cooling technology, which allows free control of temperature and humidity, is revolutionising traditional food storage and changing the way the food distribution business is conducted.

We hope that you will make use of the combined strength of the five Group companies, with FTE at the core. Providing new answers for the future of food and the planet with our one-of-a-kind expertise. This is what we are aiming for.
In the vicinity of our head office, you will find two of the FTE facilities mentioned above: the FTE Lab, the FTE Academy and Food Techno Service Co.
It is easy to get an idea of what we are aiming for when you see the actual equipment on site. Let us start with Food Techno Service Co.
---

Food Techno Service Co.
---
The business provides after-sales service and maintenance after the delivery of equipment. The company also focuses on the development of young talent. There are many machines and equipment in the facility, where they can actually see, touch and experience working with and repairing the actual machines. Specialist instructors also give lectures on the machines and teach them how to use and repair them. The machines here are cut and opened so that you can see inside and check their operation, so you can understand how each component works.
Next, we present the FTE Lab.
---

---
The laboratory test room is equipped with different types of freezers. Customers can bring in goods and foodstuffs for freezing and chilling tests and carry out actual freezing tests when visiting the laboratory. They can also collect data on temperature, freezing time and freezing conditions. The size of the test room is unique in the world and has been very well received by our customers. We have numerous companies visit us every week, sometimes several in one day. Let's take a look at the five types of freezers here, in order.
The first is an impingement freezer, which is used for a very wide range of applications. The cooling jet jets rapidly cool food from both the upper and lower nozzles. With a maximum speed of 22 m/s, food can be rapidly frozen. Our impingement freezers are used for freezing a wide range of foods, including hamburgers and pasta.
---
Impingement Freezer (left). Super Eco Freezer (right)
---
The second unit is a super eco-freezer with three internal layers. This is a simple type of equipment that saves space and energy. Foods are dropped into the lower layer by a shooter, so the machine can be designed to be short in length and is suitable for round foods such as meatballs and fried empties.
The third unit is a spiral conveyor belt-type freezer. Thanks to the length and height of the belt, it is suitable for food products requiring mass production capacity.
What is the capacity of this freezer?
The test machine can produce up to 500 kg. However, actual machines are usually much larger and can produce up to 1-2 tonnes. The test equipment installed here is a spiral heating and cooling machine that uses hot water or heated steam to sterilise the food. This extends the shelf life of food products and allows food products to be exported abroad.
How do you overcome the challenge of cross-contamination between raw and cooked food due to microbial growth during the thawing process?
Firstly, cross-contamination can be avoided because each unit of equipment only processes one type of food. This is ensured through line engineering. As far as hygiene is concerned, our heating and cooling spiral machines only kill microbial bacteria when heating food. In addition, our freezers use CIP cleaning technology to clean the inside of the freezer to ensure a clean environment.
---

Spiral Conveyor belt type Freezer (left). Free Flow IQF Freezer (center) . Contact Freezer (right)
---
The fourth is the free flow IQF freezer, which uses vibration to freeze food in pieces. The vibration floats the food and prevents it from sticking to the belt. Recently, it has been used to freeze fried rice and oysters.
The fifth machine is a contact freezer. It freezes packaged food directly between cooling plates, is the most energy-efficient and has received renewed attention in recent years.
We design, develop and manufacture all types of freezers in-house, although there are competitors in the world who can manufacture one or two of these freezers. Visit our laboratory by sending us the food you want to test and we can suggest which freezer best suits your needs.
In terms of customers, do you cater primarily to companies dealing with packaged food in supermarkets? Or do you also cater to the fast food chain market?
We cater for both types of customers. Our customers are both B2B and B2C manufacturers. For example, with regard to food service chains, some manufacturers provide food products tailored to their specific products. Our freezers are used by those manufacturers. Fast food chains order food processing specialised manufacturers, who in turn use our freezers to process their food.
As it happens, just at the moment, our internship students are being trained in this FTE lab. Take a look at the training scene. We welcome interns from all over Japan to train with us. Every year, we accept 20-30 interns in two groups. The internship period is 9 days. They are the engineers of the future and some of them apply to work for us after completing their training.
The next facility you will see is the FTE Academy.
---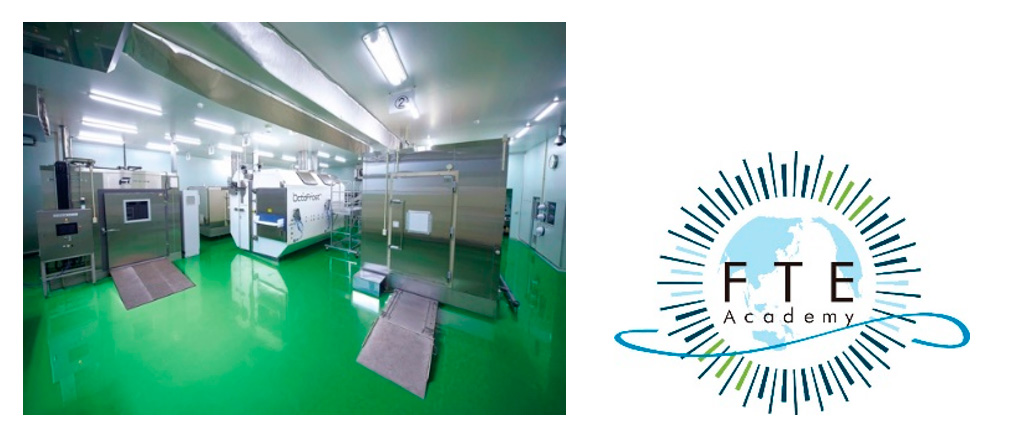 ---
The academy was established to introduce new technologies in food processing, protect the global environment and reduce CO2 emissions. The purpose of the academy was to encourage a wide range of industry, government and academia to make use of the academy. The academy has been visited by the former Deputy Minister of Agriculture, Forestry and Fisheries, Mr Miyauchi, and is also used by universities, technical colleges and local school children.
Specifically, we are working on the development of systems using CO2 refrigerant, a natural refrigerant with an infinitely lower global warming potential than freon gas, and we have already delivered many of these systems.
The FTE Academy also develops cutting-edge technological products. This is the industry's first high-humidity refrigerator. This product uses revolutionary technology that allows temperature and humidity to be controlled separately. By keeping the temperature close to 0°C and the humidity above 95%, it keeps fruit, vegetables and flower petals fresh and prevents them from drying out. This makes it possible to preserve fruit and vegetables for long periods and transport them over long distances while maintaining their seasonal taste. Many Japanese farmers and logistics companies have been waiting for a product with this feature. The same applies to the fishing industry. Our high-humidity refrigerators are the first of their kind in the world. We have now completed testing and are selling them on an as-needed basis, and they have been extremely well received.
---

High humidity Refrigerator: Pre-hub type, Container type, stocker type
---
For example, in Scandinavia, fresh vegetables are not available in winter. This product makes it possible to provide fresh vegetables to Scandinavia in winter. We are also working on logistics innovations that will enable people to get fresher fruits and vegetables by equipping containers with this technology. This is an initiative that will have a direct impact on reducing the food loss the world is facing.
---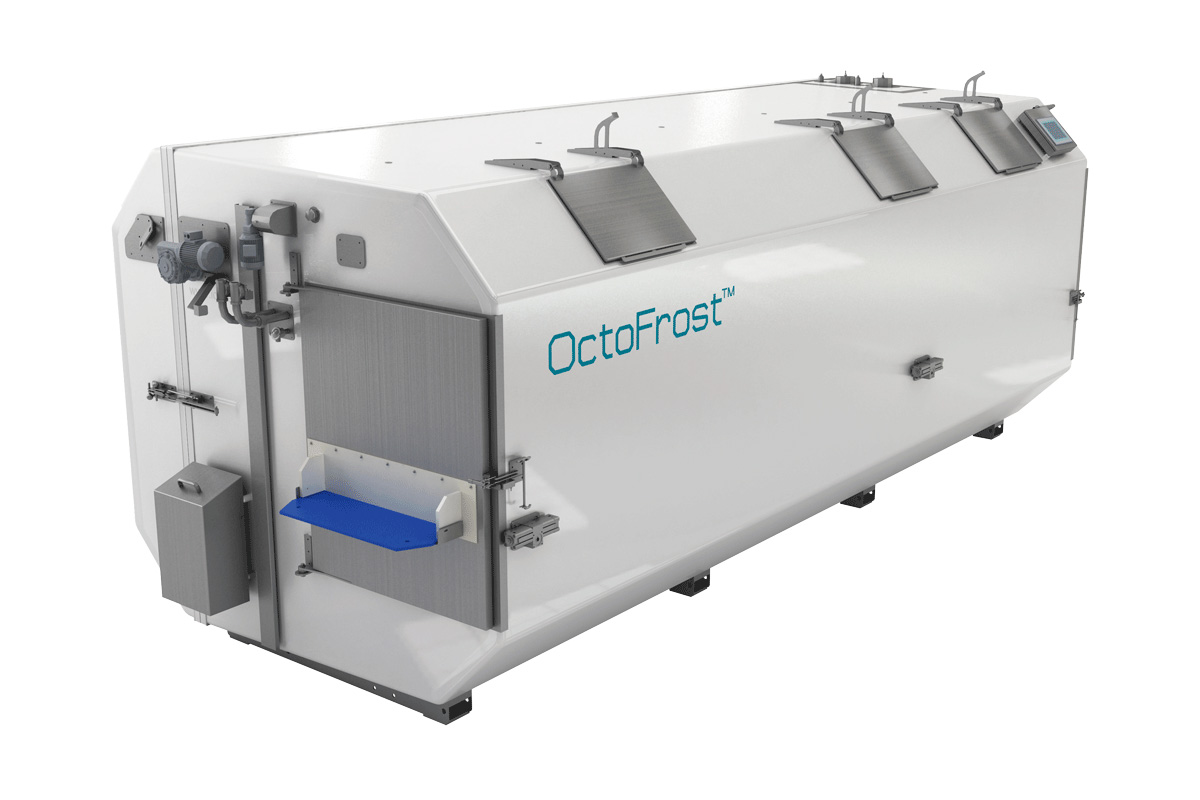 OctoFrost IQF Freezer
---
This freezer is an IQF product for mass production. This product is imported from Sweden and sold to customers. It can process 3t-4t per hour. It has the same features as our IQF freezer but is more compact and suitable for mass production IQF.
I understand that different customers have different plant sizes. Can the equipment be made shorter and more compact while maintaining the same performance?
To increase the efficiency of the freezer, the unit needs to be smaller. We are currently developing our freezer to make it more compact and efficient while maintaining the same high quality and performance.
Our line-up also includes a thawing chamber that thaws food in a short time by efficiently applying airflow and a vacuum freeze-dryer for producing freeze-dried products.
Food factories are suffering from rising energy costs. We want to support our customers in reducing their energy costs by installing our freezer. The freezers you just saw in our lab are manufactured at our group company, Tecseed, in Tokushima Prefecture, and we are currently in the process of increasing the plant's production capacity. The new plant is equipped with solar panels, and the electricity generated by the panels is stored in storage batteries for use. The capacity is up to 2000 kW. This means that electricity produced on weekends and surplus power on weekdays can be stored and used for daily operations. Traditionally, electricity had to be consumed immediately after it was generated and surplus electricity was thrown away; conversely, people bought electricity from the power company when they needed it. Now, however, electricity can be stored and used. The new plant has also been equipped with a fast EV charger that can charge batteries of up to 100 kW in 30 minutes. We are currently working with PowerX to develop and produce storage batteries. Once this technology is established, we would like to propose it to food factories. However, as I am an engineer myself, I will not sell it until I am satisfied. Therefore, we test it here to make sure it functions properly. After that, we would like to propose it to our customers.
---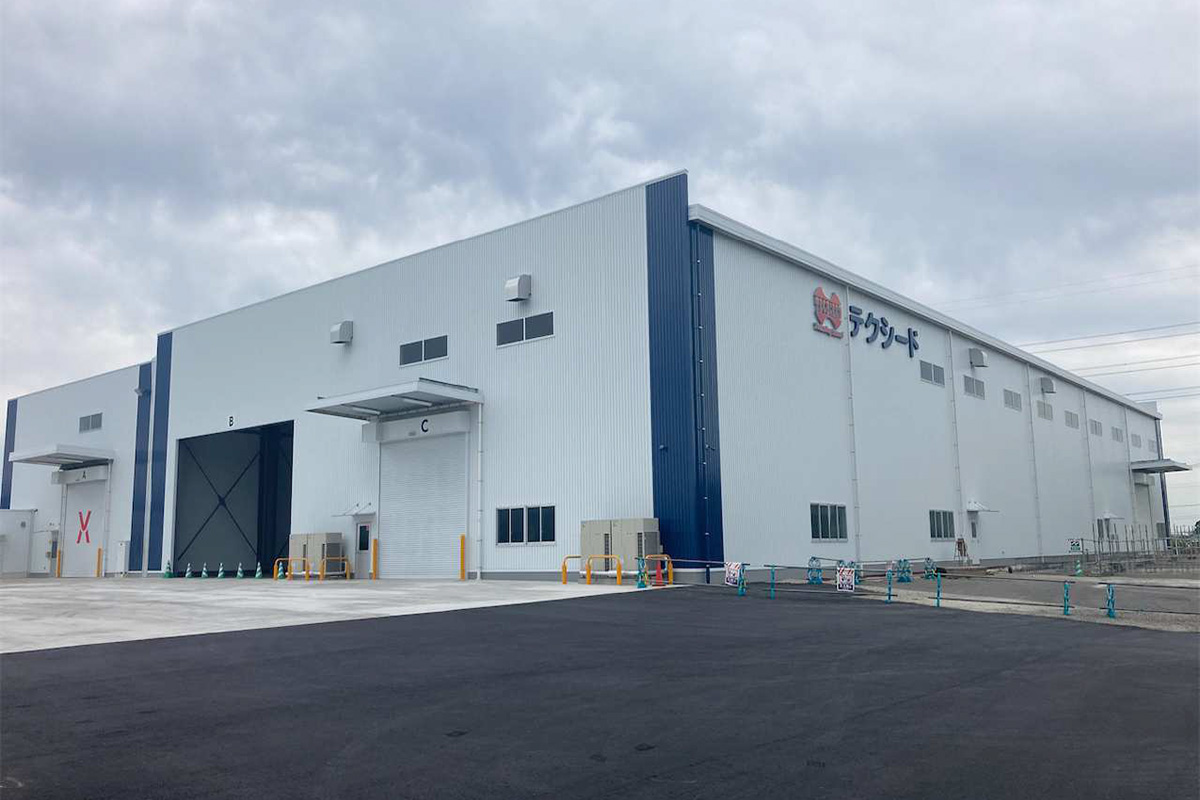 Techceed New Factory
---
Can you elaborate on the role that partnerships and collaborations play in your business model and whether you are currently looking for partners or collaborative partners in foreign markets?
This interview was approached all of a sudden. The same can be said about finding business partners. One day someone suddenly becomes interested in our business and comes to see what we do. We select partnerships from companies that visit us. As far as foreign markets are concerned, we try to export our equipment abroad. But if we want to install the equipment in a food factory abroad, we need to carry out construction work. So we are looking for partners who can provide construction work in foreign markets.
Today, you have presented a range of products, including impingement freezers, high-humidity refrigerators and more. In terms of R&D, is there anything that your company is working on that you would like to share with our international readers?
Developing young talent is the most important strategy to enable the revitalisation of technology, which has been lost in this country for a long time. We are committed to that in order to make our company stronger in the future. It is not just about making money. We invest by developing young talent. That is our philosophy and what makes us a little different from other companies.
We have just heard that you have organised a seminar for university students. We also heard that approximately 30% of your employees are under 30 years of age. Given that Japan's population continues to decline and will eventually have a smaller workforce, are you thinking of recruiting trainees and young people from abroad?
Yes, we are planning to hire young foreign recruits. As you say, Japan is short of manpower, so we are looking for young talent not only from Japan but also from abroad. We have a base in Dalian, China, and we are looking for engineers who can exchange opinions with Japanese engineers. By doing so, we are trying to improve our technical capabilities. Fortunately, we do not face difficulties in recruiting new graduates, that is our appealing point.
As far as Japan is concerned, we know that this is a pivotal time for the manufacturing industry. Over the past three years, COVID and the decoupling situation between the US and China have caused severe supply chain disruptions. As a result, many business groups are looking to diversify their suppliers to ensure reliability. Japanese companies, known for their reliability and advanced technology, are in a very interesting position and, due to the weak yen, many observers argue that this represents a unique opportunity. The question is, firstly, do you agree with this view, and secondly, what are the advantages of Japanese companies in the current macro environment?
We are an engineering company and freezer manufacturer operating in a niche industry, the food engineering industry. The types of food products are being updated daily, which means that we need to constantly update our technology and equipment to accommodate these new food products. This is why our equipment is not suitable for mass production. We need to develop and manufacture our equipment one unit at a time, according to our customers' needs. In this respect, we can make use of the 'Made in Japan' feature.
Your products can also be used for storage and you supply cold chain logistics, an area that is growing due to the increasing requirements of food transport. What is your vision for efficient cold chain systems in the future? 
When considering warehouses used for logistics, one of the biggest problems is the rising cost of energy. Unless a certain amount of food is stored, costs increase inefficiently. Another major problem we face is the logistics problem of 2024 Japan. To overcome these challenges, truck and train deliveries need to be more efficient. A flexible delivery system is needed to ensure that food products remain fresh and to cope with labour shortages. In this context, our new products, such as our high-humidity refrigerators, have attracted a great deal of attention from the industry. The basis of our technology is to contribute to society, and to this end, we are constantly striving to develop equipment and technologies that are useful to people.
It is very difficult for new companies to establish a foothold in Japan. Your company is relatively young and in a very competitive sector, but this year you are celebrating your 25th anniversary. What do you consider to be the biggest challenges in your company's history and how have you overcome them?
When I founded this company, I set myself three objectives. The first was to deal directly with customers, the second was to be competitive in technology and the third was to have a manufacturing plant in the future. When I founded the company, we started with seven people in a flat. At first, we had no money. But gradually we were able to grow the company and after 10 years we had a manufacturing base. It has been a long road to get to where we are today, and a lot of investment was needed in facilities such as the laboratory test room and the academy, which I showed you just before.
One of the biggest challenges for SMEs is recruiting young people. The test room was part of our strategy to recruit new talent to appeal to young people through our technology. This has enabled us to constantly recruit new graduates from universities and technical colleges. We recruit graduates from all over Japan. We have recruited from Hokkaido University, Tohoku University, Tokyo Institute of Technology, Waseda University, Keio University and Kobe University. This is not usually the case in small and medium-sized enterprises. We believe that the new generation will give us the energy we need for further growth in the future. That is why we put particular emphasis on the recruitment of new graduates.
In 2011, you expanded your operations to Dalian, China, as part of your growth. Are there any other countries or regions you have identified for further expansion in the future, and what are some of the strategies you are trying to adopt?
We established our base in Dalian 12 years ago. In the food industry, the most populous markets are the most attractive. So we decided to enter the Chinese market as a food process engineering company. Before we entered the Chinese market, we already had a high-quality reputation in food processing factories in the Japanese domestic market. We have been able to deal successfully with many Chinese clients, as many Chinese companies use 'Made in Japan' products and do not hesitate to pay more for high quality. We are focused on producing high-quality products both here in Japan and in China and have the ability to provide the same level of high-quality products to both markets.
Are there any other countries other than China where you are looking to sell Made in Japan equipment?
We are currently targeting South East Asia for sales. We are getting a lot of attention from potential international customers. We have recently had guests from Indonesia and the USA, and next week the president of China's largest food processing company is scheduled to visit us. Growth is expected with regard to international projects. When we invite these foreign guests to our facilities, we allow them to see our freezers and carry out actual freezing tests.
This way, we can offer our customers peace of mind. Such exchanges will continue to expand in the future.
---
Interview by Karune Walker & Sasha Lauture.