It is our view that Japanese manufacturing is living a very exciting time. This is quite clear when you consider the weak JPY and the need for greater reliability for suppliers and OEMs. This seems to match perfectly with Japan, a nation known for its advanced technology, for its high reliability and trustworthiness, and now with the weak JPY, it has never been more cost competitive. It is our view that this is a great opportunity. What is your view? Do you agree with this premise? Why or why not?
First and foremost, our core business is the hardware side. We produce portable aesthetic beauty equipment that can be used at home hands-free. That is actually very unique to Japan, and as a result, Japan has developed its own unique beauty sector. If you go to an electronics shop such as Bic Camera or Yodobashi Camera, there is now a beauty area where all the beauty related equipment is showcased. There is a growing need both domestically and overseas for home beauty care products. I feel that there are many overseas buyers purchasing these types of products through cross-border EC sites, especially since the Covid pandemic.
In Paris, it is very common for tourists to enjoy the hotel spa or aesthetics. However, when tourists come to Japan, having aesthetics in Japan is not as popular, even though Japan has developed its own form of aesthetics, including hair-removal salons and facial salons for example. I believe that foreigners are more interested in the latest home-use aesthetic equipment. The uniqueness of Japan is that in every electronics store beauty section, there are dedicated personnel called beauty concierges who can let the customer experience the latest home-use equipment. Through these types of experiences, I believe that foreigners are enjoying Japanese aesthetics.
Every country has its own cultural aesthetics. In Taiwan, there is reflexology for foot soles for example. In China, they have their own unique methods, while if you go to Korea, there is more focus on beauty surgery. However, what I believe foreigners are expecting from the Japanese beauty industry is the result. Therefore, it is our utmost responsibility and mission to provide that outcome to the customers through our product development.
When we have spoken to many cosmetic and related companies in Japan, they have said that many of them are suffering from the so called "Galapagos syndrome" where they are so focused on the Japanese aesthetic that the products they make do not really appeal to inbound tourists or for export. How are you overcoming that challenge and communicating that your products actually have a discernible result for the people that use them?
Education is critical for the communication of the advantages of our products. On a monthly basis, we have in house training and education sessions for our employees. Also, since we cannot directly speak with the customers, we educate the beauty concierges so that they have extensive knowledge of the effects our products have, for example, on skin wrinkles or other skin issues. There are numerous issues that need to be tackled. Therefore, we need to communicate well when catering to each of them.
Your company is an interesting case as you are a beauty company, but also a manufacturing and engineering company that makes machines. It is an interesting blend, this "beauty-zukuri". Due to Japan's aging population, you obviously face challenges with recruitment and passing on your technical expertise. Do you see Japan's aging population as more of a challenging point or more of an opportunity in terms of your business development?
We feel that Japan's aging population is actually a great opportunity for us. Our main products are beauty and health maintenance equipment and our target customers are 40- to 50-year-olds, who make up the current working generation. With the aging population, there are more people actively working that are over the age of 60 or even 70. Providing comprehensive equipment to support their health is very important. This month, we received accreditation for medical equipment device treatment and sales. We have already developed products such as our Dr. Pad. Now that we have the ability and accreditation to develop and enter into the medical equipment industry, we want to expand our business to cater to the holistic population.
---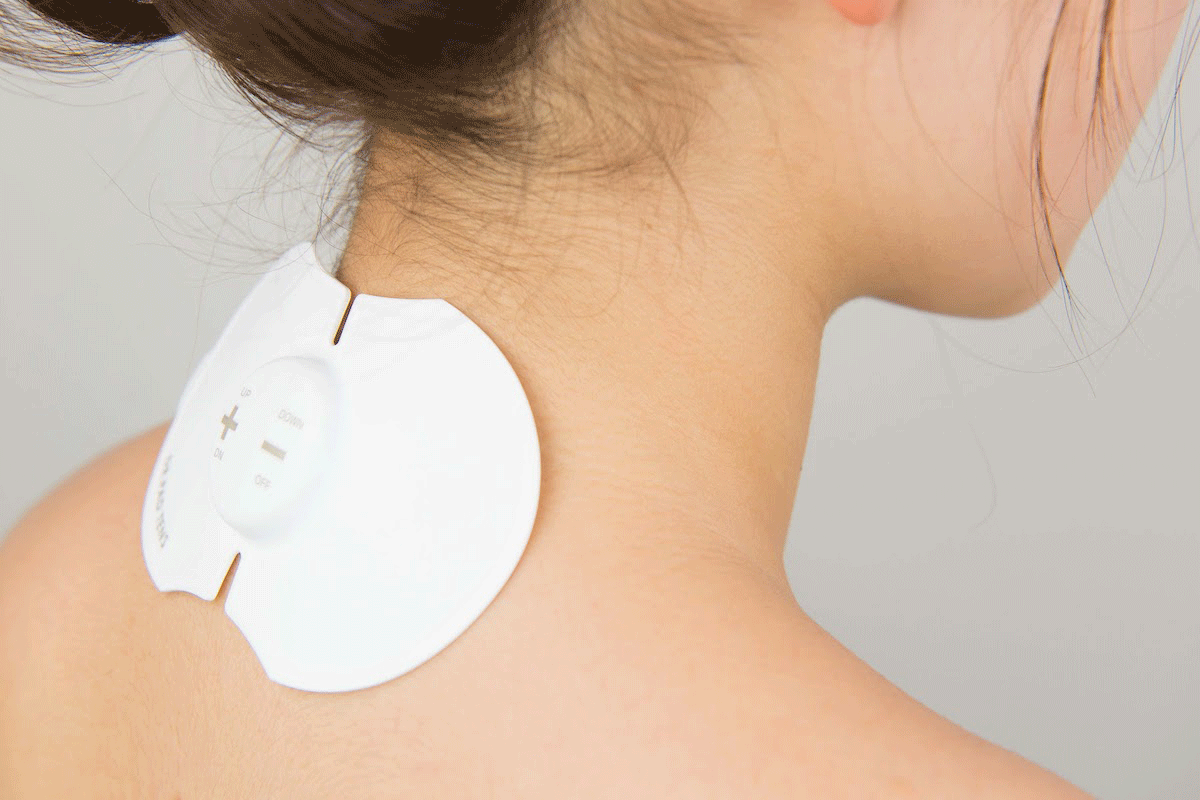 Dr. Pad
---
There has been a change in social trends, and men are now more beauty conscious. Even boys in middle school are conscious about body hair. Sometimes mothers purchase the body hair removal equipment for their sons, so that they can pursue beauty. Social concepts of beauty have been changing. Before, it was common for men to have hair, and having hair was even a status. However, removing hair is more common amongst the younger generations. Females do not want to see hair on men. This mindset change is actually giving our business a push, as we can cater to not only the senior generation but the younger male generation as well. They are target users for our beauty equipment.
This is a very exciting time for your company given that you have just received this medical equipment accreditation. Before, you spoke about how in the mid to long term, you want to grow your overseas business. Are you also interested in supplying these kinds of medical equipment to other advanced aging societies in the world?
Yes, we are also planning to pursue overseas sales of our medical equipment. Our low frequency devices and our facial aesthetic devices are actually considered as medical devices in Taiwan, Korea and China as well as other Asian countries. Our medical device accreditation means that we can now take these products and actively attend exhibitions where we can find channels to enter into the Asian market. They each have their individual accreditation scheme such as FDA, TFDA and others. We hope to pursue these opportunities in the near future.
We saw that you partnered with Spigea Organics in the UK and Ecocosmetics in Germany for example. We would like to know what kind of qualities you look for in your international partners. Are you looking for a big company with a wide reach, or a smaller company that is very flexible? Are you looking for new similar types of partnerships, and if so, what kind of partners are you looking for?
There are many potential and strong companies for example in Germany and France. However, the partners that we are looking for are those that have a strong network, especially when it comes to home use medical devices. They could be a manufacturer or a sales agent that we could work together with. However, we are still in the very early phase when it comes to overseas business.
This year you released the latest version of your Zogankin. We would like to hear how it differs from its predecessors. We know that the original Zogankin was one of your most popular products. How does the latest version improve on the original design? Secondly, we spoke earlier about the radio frequency thermal technology that it uses in working the skin. Can you explain briefly how that technology works and how it is so effective in achieving actual results for the users?
Our Zogankin product is a portable device for home beauty use. There are five major elements, which include an electricity stimulus that is conducted on the facial muscles that determine the expression of the face. The stimulus prevents the loosening of the muscles. The second element is the radio frequency, which is a high frequency that goes between the dermis and the fat to stimulate the collagen.
There was research done by a professor on the facial expression muscles. During Covid, people wore masks when communicating. The research found that those who wore masks had a drastic decrease in muscle activity by a quarter compared to those who communicated without wearing masks. By using our Zogankin device, you can prevent the loosening of facial muscle expressions through the stimulation of the muscles. Many Japanese people also like to mumble which does not require the full use of their facial muscles. In terms of collagen generation, it is said that people above the age of 20 generate less collagen. By using high radio frequencies to generate heat in the deep dermis of the collagen layer, the Zogankin can trigger collagen generation.
We want to make the Zogankin the world's most comfortable and enjoyable device. Before we had two electrodes. However, some people felt that the low frequency electricity stimulus was painful. Therefore, we changed the system, and we now have four electrodes which allows for it to be used from any direction.
In Japan, bath beauty is popular, and people like to use these types of beauty devices when taking a bath. Therefore, we made the Zogankin waterproof to make it more usable. We launched our latest version, the Zogankin Bloom, at the BWJ exhibition this May, and 100% of the people who tried it said that they felt good sensations when using it. You can also massage the tense muscles in the face, and this was very popular at the exhibition. There is a cushion that is stress free and this allows you to feel the bounciness.
How long does one round of application typically take, and are there any disadvantages to using it for longer?
It takes 10 minutes. It is like sports. If you overdo it, you can get muscle aches. Therefore 10 minutes is preferable. Continual usage is the key. However, some people use it for a few days and then stop using it.
Do you have to use it for ten minutes every day?
You have to use it every day for one month. After one month, you should use it two or three times per week.
---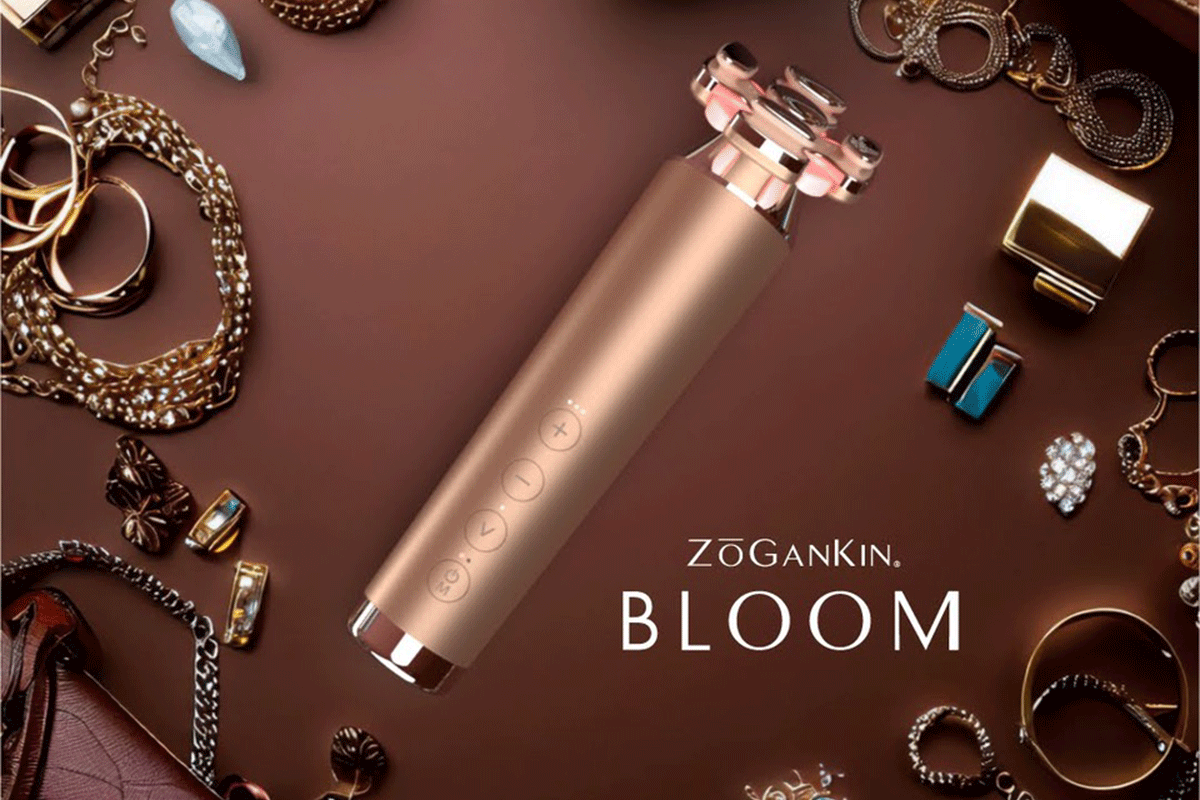 Zogankin Bloom
---
Can you give us some more details regarding your international development? Are there any particular markets that you have your eye on, and how will you go about entering into those markets?
Our international focus is on East Asia and Southeast Asia. Finding distributors is key to our overseas expansion. Therefore, attending exhibitions such as the large exhibitions in China for example, and getting our company name out there is the first step. My dream is for us to participate in the German medical care exhibition. I want to take our medical devices and display them there.
Your company is this year celebrating its 22nd year anniversary. Imagine that we come back three years from now for your 25th year anniversary as a company and have this interview all over again. What would you like to tell us? What are your dreams, besides exhibiting in Germany, and what goals would you like to have accomplished by then?
First and foremost, getting our name out there in the domestic Japanese market is very important. We need to be known in Japan as a portable home esthetics equipment company. We want people to associate our name with that equipment. We are located in Ginza, Tokyo, which is an area that many tourists visit, as there are major electronics stores and department stores located here. By leveraging our headquarters in Ginza, we want to spread home beauty both across Japan and overseas. Currently we are shifting our manufacturing back to Japan partially. In the three years' time, we then want to expand our business by taking our "Made in Japan" products abroad to East Asia, Southeast Asia, and countries in Europe such as Italy. Those are my goals for the future.