Since World War II Japan has had an excellent reputation for its Kaizen philosophy toward manufacturing, however regional competition from China, Korea and Taiwan has seen Japan lose market share when it comes to mass produced products. Despite this stiff competition, Japan still remains a leader in niche B2B fields such as factory automation technologies. Can you tell us why you believe Japan is still so successful in these niche fields and what are the advantages that Japanese monozukuri brings?
Automation is something that our company is very strong at, and obviously, when you talk about full-process automation, you need a lot of vendors. From our perspective of monozukuri, I would say that Japan really has no equal in terms of collective effort. The Japanese are known for being on time, efficient and able to produce quality that is some of the best in the world. No other country can compare with the speed and quality that Japan provides. I think this aspect really defines what monozukuri is both to the Japanese and the outside world.
Can you explain why the chusho kigyo, the SMEs have been so successful in their contributions to factory automation (FA) solution systems? What are the unique qualities of Japanese SMEs?
In the wider aspect, I think they are defined by their commitment because, as you know, they are all very committed to their tasks. SMEs are fully committed to introducing the best quality possible and that in a sense is the national character of Japan and the definition of Japanese monozukuri.
In cost performance, Japan is losing out in many ways to emerging economies such as Southeast Asian countries. This is a battle that in the short-term Japan is losing, but if you take a wider look, and think more broadly, the high-quality products and good reliable services have Japan winning the war in the long term. Japanese firms won't need to level up their procedures nearly as much, and there is much less need for maintenance. For that reason, we have fewer defects and more reliable production lines for people who need our automation systems. To summarize, the main aspects of Japanese firms, both large and small; it really boils down to their commitment to quality and reliability across the entire pipeline of a business.
Price competitiveness is something that is inevitable for any company that would like to introduce its products or services. Our company's mission has always been to contribute to manufacturing with high quality, short delivery times, and low cost. These are the three main aspects of our business. In terms of cost, we try to fit into the budget expectations of our customers, otherwise, we would not survive these harsh times. This is something that all companies must think about. How to provide great high-end quality products, at very reliable and reasonable pricing.
We are challenging ourselves to make custom made products for the customers. Everything that we do is based on customer demands. First, we conduct a consultation to hear what the customer needs and what special equipment they may require. We then tailor our solutions around the customers' expectations.
You've mentioned how you will make a single machine, all the way up to an entire production line to meet a customer's needs. This kind of service requires the marriage of hardware and software. How do you overcome the inherent difficulty associated with marrying together different modular equipment with custom software solutions?
---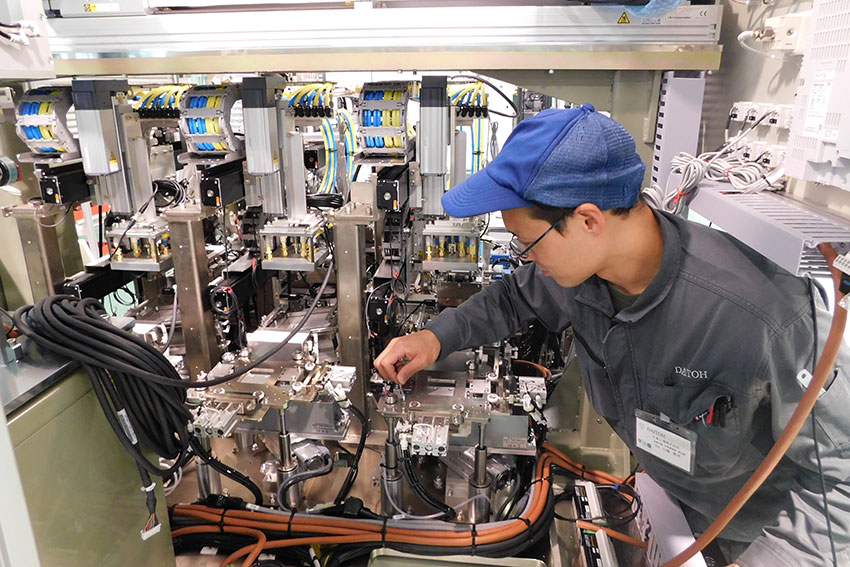 Assemblers adjusting equipment.
---
Flexibility is a big strong point of our company, and that flexibility means it is required to apply hardware and software with all sorts of variations and scenarios that a customer may come up with. Many companies have their own very specific software, so in those cases, we need to fit our machinery around that. Our company is also capable of providing ultimate solutions to customers. When I say ultimate solutions, I mean a solution that provides a customer with both hardware and software altogether as a package.
It is very known worldwide that Japan has the oldest population in the world. More than 28% of people are over the age of 65 and the population is in a state of rapid decline. Estimates put Japan's population under 100 million by 2060. Media outlets mention how Japan needs to increase its foreign workers to 7 million in order to compensate for the decline. As a company that specializes in automation solutions and labor-saving devices, what is your take on how Japan can sustain its economic development despite this population decline?
The shrinking population here in Japan is a big problem of course. Moreover, SMEs find it very difficult to employ people here in Japan. Graduates will often compete over more desirable positions at larger more recognized firms. We already foresaw these problems, and ten years ago we launched a program to attract and employ new graduates fresh from their studies. Actually, this isn't the first time we launched this program, however, at first, it didn't do so well. We relaunched the program about two and half years ago now and it is doing much better.
The program conducts many events and meetings to explain the benefits of working at Daitoh Industry, and we are really looking to establish brand recognition with fresh-faced talent. We want young people to get acquainted with Daitoh Industry and potentially look for employment with us once they graduate.
Does this program extend to foreign workers too?
Yes, we do this through our subsidiary in Vietnam. We successfully employed a lady through that subsidiary and now she is working here in Japan at our headquarters. That is sort of our pipeline when it comes to foreign workers. We employ them locally and then if things are right, we will bring them here to Japan.
To what extent have you had to look overseas for business opportunities. The domestic market is shrinking, meaning there are fewer consumers to sell products to. Have you had to look abroad to establish new customer bases in order to compensate for the diminishing returns of the Japanese domestic market?
At least at this point, we are still focusing on the domestic market. This may sound controversial to say but the shrinking labor force actually is good business for us. The fewer people that work in factories, the more opportunities for us to automate, and introduce automation systems inside domestic Japanese companies. There are many things happening in the automation sector here in Japan right now. Many companies are trying to improve efficiency and create better costs. We see this as a good landscape for business potential.
The scale of the company is not that big, we are still an SME, and as such, it is very difficult to promote ourselves overseas. We do have a history of supporting Japanese companies that have localized their production overseas. It's almost as if we are operating outside Japan, but not entirely. We are supporting those Japanese companies that are expanding overseas with ultimate automation solutions.
Can you tell us about the synergies that you have within your business that allow you to adapt to new demands? Can you also tell us about any new industries you've had to cater to?
It definitely is a good point of reference, and somewhat of an element of self-reflection. We can see what we have done before and have noticed that we created good synergy. The industry we are looking very keenly at is the automotive industry because so many things are happening there right now. Many good and exciting changes are coming.
That industry is shifting from combustion engines to new electric vehicles (EV) and batteries. Fume separators are something that we see trending right now. We've been in the automotive industry for a long time, but with the recent rapid change, we are focusing more on it than ever before.
The switch to EVs is imminent worldwide and we are seeing that the barriers to entry in the automotive industry are being lowered and it's easier than ever for new players to join – the closed nature of the keiretsu hierarchical model for the auto industry in Japan is no longer the case. What opportunities do you foresee in the automotive industry, especially overseas?
It is hard to say right now. We are optimistic and looking forward to a bright future, not only for Japan but also for foreign car makers, but obviously, the car industry is very stiff and set in its own ways. It is difficult to get in with the big players, especially here in Japan, and if you don't have a proven track record they simply won't talk to you. We have had some inquiries about battery automation but we didn't get an offer for it because we had no experience with this before. We are aware that this is lost potential. On the other hand, it is very hard to establish a track record of how competitive the automotive sector has become.
There are so many things happening in the automotive sector, not just the change from conventional combustion engines to EVs through electrification, but also the emergence of unmanned self-driving cars. I think these have a long way to go to reach the final target, as Japan's infrastructure is still not ready for such a leap. We see this as a future possibility to introduce new solutions and services in that area. To be frank, Japan's level of electrification is not nearly at the same level as some of the leading countries such as Europe and America. The many things happening are creating space to grow and new business opportunities for many companies including Daitoh Industry.
COP26 last year dictated that every country must be responsible for its own transition to carbon neutrality by 2050. Can you tell us about your unique technology and what opportunities this transition presents for a company such as yours?
We are in the process of converting our designs from using pneumatic equipment to electric equipment, although we have not yet made a major contribution. I think too that they help companies looking for FA solutions in the long run. Obviously, decarbonization isn't something that can be tackled by a single company alone, and we are trying to create better equipment and better solutions to alleviate customers of carrying this burden by themselves.
Are you looking for any partners overseas to help you further develop your technology?
When Japanese companies localize their production overseas, they are looking for procurement solutions. Some manufacturing companies and inspection device producers in localities have approached us. It's not really co-creation, it's more like co-selling. In the end, we are selling a full package to the customer.
In terms of your mid-term strategy, what goals have you set for your company? What products or new markets are you looking into for the next two years?
It is a very rapidly changing world we live in right now, so it's hard to say exactly. So many financial crises are occurring, the China trade wars are intensifying, and the invasion of Ukraine continues. With all the things on the table right now, it is very difficult to make accurate forecasts. It sometimes feels like flipping a coin. Our company will look to create and change strategies to focus on other things, but what those other things are, we don't know right now. We are in the process of thinking and strategizing.
All that being said, we have seen success in solar panels and the industry has flourished. We are looking for the next industry to flourish. I'm sure when the time comes, opportunities will present themselves. When that happens, we will be ready. In the meantime, we wish to continue supporting our clients to the best of our ability.
Since 2011 you've been in Vietnam, and you've also been in China since 2012. Can you tell us moving forward which new locations do you foresee having new developments internationally for your business?
The balance in the working labor market in Japan is actually drawing our efforts domestically rather than abroad. We do have a production base in Vietnam, but due to the unfortunate COVID-19 pandemic, production temporarily slowed. We are also seeing an increase domestically in demand for heavyweight goods handling. This is an area that by definition must be unmanned.
We don't produce our own products, we are more of an integrator. We create packaged integrated solutions for customers. There are so many rapid changes in social conditions. For this reason, the company will always be ready to apply ourselves to these kinds of changes. Whatever the demand is, we will try our best to fulfill it.
Imagine we come back on the last day of your presidency. What message would you like to pass to the next generation of workers at Daitoh Industry? What would you like your legacy to be?
Currently, we are in our 57th year of existence, and the core mission hasn't really changed since its founding. The company's philosophy has always been to introduce highly valued products that contribute to society. I would like to tell the next generation of Daitoh Industry, that it is important to have a clear vision of the future, gather as much information as possible, and run ahead with clear goals. If the next generation can do that, it would make me very happy to know that the company is in safe hands for the future.
---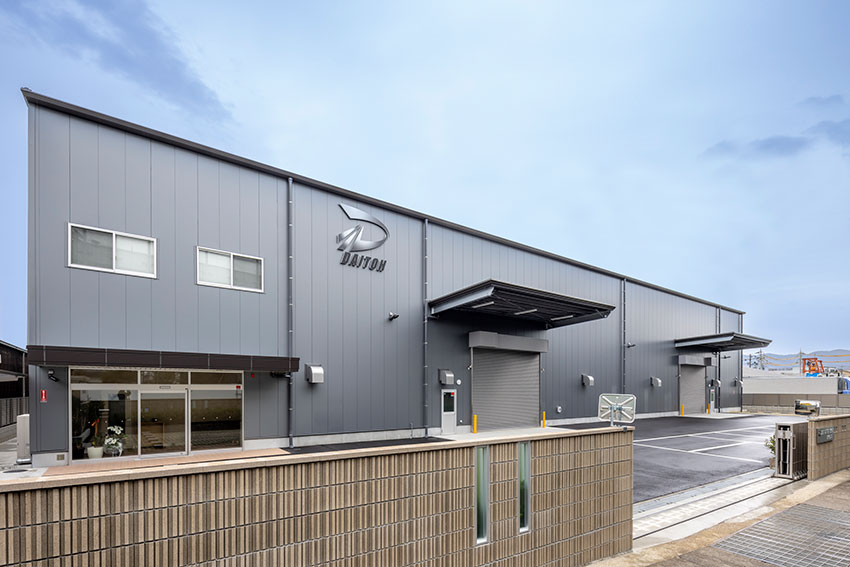 Daitoh's newly established 6th factory