Since the end of World War II, Japan has gathered a famous reputation worldwide for its kaizen philosophy of constantly improving their products, and never being fully satisfied with the outcome. This mentality is great for product development, but in today's globalized world, companies need to respond to quality cost and delivery (QCD). What is your take on the advantages of Japanese monozukuri, as you see it on the world stage?
I would like to start by telling you about our company Dynaox. I established this company in 1982. As you know, we are a trading company and we deal with exporting and importing. We basically do not have any engineering technology or production. However, the business model of our company is an engineering-oriented trading company. That is the philosophy of our business.
Japanese manufacturing shifted from Japan to China and other Asian countries with lower labor costs. We also saw that China and the Asian market grew rapidly, and many of our customers shifted their operations overseas. At that time, our customers established their own factories, and many of their suppliers followed. However, many SMEs were unable to go abroad by themselves. Our business model is that we are not an engineering company, but we are capable to operate production control, quality control, procurement, or sales. Companies only send engineers and transfer their technology to us, so that we can manage everything once it is started. This is our business model.
In China, we have agreements with two suppliers of manufacturing parts for office equipment. In Vietnam, we have a factory, and we have an agreement with three suppliers there. This is the start of manufacturing out of a trading company.
In 2014, we had discussions with Fuji Seiko as at that time, the owner did not have any successors. He needed someone to succeed him at the company. When I looked at the manufacturing, I found that it was very similar to the processes that we already had in China, and in Vietnam. In those two countries, we buy extruded metal pipes and draw or cut, and machine them. At Fuji Seiko, the size was much smaller. However, the process was quite similar, as it involved welding, drawing, straightening and cutting. I thought that I could manage that company if I had good engineers to carry out the production. That was why we took over Fuji Seiko in 2016.
The majority of medical tool that Fuji Seiko manufactured was cannula. In this industry, once you put a sharp edge on the tube, we call it a cannula. When it is assembled with a hub, it becomes a needle. While we do not do the assembly, we do produce the tube for the cannula, and we grind and manufacture the cannula itself as well.
---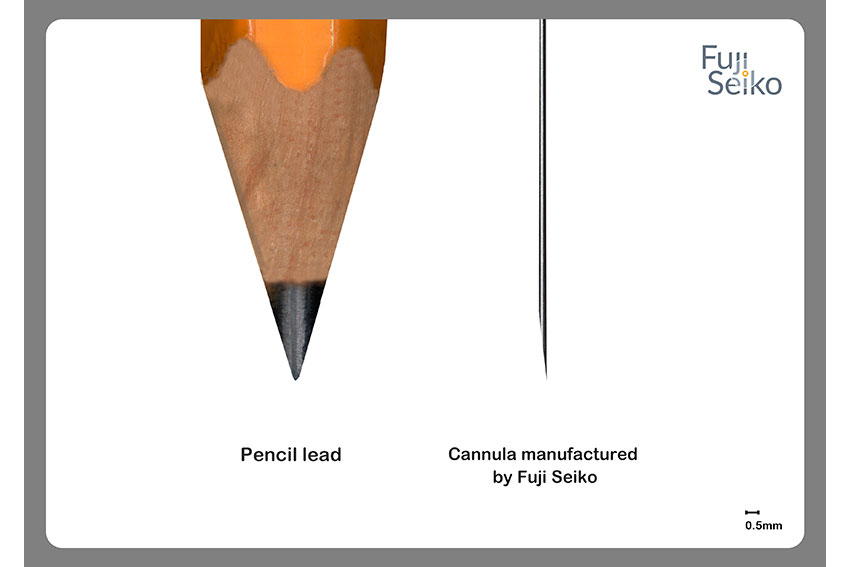 ---
When we took over Fuji Seiko, they were focused on the domestic market. They exported only about 20% of their products to Europe and China. However, almost all of this went through a trading company. The business was based in Japan and focused primarily on cannula production. Nowadays, the medical injection business is quite competitive. We needed to look outside of Japan, because the overseas market prices were quite attractive when compared to the Japanese domestic market. There were also many other applications outside of Japan, such as catheters, for example. In Japan, major medical companies sell the catheter finished product. However, they buy and assemble products from outside of Japan.
Japanese medical companies are very competitive when it comes to measurement devices and inspection devices. However, they are not so competitive with the applications that go into the body, due to the risks they may pose. Japanese medical companies do not like to take a risk and prefer to operate safer business in the medical industry. That is why they do not manufacture from scratch by themselves. Rather, they prefer to buy assembled products from or European companies and do the final assembly before introducing them as their branded products. We started to make different applications other than cannulas. The tubes themselves are the same. However, for cannulas, the lengths are very small, which means we need to cut away the defective parts, so the majority of parts can be used. The technology level is quite low when compared with catheters. Health products of all lengths are required so the technology engineering is quite different. Also, when it comes to catheters, the doctors require flexibility, torque, push-ability, track ability, kink resistance and so on. Therefore, it can be difficult to satisfy those specifications other than size. The price can also be much higher than a cannula.
---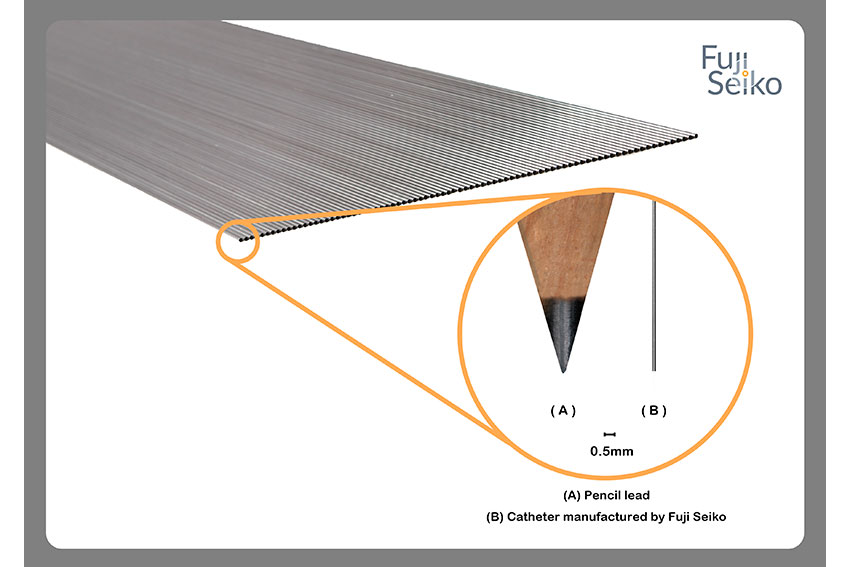 ---
In 2016, around 90% of our business was related to cannulas. However, now, around 40% of our business is catheters. Big companies such manufacture cannulas in fully automated production lines. They carry out all the manufacturing processes, such as welding the tubes, drawing, sinking and straightening them, as a well as grinding the cannulas. When it comes to costs, it is quite difficult to compete against those companies. However, when it comes to catheters, many physical characteristics are required, as the doctors need flexibility when using them for the arms or legs, or especially for the heart. Doctors also have to manipulate them from the outside of the body, and require capable catheters to follow the movements.
We do not have any standard products. Rather our products are manufactured in response to the customers' requirements. This requires experience and high-quality workmanship and desire on the part of our engineers, as we have around 700 or 800 different products. Therefore, we must apply the skills of monozukuri. We can then utilize our sales and marketing experience and skills as a trading company.
Until 2016, Fuji Seiko did not have direct access to the customers by themselves. It is very important to listen to the voice of the customers to ensure you can meet their needs, and apply their requirements to your products. Dynaox were able to facilitate this for Fuji Seiko.
---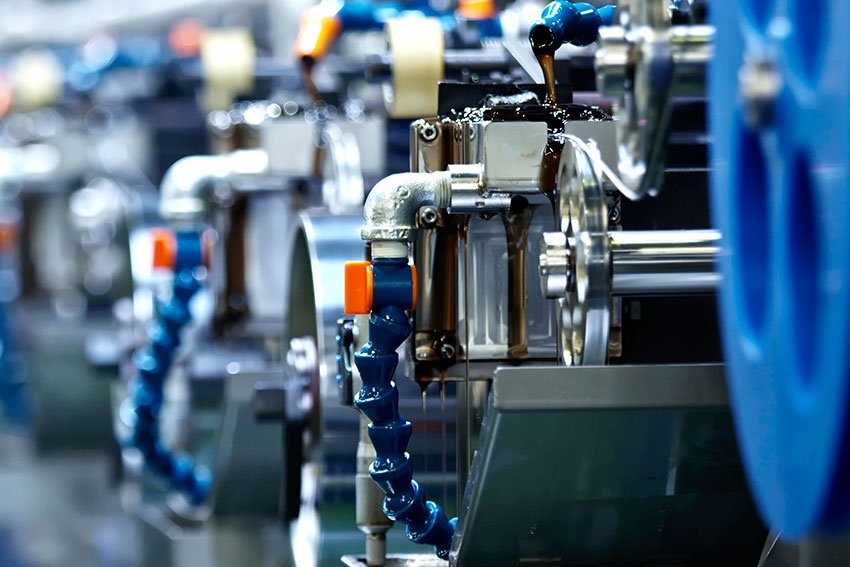 ---
As an SME, what advantages do you hold in your industry?
I see many of our customers in the medical industry have vertical integration of the industry. It is comparable to the automobile industry or the home appliance industry In Japan for example. I think that a couple of big medical companies of Japan started to have an alliance with those subsidiaries for more complicated products such as endoscope surgical operation tool t, for example. They used to buy semi-finished products from outside of Japan. However, today they have access to companies who can not only supply the tube itself, but apply the coating and holes, as well as other processes. I believe that they realized they need to make the majority of parts domestically in Japan, rather than buy semi-finished products from abroad. They want to lower the risks for their business. They need to manufacture from scratch domestically. Otherwise, they will have a difficulty to compete when it comes to costs. Also, they need to lower their costs in response to the government's requirements, as medical costs are a major social issue in Japan. They realized they must lower their costs.
What is your take on this digitalization of medicine and the push towards prevention, rather than treatment?
I am not sure if this will answer your question, but I see that health costs are a major social issue, not only in Japan, but around the world. The medical industry these days requires minimally invasive procedures. People know that it is not only the cost of the procedure itself, but also the costs of staying in hospital and receiving further medical treatment that are also required. Therefore, today, minimally invasive procedures are increasing in this industry. That is one of the reasons why we focus on the catheter business, as the increase in demand is linked to this issue. This is also linked to the potential solutions to this issue for the future.
Japan is first on the list of aging societies, with 28% of people currently over the age of 65. That being said, countries such as Greece, Korea, Spain and Italy are not too far behind, with over 20% of their populations over the age of 65. What can Japan teach the world as the first aged society?
In terms of the engineering level, and in terms of medical technology, I think yes, we can. However, our problem is the Ministry of Health, Labour and Welfare is quite risk-conscious. I think that is the reason why the medical industry is not so competitive in Japan. That being said, I think that the Japanese government knows that we need to go beyond the current business model. We used to have good growth in home appliances, however, we can no longer compete against China or Korea. Also, our automotive industry survived, however, now they are having a difficult time to go beyond engine-based vehicles to electric vehicles. Therefore, we need to focus on other businesses rather than the existing businesses. I believe that one of those businesses is the medical business. The second is aerospace, and the third is related to computers and new technologies. We need to support the growth of the medical industry for our future.
In terms of your company, will you be focusing exclusively on the medical field, or will you be looking to also make your presence felt in other fields such as aerospace or automotives?
As you know, we started in OA parts manufacturing. We shifted to the medical industry. Considering the future of the machining or metal processing business, we do not see many opportunities these days. People are focused on computing and software. In the metal processing business, all the potential growth that we can see, is in the medical sector and the aerospace sector. The reason why we focus on small diameter tubes is that they not only have potential in the medical sector, but there are also opportunities in heat exchangers. Heat exchangers are used in high technology vehicles. Also, these days, we have had some inquiries from the aerospace industry, as flying vehicles require more light weight parts. They are finding it difficult to use the existing heat exchanger materials.
In the medical field, co-creation and partnerships are crucial if you want to go to a new location, as there are GMP practices and regulations that are very specific to each region. In the case of your company, are you looking at partnerships and cocreation as a means to expand your business to new locations?
When we acquired Fuji Seiko in 2016, we bought the company with a US partner, who has about 20% of the shares, while Dynaox owns 80% of the shares. We needed to go outside of Japan to increase our opportunities for the future. It also gave us direct access to medical customers which increased our knowledge of the industry. We know that it is quite difficult for us to drive this business only by ourselves. In the six years since 2016, we have doubled our sales, and increased our operating income five-fold. One of the main reasons for this success, has been because of our partnership. Our partner provides marketing information to us and he takes care of engineering and production to respond to the requirements of the customers. We take care of the domestic sales in Japan, and the sales in China and the rest of Asia. I think we have a good combination working together with our partner.
I would like to ask you about your relationship with Martech Medical Products. Since 2020, you have been working together as a plastics contract manufacturer, providing OEM based services. Can you tell us more about that relationship and what benefits it brings to your company?
We have built a really good base of customers in selling Fuji Seiko products in Japan and also in China. On the other side, Martech own US and European based companies, and do not have a good customer base in Japan or Asia. We are able to sell their products to our customers, and we saw that we have a good synergy with them. This has also allowed us to expand our products' valuation. That is the reason why we try to add more suppliers into our business
You mentioned that you are a trading company by nature, but you now have manufacturing operations with Fuji Seiko. In terms of research and development (R&D), can you outline your strategy and what you are working on?
We currently work with a university. I myself graduated from Waseda University. We started a joint study with Waseda University in which we jointly carry out academic research. In parallel, we have also started working with Tokai University in a little more practical research. The themes of our joint work are simulation and AI support computing. If we get a new challenge from our customers, we carry out tests in our production and judge if it is feasible to produce. However, it takes up time. Also, even if the test is successful, it does not necessarily mean that we can have a safe production. Tokai University model the process, and they calculate using computers and provide us with feasible results. Then we carry out tests at the actual production site. We then provide feedback, which Tokai uses to revise the model and their programs. This defines the model of simulation. It lowers the time that we would need to carry out tests, and it provides us with optimal solutions and lower costs. We input the data into the AI, which ensures that the AI provides the optimal solutions.
We are a trading company, so we not only provide the products, but we provide services too. There is synergy between our trade company and the manufacturing side of our business. Dynaox take care of logistics, and also sales and marketing too, while Fuji Seiko take care of production and engineering. The next challenges for Dynaox are increasing our valuation and getting approval in each country. One of the potential issues that and Martech and other potential suppliers have is when they deploy to other countries, they need approval. I think this could be a service we could provide. We also want to increase our valuation in each nation or society. Those are the future challenges for our company.
As we discussed earlier, Japan's population is declining and the market is shrinking year by year. To what extent do you see your business in the future becoming internationally based and how are you ensuring a stable labour supply for your business operations given these demographic issues?
In Fuji Seiko, we already have that issue. When we expand our capacity and business, we have difficulties in finding workers. This is one constraint when we want to expand our international business. We recently tried to hire foreign workers living in Japan. However, we do not think it is wise to hire from many different nations because it can be quite difficult to train these people. To provide more complicated work to them, we would need to translate the worker's manual into their mother language. We do hire Vietnamese people as we already have a factory in Vietnam, and have already translated our worker's manual into the Vietnamese language. Focusing on one or two countries and training those people to be able to take care of the complicated processes is certainly a challenge.
We have also started to train our Japanese workers to step up to the next level. Otherwise, the Japanese workers will only compete against foreign workers. It does not make sense. Therefore, there are two sides. The first is that we want to hire foreign workers, and the second is that we want to train our existing Japanese workers.
In terms of new markets, which countries or regions will you be focusing on?
It is quite difficult to identify which market we need to focus on. China has quite a large market. However, we know that it is quite difficult to compete as they already have a good level of engineering themselves. Therefore, rather than manufacturing something in China these days, we focus on competitive edge products, and export those products to China that they are unable to manufacture by themselves. We need to find a niche for our business in China. Rather than providing a wide variety of products, we should limit ourselves to that niche, and provide specific products. However, in India or Vietnam, we focus on the larger population, as there are lower technology levels, and therefore we can consider a more aggressive approach in those markets, and have our own manufacturing sites. We are able to provide a greater variety of products to those markets. Therefore, we have different strategies depending on the different markets.
Imagine that we come back on the very last day of your presidency, when you are about to pass the company to the next generation. What dreams and goals would you like to have achieved for the company by then that you would like to tell us in an interview?
That is a tough question, and one that I have spent more than 10 years considering. The biggest problem for me is how I can find my successor for when I retire. Each of my divisions have very good and talented people. I also have a daughter and a son-in-law, who are also very talented. Rather than finding someone to succeed everything, I am considering assigning specific tasks to each division, as well as my son and my daughter.
Recently I started to prepare for this. For example, we sold the factory in China three years ago, because I did not find a good successor in my company or in my family. Rather than forcing someone to succeed, it was better to sell the factory to someone else, who was willing to keep supplying products to us. We do not need to manufacture by ourselves. We can buy. I have really good co-workers and they managed a company on my behalf for over 20 years. We also have very good co-workers than controlling our operations there from Japan, I may consider to transfer some share of the company, and they manage the company by themselves. Organizing my succession as president is what I want to decide on for the future.
---