In the international mindset, monozukuri is about the kaizen philosophy and total production system. There is real attention to detail or real efficiency in the automotive sector. Today, quality, cost, and delivery (QCD) are essential for modern manufacturers whether in blow molding technologies or automotive fields. What are your advantages as a Japanese maker with expertise in plastic molding technology? How does monozukuri help you win on the international stage?
I believe that there are two kinds of monozukuri involved in our operation, which are very close but different.
This is the world's slimmest container, which is a card bottle and a PET bottle. This is the concept of Honda Plus. I think this is also monozukuri because it is about making creative, good, and innovative technology. It is very difficult to make this product because it requires a good-quality mold and perfect machine condition that is precisely maintained. Since we make 100% of our molds, we are much better equipped to face this challenge. We also have blow laboratories that are a five-minute drive from here. Every day, we test new materials with our blow molding and injection machines, and we recycle and mix them up. Our daily challenges become the ingredients of our monozukuri, allowing us to pursue more innovative and creative products. This one style of monozukuri incorporates more innovation. Innovation and production are slightly different.
The other monozukuri with high productivity and high-quality production, like Toyota or other big companies, is also very tough in terms of quality, cost management, and delivery. I cannot say that it is going to be easy, even for a subsidiary of Toyota. Can you imagine making components for Toyota or Lexus?
So far, our products have been sold to 5,000 customers with more than 20,000 molds. Every day, we have to change products. Sometimes, while making the design of containers, we have to make mascara containers using the same machine the next day, from blue to black or white to pink. Although it is a great task, we have to manage it.
Hitozukuri is essential to this business. Japan has a very aging population, where 29% of people are over the age of 65. What measures or steps are you taking to ensure the longevity of your business when it comes to human resources?
It is a very difficult problem and a big issue. I do not have the answer to it. Since our foundation, when my grandfather started Honda Industry, and my father was leading Honda Plus, it has been a challenge to find workers in this countryside. Nowadays, younger people tend to work in the IT field.
In Aichi Prefecture, Toyota gathers all young people with their subsidiaries, making recruitment difficult and impossible. Considering their salary, bonus, the number of holidays and welfare, how can we compete with the world's biggest company? It is impossible. I am facing an extremely distressing problem. Looking at the future, I have really limited tactics. Fortunately, I established Honda Plus Vietnam about nine years ago to create a new market in Southeast Asia. I think without Vietnam, we cannot operate at this moment. We have employed a lot of Vietnamese engineering graduates at our Honda Plus Vietnam. We need to employ workers from foreign countries. To do that, we must advertise our business to foreign universities and collaborate with foreign companies. It is interesting that we are doing these things not to obtain customers but to recruit more workers. Like many companies, we should concentrate on integrating more digital technologies like automation, AI, or IoT to reduce the workforce.
Could you tell us more about your partnership with Kose, and in general, your goals for sustainability?
These colorful chips are from Kose. It is an eyeshadow. Cosmetic companies make a lot of colors for each season, but not all colors are sold out. Because they are setting trends, some remain in stock or are thrown away because they cannot be used for the next season. They are suffering from that, which makes it difficult to meet the CO2 targets. However, when they found an ame shop in Aoyama, they contacted me for collaboration. I said, "Of course! Why not?" We started with magnet products.
How was your business affected during COVID? What steps did you take to forecast it in the future to prevent similar occurrences?
Our customers are spread over 10 industries, which include cosmetics and stationery. When COVID came, we looked at which industries we could put our efforts on. Since fewer people put on makeup because we were urged to wear masks, there was a drop in that industry. However, many people stayed home and cooked more due to the stay-at-home mandate, so food and spice containers became our new market. Moreover, there was an increase in the stationery field because students who were staying home liked drawing and graphic design.
There is always a growing market even with occurrences like the Lehman Shock, oil shock, or any possible incidents in the future. We have an opportunity and advantage because our business model is always flexible. Although we make plastic molds, we are a designer and a creator of packaging for any industry. If people go to the moon or outer space and need special packaging, I will design and make that. This is my strategy. It is not a matter of the economy's condition or even the presence or absence of COVID. We are a business doing business. I believe business is always like this.
We also deal with alcohol and oral care products. We started in the disinfection market and sector in the first year of COVID. We did the designs in a week and made the molds in a month. Six months later, our production was underway. It was very quick, like the Shinkansen.
What advantage does the blow lab give you compared to other molding manufacturers? How does that research facility allow you to create unique products?
It shortens the lead time. If I buy the mold outside, it may take one and a half or two months. On the contrary, we can make it in two or three weeks at the earliest.
The old entrance is through the ame workshop. Many people say that it is my hobby, but I tell them that it is our main business. I think 50% of the customers of the ame shop are Western who value monozukuri more. This is also monozukuri because it is handmade, and I started it 15 years ago with a five-meter flower in a gallery in Nishi-Azabu. In an art exhibition, Issey Miyake asked me to make sunglasses, bangles, and necklaces for their Paris collection. All the products we made were showcased in that collection.
These are not mass-produced. High-productivity production is also a different job. Still, we have to try the mass production of these products. This line is all made in Sinshiro City, Japan. All are made from recycled materials, PET, but they look like they are made of glass. These are the finest products because they are ame-influenced blow-molding containers, so they are flower-based.
Could you tell us more about your operation in Vietnam? Which countries specifically in the Southeast Asian region does it allow you to cater to?
It allows us to cater to India and Vietnam. Design is our core competence. If we have a good design, we make a good business. We have to consider which country is good for our design.
Like ame, we are also interested in American and European clients. I believe that brand management is necessary for growth. With Japan's shrinking population and decreasing number of young people, we must do mass production of high-end products that boast quality, creativity and competitive price.
My mission is CARAPPO, which means empty. The empty bottle is the main actor. If the packaging is the main actor, you will not throw it away. It is a product, not packaging. As I said, I am not a plastic molder. It is only a tool. The contents of it, like cosmetics or shampoo, are the guests. The packaging is important. We have a thousand ideas, and CARAPPO is our company's concept. If it were an Hermès packaging product, people would buy it. It may sound like I am dreaming, but we have to go for it. My only vision is to become a brand that invites people to buy our products. There is neither packaging nor a supplier. I do not want to be just a supplier, even if that means this company will become bigger. It is more than just the size. It is the quality.
---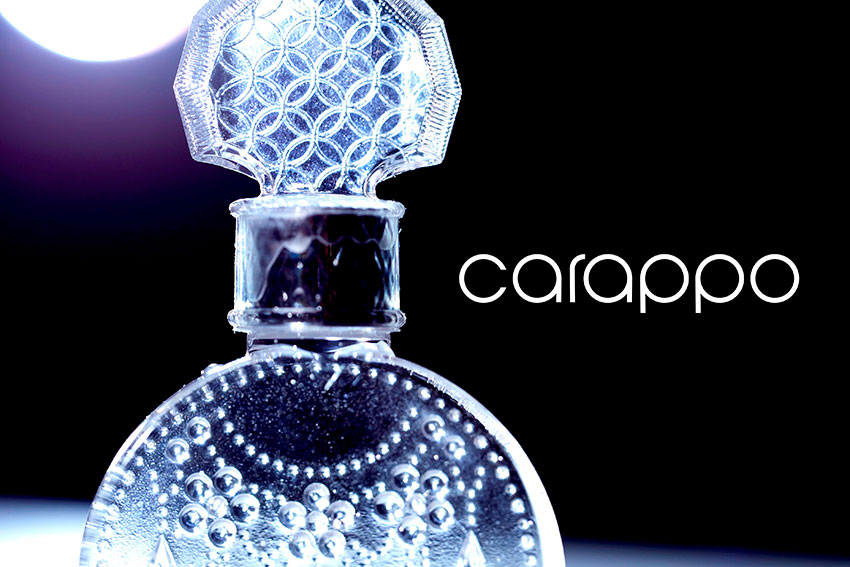 ---
Imagine we come back in exactly five years and interview you again. What dreams and goals would you like to have achieved for this company by then?
This summer, I may visit Paris and London to present ame or CARAPPO to galleries. My sister is an artist and makes silver jewellery, but she is now working at an ame workshop. She was quite successful in making presentations to art galleries around London during the pandemic. Many Europeans feel strongly about plastic, which makes it difficult. When I was young, I did not like plastic. I asked my father why he was working with plastic instead of metal or glass. I remember coming home from school, and my playground was behind a factory where I saw a lot of plastic waste. Back then, I thought it was great because they were like toys or like treasure to me, and I wanted to buy them. Wasted plastic is better than products that are merely plastic containers. It was my mission then, and I just fulfilled it. People thank me and say that I have done something fantastic. It is thanks to my childhood memory. Children are genius. Gigabar Tokyo which is a Live Bar was like my dream when I was around 15 and join a member of a band. Ten years later, I began working toward my mission instead of becoming a musician.
---
Interview conducted by Paul Mannion & Ana Ruiz