Can you give us a brief introduction to your company?
As a paper making company, the sustainable use of resources and raw materials is one of our priorities. Although our business activities require us to utilize forest materials, we actively plant new trees to create a circular business model. For our business to be sustainable, promoting environmentally friendly practices is of paramount importance. Unlike oil or coal, forests are a renewable resource as trees can be planted and forests can be sustainably managed. Through its history, Oji Holdings has evolved into a maker of packaging solutions as well as a manufacturer of paper products. Today, we are further evolving into the development of barrier paper materials, bioplastics and cellulose-derived biomass materials.
In recent years, Japanese companies have faced stiff price competition from manufacturers located in countries with lower labor costs. In front of this price competition, how can Japanese manufactures remain competitive?
A cheaper labor force enables companies to produce items at a lower cost; however, replicating high-quality products, which marks the uniqueness of Japanese manufacturing, remains a complex and difficult task. The strength of Japanese firms is to consistently develop high quality products and to achieve an optimal level of standardization across production bases. While local manufacturing companies located in emerging economies are able to produce high-quality products, they might be unable to do so consistently and over longer periods of time. To a large extent, the stable manufacturing of high-quality products make us stand out. At Oji Holdings, this particularity makes us competitive in a variety of B2B businesses, such as providing high-quality paper products to customers.
In recent years, the COVID-19 pandemic has wreaked havoc across the world's supply chain. These logistic disruptions were recently compounded by the conflict in Ukraine, which sent gas and commodity prices soaring, and the repeated lockdowns in China. What has been the impact of these disruptions on Oji Holdings?
Our supply-chain suffered for a relatively short period of time, about a month, due to these major logistics disruptions. However, we were able to quickly overcome these setbacks in the procurement of materials, chemicals and energy. In our Japanese factory, we managed to continue our operations without interruptions. Still, the energy costs, including coal and fossil fuel, have risen dramatically. Around the same time last year, coal was priced at USD 70. Last week (May, 2022), that number hit USD 460. With the scale of our business, a rise of USD 100 can directly translate into a JPY 10 billion annual impact on our business. There is still confusion and delays in shipments of products to overseas markets.
During the COVID-19 pandemic, e-commerce (EC) platforms experienced a surge in users and transaction volume. What opportunities did the boom in EC present for Oji Holdings?
The increased use of EC led to a surge in demand for corrugated containers. To support the growing need for corrugated containers used for EC delivery, we developed an automated packaging system, the "OJI FLEX PACK'AGE." This automated packaging system enables our clients to produce different box configurations and to package their goods based on the size of the product being deliver. As such, our customers can create corrugated box and sheet configurations that best matches their needs, effectively saving resources and cost while solving labor shortages through automation. We also developed fanfold corrugated sheets that allow our customers to customize the boxes they require for delivery based on the size and characteristics of their products.
---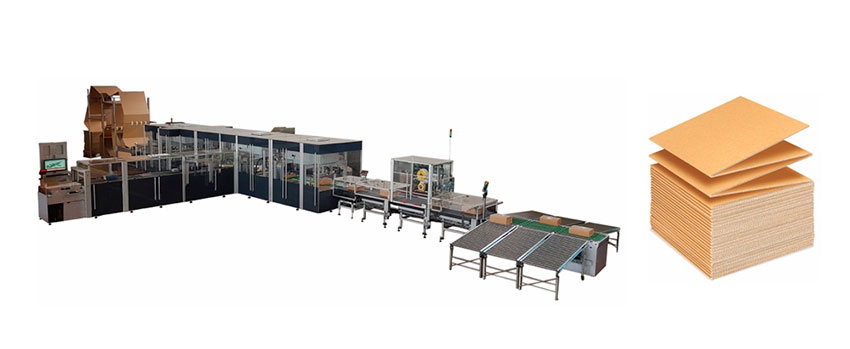 Automated packaging system and fanfold corrugated sheets
---
Having said that, corrugated containers cannot be tailored to an exact fitted size, so we have developed a functional paper bag which is becoming increasingly popular for EC companies. For example, the UK arm of EC giant company is using our paper bags for certain of their deliveries.
---

Paper bag for EC companies.
---
With 28% of its population over the age of 65, Japan has a rapidly aging population and a decreasing demographic line. This situation has made the Japanese labor market extremely competitive as companies battle for a limited pool of talents. How are you reacting to shortages of human labor?
Like other Japanese companies that are facing this challenge, we have raised the retirement age of our employees. For our business to run smoothly, it is crucial to have a balance between younger and older generations. However, across industrial sectors, companies must contend with a pool of graduates that is getting smaller. Furthermore, modern graduates are often more interested in IT or digital technologies than in manufacturing activities, which can be more labor intensive. Thankfully, Oji Holdings is a well-known brand in the Japanese market, so we do not really struggle in recruiting young talents. In addition, we anticipated the effects of Japan's demographic line ahead of time and began implementing automation systems to make our production more efficient more than 30 years ago already.
Today, 30% of Oji Holdings' revenue comes from international markets. In your new mid-term strategy, you seek to increase that ratio to 40%. What is your motivation behind this target?
The decrease of the Japanese population will inevitably lead to a smaller domestic market. As such, expanding our operations internationally has become a priority. Since 2010, we have designed strategies to further penetrate Southeast Asian markets. 12 years after beginning our initial expansion into South East Asia, we still see significant growth potential in Asian markets and will continue our expansion efforts.
Can you tell us more about your activities regarding sustainable forest management?
In Brazil and Southeast Asian countries, we conduct a seven to eight-year cycle of cutting, replanting and maintaining trees by thinning the forest to allow trees to grow even more. It takes 7 to 8 years for hardwood, while it takes 30 years for softwood like the radiate pine trees of New Zealand. And in Japan also, we do thinning, harvesting and planting trees. While this represents a commitment on our side, it is a necessary measure in order to have a sustainable business model that is in harmony with nature.
Under its Environmental Vision, Oji Holdings seeks to achieve Net-Zero Carbon by 2050. On the road to that goal, one of your key targets is to reduce carbon emissions by 70% by FY2030 (in comparison to FY2018). How realistic do you think it is to achieve carbon zero by 2050? What key changes do you believe you must implement to achieve these targets?
Our paper and pulp manufacturing plant still uses fossil fuels including coal-fired boilers. As for single-coal-fired boilers we aim to fully step away from coal in 10 years and use more environmentally friendly sources of energy. From 2030 to 2050, we predict that there will be a revolutionary energy technology, such as hydrogen or ammonia, that will allow us to attain our carbon-zero target. Among other alternatives, if green hydrogen is readily available and steadily supplied it could solve the issue. Without a technological breakthrough in energy production, realizing "Net-Zero Carbon" may be difficult. In parallel to these efforts, we will continue to utilize renewable energies, including biomass, hydroelectric and solar power.
On top of transitioning to environmentally friendly sources of energy, we also offset our carbon footprint thanks to tree planting activities. In addition to allowing for sustainable forest management, our plantation sites enables us to offset our carbon emissions.
Today, Oji Holdings' business can roughly be split into four distinct divisions, namely, household and industrial materials, functional materials, forest resources and environment marketing, and printing and communications. As the fourth largest paper-maker in the world, what synergies have you been able to create between those different business divisions?
Before adopting a holding structure in 2012, whereby each division is ran as an independent company, all our subsidiaries were once united under a single enterprise, which shows the great synergies that existed among our businesses right from the start. All our divisions utilize pulp and paper-based materials that use similar processes but render unique outcomes. While the applications and products of each division vary, each company perform the same basic manufacturing of pulp and paper.
Oji Holdings is a pioneer in the field of cellulose nanofiber (CNF), having developed a varied line-up of CNF forms and products, including CNF slurry (AUROVISCO), hydrophobic CNF powder, and transparent CNF sheet (AUROVEIL). What are the most promising applications for your CNF products?
Our CNF products have great potential in the automotive industry, especially for the creation of car windows and of rubber tires. When it comes to the development of new material technologies, such as CNF, finding the correct formula, application and product can take decades of strenuous research. For example, it is said it took over 30 years to make carbon fiber reinforced polymers (CFRP) a mainstream material of the automotive and aviation industries. Oji Holdings has been developing CNF products for only 15 years now, so we might still have some time to go before achieving mainstream success!
---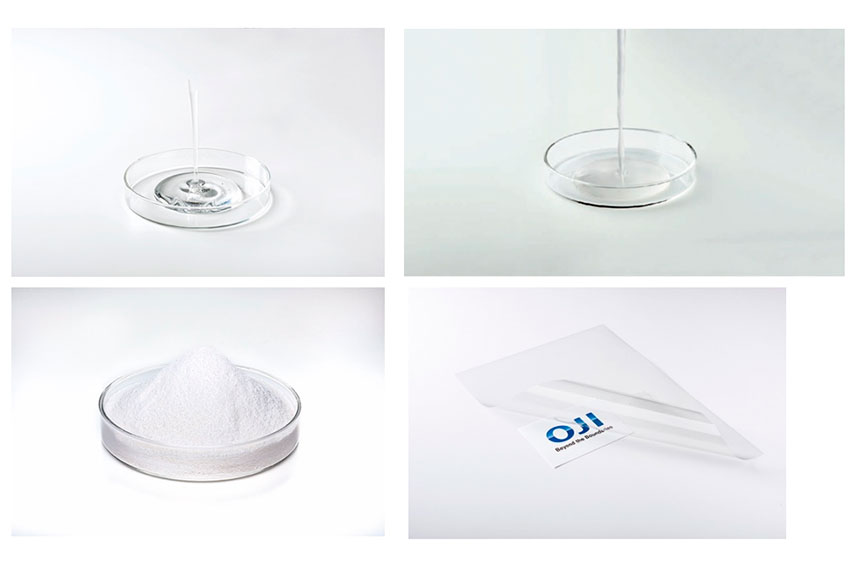 CNF products
---
The automotive industry is experiencing a period of great transformation, at the core of which is the shift from combustion engines to EVs. Oji Holdings developed an ultra-thin biaxially oriented polypropylene film (OPP) that can be used as a capacitor film in the Power Control Unit of EVs. Why did you decide to enter this field? And how did you learn that your technology could be applied to automotive sector?
Interestingly, getting into EVs through this product was not our original intention. The original purpose behind the development of our capacitor films was for an application unrelated to the automotive industry. When we learned that our capacitor films could be applied to new types of vehicles, including EVs and hybrids, our researchers had to further develop the technology taking into account the specificities of the automotive sector.
While other companies may have similar products, high-quality capacitor films are only produced by two companies including Oji Holdings. Now that we have the technology, our challenge is to keep on increasing the quality of our products while optimizing our sales channels in order to gain a larger market share. As EVs continue to replace traditional cars, we expect a massive demand for our product in the future. At first, we expected demand to come mainly from Japan. However, as European and American car makers also shift to EVs, we have the opportunity to export this product internationally.
Will you be looking for partnerships to expand your capacitor film business overseas?
Japanese capacitor manufacturers have a high global market share for capacitors for electric vehicles. On the other hand, in recent years, overseas capacitor manufacturers have begun to make their presence felt. We are also expanding sales to overseas capacitor manufacturers, especially in Europe and China. We will continue to build a production system capable of meeting the ever-growing demand for films for capacitors used in electric vehicles.
What other challenges do you plan to address?
Decreasing the use of plastic by developing plastic alternatives is a major movement and a large business opportunity. In the next 5 to 10 years, humanity will need to substitute plastic products for wood-based materials made from renewable sources.
---
Tissue boxes made from 100% plant-based paper
---
Oji Holdings manufactures SILBIO BARRIER, a paper material with barrier properties that is used in food and daily necessities packaging. What are some of the advantages of that material? Why do you think it is ideal for food packaging?
The conventional idea is that plastic packaging protects food from humidity and oxidation with low production costs. As an alternative to plastic, various packaging companies utilize paper-based products. However, paper is not airtight, which can lead to oxidation and moisture. SILBIO BARRIER answers these shortcomings. To manufacture SILBIO BARRIER, we apply a coating layer, made from plant-based chemicals, on the paper's surface that prevents humidity and oxidation. Because it is more expensive than plastic, only companies with high environmental awareness are willing to shift to this material. While it may take a longer time for this product to gain mass adoption in Japan, international firms are already making bold decisions in utilizing plastic alternatives.
---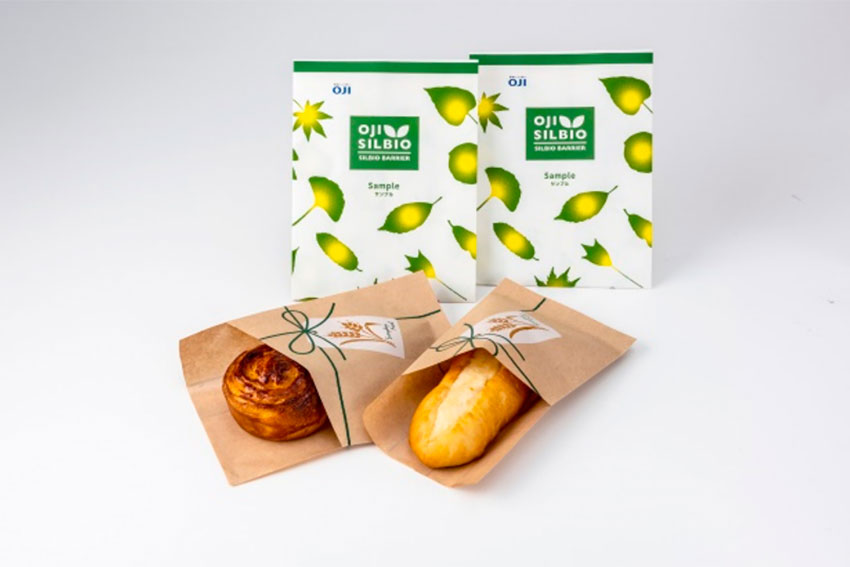 Silbio Barrier
---
Between companies, governments and consumers, who do you believe should take responsibility for the transition to a more eco-friendly society?
Once the government sets the regulations, change becomes inevitable. I lived in New Zealand for four years, and in July of 2019, single-use plastic shopping bags were banned and in 2018 these bags had disappeared from most of the supermarkets. By 2025, New Zealand is banning the use of most single-use plastics. We have a corrugated containers manufacturing plant in New Zealand that receives a lot of requests from major companies looking to switch from plastic to paper-based bags.
The ASEAN region is the fourth-largest economic block in the world. Which category of products do you believe will be most in-demand from your company?
We are currently focusing on expanding our packaging solutions, including our corrugated containers. Our strategy is to further integrate our business activities, paper and packaging, together. This strategy is applied both to Japan and to Southeast Asia. For growth, we are focusing on Southeast Asian countries including India with a large or with a growing population. While Malaysia's population is not so big, Vietnam's is growing at great speed. India's population is incredibly large and offers great potential.
In 2021, Oji Holdings acquired an 80% stake in Punjab-based Empire Packages, an Indian company located in the northern region of the country. Are you looking for similar M&As in the future?
We have 3 corrugated container factories in India. In 2019 and 2020, we opened new factories in two other places. Despite these developments, we did not have any presence in the northern area of India, but Empire Packages, which had a good customer base, was trying to sell. Many American and European companies are also investing in the northern part of India as it represents a location with great potential.
How do you market your products to regions with different needs and cultures?
I think it goes back to the fact that Oji was a domestic company. While our competitor, a well-known major company in U.S. expanded its market worldwide and while their tissue can be found everywhere, Oji's tissue paper are only sold in Japan. Our internationalization began with our B2B businesses, including printing, packaging and related papers. Marketing consumer products, such as tissue paper, toilet rolls, and paper diapers, is completely different than marketing B2B solutions, and we are still looking for ways to improve in that regard. One of our options to better market our products is to conduct M&As with companies that have a strong local presence and knowledge.
---

Household tissue items
---
In 2020, you established Oji Pharma, which focuses on the potential of hemicellulose, a material applicable in the medical and cosmetics industries. What opportunities do you foresee for your business in the healthcare sector?
We are looking at whether we can commercialize Sulfated hemicellulose (PPS), an active ingredient made from hemicellulose, a major wood constituent, for use as a medicinal product. Collaborative R&D activities with universities and pharmaceutical companies led us to new findings on the inhibition of blood coagulation, anti-inflammatory effects and moisture retention. Derived from wood, PPS will enable the reduction of risks from viral infection and the consideration of religious limitations in its use, in terms of the development of medicinal products that inhibit blood coagulation. For this reason, PPS is expected to serve as an alternative to the pig-derived heparin, the current mainstream blood coagulation inhibitor.
We are also working on the application of our proprietary nano dot array technology (fine structure formation technology) to the biomedical field, although this is still under consideration for development. Focusing on the fact that nano-order fine structure affects the morphology and maturity of cells, we are developing cell culture substrates with a fine structure. The Cell culture substrates for controlled cell orientation that we have developed can be used to culture cardiomyocytes in the same orientation as in vivo, and are expected to be used in regenerative medicine and drug discovery.
As I previously mentioned, developing new products is a time consuming activity. While we are conducting R&D in-house, we are starting to look for collaboration with academia and with other research centers.
---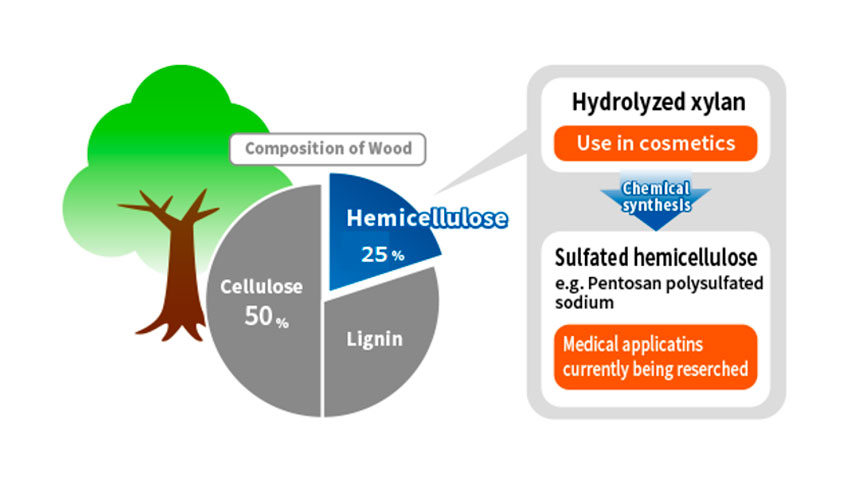 Hemicellulose
---
Our tissue boxes are 100% plant-based paper. We also produce facemasks that are 80% made from plant-based materials, which is more comfortable on the skin.
What objective would you like to achieve during your time as President of Oji Holdings?
Our company's purpose is "Grow and manage the sustainable forest, Develop and deliver the products from renewable forest And Oji will bring this world a brighter future filled with hope". Forest resources are the core of our business. Further, we must make the most of the potential of renewable forest resources and create and provide a diverse range of value. I believe these activities will lead to our contributing to the creation of a bright future for the global environment and the people and life living in it. As such, my objective as President is to help move our world, even if just a little bit, to the next stage.