What is your analysis of Japan's current construction market, and what do you see as its needs for the years to come?
As you mentioned, Japanese companies are now struggling from the impact of the super-aging and super low birth rate situation in Japan. It is especially prevalent in the construction industry, where hiring has become more difficult.
The construction industry has always had this image of '3K', which means dirty, hardworking and dangerous. This image, together with the declining workforce and people becoming more selective in choosing what kind of job they want to do – has made an environment where people tend to prefer working in the creative side – meaning that it's very important for the construction industry to promote digital transformation so we can create an attractive environment for workers, and provide creativeness in our industry, or else it would be very hard for us to continue recruiting.
Fortunately for our company, since we've been listed, we've been able to hire new, talented engineers and staff members. However, we are seeing other companies in the industry struggling to hire people, so it's very important for us to create a network between public, private and academia in order to create an educational program where anyone can take the training whenever, on demand.
For example, in our company we are providing multiple seminars online so people can access the seminar whenever they have time, learn about the industry, and be attracted to the industry so we can retain the people working in the construction sector for a long time.
I really have to stress the importance of DX in the field. Currently, things are done analog-style in the field and then converted to a digital output in some form, but we have to start from a digital approach.
The reason why there's a hindrance is because in the manufacturing field it is possible to copy a pattern or a design with precision, but in construction, each building is unique. At the same time, it's important to find a means to place a common ground with DX.
Also, you said that Japanese construction is expensive. Recently, the Japanese government's budget on social infrastructure and civil engineering has decreased. Currently, it's about ¥6 trillion, and even with the additional budget, it's only about ¥7 to ¥8 trillion compared to a few decades ago, when it was two or three times this amount.
During boom times in the past, there was a lot of construction of new buildings, but now with the aging and diminishing population, we have to maintain and have an appropriate life cycle cost for each building, catering to each infrastructure or building project, based upon the low budget that we have.
Also, Japan is prone to earthquakes and disasters. The Japanese government is now taking a strategy to fortify and strengthen the land, but with a limited budget it's important for Japanese companies to develop new technologies and also automate their processes since we have fewer people working in the field. Before, the construction field was all about utilizing manpower, but now we have to switch our mindset to automation. With all these new technologies, we have to pursue the appropriate life cycle cost for maintenance for the buildings.
The shrinking domestic market has contributed to the decline in public budgets for infrastructure projects, and this has been an inspiration for many construction related firms to bring their knowledge and expertise to overseas markets that are still developing their infrastructure in places like Southeast Asia, for example. What has been your experience, and are you trying to increase your ratio of overseas activity and projects?
With the shrinking market, it's important to create new technologies. As a company which specializes in testing and research of social infrastructure, we believe that our mission is to create new technologies that perceive nonvisual or intangible things and convert that to a visible form.
With the aging infrastructure, the majority of it will soon be over 50 or 60 years old, and in order to retain safety in society, it's crucial that we take countermeasures and maintain these existing structures. Cost wise, we'll have a limited budget to do that, so in order to fully provide the service and contribute to society, it's important to create new technologies that could be provided at low cost.
As for the overseas business, about 10 years ago, I myself went to China, the Philippines, and Vietnam to do market research, and I personally felt that the Vietnamese people have a strong affiliation to Japan, and Vietnam is a growing market. There are many good universities and talented engineers.
We were one of the early ones to recruit Vietnamese engineers to our company. After three or four years, some of the engineers wanted to go back to their country to contribute to their homeland. What we are now trying to establish is a win-win business, relying on personnel we have trained and have been working with.
If we were to go as a company to the Vietnamese market as a Japanese company, we wouldn't be able to match the cost competitiveness. However, if we leverage the locals who have been trained in Japan, they know the market and they know how to navigate it, so it's important that we continue to exchange information and establish a network with our Vietnamese employees to create a good, positive environment contributing to the growth of Southeastern Asian countries.
In fact, three weeks ago I was in Vietnam visiting universities and giving a company presentation. I've been hiring graduates from universities, but I feel that Vietnamese students have higher CAD knowledge and digital awareness than Japanese students.
What we've been doing in the past, and we weren't able to do this for the three years during COVID, but we've been constantly hiring new staff from foreign countries, so we can develop this network. It's important for us to continue training, nurturing and increasing the human capability of personnel for future growth, so at this moment, we are not experiencing the effect of aging or the decline of the population in our company.
You've talked about your mission, and the importance of creating these new technologies and making them available. We've already talked about how DX can be a very powerful tool and resource for education, and how you are integrating it into your business. For example, we read about the Road-S 3D road scanning system that you implemented and developed. Can you tell us about the Road-S, and more generally, how you're integrating new technologies into your business?
The Cabinet Office led the so-called SIP project, the University of Tokyo and ourselves worked together to develop both bridge deck deterioration analysis technology in the SIP. In the conventional method, deterioration of bridge decks was determined visually by engineers using waveforms, which was not always accurate. However, our technology is unique in that it uses signal processing to mechanically determine the interior of structures.
After that, we independently developed ROAD-S as a database system, and we are also developing various services that integrate AI technology such as cavity surveys, buried pipe surveys, and road surface condition surveys.
We have special software that we developed together with Tokyo University that can analyze the data that we obtain and ascertain the degree of risk. For example, the bridge deteriorates because its structure is made of concrete and steel and cars travel on top of it. There are continuous waveforms and with the vibration, the inside of the bridge starts to crumble in a way, so it's important to determine beforehand any cracks or cavities that are present there in order to avoid the collapse of the bridge, and provide adequate fortification to it before it poses a threat to drivers. In order to do that, we have developed this technology that is very cost effective.
Conventionally, engineers went onto the bridge and used hammers and listened to the sound to find cavities or other deterioration. Of course, that's not always accurate, and it requires multiple people, and a high cost, as you have to close the roads when you are doing this analysis.
Our device can run at the highway speed of around 80 kilometers per hour without closing any roads. We take the information, and using our unique software we are able to determine the degree of deterioration. Currently, we are trying to increase its accuracy by conducting multiple rounds of testing.
We built a testing site in Hokkaido for bridge decks and roads, and we intentionally created a cavity section and are using our device to visualize what is inside the bridge. It's still in the testing phase, but we have very high confidence in this application.
We are now creating big data compilation for the roads for NEXCO (Nippon Expressway Company), or national roads, and obtaining information so we can generically see and analyze the situation of the roads and bridges. One of the hardships that we are experiencing is that it's hard to apply new technologies with the mindset of the current Japanese municipalities and the national government.
---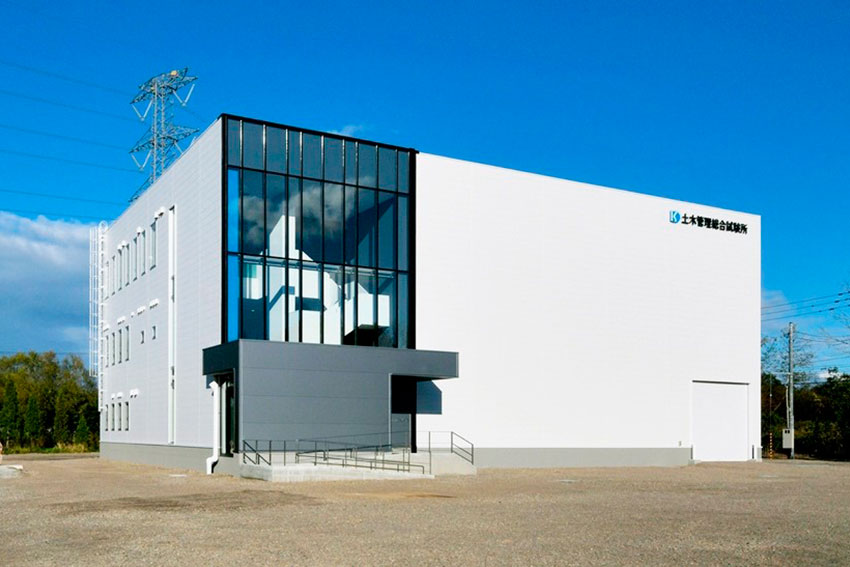 Hokkaido Lab
---
We had the conventional way of introducing new technologies, but with the change in generations, it is true that people are becoming more aware of the effectiveness of this technology, and we are receiving some contracts with municipalities to do road research. Hopefully this will increase.
We have the Hokkaido testing and research center, where we intentionally create hollows and deterioration in bridges and roads. Since you can't actually do that on public roads, we have our own testing site, and we gather many different types of instruments in order for us to increase the accuracy.
This is our Plate Loading Test Machinery, another of our unique patented technologies. It is a device that can determine the strength of the ground that's used for ground research. Conventionally, we manually operated equipment to apply pressure to the ground to obtain strength but this is fully automated, so just by pressing a button, this machinery adds pressure to the ground and then releases it, and then adds it again to measure the ground structure and the stress.
This is something that we invented out of the hardships that we were experiencing onsite. We use this device in all our branches and we do the sales of this equipment, which is now selling well, actually. Also, we're trying to assemble all the information that we retain from this device and put that into a cloud so we can analyze the big data.
Conventionally, when we do our research on a mountain side in a valley, you could only use something that's manual because there's no electricity or power, but with this we can have a battery and still make it compact enough to carry. Since it's only a button push, the engineer can stay inside a vehicle in cold environments rather than waiting for half a day outside.
You talked about your collaboration with Tokyo University, and earlier you talked about the importance of creating a public-private academic network. A horizontal model for collaboration in your field. Does that model extend overseas as well? Are you looking for overseas collaborative partners?
We're interested in developing new technology with foreign universities, particularly in Vietnam. Recently, I went to Vietnam and had meetings with professors, and one professor did a study in Saitama University, and she's connected to Japan, so if we could increase this network and start co-developing new technologies, that would be ideal.
Another part of your or another key part of your business development strategy that we saw in our research is the importance of M&As. In the last decade you conducted a series of M&As. Most recently this summer, in July, for Environment &Development Co, Ltd. Can you tell us a little more about what motivated the acquisition of this company, and the role that M&A plays in your business strategy?
With the diminishing of our population, it's very difficult for us to create a new business from scratch and develop new technologies, so we are more focused on working together with companies that are in the same field, that are willing to grow together with us. E&D (Environment & Development Co, Ltd) is one of the companies that we agreed to work together with, and this led to an M&A.
There's this company called AKL (Advanced Knowledge Laboratory Inc.) which develops airflow analysis simulation software. By combining a drone equipped with a gas detection system and airflow analysis, we are planning to visualize and analyze the effects of air pollution in exhaust gasses from factories and other facilities.
And there is another company called ISP (Integrated Software Products Co.,Ltd), a software manufacturer that handles 3D point clouds of terrain. For example, it is necessary to calculate the amount of soil as one of the quality control of embankments in civil engineering work. With the conventional method, it took a lot of time and effort to calculate this soil volume, but if you use ISPs point cloud and 3D conversion, you can calculate the detailed quantity.
We would like to expand our business through M&A in the near future also.
---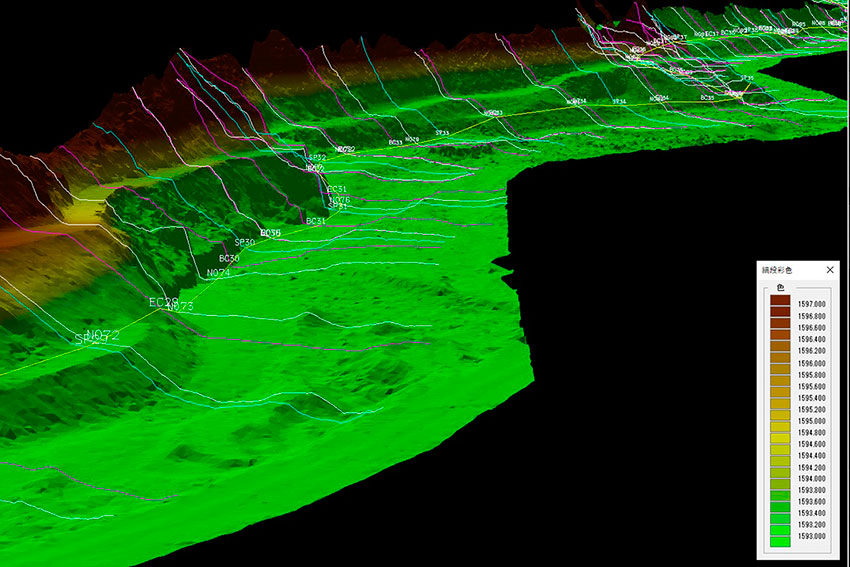 3D Point Clouds Data
---
I'm very curious to know how you're going to apply this blueprint in your overseas operation. How you're going to both export and develop these technologies for overseas markets like Vietnam. For example, are you interested in pursuing acquisitions in foreign markets like Vietnam?
Yes, we are interested in M&A opportunities, and there have been some discussions going on. However, none of them have been realized yet, but M&As are an option for our growth overseas. In terms of Vietnam, as I mentioned before, in order to make it viable, it's important for the Vietnamese to run the company. If we bring our technology and what we do in Japan to Vietnam, it's too expensive for the market, so it's important that we create a structure where the Vietnamese are the ones to run the company using our technology.
We've established CE LAB INTERNATIONAL CO.,LTD in Vietnam, and we have Vietnamese management who work at the Vietnamese compensation rate, as well as using Vietnamese materials that are adequate at the market price, so our strategy will continue to be to provide technology and work together with the human resources, grow the Vietnamese market locally. Our means of contribution is providing the technology to the locality, and it is the locals who would leverage this technology to provide a market price service.
Let's say we come back to interview you again in three years' time for your company's 40th anniversary. What would you like to tell us about your goals and dreams for the company in that timeframe, and what would you like to have achieved by then?
I personally feel that it is our company's mission also to contribute to the revitalization of rural areas. Currently, we are conducting this innovation project where we are introducing a franchise system for our branches in local areas, which is the very first attempt to do this in the industry.
I myself founded this company in Nagano Prefecture, which is a rural area, and what I found was that gathering information in rural areas was slower compared to the urban areas. We would act as the main entity to develop new technologies and pass this technology on to the franchise at the locality, and they would be the ones that actually implement this technology locally, and with our technologies, they would be number one in the locality, contributing to the revitalization of the area.
In Japan recently there are many people who wish to go back to their home areas, and some people need to remain within the locality, so it's important to create new jobs and opportunities, and create a safe and sound living environment in these areas to strengthen Japanese land overall. We are trying to pursue this franchise system to provide holistic solutions to Japan
In this industry, it is very hard to create a franchise system since it's not like you're selling food or you're a convenience store. They sell products, but we have an extensive history of establishing over 20 branches and local offices in Japan, and we know how to approach our customers and what kind of service is required and where.
We want to act as a supervisor to local companies and provide our technologies and solutions. Of course, we have our laboratories and when testing is needed, they would bring the case to us, so we'll have a synergetic effect fueling the increase of our income.