Historically the Japanese real estate market has been described in two words: stable and profitable. This was proven true yet again during the COVID-19 pandemic, especially in comparison to other real estate markets, such as Australia, where transaction volume dipped by more than 40%. In contrast, investment volume in Japanese real estate in 2020 and 2021 exceeded the pre-COVID levels of 2018 and 2019. How do you explain the resilience of the Japanese market?
Even before the COVID-19 pandemic, finding alternative allocations of assets was an emerging trend felt throughout the asset management industry. The diversification of assets benefited Asia-Pacific Economic Cooperation (APEC) countries, which tend to be lower in terms of pricing in comparison to their global peers. Given China's current situation, which is marked with uncertainty, capital flowed to Japan. Within APEC, Japan's real estate market has a great profile because the market is large in comparison to other countries. Additionally, the country is seeing relative stability in terms of political and economic situation, relative to other markets.
Japan is renowned for its monozukuri (the making of things). When Japanese people craft something, they do so with diligence, respect, and dedication. This attitude also applies to the real estate market. In Japan, tenants are rarely late on rent and rarely have much debt. Rental offices are maintained to a decent standard. To investors, these characteristics provide a feeling of reliability. When investors pursue a development project, they can be almost certain that the stakeholders will be punctual and deliver on expectations. The reliable nature of Japanese people enables investors to have a stable cash flow. Despite the COVID-19 challenges, Japan has remained an attractive place for real estate investment.
Japan has recently seen a new wave of foreign investors. Between 2012 to 2019, the ratio of investment by foreign investors had been around 20%. Over the last couple of years, that number is estimated at more than 30%. Why do you think foreign investors have been coming to Japan in recent years?
The major reason is the low-interest rates available in Japan. This low interest rate facilitates financing and investment. Interest rates may potentially change in the future as the Bank of Japan has yet to follow global trends of raising interest rates, something we have recently seen in the United States. While fluctuations are possible, I do not believe that the basic policies of the Japanese government will significantly change. I think the future will be marked by stability and low interest rates.
Low interest rates allow investors to easily unlock sources of finance. In comparison with other countries, the situation in Japan is stable. Europe is experiencing disruptions due to the conflict in Ukraine, and the United States is grappling with rising inflation. When analyzing the United States, investors must factor political changes. As we recently saw, a change of president can bring about an entirely different foreign policy. When comparing geopolitical conditions globally, Japan comes out towards the top.
In recent years, CBRE Japan's Assets Under Management (AUM) have doubled, reaching 382 billion JPY. Today CBRE Japan's portfolio is mainly composed of offices, which represent roughly 50%, followed by logistics facilities and hotels. Can you run us through the composition of your portfolio as it stands today, and do you have any plans in the future to increase it? What strategy and assets will you prioritize?
Our portfolio closely resembles the composition of the Japanese real estate market as a whole. We tailor our services to the individual investor we are working with. At CBRE, we work hand in hand with our investors to find the right assets for them. Historically, these investors have pre-existing assets, and offices are ideal for them because they easily fit within their own portfolios.
While a 'hot' asset class from before, the pandemic has further pushed our interest in the logistics market. A majority of new projects and assets are in logistics. In Japan, the COVID-19 pandemic positively impacted e-commerce (EC), which directly led to an increase in demand for logistics facilities. This trend is not just limited to Tokyo, but also to areas such as Fukuoka and Sapporo, which are experiencing a surge in demand for logistics facilities. Institutional investors are keen to develop logistics facilities and we believe that trend will continue.
The hotel sector is also seeing a rebound of interest. Inquiries often come from investors who already have offices around Asia. With prolonged travel restrictions, the hotel market has been hit hard, but this also presents an attractive investment opportunity.
Tokyo has historically had an oversupply of "budget hotels" (2 to 3 stars) and an undersupply of luxurious establishments. Is that the gap in the market that CBRE is looking to fill?
This imbalance is undeniably true. During the COVID-19 pandemic, travelers tended to pick more classy hotels than they used to. I think the reason lies in the travel restrictions imposed by COVID-19 and government travel subsidies. If you have the income to travel overseas but are unable to do so, you may then look to spend that money on domestic travel instead. I think overseas investors, especially those in Asia, are aware of this opportunity and seek not only to invest in business hotels, but also in 4-to-5-star properties.
Now that COVID-19 restrictions are lifted, do you believe that the unprecedented growth of the logistic property market will be sustained?
I believe that the COVID-19 pandemic was just a trigger that promoted EC services to people who had never tried it before. Now that they have used EC, many consumers have experienced its benefits. As such, I believe that the accelerated adoption of EC will continue post-pandemic and has plenty of room for growth.
In Japan, there is a shortage of distribution centers to support the growth of the logistics sector. There is therefore an increased demand for modern multi-tenant and multi-function facilities, which represents an opportunity for investors. No matter how well a sector is performing, it is critical to assess conditions and make the right choices.
---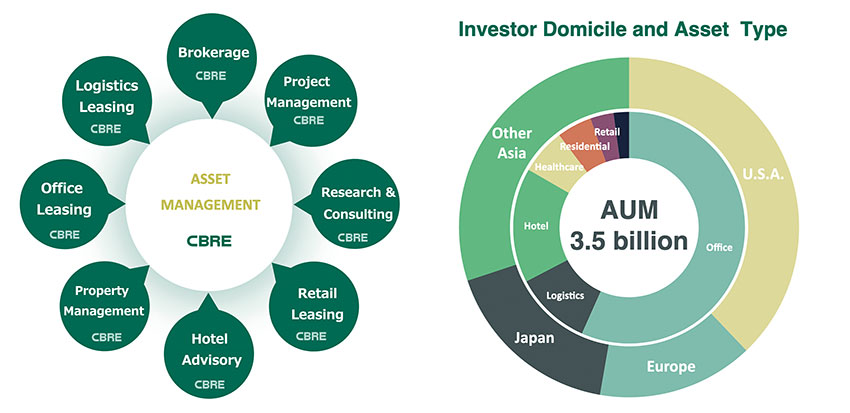 ---
What are the advantages of CBRE Japan? What sets you apart from other asset managers that provide similar types of funds?
There are numerous real estate and asset management companies in Japan, perhaps more than 100 companies nationwide. In this competitive market, what differentiates us is our scale. This especially benefits inbound investors who can leverage both our local and international know-how.
Another strength is the breadth and depth of our services. We have 17 different service lines that provide clients with integrated solutions. I work in the asset management department, but CBRE also has specialized teams in research, consulting, leasing, logistics, data centers, and many other sectors.
Historically, one of the criticisms made of the Japanese real estate market was its lack of transparency. This criticism is compounded by linguistic differences, with certain documentation only being accessible in the Japanese language. How does your background as a global platform with a nationwide network enable you to address this issue? Could you give us an example of when you were able to assist a foreign investor in penetrating the Japanese market?
A unique feature of CBRE Japan is its vast coverage of Japan, with offices from Sapporo to Fukuoka. We have highly-knowledgeable local specialists in these areas who collaborate across teams and regions
A major US developer recently decided to make a large-scale investment in Japan and hired us to be on their asset management team. From complex issues to basic requests, such as Japanese to English translation, we supported them every step of the way. This stance is true for all our clients. We strive to be a one-stop service and strategic partner who provides intelligence that drives investment growth.
With the democratization of 'work-from-home' measures, how do you think the utilization of office space will evolve in the future?
Given the size of apartments in city centers, I do not believe that Japanese residents enjoy working from home. Since COVID-19 restrictions have been lifted, many workers feel that working from the office is more efficient. We are seeing work-life returning to pre-pandemic habits.
Nevertheless, we are currently seeing a rise in vacancy rates, which itself may lead to a reduction in rental fees in the short-term. While it is true that lifestyle changes may lead to some workers spending more time at home, I think working from home is not a desirable option for the majority of people.
Looking forward to the future, what locations in Japan will you be looking to invest in? Will it be limited to Tokyo, or will you look to other regions?
The location of our investments depends on our investors' needs and interests as we tailor our investments to achieve their goals and targets. For example, for a client who is looking for higher return in logistics, we may also recommend areas outside Tokyo as the Tokyo market is saturated with many players. If a client is looking at hotels, location is even more important, so we will decide the geographical area of investment by analyzing the asset as a whole with our hotel specialized team. Finally, if a client expressed interest in offices, we would introduce unique opportunities in regional cities, such as Sapporo and Fukuoka, that have shown healthy opportunities for office development.
Do you have a message that you would like to give to overseas investors, including financial institutions?
Overseas institutional investors account for 85% of our portfolio. CBRE has offices across the globe, which equips us with both local and international expertise. We have an excellent understanding of what overseas investors are looking for and can offer a multi-dimensional perspective that helps clients transform their business and find greater success. Any entity or investor interested in the Japanese real estate market should connect with us to learn more.
What objective or vision would you like to achieve during your time as the head of CBRE Japan's Asset Management team?
Numerically speaking, our target is to grow our AUM to 700 billion JPY within the next five years. Beyond numbers, my true passion is to maximize the potential of CBRE. I think our strength lies in our ability to bring together various specialists and interesting business opportunities. In the asset management team, we closely manage our clients on an individual basis. The great strength of CBRE is its ability to identify synergies, collaborate across departments, and provide an integrated service that unlocks the value of real estate in every dimension.