Can you give us an overview of your monozukuri, your company's activities, and some of the strengths of your firm that you believe allow you to compete in the global marketplace?
Our plants are not fit for mass production, and we cannot compete with the price. However, our strength is our distinctive ability to develop competitive products in niche fields. It is difficult to compare Japanese manufacturing with that of overseas in simple terms because each country has its advantages. Our primary focus is maintaining the high quality of our products because it nurtures trust and a better relationship with our customers. In Japan's Flavor & Fragrance market, 80% is for flavor. Overseas markets probably split it equally to 50% for flavor, and the other 50% is for fragrance. Since most flavors are used in the food industry, safety is a fundamental criterion because of government policies and strict rules for food safety. The flavor market size in Japan is not so big, only around JPY 200 billion, which is small compared to other industries. There is not many M&As in Japan market, so there is a more friendly relationship among competitors. Realizing that we need to expand overseas in order to survive in the future, we established a subsidiary in China in 2012.
We are in a unique position in Japan's aroma industry since we produce specializing in synthetic aroma chemicals. We provide the raw materials to around 120 flavor/fragrance houses, and most of them are our customers who use our various raw material to make flavor/fragrance. We are the only company in Japan doing such a process and providing single aroma chemicals. Other competitors tend to manufacture very specific large quantities aroma chemicals for industrial use, but we deal with a wide range and niche flavor and fragrance raw materials.
---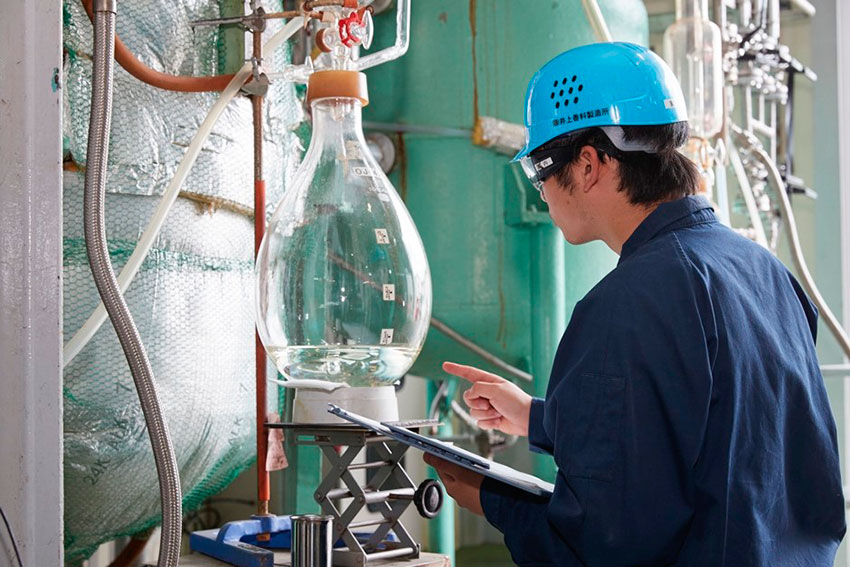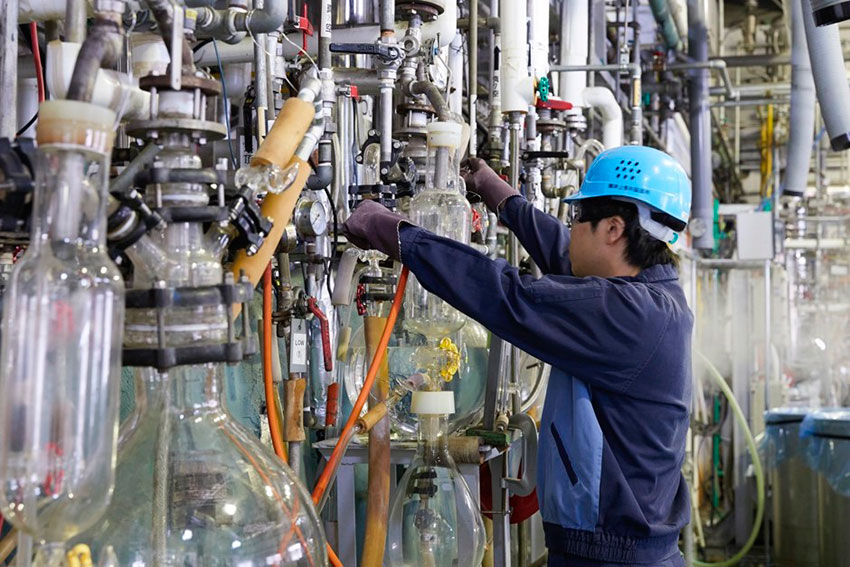 ---
Your new warehouse YONEZAWA PLANT Ⅱ that opened just four years ago offers temperature control and automatic systems warehouse. Looking back on the past, how have you been able to maintain your quality and safety standards?
ODAWARA Plant and YONEZAWA PLANT I are primarily focused on the manufacturing for those aroma chemicals and organic chemicals. On the other hand, YONEZAWA PLANT II is doing other processes like essence production and compounding. The management center we established in 2018 takes care of shipment and delivery functions.
We give priority to safety because when exposure occurs in any of our chemical plants, that would be a disaster. When new graduates enter our company, we provide safety training at our plants for them to learn how to do our monozukuri safely. Though most of our new employees majored in chemistry, we still teach them how to deal with the products or production equipment. Even when they want to do research, we require them to learn about our plants for several years to enable them to do research and development more competently. The QA team ensures the safety and quality of the products we ship or distribute to the market.
---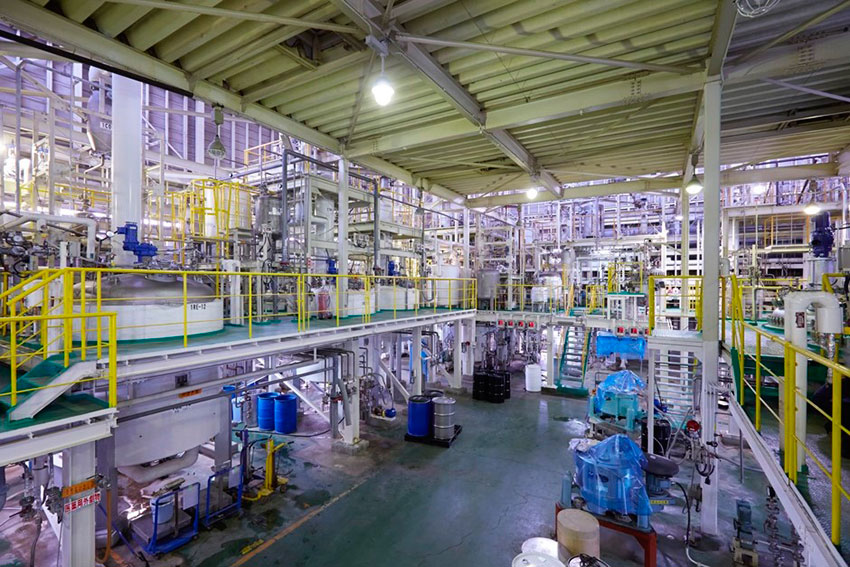 < Yonezawa Plant ‡U (Inside) >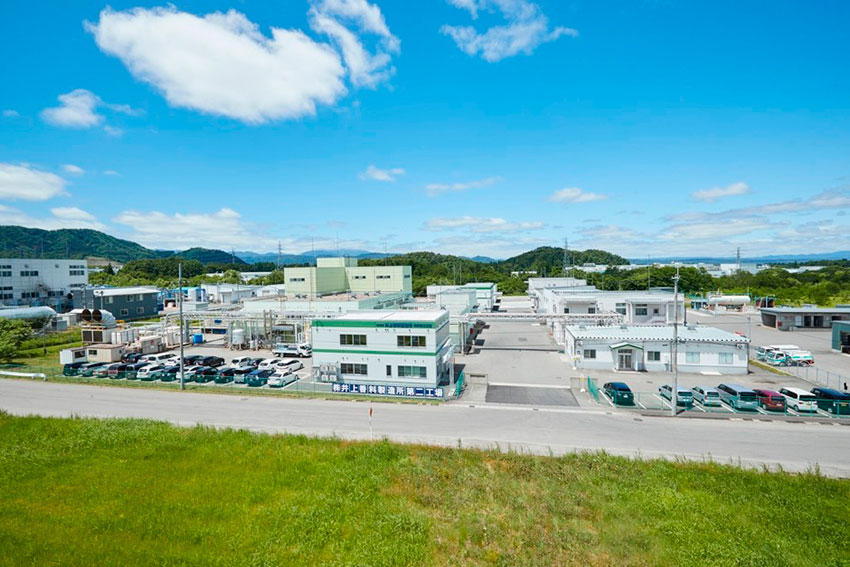 < Yonezawa Plant ‡U>
---
One of Inoue Perfumery's competitive advantages is manufacturing products difficult to obtain in the market, being the only company in Japan that does this specific kind of business. What is the current focus of your R&D strategy, and are there any new products, services, or innovations that you would like to share with our readers?
We are not dealing with innovative products, but we strive to discover new ideas for aroma chemicals. Our research and development section examines whether a new idea could be translated to the development stage. We are resolved to develop three aroma chemical items as new products every year, and to continue to improve the old manufacturing method of our existing products. Since our company's establishment in 1950, we have been using old manufacturing processes for a long time, which could sometimes be inefficient. Hence, we try to change manufacturing process to improve our productivity and effectiveness. In our R&D, 50% goes to new product development, and the other half goes to the improvement of our existing products. In most cases, we develop new products based on the development request from our customers.
Do you ever collaborate with other companies in Japan in pursuit of finding new chemicals? What role does collaboration play in your company?
We rarely collaborate or do tie-ups with other companies in the aroma industry because our production process is not open; we do not share. Doing OEM in case where we perform compounding, Essence production and manufacture a product based on the request from customers is an exception.
Can you give us an overview of how you plan to develop your business in the overseas market? You already mentioned Southeast Asia as a particular area of interest, but what is your international expansion strategy?
The local company established as our subsidiary in China is not our production base. Looking at China as an opportunity to expand our sales, we established a trading firm to strengthen our sales distribution channels. Our policy is to have all the domestic bases in Japan because we are not confident that we can control the people and the manufacturing plants overseas. The explosion of chemical plants we often hear occurring in China is a serious disaster. Therefore, our monozukuri or production bases are all in Japan, and we supply our products overseas. Like whiskey and tobacco, the fragrance is determined by people's preference. The financial status of people can influence how much they use fragrances, like in Europe and America. Similarly, in Southeast Asia, economic development and personal income are increasing year by year. More and more flavor and fragrance manufacturers in the world are going overseas and establishing plants in Southeast Asia. In our case, however, we do not establish plants overseas, but we supply our products overseas.
As you said, Flavor is very tied to taste and odor. It is hard for foreigners to understand the Japanese business mindset. In the same way, it can be hard to understand the taste and needs of foreign markets. Are you interested in finding local collaborative partners in some of the overseas countries you operate in to help better identify and cater to those tastes?
To understand the taste of the local people, we are thinking of doing a tie-up with local agents or distributors. It will be difficult to go overseas on our own and start selling a product without understanding the needs of the market. Partnerships with other companies will help us with that.
Western media often talks about the departure of skilled workers due to Japan's aging society and demographic decline. In 15 years, one of three people will be over 65. How have you been navigating this challenge of transferring technical expertise to the next generation?
Like other Japanese companies, securing young talent is a big challenge for us. We have set a target for our recruitment of new graduates, and we go to great lengths to reach that target number. To combat the attrition and retirement of older workers, recruiting younger workers is necessary to avoid their negative impact on our production structure. Since my presidency, I have had this solid plan to recruit a specific number of students every year.
Is recruiting overseas talent part of your strategy?
There are no barriers in our recruitment; we try to recruit both locals and foreigners, men and women. Skills are part of the criteria for recruitment, but the most important thing is if the person matches our corporate culture.
In this trying time of COVID, digital technologies have been seen by many as a solution to overcoming geopolitical and social issues. In 2021, you joined BuyChemJapan (https://buychemjapan.com), a digital B2B chemical trading platform. Can you elaborate more on your involvement in this platform?
Due to covid-19, it was difficult to travel overseas and introduce our company worldwide. At the concept stage, one of those who came up with the idea of the platform, BuyChemJapan, invited us to work with them. We decided to participate because the key theme of BuyChemJapan is introducing Japanese monozukuri worldwide. They work with a wide range of chemical products from various companies.
Imagine we come back on the very last day of your presidency and interview you again. What dreams and goals would you like to have achieved for the company by then that you can tell us in an interview?
My dream is to introduce our products worldwide. I want our products to be widely known anywhere people go. Every Japanese flavor and fragrance house knows our company, but not overseas. Hence, we want to build the same reputation overseas. If our company becomes more famous worldwide, our employees would be delighted and proud to work in our company.
I believe that people make up a company; the president cannot run it alone. We value our employees who support our company's management. To achieve growth as a company, employees should grow as well.