In the late 80s, sōgō shōsha trading companies such as Mitsui, Itochu and Marubeni accounted for more than 50% of Japan's exports. However, in the 90s, Japan's economic bubble burst and many trading companies were left with what we call the trader's dilemma, whereby they were seen as superfluous and pushed out as the middleman. Yet today in Japan we still see more than 9000 smaller trading firms exist and renowned investor Warren Buffet taking a 5% stake in the aforementioned sōgō shōsha in 2020. What role do you see Japanese trading companies playing now?
As you mentioned, there are about 9000 trading firms in Japan, but it is important to draw a distinction between specialized trading firms (senmon shosha) and general trading companies (sogo shosha). Most of these specialized firms are engaged in the import and export of specific items and deal with specific countries. Sōgō shōsha are comprehensive trading firms that have played an important role in Japan's history and should therefore be considered unique from specialized trading firms.
If you look back at the history of Japanese trading firms, Japan began by trading silk for sugar and other items when the country first opened its borders during the Meiji era. Soon the Meiji government realized that it was crucial for Japan to have its own technology for steel manufacturing. General trading companies played a vital role in the importing of metal processing and steel manufacturing technology, and Sojitz's predecessor companies contributed to the establishment of Kobe Steel Ltd. We also imported technology for synthetic rayon material manufacturing and invested in the development of unique Japanese manufacturing technology, leading to the founding of a company called Teijin Limited. Additionally, our predecessors contributed to the establishment of Sapporo Beer, among other companies. In total, Sojitz's predecessor companies established around 80 different business enterprises, which include many of today's leading corporations.
We were able to make a significant contribution to Japan's enlightenment and industrialization through the establishment of a wide range of manufacturing businesses, and these trading firms then helped to sell Japanese products abroad. General trading companies played an important role in assisting Japanese companies to export their products and expand into overseas markets in the 1970s and 1980s. When Japan's manufacturing industry began to move its factories overseas, general trading companies shifted their function away from export services to investment and management of overseas companies. At that time, new legislation recognized consolidated accounting in Japan, which allowed general trading companies to earn revenue from business management of overseas subsidiaries.
While we have operated as a Japanese sōgō shōsha until this point, my vision is for Sojitz to become a true global sōgō shōsha that pursues business initiatives based on unique regional needs. Countries across the globe are at different stages of development, and some countries may require a trading firm, or middleman, to import and export goods. At the same time, there may be other countries that need assistance importing technology. As a general trading company, we must be adaptable to each market.
Last December, at the COP26, a rulebook was created whereby countries will be held accountable for delivering on their climate action. In 2020 Prime Minister Suga stated how Japan must go carbon neutral by 2050. Similarly, we see that the Ministry of Environment is looking to bolster hydrogen as an alternative energy source and your company has partnered within a consortium of other Japanese companies to pilot a hydrogen supply chain project in Queensland, Australia. Could you tell us the role of Sojitz in that project and what you are hoping to achieve?
When it comes to new energy projects or the development of new technology, our role as a general trading company is to serve as a "coordinator." For example, one of Japan's heavy industry manufacturers possesses the technology to liquify hydrogen for transport and has partnered with Australia, which is a major producer of hydrogen. The role of sōgō shōsha is to coordinate these types of projects. While manufacturing firms have their own technology and factories, manufacturers are focused on their specialized technology and tend to remain within their own manufacturing-centered framework. For example, imagine Company A has the technology to make a gas turbine to burn hydrogen, but doesn't possess the technology to produce hydrogen. Company B is an aviation engine company that may want to use Company A's technology for their aircraft engines, but the problem remains as to how to procure the hydrogen. In these cases, we, as the sōgō shōsha, connect company A and company B together with other affiliated companies to coordinate the project as a whole and create new types of business.
---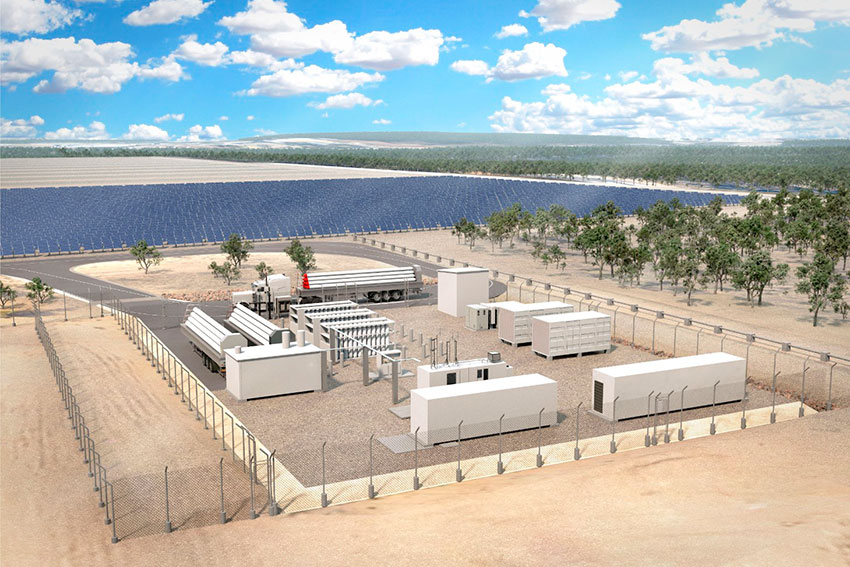 Hydrogen project in Australia
---
This is an interesting project in terms of energy security for Japan as it's a very unique country in the sense that it has few natural resources; more than 95% of all primary energy is imported. What is your take on Japan's progress towards being more energy efficient and self-sustainable?
Japan, as you mentioned, is dependent on imports for its energy supply. During the 1970s, Japan experienced a first and second oil crises. Energy is a lifeline for the country, and Japan has therefore focused on the development of energy-conserving technologies to utilize energy more efficiently. Although Japan has been able to purchase energy from the 1970s to the 2000s, the next challenge is to find alternative energy sources to shift away from fossil fuels. As a country without its own energy sources, Japan should be leading the way in converting to alternative energy.
Sojitz has partnered with Braskam, a Brazilian petrochemical company, to create new biomass-derived monopropylene glycol (bioMPG) and monoethylene glycol (bioMEG). Plastic is the most commonly used bulk material in the world and its demand will continue to grow exponentially as developing countries' consumption increases. As a trading company, what do you see as the main barriers to the adoption of biomass as a form of plastic?
Bioplastic is currently considered environmentally friendly, but plastic is still plastic. Most plastics do not turn back into soil, so we must look into the development of biodegradable plastics as an alternative. High prices still pose a barrier when it comes to some of these alternative plastics, but it is imperative that as a society we change our mindset to prioritize the environment. At the same time, we must continue to develop the necessary technology to make these eco-friendly plastic businesses more economically viable.
The times we live in right now are very turbulent. The Russian invasion of Ukraine has seen millions displaced and economic sanctions on Russia. This has led to record inflation numbers, and here in Japan, we see record lows in the depreciation of the yen. Despite all this, Sojitz Corporation has done exceptionally well in the last half of financial year 2021, with record profits of 39.4 billion JPY. Could you give us an insight into how you've achieved these record profits? What business segments have you focused on?
In the 2021 fiscal year, we recorded the highest profit to date. Global impacts to the market have caused the price of coal, metal, and other resources to soar. As a general trading company that handles commodities, we have seen increased profit attributable to these market conditions, but the fundamentals of our business have not changed. Since becoming the president of Sojitz Corporation, I have headed the company's 2017, 2020, and now 2023 medium-term management plan. We are now in the stage of building our earnings power and further accumulating assets to increase profitability. Our current focus is to strengthen our non-resource businesses further.
Seventy years have passed now since WWII ended, and we have entered the Reiwa era. I consider the Reiwa era as a revolutionary era of innovation, during which we will see significant changes in our society. While major companies have dominated the market in the past, I expect we will see new innovative companies emerging in Japan. We see this coming era of change as a business opportunity for general trading companies.
We are not a manufacturing company that is limited by holding factories, and we are free to explore agriculture or any fields that we choose. By serving as a coordinator, our role is to contribute to the development of new businesses and value.
In your New Years' presidential speech, you mentioned how it's important when starting a new business to take stock and consider which other businesses should be discarded. You also asked your employees to consider when starting a new business if it provides value to society and customers as well as leveraging Sojitz's strengths. What are those new businesses you think can leverage Sojitz's strengths and allow the pursuit of differentiation?
Sojitz is currently exploring many new business opportunities, one of which includes Japan's agricultural industry. These days, there aren't many full-time farmers, and 80%
are part-time. With the aging population, there are few agricultural workers to take over from these farmers. It's an interesting business issue to solve as we have the opportunity to transform the future of the agricultural industry.
We are also interested in pursuing projects to promote carbon neutrality. There is a fast-growing tree variety that can mature in just five years to be used as chips. We have been planting these fast-growing trees on the sites of abandoned farms. Our goal is to provide local production and consumption of biomass fuel through small-scale biomass power generation within local communities. The carbon credits from tree planting also offer an interesting aspect of this endeavor.
---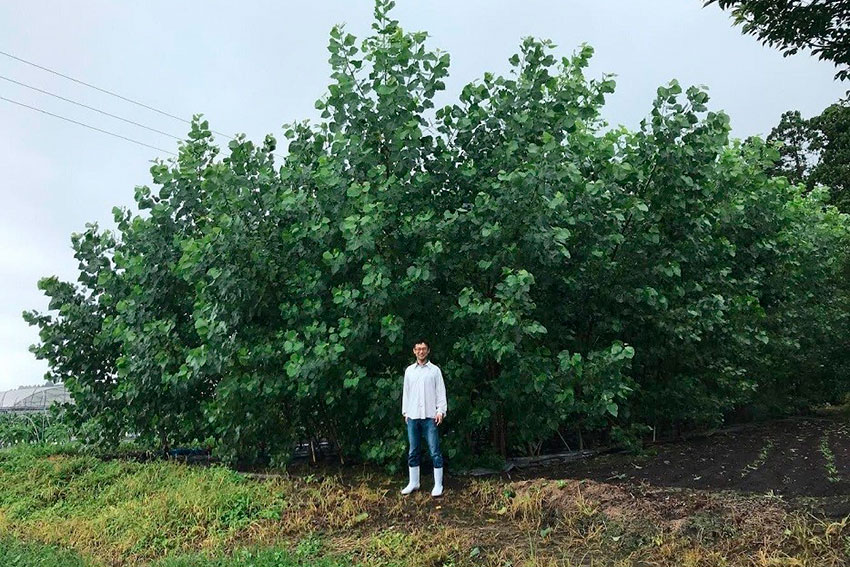 Fast-growing tree (1 year after planting)
---
The next generation of cars, electric vehicles (EVs), are expected to lower the barriers to entry for new startups to join. The electronic aspect of a car's value will jump from 15% to 35% and new materials will be required. With these changes taking place in the automotive sector, what opportunities is this presenting for your firm?
Sojitz is currently working with ASF Co., Ltd. to develop EV delivery vans in China for companies such as Sagawa Express Co., Ltd. to provide an affordable last-mile solution.
Regardless of whether the next generation of vehicles are EVs or some form of hydrogen-based vehicle, there will always be a need for repairs, car parts, and vehicle maintenance. We can play a role in offering new ways of selling vehicles. For example, Japanese automotive companies are trying to sell EVs through subscription services. With a subscription service, consumers are more open to selecting vehicles remotely without visiting an in-person dealership. We see this shift as an opportunity to explore new sales channels.
Currently, with Twinner technology we are focusing on the second-hand car market. That being said, with the shift to EVs people will not own their own cars, but rather lease or use a subscription service. When it comes to EVs, I believe there won't be a market for second-hand cars. That's my perspective, considering the difficulty of valuing second-hand EVs. With subscription services, people do not need to visit the dealership to test drive a car before making a purchase, and Twinner's technology offers a digital scan for people to assess the interior and exterior of these vehicles remotely. We see Twinner's digital technology as important for expanding our online car distribution platform.
Sojitz made an investment in VLP Therapeutics, a biotechnology company based in America that focuses on vaccine development for dengue fever, malaria and other types of hard to treat diseases. Can you tell us about the role of Sojitz in helping these companies commercialize their new products?
In the past, I worked on assignment in Venezuela where there was a big spike in dengue fever and malaria, but no vaccine. We invested in VLP Therapeutics, Inc. after being moved by Dr. Wataru Akahata's strong commitment to delivering affordable vaccines to address unmet global needs. We plan to continue to explore ways in which we can contribute to vaccine distribution, whether through sales or as a contract development and manufacturing organization (CDMO). We feel it is crucial that Sojitz contribute to the distribution of vaccines.
---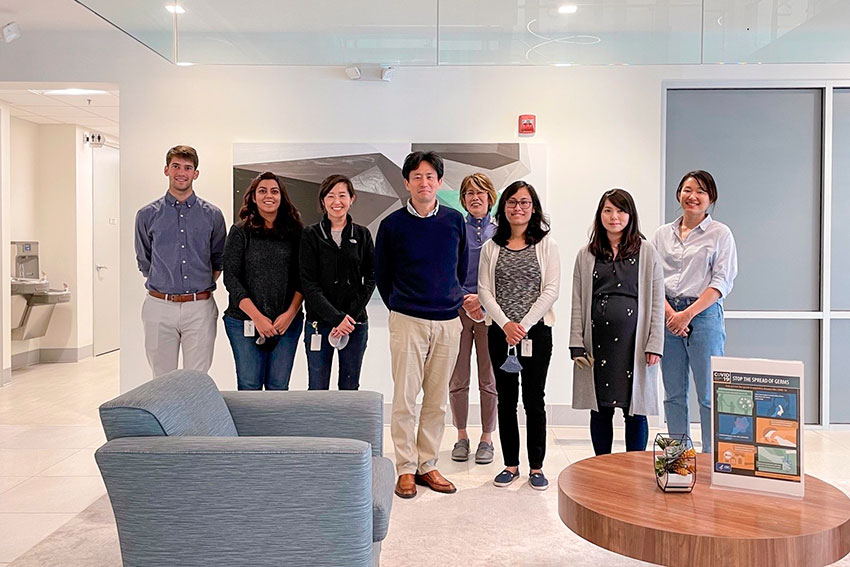 Office in VLP Therapeutics, Inc.
---
Sojitz is present in over 77 bases internationally through 304 interconnected companies. Which countries or regions do you see the most potential for future growth?
As I mentioned before, our goal is to become a true global trading company. By analyzing and evaluating each market's needs, we can find promising business opportunities in any region. Currently, we are focused on Southeast Asia, which is in the development phase, and the next region will be Africa.
Imagine that we come back to do this interview again five years from now. What would you like to tell us? What are your goals for the future?
In Japan, there are many companies which have been in existence for 100 to 150 years, continuing from the Meiji era to the present. As president, my hope is that Sojitz will continue to evolve in different forms, while continuing its legacy as a company.