Since the end of World War Two, Japan has had an excellent reputation for its attention to detail and ingenuity in manufacturing. The kaizen philosophy of never being satisfied during product development is famous worldwide. In the case of your company, you have been manufacturing sharpening stones for both industrial and home use since the 1940s. Could you give us your take on the advantages of Japanese manufacturing?
I'd like to start with the history of this industry. As you mentioned, we were founded in the 1940s. At that time all the whetstones were made with natural materials, meaning that you go out to a mountain and extract the hard stone and sell it as it is. If you do it that way, then the quality of your products will not be stable at all, and in that case we wouldn't be able to satisfy our clients. That's why we decided to establish our own plant and manufacture polishing stones there. It's very important to focus on any complaints from the customers and find out the solutions to those problems. If you just sell natural material as the polishing stone, it could be too hard or too soft, or it may not be able to cut things or it might crack. When you get these types of complaints you have to address them to satisfy the clients. That was the starting point.
It's also very important for us to maintain quality whilst having good new abrasive materials from suppliers. The advancement of abrasive materials contributed a lot to the maintenance of good quality. In the US, some famous makers of abrasive materials included 3M and Norton Abrasives, and those companies continued advancing their technologies and improving their abrasive materials. As one of their partners here in Japan initially there was a sort of technology transfer, that's how we were able to improve our products as well, in terms of anti-friction and also the strength of the material itself. We are now using diamonds for some of our products and as such we are able to keep producing high quality products. Unfortunately, abrasive material manufacturing is no longer a core business for 3M and Norton at this moment. However, they were dominant in this industry back in the 1930s, 40s and 50s when we started this business.
We used to be a sales agency in Japan for Norton to sell their grinding wheels. That was when the competitiveness of Japanese products was equal, or almost equal, to that of Norton, but the situation changed when Norton established a joint venture with a Japanese company. We are a manufacturer, but at the same time we are a wholesaler so one of the four businesses for us is to purchase good products and sell those products.
One in three people in Japan will be over 65 in 15 years' time. Not only that, but the fertility rate of 1.37 means the population will drop below 100 million by 2060. What opportunities or what steps are you taking to offset these population challenges?
As you mentioned, the declining population is having a certain impact on our business as well. Regarding whetstones, some of our key clients are restaurants, and as we have a lower population, we will have fewer restaurants and fewer end users of our products. We are therefore keeping our eyes on this problem. That's why we decided to go overseas 20 years ago, because if we responded to only the domestic market, we couldn't grow so we started selling our products to the overseas market. Our products further the sale of the knives. We had the biggest export volume last year for knives, so we are targeting countries which have large purchasing power, especially for knives, and we would like to export both technologies and products that we've accumulated for polishing.
You've developed a number of products that are market specific. You have ones for Asia, you have ones for North America. Could you explain to our readers how you have developed these market specific solutions and how they are different?
Compared to companies like Sony, which is pursuing high technology, we are relatively low technology, low key, and our mission is to find products and services that best fit with our customers' needs. When we go out to a new market, we make a proposal based on our technologies and products and find out what the best fit for that particular market is in terms of price or quality. Rather than making changes to our products, we try to find out the products that best fit for a particular market.
We now have a wide range of products since we have been doing this business for over 80 years, focusing only on whetstones, so we have a wide variety of materials and the accumulation of our technologies and knowledge. It is more like developing a market and finding out the best solution for that particular market rather than producing something new.
Could you give us an insight into some of your best-selling products both here in Japan and overseas as well?
As you know, sushi is a very famous Japanese cuisine. If you look into how to prepare sushi, you have to have a very sharp knife to make tasty sushi, and whetstones are needed in order to maintain the sharpness of the knife. That's how we've been doing this business for 20 years. We are not the leading actor in a certain industry but as a hidden champion of the industry, our mission is to play our part appropriately.
---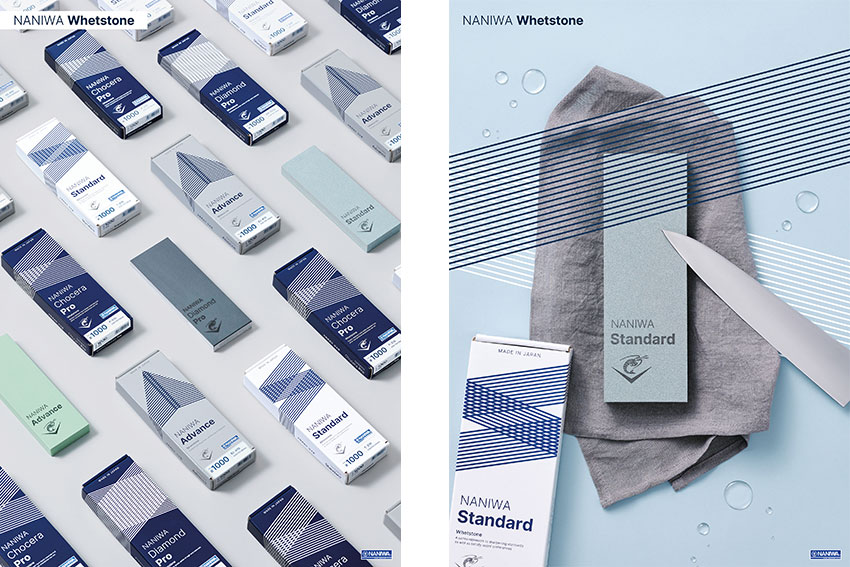 ---
During the coronavirus pandemic, we have seen a positive side to business in that companies have been able to connect with customers via ecommerce channels or even online based media. In the case of your company, we know that you do engage in some SNS platforms, including your own Youtube channel. What was the impact of covid on your business, and what adjustments in sales strategy did you make?
Together with a lot of other businesses, we also experienced a negative impact. One of them is that we were not able to come to the office or come to the plant because of the restrictions, and at one time our sales dropped by 60% per month. We were in a kind of panic at that time. However, if we stopped the supply, then our customers would have had a problem so we decided to lower the production volume, lower the output from the production line, so that we could keep responding to customers. Our production is done by a company called Naniwa Toishi, who have a plant and we had to pay attention to the health of the employees working there so we introduced a work shift and also lowered the productivity at that plant.
We were also severely impacted by the restaurant business because a lot of restaurants were forced to close during the pandemic, so we were not able to sell our products to them. People started working remotely and that changed our communication methods significantly and because of that change, some people left this company. We were subsequently able to hire some new people, so that was a significant change for this company.
However, we had a positive impact out of covid-19 because a lot of people changed their lifestyles, and because the restaurants were closed, a lot of people started doing home cooking. Since people didn't commute to their office, they had extra time that they were able to spend on their hobbies. When a lot of people started cooking at home, the whetstones for home use sold very well. And since people also started doing their hobbies and they were interested in DIY, whetstones sold well at home centers.
Those things had positive impacts for us. Due to the demand which came from that situation where people needed to stay at home, we were able to increase the profits of this company. Our revenue even exceeded the average revenue pre-covid. In 2021, we had our highest revenue ever, and it also happened in overseas markets, not just in the domestic market.
As an abrasives manufacturer, have you been able to diversify your product lineup so as to not solely rely on restaurants or home-based use?
Of course, we worked on the diversification of our products, and one of the products we produced during the covid pandemic is a hand-sized whetstone for pocket knives. It was because of the outdoor boom that followed the pandemic. We tried to take our polishing stones that used to be sold for the kitchen and change their size and weight to fit with other uses and occasions. That's how we produced the handy whetstone, and the handy diamond polishing stone as well. One other thing is that our policy is to keep a certain safety stock so that we can sell our products even when the plants are stopped, and that has contributed to an increase in sales.
Industry 4.0 is something that's revolutionizing the manufacturing phase, marrying digital tools with process automation to create a very holistic supply chain. Is Industry 4.0 an opportunity for you in terms of business?
I think the Industry 4.0 concept is well advanced in European countries. Compared to them, I think Japan is still working on it, especially the SMEs. We are one of those, making trials and errors at this moment. When we established a plant in Vietnam, we transferred our production capability to that country. At that time we needed to quantify our production process so that we would be able to produce the same quality and type of products there. However, to be honest with you, a lot of process steps for manufacturing involve manual work, and we are still in the process of finding a good way to automate those manual steps. I believe that automation of manufacturing is mandated for us in order to keep producing in Japan.
Your company exhibits at a lot of trade shows. For example, we saw that you were at the Japan International Work and Supplies Exhibition. As we exit covid, these exhibitions will start to take place in person. What products or technologies either that you manufacture or in terms of your wholesaling, would you like to showcase to the international audience?
We have diamond based tools used for peeling paint off floors. It is mainly for industrial use and is handy for going into smaller areas where large machines cannot go. We have specified some small niche markets and now need to devote more effort towards demonstrating the effectiveness of our stones as abrasives.
For international exhibitions, we attended Ambiente in February 2023 in Frankfurt. Over the next two years we are going to Ambiente in February 2024 in Frankfurt, and we have some small exhibitions in Vietnam now because we do sales activities there. We're changing the market area from mainly Japan to ASEAN and wider Asia.
The "Made in Japan" brand is synonymous with quality, not least when it comes to knives. How are you leveraging the growing demand for knives and cooking applications internationally for Japanese companies and showcasing your complimentary product? What is your strategy to really latch on to that international sentiment?
Looking back at history, we started being an international company in 2015 when we established the plant in Vietnam. I was involved in that project from the beginning. At first, one of our clients in the same industry went to Vietnam and we visited there together and that was the beginning of how we established the plant and transferred our production base there.
One of the reasons why we did so is the cost. We were able to lower the cost as we produced there. Also, the general merchandise market is very harsh on prices, so we needed to lower the cost of production for that reason too. By having price competitiveness, we wanted to expand the market. As you know, Chinese whetstone is also sold in the same market. However, we are trying to be competitive through quality as well as price. We would like to expand and permeate our products in the local market with Japanese technology.
Twenty years ago, we started selling our products to overseas markets, and a German client and a US client were our first clients overseas. It seems that advanced countries are relatively familiar with Japanese whetstone, so we are not very keen to replace those products with the low-cost ones produced by Vietnam. However, if they start using relatively low-priced products, and then learn about the quality of the Japanese products, then they would tend to upgrade the product going forward. It seems that the number of potential users is increasing in those markets as well.
For Europe and the US we are trying to target a different range of customers. As for Asia, however, the wait for revenue out of that market is relatively short and we have a plant in Vietnam so we would like to use that location as the distribution center for the Asian market. We are also active in finding talented salespeople for Asia. We have a guy from Vietnam who's been working with us for two years and he led our participation at an exhibition in Thailand in May 2022. We would like to expand our products in the Asian market so we are trying to have more sales resources because the Asian market is close to us and we expect a lot of growth in the future.
Let's say we come back to interview you again in four years' time for your 4th year anniversary as president. What would you like to tell us about your goals and dreams for the company in that timeframe, and what would you like to have achieved by then?
My goal is to be number one in the world for whetstones. In particular, I would like to take a certain position in the Asian market. At this moment our competitors are dominant in that market. However, four years from now we would like to be dominant in the Asian market for whetstones.