Over the past decades, Japanese firms across sectors have faced price competition from emerging economies. How are companies like yours able to remain competitive despite this price competition?
Our comparative advantage lies in the spirit of craftsmanship that is present throughout the Japanese industry. This spirit is characterized by close attention to detail and care in manufacturing. A great example of this national ethos is seen in Horyuji Temple, in Kyoto, which is said to have been built without using a single steel nail yet has lasted a thousand years. Another example is Ise Jingu shrine, in Mie prefecture, which is rebuilt every 20 years as a truly identical replica. This is the level of manufacturing craftsmanship that you can see throughout Japan. Japanese monozukuri goes beyond just attention to detail, it also includes consistency and maintenance.
On top of being arguably the oldest country in the world, Japan also has a negative demographic line. This unique demographic situation is creating challenges in terms of recruitment and is also causing the domestic market to shrink due to a decrease in consumers. On the other hand, this presents opportunities in the field of automation to replace manual labor. What challenges and opportunities has Japan's unique demographic situation presented to your company?
In about 30 years, many countries will face what Japan is currently facing. Japan is a front-runner in this matter and is paving the way in tackling this challenge. In the industrial field, the aging of our workforce has resulted in a lack of experienced engineers leading to a heightened demand for automation. As a response, we are strengthening our automation solutions. For example, we designed an "early warning system" that helps workers in a production process predict anomalies in advance. Even though some countries around the world do not yet need and require such solutions and systems, they definitely will at some point. The solutions and systems that we provide for our clients are paving the way for new business. Potential overseas clients often hesitate to replace manual labor and shift to automation. They want information on our previous installations, case studies and proven effective practices. After learning our track record, they're more receptive to adopting our solutions to improve their processes.
Another source of trepidation that we have seen in industrial automation is security. Companies like Azbil deal with sensitive data on production line setup and manufactured products. Clients worry about where the data goes and if their system is safe from hacking. How do you overcome these fears regarding data security?
Enforcing a high level of security is not something that we can do alone, so our approach is to combine our systems with the established and reliable advanced tools from other companies, such as Amazon and Microsoft. This is standard practice in the industry. By combining our reliability with that of those providers I mentioned, we ensure security in the systems we install.
Furthermore, we send our engineers directly to our clients' plants and provide customized services to each customer. We collaborate and tailor our services based on what our client's needs, which enables us to better understand the type of security they require. If the client does not want us to include certain information in the system, then we fulfill their request. This is something that IT and software vendors do not provide.
One of Azbil's core corporate concepts is that of 'human-centered automation.' What is Azbil's definition of 'human-centered automation?'
The aim of such automation is human happiness. My definition of "human-centered automation" is a type of automation that provides people with safety, comfort, and fulfillment. It is ensuring the safety and security of workers and providing them with a sense of fulfillment. To give a simple example: imagine a factory where the working environment can be dangerous. An employee would need to adjust and fix valves by hand but on top of taking a lot of time, this activity represents a high safety risk for the employee. Under our concept of human-centered automation, we look for solutions to automate that process. So instead of spending time carefully adjusting valves, that worker can dedicate time to a more creative task. The objective of human-centered automation is to reveal the potential inherent within each employee.
Other examples of how our products provide greater comfort in life are solutions such as adjusting an indoor environment. This means accounting for not only the temperature but also other factors such as humidity, airflow, and even what people are wearing. This is creating an environment that is more comfortable for people. Under current practices, wall-mounted temperature sensors do the task. Looking at the future however, we seek to provide products where human beings are, in a sense, the sensor and have the environment adjust to the person.
Traditionally, building management mainly encompasses heating, ventilation and air conditioning. As time went by, it started to include energy management, lighting and elevator control and security. Ten years from now, how do you envision the evolution of the building management sector? What do you think will become the new demands and changes in this industry?
The transformation of working style will definitely have an impact on building management. Since COVID-19, we have seen employees working from home and companies opening satellite offices. This transformation in work style will bring changes when it comes to how people utilize buildings. For example, depending where people work, their outfit changes. When employees work from home, they might wear T-shirts and jeans. If they are at the satellite office, they will use a polo shirt. When they come into the office, they might wear suits. From a managerial perspective, we keep in mind that wherever they are working and whatever they are wearing, they are all working just the same. It is important that we continue to ensure a comfortable working environment, including providing a sense of security and safety. Ten years from now, we will need building solutions that will provide an optimum working environment for workers wherever they might be. It will be a personalized type of system.
Another aspect to consider is the implementation of the metaverse and the introduction of virtual space. I believe that our future reality will be a combination of real-world environment and metaverse space, where you put on goggles and travel to different virtual spaces and portals. A person could be in a real-world office setting and decides to use their one-hour break to relax on the Okinawa beach in the virtual world. To maximize his experience, we could create an environment that replicates the Okinawa weather and wind conditions. It is technically possible to do that, even today!
What solution does Azbil offer their clients to face these environmental challenges of reducing energy and environmental footprint? What are some of your key initiatives within Azbil to be more energy and resource-efficient?
Our energy-saving solutions are focused on reducing wasted energy. I will give two examples. First, large amounts of energy are typically used in plant production for safety reasons, such as redundant systems. Second, the controlling elements to have a stable room temperature in a room is the same whether there are 5 people or 20 people. Providing an optimal energy-saving solution requires accurate measurement of the energy required and providing the exact amount needed. This is harder to implement in the factories where we prioritize worker safety. There is often more energy spent than what is required to ensure a safe and optimal environment. However, by implementing solutions like our early warning system, we are able to ensure the safety of the worker to the optimal level while saving energy and reducing wasted energy. Regarding our own initiatives, our new laboratory building in Fujisawa (about 60 km south of Tokyo) was constructed in a way that uses half the normal standard energy of office buildings. It still provides a very comfortable environment for those who are working there. We are showing that this is possible through our own building designs. When it comes to building management and building controls, we have to think long-term, and provide consistent solutions and services throughout the years. Our company has the system, solutions, and technologies to do so. For example, we have solutions that take into account the deterioration of a building over the span of many years as well as the external environment, such as changes in temperature and weather conditions. We connect buildings in Japan across our extensive network in order to ensure and provide stable and consistent quality of service for a long period of time. There are some 4,000 buildings that are all connected this way. This network allows us to gather data to ensure our quality of service.
---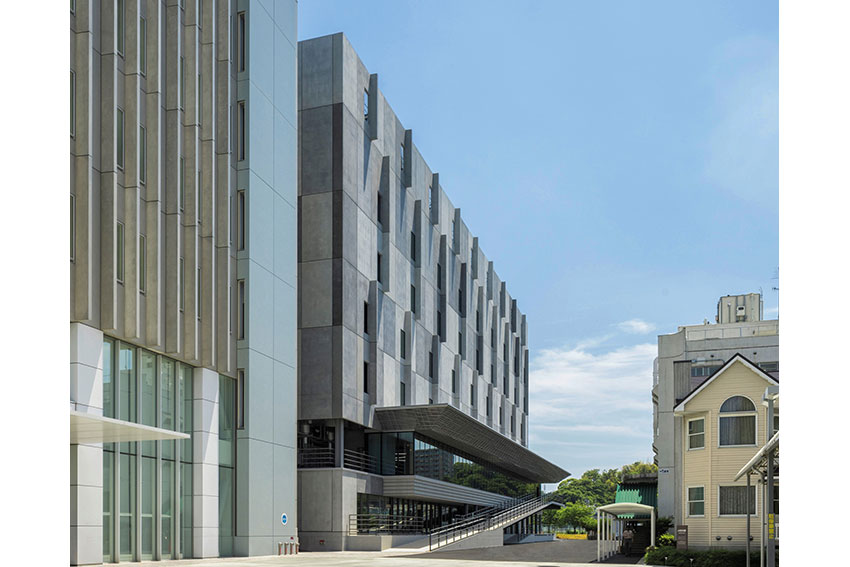 New laboratory building at Azbil's main R&D base in Fujisawa
---
Azbil's uniqueness comes from its three main business divisions. First is building management and building automation. Second is advanced or industrial automation of production sites. The third is life automation, which are services you offer for medical production bases as well as laboratories. What are some of the synergies you are able to create between these three distinct yet related business divisions?
The common denominator for all three businesses is our automation technology. Also, people are always at the center of the work setting. The priority is the key difference between our business lines. In plant or factory settings, safety is the priority. In the life automation sector, creating an optimal environment to ensure the quality of pharmaceutical products is the priority. In building automation, the priority is creating the most comfortable and optimal working environment for workers. We created a framework where automation technology is the foundation of all our business. The more we diversify our client portfolio, the greater the value of our automation technology becomes. We consider people all over the world as our potential clients.
I was surprised by the level of integration in Azbil. Not only do you offer software services for building or factory management, but you also offer engineering services where you dispatch your staff to install equipment and monitor the system. Furthermore, you have a manufacturing site where you make sensors and valves. You have full control of equipment, staff, and system software needed for automation. You could have easily outsourced valve manufacturing or temperature-actuated valve manufacturing. Why is full system integration important, and what are the advantages of integrating manufacturing, engineering and software development in your company?
I want to first talk about the competitive advantages of having an integrated system. Valves and valve controls are very difficult to make accurately. An example is measuring fluids flowing through valves. Our expertise in valve manufacturing helps us create highly accurate measurement equipment. This is an advantage for us. Another strength of the integrated model is ensuring product quality for a long period of time. Thirty years from now, the operating system and the cloud infrastructure might be different, but because we keep all our solutions and services in-house, we can monitor and provide a consistent quality of products and services for a long time.
---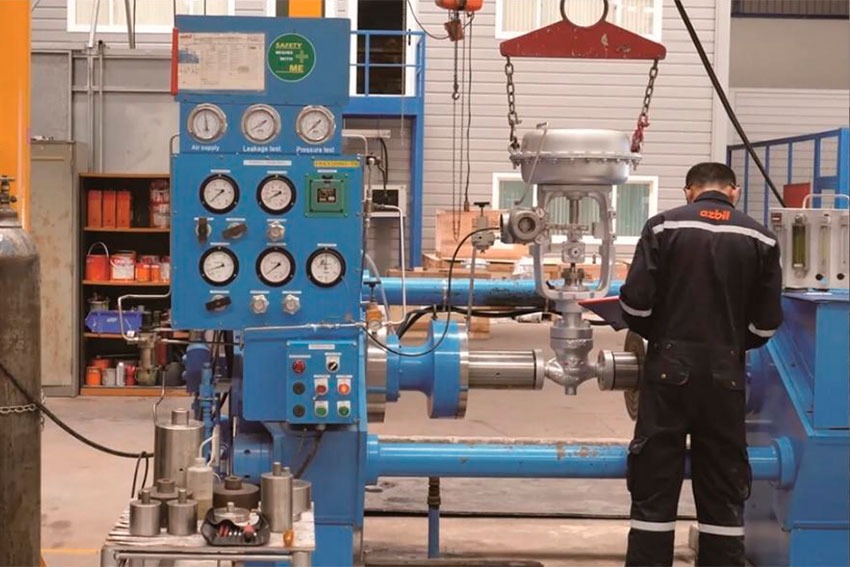 Azbil's valves, such as the one for factories and plants in the photo, are tested to ensure high quality.
---
Your company had a long history of collaboration with Honeywell. Looking at the future, are you currently looking for new collaborative opportunities? What kind of partners is Azbil looking for?
In order to respond to the environmental challenges of our time, including becoming a carbon-neutral society, we have to expand our partnerships. With renewable energy, our expertise is in energy saving but we do not have the capacity to produce wind and solar power. If we partner up with companies in these fields, we would be able to come up with greater solutions and products that are efficient and environmentally friendly. To expand beyond a certain level in regions like Southeast Asia or Europe, we can foresee working with companies such as Schneider, Siemens, Johnson Controls and Honeywell because I believe that we have the world's greatest energy-saving technology. If we do, we will be able to provide even better solutions for our clients.
You opened your first subsidiary in China in 1994. Since then, you have developed a wide international network. You have a presence across Asia, North America and Europe. In 2017, you opened a subsidiary in Mexico. Looking at the future, which regions do you believe have the greatest growth potential? What is your strategy for international expansion?
If our energy-saving technologies are to be the core products we can expand globally, then countries that require energy-saving technologies are the markets with the greatest growth potential for us. At the moment, one example is Southeast Asia. Another market that has great potential is China, which is a complex region that requires a high level of attention.
In the regions you just mentioned, are you looking to open local factories, or offices, or pursue joint ventures or M&A opportunities?
Our international operations currently make up 20% of our entire business and have been done through mainly our direct sales. For our expansion moving forward, we are considering the best partners in the local areas, and we are proactively pursuing M&As and partnerships.
Azbil is an old company, with more than a hundred years since its foundation. In the distant future, what objectives would you like to realize and what legacy would you like to leave behind?
We recently welcomed about 100 new employees and I was asked the same question. I said that I wanted to train capable people because the most important asset of a company are its employees. I want to give them opportunities and experiences to realize their potential and strengthen their skills. We already have advanced technologies and products, so our business is bound to grow, but the most important thing is ensuring that the employees have a sense of fulfillment as they improve the quality of their work. I believe that investing in human resources and training employees to become very capable is crucial.