There is a growing perception in the eyes of the West that Japanese companies have lost the innovative and quality edge that came to define them for many decades. Specifically in the field of food processing equipment, what are some of the core competencies or strengths that set your firm apart?
Tracing back the history of Japan, the reason I believe it is no longer considered lively or energetic by the global society dates back to the late 1960s, when Japan as a nation experienced rapid growth. This growth was centered around the automotive industry and ever since the automotive industry has been a driving force in the Japanese economy through the pursuit of increased efficiency and production. Emerging countries have arrived however and to continue to be competitive in terms of pricing many companies both Japanese and foreign have looked to these emerging nations to localize production and benefit from much lower labor costs. The situation has changed in recent years, and for the first time in decades producing overseas is not as economically efficient as it once was. This situation has now become a major hurdle facing several Japanese firms from all sorts of sectors.
In our case, we are an SME and not subcontracted to a major company. We are independent, working directly together with food processing companies. That has given us strength and uniqueness in a niche market.
As a company we are responsible for developing Japan's first large-scale oil expeller and that came about thanks to our relationship with an oil manufacturer in Japan. They requested a domestically made piece of machinery and we were able to achieve this in collaboration with them. I think the uniqueness of our company comes from our tailor-made customized products that are far from off-the-shelf. We strive to work together with clients to provide them with a product that specifically caters to their every need.
When we talk about the evolution from mass production to niche specialization we normally hear two competing viewpoints. One suggests that this was a natural evolution for Japan's industry given the long history of the kaizen philosophy of continual improvement. The other point of view suggests that this came out of necessity given the competition from overseas; Japan had no choice but to specialize to survive. Which side of the fence do you sit on?
Toyota was the first company to really bring this kaizen philosophy to the forefront but it is embedded throughout Japan's work culture. In the late 1980s, SMEs started to incorporate this continual improvement mindset into their own work culture. In the field of mass production Japan fortified its strengths with this kaizen workflow and as a result, many SMEs have found themselves in more B2B fields where high quality isn't only requested, but required. SMEs have continued this evolution over the past several decades, becoming more specialized within the B2B model.
Being independent has some huge upsides, but at the same time it leaves you vulnerable to Japan's biggest social challenge; the aging population and sinking birth rate. There is a problem now where a lot of the expertise required for niche B2B fields is concentrated on just a handful of elderly individuals and the challenge becomes passing that expertise down to younger workers when those skilled employees decide to retire. Additionally, a lot of young people are less interested in a career in manufacturing. Can you talk about your efforts to combat these challenges and the impact that Japan's aging population is having on your business operations?
I'm not sure if it is because of the declining birth rate or not, but these days young people prefer to work in IT or other technology-related fields. They don't seem to be particularly fond of industries such as manufacturing and metalwork like we are in. To combat this recruitment issue we have diverted our recruitment efforts to mid-career individuals rather than focusing our efforts solely on new graduates. Out of our 45 employees, 30 of them are considered mid-career hires. Having said that, they don't necessarily have a background in engineering before joining the company, and for this reason, we do offer extensive on-the-job (OTJ) training so that all new hires can understand the company's framework and their role in our operations.
At this moment we can accommodate workers of every generation and we pride ourselves on our strong team spirit. This allows us to effectively cater to our customer's needs or demands.
We often hear that one of the methods to combat this challenge is to appeal to foreign workers who may have an engineering background and are very eager to work in Japan. Is this something that your firm is doing to supplement your workforce?
Currently, we are not hiring and we are not thinking about bringing in any foreign workers. That is because our model is based on made-to-order. There is no standardization of production, so at every step, there is a requirement for engineers to make decisions. It is not something that you can learn overnight and as you can imagine. This is why we are focusing on the human resources we have now and trying to leverage that strength as best we can.
In the future, we may have a sales office overseas or even have a production site overseas so it is still important to keep our overseas channels open.
We wanted to ask about your EA series, and from my understanding in food processing cleanliness is the operative word. The EA series has many advantages including its low cost, space-saving, and its ability to allow material processing in a single step. One of the main challenges of operating this kind of equipment is the precise nature of the settings and making sure everything is done with the correct parameters to prevent the formation of harmful substances; making the machine easy to operate and understand is paramount. Could you give us some insight into your manufacturing processes, particularly with the EA series, and how you can make machinery that is easy to understand and operate?
The EA series is used for food processing so sanitation and safety are critical. Multiple elements are included to ensure the safety of food that is processed such as the easy-to-operate touch panel. The operator can set the parameters on the panel and since it is driven by a combination of motors and electric heaters the machine itself is very mindful of mechanical safety. There are interlocks in place should any food material get stuck. While the machine can be operated automatically it is always monitored for safety. Washability is another very important aspect, especially when switching from different batches of food. We are using stainless steel to avoid any rest and to add to the washability of the machine.
---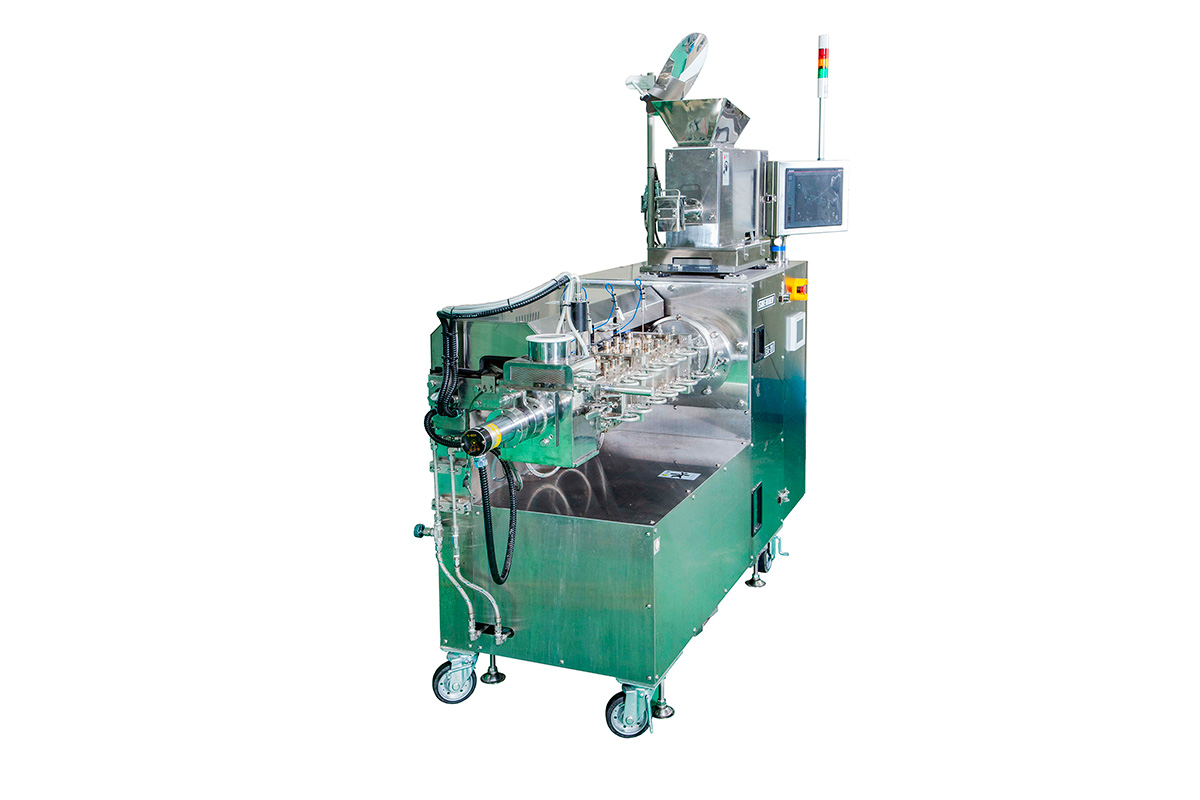 Food processing extruder, Model EA-20
---
When in discussions with a client we do discuss several factors including the manufacturing environment the machine will be placed in. We can apply covers where needed from the client to increase food safety.
With many food processing equipment manufacturers there is an emphasis on not only assembly but also disassembly to ensure the equipment is easy to clean. Is that something you are implementing in your equipment?
Yes, we have emphasized easy dismantlement and assembly so that each component can be washed thoroughly. The structure of each component is designed so that there isn't any residue.
The strategy of many companies we've talked to is to find local partners overseas, whether that be distributors or agents that can bridge the communication gap that many Japanese companies sometimes struggle with. What is your strategy in this regard and are you interested in finding these kinds of local collaborators as a way of expanding your business overseas?
In the past 50 years, we have exported our products to 21 countries worldwide, and that was through mainstream Japanese companies in collaboration. Basically, we work with them domestically and then they take our products with them when they expand overseas. However, nowadays we are planning on exporting our business directly, and within that framework, Thailand is the focus. We have conducted market research in Thailand and what we have found is that the country is very different from Japan.
Food-wise, Thailand has very different textures, sizes, and types of food, so, therefore, the machinery requirements are also different. There are also differences between home use and business use. It is important to take note of these differences and see how applicable our product could be in the market. To do so, working together with a local partner would be very important and we are currently looking for one that could provide us with the information we need.
How many of your custom-made machines do you think you make in one year?
It is around 10-20 per year.
Beyond Thailand are there any other countries that you've identified as an easier fit for your machines?
Our extruder is a grain-to-powder converter, so I think this is very applicable to countries that eat a lot of rice such as Vietnam, Thailand, and Japan, so I see high potential in penetrating these markets with this machine.
Imagine that we come back on the very last day of your presidency and have this interview all over again. What are your goals and dreams that you hope to achieve by the time you are ready to pass the company on to the next generation of SUEHIRO EPM executives?
I want people in our company to continue to be sincere and true to the work and the customers. This has always been a strength of our company and I wish for it to continue beyond my own presidency.
---
Interview conducted by Neale Oghigian & Ana Ruiz