In the last 25-30 years, Japan has seen the rise of regional competitors who have replicated Japanese manufacturing processes but at a much cheaper labor cost, thus, pushing Japan out of mass production markets. However, Japan is still a leader when it comes to niche B2B fields such as flexible endoscope production, with large market shares dominated by leaders like Olympus Medical Systems. How have Japanese firms been able to maintain their leadership despite stiff price competition?
I think that Olympus Medical Systems has its own strategy, so I cannot comment on its large market share. However, personally, I feel that Japanese people are excellent in terms of paying attention to very specific details. For example, we are very particular with the specific details of our products compared to other overseas competitors. Olympus actually started their business with cameras, and then they improved their technology by paying attention to the small details such as polishing their lenses. Being very precise was key to them, as well as putting a more detailed focus on the products. In Japanese culture, we pay more attention to more precise and accurate products. I think this is the strength of Japanese businesses.
Japan is the oldest nation in the world, with an ever-declining population. The latest estimates put the population under 100 million by 2060. This presents many challenges to Japanese firms, the first being the labor crisis and the second being a shrinking domestic market. What are some of the challenges and opportunities this demographic shift is presenting to Taketora?
We are an aging society, but we also have the challenging 2025 issue too. Baby Boomers are now entering the second phase of being elderly, meaning that they are reaching ages 75 and over. There are more needs, so we are targeting those elderly people. The number of elderly people is expected to increase over the next 15-20 years. It means that there is an increased need to meet their demands.
What solutions are you able to offer to other countries that are facing this ageing society issue?
Originally most welfare products started in Northern Europe. We imported all the different equipment from there, but we implemented a Japanese style to it. We use tatami mats and have different lifestyles compared to overseas markets.
---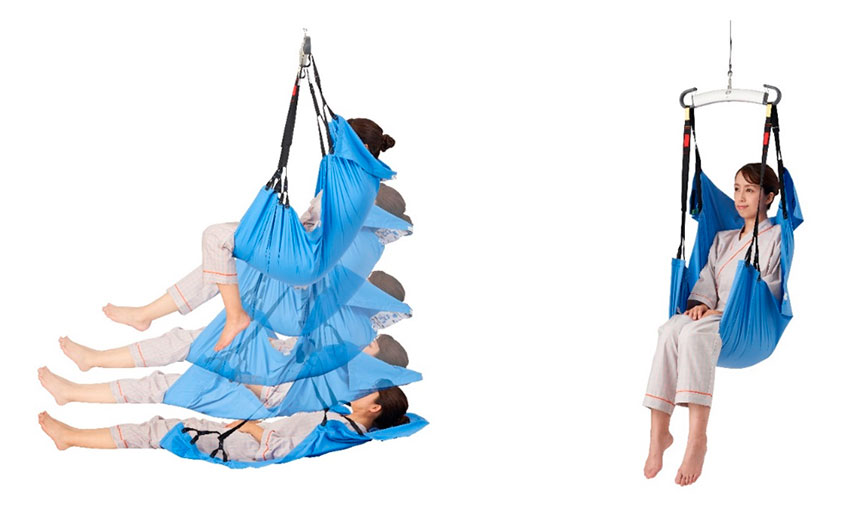 ---
Take for example the Karugaru, a product originally produced in Sweden. This is a lift-type aid device that allows patients in hospitals, nursing homes and people receiving home health care to be transferred between a bed and a chair or other similar resting places by the use of electrical or hydraulic power.
When I visited Denmark 30 years ago, I liked this product and had them import it here to Japan. Conventional products had the problem of that it was difficult to easily attach the sling to the lift body and put people on it in a short time. We redeveloped the product so that you can easily attach the sling, and we were able to export this product to other countries. That's the Karugaru Sling. This actually resolved existing issues with similar products worldwide and we think this will be very widely used.
One issue might be that western people are well built and quite heavy. Compared to Japanese bodies, western bodies are much heavier, so that is an issue we need to resolve. I think despite the need for remodeling, this product will be very widely used overseas.
One product we found quite interesting was your bamboo walking stick, which is very particular when it comes to fitting and the grip of the user. Could you tell us a little bit more about your bamboo walking stick products?
---
---
It is very easy to grip. Women have a longer life expectancy than men, so it means it is more important to cater to elderly women's needs. Obviously, this product is unisex and not only designed for women. Its shape is designed to perfectly fit around the hand, and it has a very simple design. We designed this stick very carefully, paying attention to a lot of the small details and features needed.
Your main business can be divided into three main divisions. You have your medical division, the human care division, and the wellness division. Which division are you currently focusing on, and which one do you believe has the most potential for future growth?
First of all, each of the three divisions is important to us. The division that has the most potential for growth is human care because of our aging society and the increased need for nursing care products, not only here in Japan, but also in other Asian countries such as China. In Japan, we have the fastest pace of aging in the whole world, so it means we are living in an area where we can learn a lot from.
What is important in developing and marketing our products is we need to understand the country's culture and customers so that we can develop products that cater to those needs. Japan has very unique customs and culture, so I think the users of the products are elderly people who find it difficult to adapt to the products of a new culture. We can adapt our products to their needs.
The COVID-19 pandemic has had a significant impact on the world. Your products are used in environments where hygiene and infection control are very crucial, and hospitals are one example. What impact has the current pandemic had on your business?
The COVID-19 pandemic has affected our business minds very much. We feel that our employees think that our company is indispensable. If the medical institutions do not have enough masks and gowns, they cannot do their jobs, and without them, people's lives are at stake. Not just with in- and out-patient care, if a person collapses at home, medical staff need to go there. Masks and gowns are vitally important in this situation too. We are providing the products to these professionals that enable them to save people's lives. We feel a very large responsibility.
We have a lot of customers in hospitals and medical institutions, but during the COVID-19 crisis, the government asked us to provide medical products such as gowns, masks and gloves to give to people that really need them. We actually received a thank you note from the Minister of Economy for our work.
Can you tell us what makes your infection countermeasure products superior to your competitors?
I cannot pinpoint any specific points that are superior to our competitors, however, our company's strength is that we can provide a wide range of products that can meet the total needs of customers. We are dealing with masks, gowns, gloves and so on. We have 109 years of history and a very wide range of suppliers. Also, we manufacture many of our products ourselves. It means that for any needs that could arise, we can provide a product for that.
Could you tell us a little bit more about your R&D strategy and are there any products that you are currently working on that you would like us to showcase?
In order to understand a customer's needs, we first go to the field. We research what kind of products and services are required. Based on the current needs, we look forward and imagine future needs. What will be expected and required in the future? We can develop products based on those assumptions.
Are there any future needs that you have identified?
Users of current products tend to talk about current problems. We must imagine what will be the problems of the future. Based on those future needs, we need to develop products. Of course, this is very difficult.
What role do collaboration and cooperation play in your business model? Are you looking for any co-creation partners in overseas markets?
It is important to work with a partner, but in order to find the best partner, we need to do research first. For example, say we wanted to launch a product in France. First, we need to find a company interested in our products, and then we need to solve issues on money and which company retains the rights to the product. These partner companies should have the same objectives and a similar way of thinking. Those are the criteria to select the best business partner.
Currently, we have a plant under construction in the Philippines, and once we have the operation ready for exporting, we will have to ship our products to other Asian countries as well as Northern Europe and North America. The plant should be opening in October this year.
What other countries or regions have you identified for further expansion into in terms of having production bases or factories?
In the past, we had a plant in China because at that time, we felt that the manufacturing and labor costs were cheaper, but now the labor costs are on the rise. It is not good to continue business there, so we decided to shift the production base to the Philippines.
Let's imagine that we come back two years from now and have this interview all over again. What are your goals and dreams for the next two years of Taketora?
In our business plan, we believe that it is important to succeed in launching the factory in the Philippines. It is easy to build a factory, but we think the important thing is to produce products and sell them. As the number of employees will quadruple in the next year or two, we will make every effort to set up a good environment that makes it easier for those local people to work and expand sales of our products.