"In this orchestra analogy I see us as the maestro or the conductor. Even if we have great expertise, it's important to collaborate with trusted partners."
Soichiro Masuoka, President, Masuoka Gumi Co., Ltd.
Masuoka Gumi is one of the longest-standing and most reputed players in Japan's construction industry, providing world-class civil engineering and building construction services since its establishment in 1908. Proudly boasting a portfolio made up of several hundred successfully completed projects, the company designs and constructs roads, bridges, tunnels, and residential and commercial buildings, as well as offering real estate sales and brokerage services.
Over its 115-year history, Masuoka Gumi has had to adapt to the ever-changing needs and challenges of the construction industry. Today, one of the industry's main challenges involves successfully adopting the latest DX (digital transformation) technologies to improve efficiency and productivity amid a backdrop of labor shortages and growing environmental concerns due to climate change. It is an area in which Masuoka Gumi aims to lead the charge in Japan, as company president Soichiro Masuoka explains.
"In the past, it was more efficient to focus on having multiple workers take care of one construction-related task, rather than focusing on increasing the capability of one worker, but the environment has drastically changed, and it's now important to increase per-capita productivity by utilizing DX and AI," he says, before giving some concrete examples of the company's DX initiatives.
"By introducing drones in our operations, we are not only able to have accurate measurements, but at the same time, provide safety for workers and cut the cost and time required to do the operation. For example, we can measure a mountain where we will conduct a civil engineering project using 3D mapping. By combining this accurate data together with the construction plan, we are able to determine at which point we need to cut and do the civil work."
---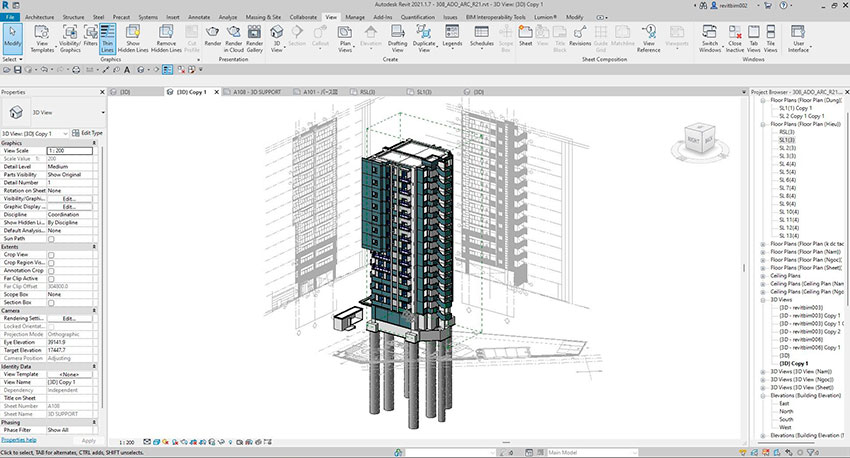 Cutting-edge architectural design with BIM
---
He adds: "Costs differ considerably depending on the combination of the materials and methods, the region of construction, the timing, and the amount of the order. It's important to provide clear cost information to our customers, but more than that, we need to know the real cost incurred during construction, so I believe that by using AI, we will be able to gather real time data on the cost. That is the approach we would like to take."
Another grave challenge for Japanese construction and engineering firms has been growing their global operations to mitigate the impact of the nation's shrinking domestic market due to its aging population. Fast-growing markets in neighboring Southeast Asia have naturally been a target for Japanese firms revered in the region for the ability to deliver high-quality projects and solutions.
In the case of Masuoka Gumi, the company has worked in Vietnam, having completed the Hai Duong Garden residential project, and Cambodia, where the company has undertaken land development work.
"The Japanese market and economy are shrinking, so it's important for us to go abroad. We need to change our work style by location. If we were to stay domestic, we would have to change our business model in order to survive. On the other hand, if we are to keep our conventional business model, we need to go overseas to open up new markets," explains Mr. Masuoka.
"The very first initiative was through ADO, our group company. We started training local Vietnamese engineers so they could use CAD, BIM and other digital means to create architectural drawings, so we could increase the number of engineers in-house. We now have about 30 Vietnamese engineers and they are very talented."
Currently, the company's international strategy involves gaining a foothold in India, where it has invested in the project of a local partner in Bangalore alongside some fellow Japanese developers.
Looking towards the future and the company's 120th anniversary in 2028, a philosophical Mr. Masuoka is aware of the danger of resting on one's laurels in a constantly-changing landscape.
"Everything is transient and changing, and failure often leads to success. However, success may lead to failures, so you have to be mindful that conditions always change," he states. "In a rapidly changing society, it's important for us to be proactive in meeting market needs and not stay passive, so through the accumulation of know-how, we want to become a socially resilient company."