"We are now taking the lead in proposing energy conservation and renewable energy installations to our clients."
Makoto Tani, President, Sumitomo Densetsu Co., Ltd.
As the world's industries shift to renewable energy, new digital transformation (DX) technologies such as big data and the IoT are transforming business and society. From a construction perspective, Sumitomo Densetsu is taking initiative in both fields, with renewable energy and DX set to be major pillars of the company's expansion strategy over the coming decades.
The new focus on renewable energy and DX has prompted a reorientation of the Japanese company's business model, as explained by president Makoto Tani. "Our business model has always been to work as a subcontractor for general contractors on construction projects, however, we are now taking the lead in proposing energy conservation and renewable energy installations to our clients."
Sumitomo Densetsu's portfolio can be divided into four main segments: electric power, general electrical, information and communication, and plant HVAC (heating, ventilation, and air conditioning). Moreover, the company has provided services in environmental fields such as solar power generation and energy conservation systems, and in IT-related fields such as information networks and data centers.
Sumitomo Densetsu's electric power construction division is developing the power infrastructure and renewable energy businesses by teaming up the wire and cable technology of its parent company, Sumitomo Electric Industries, Ltd. (SEI), and its own engineering capabilities. "We have particularly high expectations for the growing renewable energy market and hope to capture significant business in this field through the synergetic force of SEI and Sumitomo Densetsu," adds Mr. Tani.
"In general-electrical work, our strength lies in our commitment to provide consistent good quality and services, from design and construction to maintenance. We believe that our costs may not be that much different to other competitors, however, we strive to provide the highest quality to our customers.
---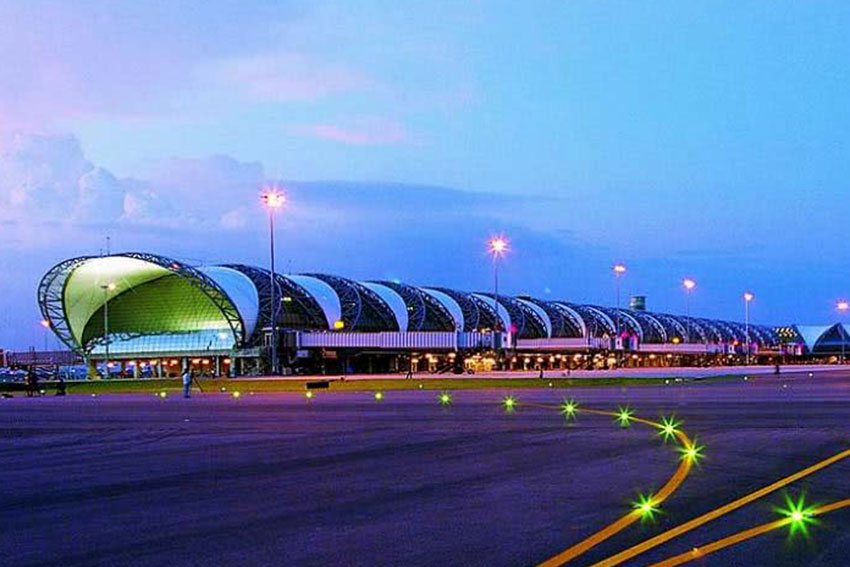 Bangkok international airport
---
"As we are not a manufacturer of telecommunications equipment, we choose the best types of equipment and systems available on the and then perform the information and telecommunications-related installation. We have received high appreciation from many universities and hospitals.
"The plant HVAC division is still in its growth phase, so we do not yet have a strong position in this area. However, we are cooperating with leading HVAC manufacturers and have established joint ventures with them in order to design, sell and install HVAC equipment."
Turning to DX, Sumitomo Densetsu has developed its SEM Cloud system to facilitate integrated construction and its related services to its customers. Currently, the services provided to customers through the SEM Cloud include facility management and inventory management systems that utilize IoT and sensors to monitor the status of facilities and equipment. Furthermore, the company is also promoting the digitalization of its internal business operations.
"Currently, we are in the first phase of our mid-term strategy and it will continue until 2024," Mr. Tani explains. "The second phase will focus on leveraging the collected data and applying it to enhance our business operation. we want to find previously overlooked needs and connect them to our business."
Sumitomo Densetsu has expanded with overseas branches earlier than other companies in its field, and currently has bases in seven Southeast Asian countries (Indonesia, Thailand, Cambodia, Myanmar, the Philippines, Malaysia, and Vietnam) and China. "Our main business is electrical and HVAC work for factories and offices, and our overseas subsidiaries provide high-quality work that cannot be replicated easily by local competitors." states Mr. Tani.
"These days many companies have been focusing on data center-related construction especially in South East Asian countries. Since the electrical work for data centers is more complicated and requires higher-spec than other electrical work for ordinary buildings, we are planning to dispatch experts with extensive experience in data center construction from Japan to the local subsidiaries in order to provide adequate technical training."
As the company expands its international operations, Mr. Tani says, "our goal is to place Sumitomo Densetsu among the top five companies in its field within the next three years and we would like to lay the foundation for the next generation to be able to aim for the No. 1 position in this field."