I would like to start by getting your take on the current state of construction in Japan. As we know, the first construction boom occurred before the 1964 Olympics, over 50 years ago. Today, we can see that much of the infrastructure is aging and in need of maintenance, upkeep, and repair. In large cities like Osaka and Tokyo, there is still a need for new construction, although this is expected to level off in the future due to Japan's declining birth rate. Could you share your perspective on Japan's current infrastructural needs, and the role your company is playing in revitalizing construction in Japan?
The keywords for Japanese construction are the aging population and the decline in the birth rate, leading to a paradigm shift away from the need for offices and high skyscrapers. This is the future that I foresee.
However, the current situation is quite different. In the 72 years of our company's history, we are currently experiencing the highest record of orders. I believe this is due to recent construction projects like the Olympics and the impact of covid, which saw stagnation in the construction of skyscrapers and industrial facilities. Suddenly, we are now experiencing a big construction boom, not only in major cities but across Japan.
Due to the declining population, all the rural cities are trying to attract people to their areas to survive, and having a clean, aesthetically pleasing, and modern city is crucial for recruiting and attracting people. Therefore, there have been many redevelopment projects, especially in rural areas such as Shikoku, Hiroshima, Okayama, and other regions. Additionally, there has been a rise in industrial development, particularly in the semiconductor industry.
However, this situation may be a temporary one. In four or five years, the redevelopment of rural areas may settle, and the semiconductor industry in Hokkaido may also stabilize. Nevertheless, the strength of Japanese industry lies in manufacturing, and with the decline in the yen and the Japanese government's reluctance to raise interest rates, the depreciation of the yen will likely continue.
This creates an attractive environment for manufacturing, both for domestic and foreign companies. Japan could once again become a target for investment as a hub for manufacturing, leading to an increase in demand for industrial facility construction.
The Japanese people have a good sense of consideration for others, which is one reason why salaries haven't increased in recent years. To stimulate inflation, employees need to voice their desire for higher base salaries, but this may be challenging due to Japanese characteristics. Consequently, inflation may not occur, meaning that Japan could still provide cheap labor with high quality, making it an attractive market for global manufacturers. As a company, Yokomori voluntarily provides a base salary increase to our employees to stimulate inflation within the construction industry.
Speaking from the developer's perspective, the return on investments, and profits can be quite low in rural areas. Construction costs are increasing, but the lease or selling prices have not risen accordingly. As a result, many major developers are leaving these areas and centralizing their capital in Tokyo, where higher lease margins for offices can be achieved. However, instead of redevelopment, the focus has shifted to renovating existing long-standing buildings, especially in regions like Kyushu, Nagoya, and Hokkaido.
Do you need to customize your products for different international markets?
Yes, we cater to each and every market. However, there are limitations to the capabilities of our overseas facilities, which can impact the quality of the products we produce. Exporting high-quality construction products from Japan is not viable due to the bulk and heavyweight nature of these products, making transportation challenging.
When working in foreign markets, collaboration and good relations with the local government are often necessary to secure orders and ensure local supply. Our business model focuses on local provision and consumption as a way to penetrate foreign markets.
---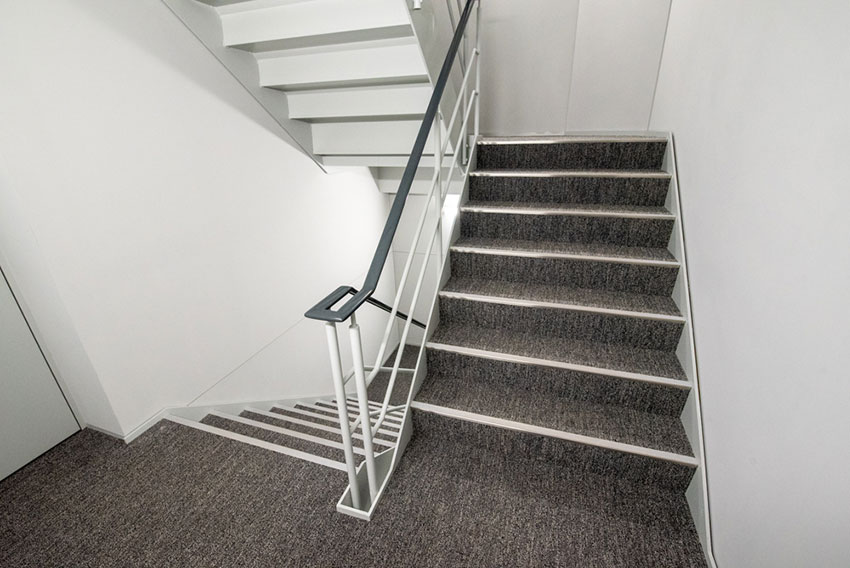 YS-STAIR internal starcase
---
Could you explain to us how your company, as a smaller subcontractor, is helping the large general contractors, and of course more broadly the government, to reach these targets?
While our main material is steel, which itself has carbon emissions, we prioritize using steel produced through electric furnaces rather than blast furnaces, as electric furnaces have a lesser environmental burden.
Staircases are crucial components during emergencies. When the elevators are not working, the staircase becomes the way of escape. With the 9/11 attacks, if you were placed in the stairwell, it was the safest place to be as the building collapsed. Could you speak to us a little bit about the role of staircases in helping during disaster situations?
Sturdiness and being earthquake-proof are very important aspects of our stairs manufacturing. That is where our competitiveness and our value lie. We would never sacrifice the strength of the stairs for profitability, and we actively collaborate with general constructors to standardize and enhance the resilience of our staircases. We also invest in research and development to explore new materials that can provide lightweight yet sturdy and secure staircases.
Your competitive advantage is evident both domestically and internationally. In Japan, approximately 80% of skyscrapers use your staircases, and you have obtained patents in countries like Germany, the UK, and the US since 1970. Could you speak to us a little bit about the competitive advantage that you possess, especially internationally, as you compete with other staircase manufacturers?
Our product's strength and quality contribute to our advantage, and the reputation of "Made in Japan" has been beneficial, particularly in the automotive industry. That has given us a push in providing our products to the global market.
However, the construction industry is primarily focused on local supply and consumption. While we recognize global competitors, collaborating with them and leveraging our "Made in Japan" brand is the best strategy for entering foreign markets. Such collaborations may even lead to the acquisition of local companies as we develop our overseas business.
---
Z-DWD external staircase
---
Currently, are there any patents that you possess that give you a competitive advantage? Perhaps you might like to share with us the technology behind them?
We do not hold any domestic patents, and we are quite reluctant to apply for patents. The reason behind this is that when registering for patents, we are required to disclose the details of our inventions. For instance, the Z55 staircase, which used precast concrete for the tread, is out of patent. To obtain the patent, we would have had to disclose the concrete recipe.
Similarly, for the double plywood staircase used for noise reduction, the patent would require disclosing the design drawings, which can easily be modified or copied. Therefore, I've come to understand that patents themselves do not provide protection or strength. It is the combination of patent-level knowledge and expertise that truly empowers a company.
An example of this is Southwest Airlines, an LCC (low-cost carrier), which successfully combines various small ideas into a complex scheme that encompasses employee training, flight scheduling, and more. By doing so, they can operate a sophisticated business at a low cost, providing value to customers.
Similarly, our strength lies in various components such as design, manufacturing, sales, material development, and other related aspects of staircase production. It is the aggregation of these components that gives us a unique advantage, which other companies cannot imitate or replicate.
As you mentioned, the stairs you produce are very complex. We know that you've worked on big projects in Shanghai, Singapore, and even one in USA this year. Could you highlight one project that you're particularly proud of? One where you had to overcome significant challenges and ultimately succeeded. Which project stands out as your personal favorite?
One remarkable project that comes to mind is a project in Nashville, USA. Having lived in the US for a while, this project holds a special place for me. We received an order for 150 staircases, which was a massive undertaking. Initially, I was unaware of the purpose behind it but later discovered that these staircases were for Amazon's new buildings.
The general contractors were highly satisfied with our product, which led to repeat orders. This success was a significant achievement for us. Another project that holds great significance is the Beijing Olympic Stadium, where our founder's passion was deeply invested.
Looking ahead, which markets or countries do you see as having the most potential for growth in the mid-term for your company?
First and foremost, the United States is the most attractive market we are currently focusing on. Our products have compatibility with the local market, and we have identified high-potential partners. We are investing capital and human resources to expand our presence in the US.
Additionally, Australia shows potential due to the relatively high wages for welders and the strength of local unions. We have also identified a competitor, or a company specializing in staircases. Collaborating with them could open up opportunities in the Australian market.
Looking further into the future, Indonesia, as well as other Southeast Asian countries, and India, present potential markets. Some of these regions are prone to earthquakes, and our advantage in producing earthquake-resistant staircases makes them attractive markets for our products.
Your company is celebrating 72 years, and our readers, mostly CEOs, decision-makers, and like-minded individuals, are always looking for potential partners and collaborations. With that in mind, how would you define your company? How would you like it to be perceived?
We aim to embody and showcase the spirit of Japanese monozukuri. While there are critics who may question certain aspects of Japanese monozukuri, having lived outside of Japan, I have come to appreciate the many positive qualities it offers.
Specifically, the diligence exhibited by the Japanese people is truly remarkable. Individuals work with precision, taking great responsibility for their actions without the need for external enforcement. This voluntary commitment to diligence is a core strength that is reflected in the quality of our work. We strive to maintain this spirit and be recognized globally for the Japanese values we embody.
Furthermore, by embracing this Japanese spirit, we seek to create a positive impact on a global scale. As part of our company mission, we actively engage in global endeavors, providing numerous opportunities for Japanese individuals to contribute their expertise and skills overseas. The outcomes from this also define our company's success.