In the past two years, COVID has posed many challenges to the global logistics sector; quarantine measures impacting human resources, the grounding of commercial air flights affecting shipping capacity and in addition to the near tripling of oil prices compounded by the Ukraine crisis, 77% of international ports experienced delays last year. What can be done to ensure that these disruptions will not happen again?
The shortage of containers already existed even before COVID in 2019. In China, which accounted for about 98% of all shipping container production, container production fell about 40% year-on-year in 2019 due to wariness about the economy's prospects affected by the trade friction between the US and China. Then, the global economy took a downturn and there was a stalling of manufacturing due to the pandemic. China went into lockdown and implemented COVID measures quite quickly compared to other countries. As a result of going into lockdown immediately, they were able to reboot their economy relatively faster than everyone else. When the US and Europe were struggling with stay-at-home measures, China was already up on its feet and ready to manufacture and export goods to the west. The global outbreak of COVID affected logistics, such as the reception of containers from China, particularly for the US and Europe. Port workers not being able to report to work led to delays in the operation of ships. For these reasons, containers transported from China have been stuck at ports in the US and Europe, and fewer containers have been supplied to other regions, thus the shortage of containers available for shipping persists. Moreover, domestic infrastructure logistics had also taken a hit because the business could not continue as usual. To meet a deadline without being affected by shipping delays, air transportation was used, especially when passenger flights were grounded. In my opinion, it is a complex issue with no easy solution. I do not think there is a good solution in the short term. One of the solutions in the long term may be decentralization of container manufacturing bases which are concentrated in China. Another may be improvement of the processing capacity of the ports, which is very labor-intensive, to help them become more efficient by incorporating more AI and digitized services. Unless there are changes on such a fundamental level, it will be very difficult to see a great improvement within the environment.
Logistics is a sector that is right for digital transformation. Yasuda has developed the YOURS II, a comprehensive management logistics system that connects each `warehouse online and controls customers' logistics operations efficiently and accurately. What motivated you to develop the YOURS II?
Various elements of the infrastructure field, like the warehouses, are also labor-intensive. There are a lot of challenges and pressure on the laborers, especially with regard to Japan's aging and demographic decline. It is important to start utilizing such systems to relieve the load off of the workers within the warehouses and ports.
We have developed and introduced a warehouse management system called YOURS from an early stage, and we decided to find a way to optimize it by integrating different elements and different material handling devices to fit the current needs. The first YOURS was in 1998, and the YOURS II was developed in 2007, which we have already been using for 15 years. We are trying to improve YOURS, and we are looking forward to the development of the Next YOURS.
---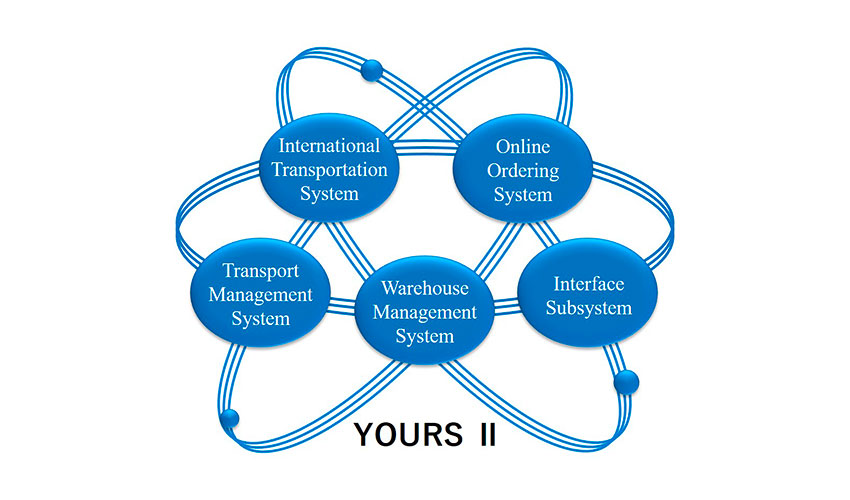 Yasuda Original Useful & Reliable System Ⅱ
---
The Shanghai lockdown has created chaos in many industries. We are seeing a heightened call for diversification of supply chains, which many countries are eager to participate in, like Indonesia. Several firms in Japan are trying to bring certain types of component manufacturing back to the country. When we interviewed the president of Nishitetsu, he told us that he believed that this was a great opportunity for Japanese ports to take traffic away from their Chinese counterparts and for logistics service providers who, through international services, stand as a credible alternative. Do you agree with his opinion that this would be an opportunity for Japan? As a company with many bases and a strong presence in China, how have you experienced these big disruptions?
In 2000, there were three Japanese ports, Chiba, Nagoya and Yokohama, included in the Global Top 20 Ports. However, only Nagoya remained on that list in 2016. During that time, China continued to strengthen its presence. Nine out of the 20 top ports are Chinese. Before COVID, there was this understanding among manufacturers that it was important not to overly rely on China. They were thinking of strategies like having a manufacturing base apart from China, which is crucial in diversifying their supply chain. It has been on their radar before the pandemic, especially looking at China's economic, military and political situation. However, it goes without saying that China remains a giant in manufacturing and logistics, with its great opportunities and the position that it holds within the global economy. The country's market and population are highly attractive. Furthermore, the entire economy has already established a framework around China. It is very difficult to implement the changes that manufacturers have aimed for. Sentimentally, I want to remain hopeful and optimistic about the opportunities that Japan may have. However, in reality, I believe that it is challenging. There is no way to win when it comes to the volume and the traffic of Chinese ports. They have a larger capacity for receiving large container ships. Japan can display its strength in the efficiency of its system at the ports, greener logistics and more comfortable working & service environment.
We have two companies in China, forwarding and warehousing. Our warehousing company is stable because it is based on managing the goods directed toward the Chinese market from Japan. Trade, as a whole, has suffered, affecting our forwarding company that deals with raw materials such as steel and iron. Recently, however, Japanese firms have been more reliant and open to importing such products from China. Our business is not in dire straits at all but steadily improving. From our perspective, the Chinese market is still going to play a vital role in our international strategy, though we may not necessarily continue to invest heavily in that.
You employ a six axis management strategy, where you supplement your logistics business with other forms others such as archiving, office relocation, real estate, as well as custom clearance services. What are some advantages of this strategy that you are employing, and what synergies are you able to create amongst your various business lines?
Around 30 years ago, we handled large-scale computers from a famous US company that required precise cargo handling. Because that proved to be our strength from the beginning, we garnered a reputation of being reliable in handling IT equipment and medical devices. We can provide high-quality cargo handling for these varied segments such as the domestic logistics, e-commerce logistics, archiving, and office relocation.
We deal with international companies that are looking to meet their logistic needs in Japan, but a lot of those are Japanese companies supporting their logistical needs overseas. That has been the framework of our international operations. We are also seeing significant growth in the handling of medical equipment because we are the only logistics company certified to repair and maintain medical devices, an additional service that we provide to our clients.
Our subsidiary, Japan Business Logistics, has an ISO-certified testing facility that involves various testing and inspection like the quality of packaging, temperature or vibration, which may affect the cargo.
In 2020, you engaged in a business tie-up with OKI Crosstech for the Medical Device and Support business field, where you opened the Tokyo Medical Logistics Center, which provides a comprehensive one-stop service for medical device manufacturers. Why did you decide to provide specific services to the medical field? Are you looking for any similar business tie-ups in international markets?
It has been four years since I assumed the presidency. When I began to embark on this journey, I wondered where to concentrate our resources and help the company grow in the best possible way. Considering the challenges of Japan's shrinking market, declining population and other domestic struggles, I saw that the medical equipment and pharmaceutical sector has much potential for growth.
With our precision equipment handling know-how cultivated over many years and the business tie-up with OKI Crosstech, we have established a solid base for our medical logistics business in Japan, and we are able to provide services and handle medical devices. In the future, we want to be able to provide our services to global clients as well.
---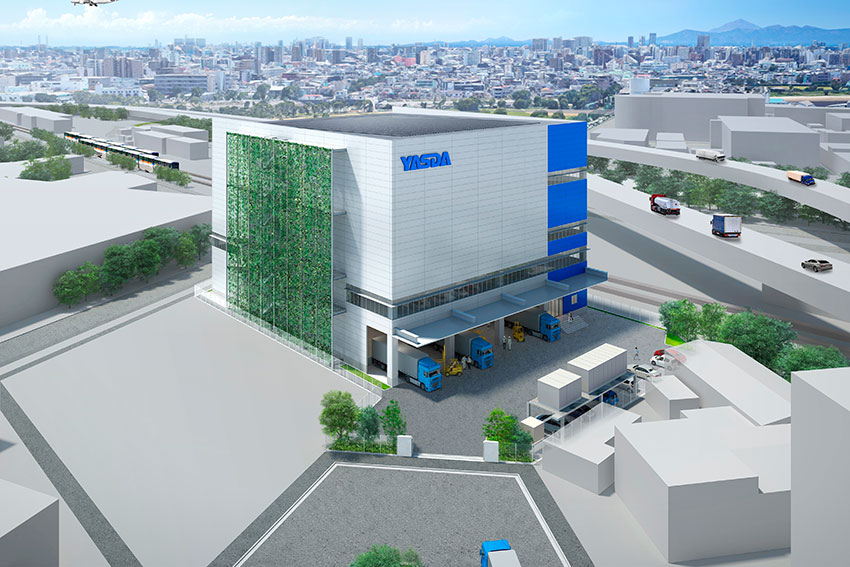 An image of the completion of the Haneda Medical Logistics Center (scheduled to be constructed), which is close to Haneda Airport, and enables medical equipment next-day delivery to remote regions of Japan with air transportation
---
Moving forward, which countries or regions have you identified for further expansion, and what strategies will you employ to do so?
Southeast Asia will continue to be our primary target for expansion. We are already present in China, Vietnam and Indonesia, but we are also looking to expand to Singapore, Malaysia, Thailand and India. Secondly, I think it will be very important to have a stronghold in North America moving forward. At the moment, our overseas warehousing company is only in China. Meanwhile, we only offer forwarding services in Indonesia and Vietnam, so we are looking to expand and provide warehousing capacity to our business there.
Is there a particular goal or ambition that you would like to achieve during your time as president of Yasuda?
In order to realize our "Long-term Vision for 2030," we have formulated a Middle-term Management Plan for FY2022 to FY2024. Our long-term vision looks at 2030, identifying the most important things in view of how our company can become truly responsive and resilient in dealing with the different challenges in Japan, like the aging of the working population, shrinking of the domestic market, environmental concerns and the need to shift to a different working style. We will continue to embrace the keyword "technology" in our midterm strategy.
Since our sector is very labor-intensive, we will not be able to continue to have a viable and sustainable strategy for operations that will yield productivity, profit and growth without outgrowing from labor-intensive. It will be crucial to introduce and integrate digital technologies and IoT to improve efficiency and decrease our dependence on workers. We have also set a goal for 2024, YASDA Next Challenge 2024, which highlights our company's values of sincerely listening to our clients and making their needs a priority.
We want to double what we are today by 2030. As a small company, we want to steadily grow. I think it is critical to prioritize and ensure that we keep on holding fast to "YASDA Value" and continue to expand our high-quality services within the business areas that we have established domestically and internationally.
---