Your company is in the moving business, but one of the biggest changes that the COVID-19 pandemic has brought about has been the change in work-home lifestyles. As moving and logistics experts, what changes have you seen in the Japanese market regarding the emigration from cities to rural areas, and how has it affected your business in the last few years?
We felt quite the impact of the COVID-19 pandemic, especially during the initial wave in 2020, and right now Japan is experiencing the 7th wave. When the pandemic first hit, our orders from both personal and commercial clients suddenly dropped. We were so surprised because it was the first time something like this had ever happened. After the first wave calmed down a bit, the personal clients came back to us because a lot of them wanted to move from the urban area to the rural area, especially in Tokyo's 23 wards. After that, a lot of companies then started doing teleworking and they realized that they no longer need large office spaces, so what we saw happening was a lot of commercial clients started moving to smaller office spaces.
Ever since the pandemic happened we are seeing a growth in the number of orders from personal clients, however, our orders from commercial clients remained low for about a year after the first wave. In other words, there were only limited numbers of moving orders from companies and their employees. That dry spell lasted until March 2021, and typically March is the highest season for moving. Thankfully we have seen a recovery in the relocation needs of corporate clients, and right now we are back to about 70% of our pre-pandemic level, meaning there still is a little bit of recovery left to do. Despite this fact, we are still seeing a rise in the demand for personal clients wanting to relocate, especially from clients that moved from urban areas during the initial wave of COVID-19. We are seeing a trend where those clients are now wanting to move back to urban areas now that the country is starting to open up again. I think this is due in part to companies reducing the amount of teleworking they are allowing their employees to do, and therefore workers need to start coming back to offices again. Even if those visits to the office are only once or twice a week, we are finding that workers don't want to use public transportation for long commutes, and therefore they want to move back to a location that is closer to their offices.
Overall, due to the COVID-19 pandemic, despite there being the odd hiccup here and there, the moving industry overall hasn't been too negatively impacted by the pandemic. We have as a company been able to maintain the status quo.
---

Art Moving Company moving van
---
Your company is seen as a pioneer in the moving industry, having created new techniques to move in a safe and clean manner. Can you tell us what allowed you to be a pioneer in the Japanese moving industry?
Let me go back to the point in which we were founded, which was in 1968 when we were established as a transportation company. The transportation industry is really a labor-intensive industry, and it is far from delicate services. However, when it comes to moving, it is always the case that wives play a central role in coordinating from beginning to end. We realized that we should be a service company rather than a transportation company, and that has been the commitment ever since the foundation of our company. As you mentioned it is very difficult to move around large furniture in Japanese apartments, and as you are aware the doors are so small and the stairs are so steep. We have realized that we need to train our employees, therefore we established a training house.
---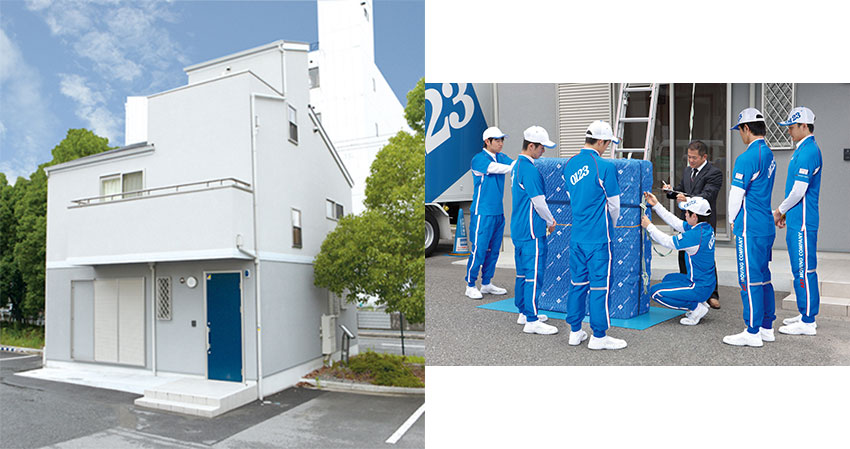 Training house
---
It is a detached house on the premises of our branch and serves to help train the employees there. The interior corridors and stairs inside the training house are made to meet the very bare minimum size under Japanese construction standards so that our employees can train in the toughest environments possible.
So you can see that we are brushing up on the techniques for moving every day. One thing you mentioned was the cleanness of our technology, and actually, when you move large furniture normally you clean up the front side of the furniture, but when you look at the other side you find a lot of dust and debris. The normal transportation companies just move the furniture as it is to the new clean house, however, we felt that it shouldn't be the case for a service company, so we decided to clean up that dust on the furniture when bringing it into a clean new house. We also have our employees change their socks when they enter a new house because you tend to find that socks, in particular, collect a lot of dust and get very dirty when moving around furniture.
Under the late Abe Shinzo, we had Abenomics, and a change in the working style. More women were brought into the workforce, the retirement age was increased, and efforts made to attract foreigners to come work in Japan. What steps have you taken to appeal your services to women or foreigners in line with these changes?
Regardless of nationality, we provide all the services we have to our clients. Let me digress a little bit here, you mentioned women working in different industries and that was promoted by former Prime Minister Abe Shizo's administration. In fact, we already have started a package for female clients as well called Ladies Pack from 2002. Normally when it comes to moving, a lot of male employees come to your house to move around your furniture, but we actually have many female teams who provides the service for moving. We have our female team to provide a service that allows our female clients to feel comfortable, and a lot of clients are very satisfied with this service.
What are the effects of Japan's decreasing demography on your business which is so labor intensive, and what are some of the steps that you're taking to mitigate these challenges?
As you mentioned, the declining labor force is a serious issue for our business as well, and to be frank, we experienced that before even COVID hit. Especially in the transportation industry, it is difficult to appeal to young people, and they don't find it an attractive career. I think this is due to its negative association with the toughness of the work, and the long hours of required overtime. In the logistics industry, all you need to do is move stuff from location to location, but when it comes to the moving industry, it's not just about moving. You must load and unload furniture and set up the furniture in the new location in front of the client. This requires a high skill level, and in that context, we have had a lot of difficulties hiring new people, especially drivers.
On the other hand, however, in the moving industry, you can actually listen to the clients directly and there are a lot of touch points. Often our employees will receive words of appreciation directly from the clients, and something as simple as "thank you," can be a big motivator for our staff. With that in consideration, the satisfaction rate of our employees is actually quite high. Although it is difficult to recruit new staff, the ones that we do recruit are treated well and we try to retain them for a longer period.
In order to raise the motivation of our employees, we hold a lot of events, such as competition amongst moving staff. Competition for moving staff skills are held once a year, in which contestants are selected from among employees nationwide, regardless of gender, to improve their skills and increase their motivation. We also have competitions among our sales staff too, and it is done in the hopes of raising camaraderie and morale. To address the declining labor force issues, we are also focusing on strategies for recruitment, especially for part-timers who are crucial to this industry. We dedicate a lot of time and resources to the training of student part-timers, with the idea that once they graduate we can hire them on a full-time basis.
The long work times are also an issue that we have addressed by setting up fixed company-wide holidays, which is quite rare in this industry because moving companies should operate 365days. Of course, we are losing some opportunities by having these holidays, but it will lead to more employee satisfaction which in my opinion is more important.
What digital tools or AI-based applications are you using to make a more efficient operation in your day-to-day work?
We are considering utilizing digital tools and AI, but in reality, unlike in the usual transportation industry, it is very difficult to introduce AI system because we are not moving the same shape or size of stuff from one place to another. Another factor to consider is that when we relocate a person's possessions, the environment is always different, and each and every client is like a first-time trial. Therefore, even though we are trying to employ AI tools for our processes, it is very difficult to standardize our process.
I would say that we understand the need to digitize the process steps to the extent possible, and the estimation process is one of them. In the past, we used to dispatch one of our sales people to the house to count the number and to check the size of furniture items, and once they counted those items they would manually write that down. In recent times, however, we have let them carry a tablet so that they can use it during the estimation process. By doing this they are able to save a lot of time because those tablets are connected to the office networks, meaning data is instantly shared and available for sales staff. We also conduct payments via digital services, meaning that the staff can get payments in real-time. We are also using digital boards to keep track of the day's moving assignments and staffing for dispatch the trucks in our branch. It is much different than our old method, which essentially was just a whiteboard. Now with the digital board, we can see real-time updates on exactly where our drivers are. In fact, all of the branches nationwide can take a look at these real-time schedules of the trucks.
We have also launched a new online system called Mirai in 2020 , and normally with our services you need to dispatch a sales person to the client's house in order to take a look at the number of pieces of furniture, however, due to COVID-19 we found that many clients did not want a stranger coming into their house. This was the reason we established Mirai, and it enables clients to show their faces and contact our sales staff online, and through this system, we can also count the furniture and provide estimates to the clients. Both clients and salespeople can avoid unnecessary contact and save time.
---

---
In recent years, Art Group has engaged in a policy of M&As, in 2006 you acquired Footwork International, in 2017 you acquired Duck Moving Company, and this year you obtained a controlling stake in Yamato Home Convenience. What was the motivation behind getting that controlling stake in Yamato Home Convenience, and moving forward what kind of M&As will you be pursuing in the future?
Let me talk about the investment in Yamato Home Convenience, which is the moving division of the Yamato group. Our company is very good at moving and relocating larger families, however, we need to expand small-sized families or singles moving such as Yamato Home Convenience. Thus, we thought that we could bring about a synergy if we combine our advantages together. That was the prospect that we brought about through this investment.
We are active in finding M&A opportunities to find more synergy with a new potential partner, if the business relates to our general life living.
As you mentioned, we have a presence in the US as well as Shanghai China, and those are mainly providing support services for corporate clients looking for relocation services for their own offices and staff. Many people do not know the fact that about half of our sales are based on the corporate clients. Although our focus is mainly on the domestic market at this moment, we don't want to have any limit within the moving business. Therefore, if our clients need any support, we are willing to give the best performance as much as possible.
You mentioned Art Planning, and originally their main focus is to provide design and construction services based on the North American import of goods and materials. Today, the company is not limited to North American design, but is also involved in the sale of condominiums and detached houses in Japan, as well as the renovation of existing properties. If a client purchases an apartment, our moving services are already included.
At its core, Art Moving Company is a family business founded by the Terada family. Each generation leaves their own imprint on the company's history. Is there an ultimate goal or objective that you would like to achieve during your time as president?
Both of my parents are the founder of this company, and in fact, they are still managing the whole ART Group. In addition, it is my great honor to be the head of company as the second generation that is known as a pioneer in the Japanese moving industry. We established Japanese moving business structure from scratch, and our business philosophy is considered as a "service company", not a transportation company.
In our company, we can find a lot of family members among our employees, with some parent and child working together, as well as some husbands and wives. We will take good care of those families and continue this trend, so that those employees feel like they want to have their children work in our company as well. Based on this philosophy we would like to continue to expand beyond the borders of the domestic market and overseas as well. Our service demonstrates our key core strengths well and I believe that foreign clients will be surprised by the level of service we provide.