Can you give us your analysis on the current Japanese working mindset?
The Japanese used to have loyalty to their companies, and almost all salary workers in the same company had a unified target which led to a company's development. It was the Japanese culture and it came naturally, but due to commercialization, it feels as though the younger generation is changing to a more American style. There are certainly good parts to it, however, I feel that Japanese people may misunderstand some aspects. Our company also has a negative impact when it comes to the management of its employees. We set a target or goal as a company and obviously employees respect that, however, they seem to be gradually shifting priority to their own personal goals. Sometimes they may select their own personal goals over the goals of the company. It is not necessarily a bad thing, but it can be a potential issue for Japanese society when personal and professional lives mix.
Nowadays this mindset is changing, but Japan remains a country that is reliable to its partners. We are currently seeing Chinese manufacturers gaining market shares due to cheap labor costs. Nevertheless, many companies go back to Japanese firms because of their reliable service. What are the competitive advantages of a Japanese firm? What advantages can your company provide customers compared to regional competitors?
Let me give you an example of our company's experience overseas. We had a long-term drilling project offshore in Iran for one of the subsidiaries of the National Iranian Oil Company (NIOC) using two drilling rigs and they continued drilling operations for about 15 years. At that time, the U.S. was imposing sanctions on Iran, and although our drilling operations were not the sanctioned activities, we received a lot of pressure from banks etc., and even domestically before starting our drilling operations in Iran, we had to hold a lot of discussions with the concerned ministries of Japanese government. One ministry encouraged our work with Iran because they say it was allowed under international law, however, another ministry was opposed to this, giving priority to maintaining good relations with the U.S. We eventually decided on working with Iran, but in order to avoid unnecessary issues, we had to create a foreign SPC and have it made an agreement with NIOC's subsidiary to carry out drilling operations. After starting such drilling operations, a Chinese firm came into Iran with newly built drilling rigs as well as with the Chinese government's strong support. Unfortunately, this swayed NIOC's subsidiary to go with the Chinese firm and even told us we can leave. We stayed though, because we thought we should complete the contract, and after only one year, the situation changed drastically. The Iranians soon realized that the Chinese firm could not provide reliable services for them and came back to us.
I'm not saying that the Japanese way is better or that the Chinese way is wrong. Both have pros and cons. The Chinese method is to use any available measures, which sometimes lead to realizing their goal in a short period of time. The Japanese method, however, is stubbornly diligent and honest, which often needs a long period of time to be appreciated by foreign counterparties
I am afraid that Japanese people are not becoming enthusiastic about their work and simply have almost no intention to enjoy working. This slowly but steadily leads to the issues I mentioned prior about Japanese society. Before, Japanese people were naturally focused on their company's development and goals. Nowadays, Japanese people are shifting their focus to their private life's development and goals, and reflecting such trends, people look as if they forget to enjoy working and do not seek their sense of achievement. This in turn is having a negative impact on the development of Japanese society.
You operate five drilling rigs which can be divided into three main categories. You have your jack-up type, of which you have three, you have your semi-submersible type, which you have one, and your drillship too. How do your different rig types help you to cater to different drilling environments?
The biggest difference among the three types of rigs is station keeping at the drilling location. Jack-ups are designed to operate in shallow water with elevating legs that penetrate the seabed. Since they are bottom bearing, they are steady and relatively motion free during drilling. Semi-submersible rigs and drillships are designed for deeper water than jack-ups. By station keeping, I mean staying positioned over the wellhead location on the seafloor and within an operationally defined radius by using either a mooring system or a dynamic positioning system. We established and maintain a high safety standard with a Health, Safety, Quality and Environment (HSQE) management system. A HSQE management system refers to the systematic integrated approach that forms part of an organization's overall management system. It has the aim of effectively managing occupational health, safety, and environmental hazards and risks. All personnel on the rig are involved in rig operations, including rig positioning, so everyone plays role. As appropriate, we periodically send junior personnel aboard for training so they can build their qualifications.
Offshore drilling is crucial to extracting natural resources from under the bedrock. This can pose many environmental hazards, such as oil spills like the BP oil disaster of 2010 which released 5 million barrels of oil into the Gulf of Mexico. How do you ensure the safety of the environment when conducting your offshore drilling project?
The BP disaster should never have happened in our industry. As professionals, all concerned parties, including drilling companies, must take all possible measures to prevent anything like this from ever happening. However, it did happen. All of us should be very particular about not causing any oceanic pollution. To that end, our company is conducting systematic inspections and preventive replacements of parts in order to avoid leakage and make sure we never cause any damage to the ocean.
Maintenance and repair are obviously key to keeping a clean environment, and also for ensuring the safety and longevity of the drilling rigs you operate. For your semi-submersible rig, you have developed this attached all-in-one structure called Deepdish, which improves the rigidity of the hull. Could you explain the Deepdish in more detail and tell us how is it superior to other structures in the offshore drilling industry?
---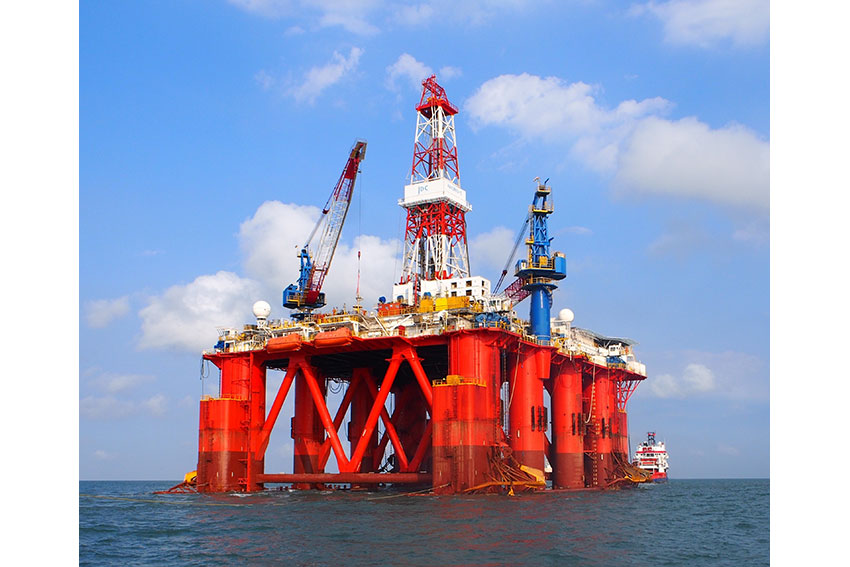 ---
Semi-submersibles normally have four to eight columns, so in order to reinforce the structure and to increase the floating capacity, we normally put sponsons outside the columns. This conventional way needs much time for modification, so we invested another way of adding the floating structure. We construct the Deepdish structure in advance. Once constructed, we move the semi-submersible rig onto the Deepdish structure and weld them together. It is amazing how short the period of modification is.
Offshore drilling rigs are often located in very isolated and dangerous regions of the planet. What technologies are you utilizing to ensure the safety of the rigs you operate from natural elements such as rough seas, strong winds, and saltwater corrosion?
---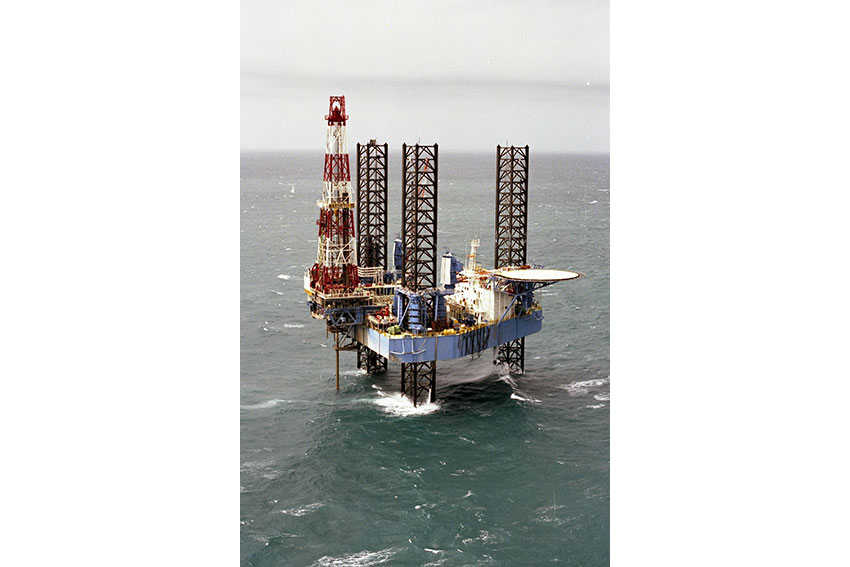 ---
Unfortunately, when it comes to heavy natural disasters, technology cannot fully overcome those natural factors. It is important for people to realize this fact and to avoid potential dangers at an early stage. To make this as easy as possible, we have developed thorough safety regulations on what to do, should one of these natural disasters strike. All international drilling companies have these; however, it is not a common standard, more like a rough global standard for disaster prevention. We have a strict monitoring system for waves, winds and climate changes, so we can determine beforehand whether to move a rig or stop drilling operations. Our clients in the oil industry have their own regulations as well, so before starting a project for such clients, it is important to fill in the discrepancies between our company's and the client's regulations. Both companies should be on the same page in case of an emergency, for which adding or mixing regulations to fit are required.
Having partnerships is key to penetrating new markets or developing new technologies. What role do partnerships play in your business model and are you looking for any partners in overseas markets?
The drilling industry initially emerged in the U.S. and Europe, and as a mindset, drilling companies normally do not like a complex scheme like a partnership and prefer to keep their independent management. JDC is the first company to break this tradition. We have worked with Qatar Petroleum (QP), which is the national petroleum company of Qatar and established a joint venture drilling company, namely Gulf Drilling International, in Qatar 18 years ago and continued working with QP for about 10 years until expiry of the joint venture agreement. Ironically, the Qatari drilling company became bigger than us. The reason we selected to create a local joint venture mainly comes down to being able to continue our business in Qatar. We thought it important to be on good terms with such a big petroleum company, without being afraid of a conflict of interest arising from a joint venture structure.
To give you some background, drilling companies are paid on a day rate by petroleum companies. There is potentially a conflict of interest where drilling companies prefer to have a higher day rate, whereas petroleum companies want to lower the day rate. I think it astonished Western companies when these two opposing sides joined forces and thereafter retained a good relationship for 10 years. Our day rate was lowered as a result, but from a long-term point of view, we were able to do good work in Qatar. If there would be such a new partnership that requires a scheme similar to the one in Qatar, we might decide to pursue it.
JDC is a very unique company in the industry. Qatar was not the only joint venture we have pursued. In the past, we have established joint ventures in Malaysia, Iran, Indonesia, Abu Dhabi and China. We established a joint venture drilling company with China National Offshore Oil Corporation (CNOOC), and after expiry of the joint venture agreement, such drilling company expanded its rig fleet and become a giant company, namely China Offshore Services Limited (COSL), which now has the largest number of drilling rigs in the world.
For our company, looking at the future, we are not sure if our approach and strategy is acting to our advantage since joint venture companies are possibly becoming bigger and are dominating the market. I would say those countries where joint venture companies we have created are enjoying growth such as Qatar and China must appreciate our past efforts.
In conducting interviews, a lot of companies from varying sectors all described that finding customers is the best way to grow as a company. Your company has a long list of customers, mostly in Southeast Asia. In the future, are you looking to increase your customer portfolio, and if so, which regions or countries?
As a drilling company, we are very open to going anywhere that has demand or work available. Our major focus currently is Southeast Asia, mainly because it is not geographically distant from our head office as well as we feel the Asians have a similar mindset. Completing jobs steadily in the region makes a chain reaction that leads to more work and more trust. That is how we are surviving for more than 50 years. Western Africa is an attractive area too. It is rather remote and need more costs to provide drilling services there, however, the day rates in this area are generally high and so we can maneuver.
In the past, we have tried to work in Mexico where we approached top local personnel in the oil industry, aiming at creating a joint venture, and Saudi Arabia where we established a subsidiary in expectation of starting our business there. Unfortunately, neither region worked out in the long run.
The life of a company has its ups and downs, and we know that in 2018, JDC filed for insolvency. Nevertheless, you are growing stronger since then. Could you explain what happened and what is your vision for the future in order to grow the company?
Back in 2018, our company went bankrupt when the oil industry fell into a long recession while we had already ordered two new jack-up rigs. Each rig costed around JPY 25 billion to construct and the construction of each rig took about three years. However, oil prices crashed suddenly and the recession in the drilling industry followed for several years due to much less demand. We were not able to afford to pay back the debt we incurred.
In the same year, we filed the corporate reorganization proceedings to the Tokyo district court and as a matter of course, were delisted from the Tokyo stock exchange. Since then, we are making every efforts to downsize and streamline the company structure and employees which now enable us to reduce our costs and to become more efficient and even profitable.
Imagine that we come back to do this interview again in six years. What would you like to tell us? What are your goals for the next six years?
If you came back in six years' time, the situation surrounding us would drastically change. I believe the moves accelerated by IEA's announcement last year towards carbon neutrality have been expedited. I would say, however, that the proposed timeline seems to be lacking foresight in terms of the period necessary for replacing natural fossil fuels with more renewable energy sources. As a global society, it is very important for environmental sustainability to move in the direction of carbon neutrality. With that said, our company will gradually lose drilling works for oil and natural gas. What is important now for us is to fully utilize our expertise and past experiences and to launch our new business that can utilize our skillful drilling technology in other areas than oil and natural gas drilling. We are looking into alternatives such as drilling for methane hydrate and carbon capture and storage etc. In the near future, when you come back, we hope that we can talk a lot about other types of our business.