Japan being an island nation means that it relies on 95% of its energy being imported and the Kishida administration has revised Japan's basic energy plan to focus more on renewables. Since the Fukushima disaster of 2011, nuclear power has fallen out of favor, but despite this, advocates for it champion its ability to reduce industrial manufacturing costs, which in Japan are three times higher than that of the United States or China. The current narrative being Japan's energy mix is robbing it of its international competitiveness. What do you think is the best energy mix for Japan?
As you mentioned, we are relying on energy from outside of Japan, and I think that mindset needs to change and we need to become more self-sufficient. The biggest energy resources of the near future will be renewables and the figures need to go over 50%. Internally, we are doing an analysis of how much we can increase renewables in Japan. We are doing this analysis in other countries too, but in Japan's case, we are seeing that 70% of energy requirements can be fulfilled domestically through renewable sources with only a 20% cost increase. By cost increase, I mean household energy bill costs. While right now it is only in Japanese, we have just published a book on this topic ("The Carbon Neutral Part I: CO2 emissions can be halved in Japan in an economically rational manner with renewable energy + electrification + storage batteries" (unabridged English translation)). In terms of the rest of the energy requirements, I think we might need to rely on fossil fuels as nuclear still has a lot of issues, especially with its perception to local people.
Do you think it is impossible to return to the 54 nuclear reactors Japan had before the 2011 Fukushima disaster?
I do not think it is impossible, but I think we need to have solutions in place from a technical perspective, and a local engagement perspective. It is not only Japan that sees this negative reaction towards nuclear, and that perception stretches all around the world. There is big opposition to nuclear power on a global scale. There is a need to have local communities be a part of these projects, and we as a company learned this in Germany. That level of community involvement and engagement is such a necessity for decentralized energy sources. Compared to nuclear or fossil fuels, there are so many renewable projects. Sure, with nuclear we had 54 plants, but I would not even know where to start in counting solar projects domestically. I think this is a good point of decentralized technology, and there are a lot of projects out there in the domestic market. At the same time, however, we need more involvement from local people before we can push to that 70% domestic renewable energy.
Japan is the only country in the world that is facing what is called the Fourfold Challenge; a lack of human resources, a dependence on the Middle East, high energy costs, and high costs to cut greenhouse gas emissions. As a firm involved in energy, what must Japan do to overcome these?
As I mentioned, we just wrote a book and in that, we talk about how carbon neutrality can be achieved through economic budgets, and one key to that is electrification. The two key factors in my mind are electrification and a push toward using renewable sources. I think it is simply what we need to embed into society: if we promote electrification on the demand side and transition thermal power generation to renewable energy, we can provide renewable electricity without the need to heavily rely on imported power. I think this is the first thing we need to work on.
One point we are trying to work on is creating value in multi-purpose approaches. One example of this is our mixing with agriculture. We have thought about ways to revitalize the agriculture industry. Japan has 40 million hectares of farmland with 10% of that being abandoned. The average age of farmers in Japan is around 70 years old, so it feels as if there is no future for agriculture in Japan if we don't do anything. We feel it is our mission to show what we can do by having a multi-purpose towards both energy and agriculture. If you use that 4 million hectares of abandoned farmland, sure it might be impossible to reach that 100% in terms of domestic energy, but you could contribute a significant amount. To reduce CO2 emissions by half in Japan, approximately 400 gigawatts of photovoltaics (PV), around 200 gigawatts of wind power (onshore wind equivalent), and approximately 500 gigawatt-hours of energy storage are required.
---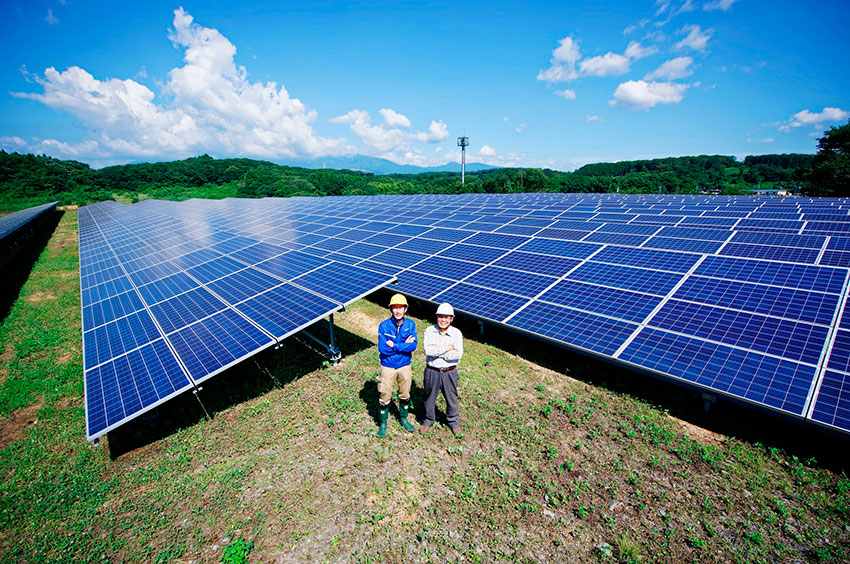 ---
The question then becomes "How can we generate this 400 gigawatts of PV?" One of the solutions we believe can be these abandoned farmlands. Also, regarding wind power generation, m any say that in Japan we don't have enough resources, but we used to work in Hokkaido and if you go there you will be surprised at the amount and strength of the wind there. We feel that we should focus on utilizing this wind in Hokkaido. Offshore wind is an excellent resource for cheap electricity that is renewable.
In terms of electrification, that has to be done in households and within the mobility sector. With mobility especially, automobiles, buses, and airplanes need to convert using electricity. I think this conversion is very possible and I think awareness is an important point. To summarize my point we need to leverage what we have in Japan that makes us unique, and while obviously, we cannot compete with fossil fuels in Saudi Arabia for example, there are renewable energy resources that are abundant and unused domestically from region to region.
---
---
You talked about onshore wind projects and Japan is a very challenging country in this regard because 75% of the land is mountainous. How much are you looking towards overseas opportunities to continue your business expansion given the challenges domestically for renewables?
We see a lot of opportunities in other countries, especially in Southeast Asia. That is because the population there is getting bigger and bigger without a stable supply of electricity. The average cost of energy is getting higher and higher there and there are demands for new types of energy from a customer point of view. As you said, we are not sticking to onshore wind for the time being, instead we are going to focus on solar and battery. This gives us the flexibility to be a more stable supplier, and to that end, we have been providing rooftop solutions. Nowadays it depends on the country in terms of regulations in place but we are trying to expand our power purchase agreement (PPA) solutions for customers.
You've signed a PPA with Hokto Malaysia to provide roof-mounted solar panels which have a capacity of 730 kilowatts and are the first PPA you've signed with a Japanese company in Malaysia. What strategies are you going to employ to increase these PPAs, not only with Nikkei clients based overseas but also with local customers as well?
Our targets right now are Japanese companies with global networks. We can be unique towards those kinds of customers. Of course, they can find a local provider to supply a PPA for them but it is not efficient from their point of view. We can provide them with a comprehensive package to deal with multiple locations, so I would say this is one strategy.
This topic will come up a lot more later, but we are trying to completely decentralize our organization. In Malaysia, we have a partner company that is one of the best manufacturers of surgical gloves. It wasn't easy for me to reach out to those local companies and even though we have a network all around the world it was still difficult. Thanks to our decentralized team we have achieved this and they are working very hard to find good customers around the world. It is not directly about having a business strategy rather it is about having this unique company and organizational style. Through this style, we can reach out to more local companies.
When it comes to energy, especially renewables, there are a lot of stakeholders involved; local residents, local governments, and business partners. Could you explain a typical example of the diplomacy you have to engage in to satisfy the demands of all the stakeholders involved?
It is a big headache and a difficult challenge to manage all of the stakeholders involved. Different stakeholders have different needs, and if we change the direction we always risk upsetting one of the many involved. That is why from my real experience it is very important to have a serious purpose. You need to keep showing those stakeholders that the company is working towards that purpose. This purpose has to be very futuristic and common for all human beings. When I've faced a difficult moment such as trying to get a consensus from local communities the company has always tried to show why we are doing what we are doing. While not all the time, most of the time we can align different stakeholders and let them see and understand the direction the company is taking.
With this problem of climate change, the reason why we do things is vital, and that is why we have this multi-purpose approach. We need a broad, planet-perspective approach to solution finding. I think that one challenge we are facing as a planet is rising energy prices, so there is a need for an immediate solution. For us, it is an advantage but at the same time, the amount of needed renewable energy is increasing.
Renewable energy, while not a new thing, is a great opportunity. If we talk about detractors though, they will point to the idea that it is an intermittent source of energy. Wind doesn't blow 24 hours a day and the sun isn't always shining. What would you say to those detractors? In terms of operation and maintenance (O&M) costs, how do you ensure that when you do get energy for your projects you do so in the most efficient manner possible?
With renewable energy you can't just rely on that source alone, you need to have some kind of storage. Additionally, you need to have an IoT that manages the energy source. This has to come together. It can be a big challenge for people in the energy sector because they don't know anything about digital technologies. You need to combine both elements, with a need for integration and mobility in storage solutions. We need to cross sectors to create solutions for society, and luckily thanks to the management of technology the price is becoming lower and lower, especially compared to 10 years ago. Nowadays you can create a base of energy using both the PVs and batteries.
For example, we introduced a microgrid for preventing and reducing disaster in sustainable farm & park "KURKKU FIELDS" in Kisarazu, Chiba Prefecture. The Project introduced solar power generation facilities, 3 units of industrial-use storage batteries, a Tesla Powerpack, and a proprietary Energy Management System (EMS) in one batch. Also, private distribution lines are installed for approximately 1km at the site which connects several facilities with new/existing solar power generation systems with storage batteries. With this, it enables the Facility to be self-sufficient on sunny days, providing electricity to the Facility for its own needs. Even when the power supply from the grid is lost due to, for example, a natural disaster, sufficient power will be supplied by solar power generation system, storage batteries, and private distribution lines, and KURKKU FIELDS will provide some of the facilities as a shelter for local residents.
At the end of the day, these are all steps towards being less reliant on imports and fossil fuels. Offshore wind will still be supplied. We have already started a new era, and there have to be two aspects. One is the demand side, and people who use electricity need to more aggressively use energy from renewable sources for decarbonization and cost reasons. Normal electricity is very costly these days so there is a clear economic benefit to renewable energy. The demand side should accelerate the utilization of renewable energy. The other side you have is the supply side, and I think we need to put more effort into reducing costs. While components costs are down, tariffs are high, so there might not be enough effort from subcontractors and construction companies, and they should have pursued more aggressive reduction efforts. I think unfortunately this is the negative side of the feed-in tariff (FIT), which if you didn't know is a policy mechanism designed to accelerate investment in renewable energy technologies by offering long-term contracts to renewable energy producers.
We strongly believe that there needs to be an element of delegation. There needs to be systems in place so that people can develop their own renewable energy because nowadays it is really difficult to get an understanding from local people. They understand the need to accelerate the use of renewable energy for a sustainable future, but frequently they will say "but not in my backyard". However, I feel that once they feel the benefits they will understand that their quality of life can become much better than now. If they start feeling some clear benefits from using renewable energy their attitude will change, and that is why I believe that the democracy of building power plants is key to the further acceleration of renewable energy usage.
One thing we saw in our research that we are eager to ask you about is that you partnered with a German company called JUWI through a joint venture in 2013, inheriting their technology as well as their expertise. Can you tell us a little more about this partnership you have with them?
It was a coincidence to meet them and that was back in 2012. We've been in the wind business before but we did have many problems operating the wind turbines. Honestly, we felt there was not enough know-how in Japan because the market is too small, so the decision was made to go to Germany to learn after we established the company. We literally just sent them an email, and when we traveled there all three of us stayed in one room together because we needed to save every penny we had. We traveled around meeting several engineering companies in Germany. Luckily we met with JUWI, and frankly, we were very surprised at how balanced Germany's renewable energy business is. They aren't trying just to run businesses, they are essentially creating new lifestyles. We saw their premises and felt that this was something we wanted for ourselves.
When we returned to Japan we started putting a project together, and this was the first project we have done with JUWI. They did the engineering and purchasing of components with global standards. We successfully finished the project, and for the second project, we started discussing setting up a joint venture to do engineering, procurement, and construction (EPC). Being successful in the first project led to the joint venture, and I think that the joint venture, JUWI Shizen Energy, is currently one of the biggest EPC companies in Japan. We've been paired with them for more than 10 years now and we are pleased that the relationship is still quite fruitful.
Before we started this company we saw so much negativity towards power plants and energy generation, especially from local communities in the domestic market. It is why we decided to learn from one of the most advanced nations on the planet. JUWI was one of those companies, and I will say that they have a very strong purpose. Already they were using storage batteries for their electricity and their premises are surrounded by many turbines. That sort of scene inspired us at the time.
In addition to locations in Thailand, Indonesia, and Malaysia, you also have two companies in Brazil, one of course is a joint venture called FazSol, with Brazilian real estate developer Espaço Y. Why Brazil?
One of the values of our company is "enjoy the planet." This value came from when we started our business. I (Ken) live in the mountains now, but in my younger days, I used to surf a lot. When there is a good wind there is a good wave. The same principle can be applied to business and we wanted to create a good business where there is good "surf." This happened to be South America, specifically Brazil. When we look at a market we aren't necessarily looking at the size, moreover, it's about relations. You always need to make partnerships with local companies and individuals.
When I was traveling South Brazil I met this guy who was at San Paolo University, and he came to study in China and he contacted me. At the time he didn't know how far China and Japan were apart, however, he had a strong passion for business and wanted to start his own company. We respect that passion and this is how we expanded abroad. Igniting passion and finding people with talents is the key and why we ended up in Brazil. Shizen Brazil is our local entity, and we have a joint venture with a Brazilian company called Espaço Y meaning two presences in the country.
Have you identified any other markets that have the same level of passion that you would like to further expand into?
A long time ago I was asked by a traditional Japanese company why Shizen Energy is expanding its business so fast to other countries. They said that it seems difficult. My answer to the question was that we had good friends living in the area who had a strong passion to empower the area and empower the country. This is our thinking when entering a new market.
The way we are approaching this is very similar to the transition from TV to Netflix, or Taxis to Uber. Technology is making the change. I think you also have to consider that especially after COVID-19, the way people think and see the world is changing. If we want to create a decentralized energy business, we need to change how we work. I think there is a big gap now, and while the usual way is top-down, nowadays that is changing to go both directions. I think this is a key difficulty Japan is facing because it is very difficult to change the culture of tradition. We aren't just trying to change the business side, we are trying to create this new organizational model, making a workplace where the young generation wants to work. In the past, you used to have to adapt your lifestyle to the workstyle, but now I think it is flipping and workplaces need to adapt to the lifestyles and choices of their employees. I think this is a very important perspective to change things in the world. That is why we are expanding rapidly and although we are a small company, we can hire talented people because of our thinking and modern work culture.
Imagine that we come back in 8 years and have this interview all over again. What goals or dreams would you like to have achieved by the time we come back and have that new interview?
We have all said publicly that we plan to retire when we are all 50 years old, which will be around the year 2030. We believe that succession is very important for an organization to keep staying meaningful. We want the organization to continue to work for a better future, and to do that we shouldn't hold these positions for decade after decade. This is the reason behind our decision to retire in 7 years.
The next generation can be called the second generation of the Shizen Energy Group, and I think they will be strong enough to keep doing good things for the entire world. I want them to continue to pursue endeavors that create a sustainable world. If we together can feel that has been achieved that I will be proud to pass the torch on to the next generation.
(Masaya) On a personal note, my 3 daughters will be around 16 and 10 at that time so I would like to keep surfing with them on some beautiful beaches, perhaps Australia might be the right destination for that. By doing that I can truly understand and take in what we have been working so hard to achieve at Shizen Energy.
(Kenji) One of my daughters' names is Sa yo, which means to make the world colorful. The world nowadays is all based on Capitalism, and it is strange to me; you could describe this capitalism as a gray wash across the world. I want to make the world colorful again for my children. My son is called Soma, which means to hear the sound of wind earnestly. I think that we should think about the future earnestly too. I want to be able to achieve my dreams for my children so they can live within my vision of the future.