Japanese monozukuri has become famous worldwide for its quality and attention to detail in manufacturing. In today's globalized market, companies compete on QCD - quality, cost, and delivery. As for your company, could you share your view on monozukuri, and how it gives you an advantage when operating internationally?
Our company monozukuri focuses on developing new products that cater to the current needs of our customers and end-users. Our monozukuri aims to make people's lives easier and happier and contribute to the happiness of our clients and end-users. By doing so, we strive to increase our profitability.
I would like to ask you a little bit about your business as it relates to tailoring products according to market needs. You study your end users' and clients' needs too. Could you give us your take on how you tailor those products for each client, depending on the country or region of the market?
Regarding tailoring products to market needs, we develop our products based on the needs of society at that time. Looking back at history, Japan was a poor country, but with time, there have been changes in living standards and lifestyle, leading to changes in product demand.
For example, we were the first to manufacture kennels, or dog houses, in Japan when dogs were considered watchdogs and did not have their dwelling places. Our company developed and produced dog houses, which became popular in Japanese society.
---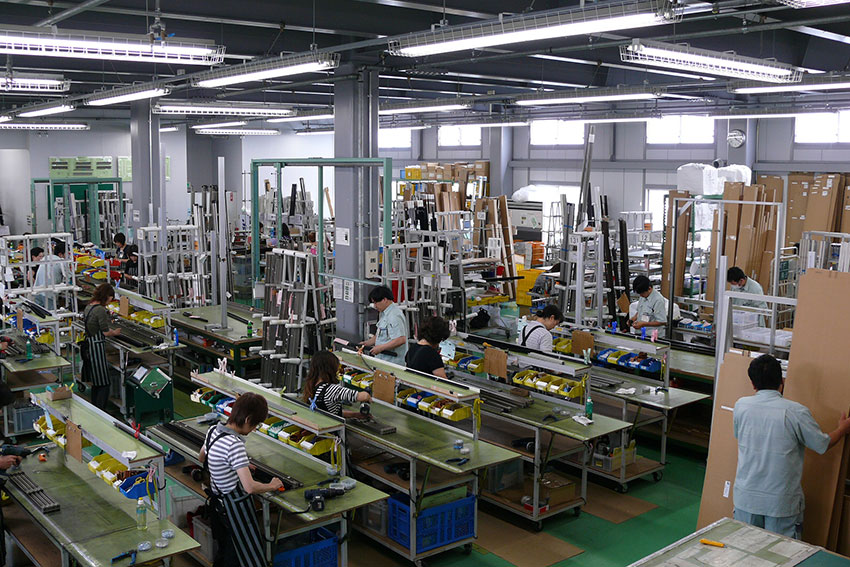 Development & Manufacturing meet Market Needs
---
Next, I would like to ask you about Japan's aging population. Of course, here in Japan, it's known as a super-aged society. It's the oldest country in the world, and many countries are going to follow behind. Currently, 29% of the population is over the age of 65, and there is a low fertility rate of just 1.3. For business, there are two issues. There's shrinking domestic demand for products, and in terms of recruitment, it's becoming much more difficult in a very competitive labor market. Could you give us your take on these population changes, how they're affecting your business, and what actions you're taking to offset them?
Firstly, to offset the reduction of the labor force, we are prioritizing the automation of processes that have conventionally been done manually. We now require fewer people in manufacturing. We are also extending the retirement age from 65 to 70 or 75, as long as employees are fit and willing to work.
Additionally, we welcome foreign workers as part of our technical training program and currently have about 30 Vietnamese workers who have been sending positive feedback to their home country, so we are now able to hire even more Vietnamese workers.
Could you speak about the domestic demand for your products? Have you seen any change in that over the recent years, and are you looking further afield, perhaps to Southeast Asia?
Domestically speaking, of course, with the aging population and the lower fertility rate, the population is shrinking and so is the market. However, we don't find it to be a threat since we have other potential areas to tap into.
Our business is expanding within Japan and at the same time, we are expanding ourselves overseas, including overseas production. The philosophy of Seiki is to create a strategy and collaborate with our partners to ensure their satisfaction with working together with us. This is the baseline for our overseas philosophy.
Speaking of domestic expansion, we have received a big order from a major Japanese window sash manufacturer, producing 500 windows per day. We are currently gathering our resources to cater to this order, which would be about 10,000 units per month and 120,000 per year, so we don't feel any threat currently in terms of our business expansion.
If I may ask a question about the functionality of your product. When you look at condominiums, apartments, or even houses, it's estimated that around 80 to 90% of energy costs could be saved with better insulation, which mainly comes from the windows and doors. Could you explain to us what functionalities you've added to your products and how they allow for lower energy consumption and a smaller environmental footprint?
Traditionally, Japanese windows and doors use aluminum as the raw material, but since it has high heat conductivity, it's not energy-saving. However, we have accumulated a history in plastic molding and formed plastic. We replaced aluminum with plastic, which has heat-resistant properties and contributes to energy savings and insulation.
We have developed unique products that we proposed to a major window manufacturer. We received an OEM order from them, especially for the inner window, and we are now doing OEMs for the products that major window makers have developed.
With this development of your business, I wanted to ask about one of the big trends we see in the construction industry, the idea of modularization, where segments of a house are constructed off-site and then assembled on-site at key connection points. We know that the largest home builders such as Sekisui House specialize in this type of construction method. Could you tell us what challenges and opportunities this trend in the construction industry for off-site modular construction presents for your company?
Our business has not changed with the IT changes in house construction into prefabricated housing made in a factory. However, we collaborate with companies such as Sekisui House to develop the optimal windows for specific types of structures. They give us the specifications, and based on that, we give proposals to them, collaborating to elevate the quality and features of the windows that we provide. This has been a good collaboration to elevate our technical capability.
As the founder of this company, you've been in business for more than 70 years now. Could you highlight for us the biggest challenges you've faced in those seven decades, and what you consider to be the most important technological milestones in your company's history?
There have been many issues and challenges that I have overcome in the 70 years of our history. Japan traditionally uses timber wood as the main source of house construction, and in the early days, we used wooden frames for the windows.
However, the technology to manufacture aluminum sash came to Japan, and that became popular since it has better sealing properties for windows. At that time, there was no rail to add a screen window, so we were one of the first to add a rail for a screen window, and this became a bestseller.
When our screen window became a bestseller throughout Japan, it was thanks to our partnership with Asahi Glass retail stores, which had 140 agents across Japan. However, after our great success, other sash manufacturers developed their own and became our rivals.
They started to sell the sash and sell the screen window for only ¥1 for the rest of the period. Our screen window was sold in the ¥5000 to ¥6000 range at that time, so the wholesalers said, "I'm very sorry, but due to price competitiveness, we need to choose your rivals over you".
As a result, the Asahi Glass agents from Hokkaido to Kyushu had so many stocks of our products in their stockyard that I said we will repurchase all the stocks, but the director of the company said, "If you combine all the stocks, it would be double the height of Mount Fuji".
The hardest experience, or the time when I struggled the most, was when we refunded all the money for the repurchase of their stock. It was so much money that we weren't able to afford it ourselves. What I did was, I went to talk to our main bank and the CEO of the bank, and it turned out that we were both from the same area, Shimada City in Shizuoka prefecture, and we got on very good terms.
Based on this conversation, the CEO said, "If we follow the bank's regulations, I cannot do this, but I have my rights and we will take care of all the refunding that you do." At a low-interest rate, we were able to receive a great amount of loans from this bank. Thanks to that, we were able to survive through this harsh period. A lot of our stock was damaged and couldn't be sold again, so I took some back to my hometown and the farmers used it as a windshield.
How did you turn around the company after that? How did you recover?
We were able to overcome this downtime by making improvements and developing new types of screen windows. With our new products, we were able to pay back our main bank. It's also thanks to Asahi Glass that we were able to sustain our business. Asahi Glass purchased the screen windows we produced during the winter as well as the summer, which helped us a lot.
We're very thankful to Asahi Glass. Looking back at my life, I was very fortunate to meet so many people who helped with our business, including Asahi Glass and the CEO of the bank, among many others.
There are ups and downs in our company, and when the company is down, we continuously make new products. For example, when there was downtime, the president went over to Europe to do research. Europe had a retractable or roll-type window screen on doors, although it was simple at that time. We took that idea and produced it in Japan, and it became a best-seller that rejuvenated our company. That's how we were able to continue our business.
The reason why we are constantly able to create new products is thanks to the incessant efforts made by our employees. For example, the president made a simple drawing of a screen door, and the employees took it and refined it in their way. We ran a contest for new ideas within the company, and we do that every year, so new ideas can easily emerge and be realized.
---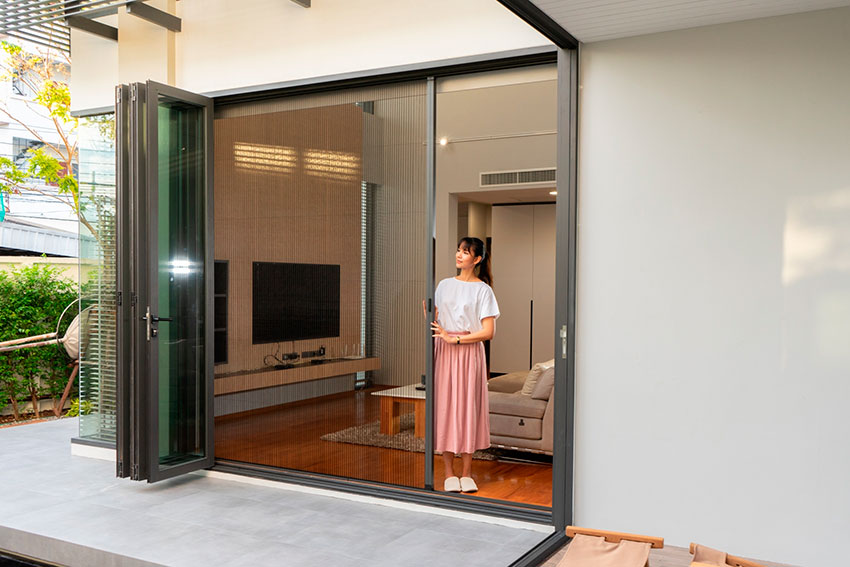 Retractable Pleated Mesh Fly Screen (Monarch Glide)
---
I would like to ask about your international business. Of course, you are a representative of Made In Japan, with very high-quality products, and we know that you export to diverse countries across the world, from Australia to America to Europe and Southeast Asia. Moving forward, though, which countries or regions, in particular, do you see as having the most potential growth for your business overseas?
This is an example of a product that we developed together with academia, namely the Tokyo University of Agriculture and Engineering. We analyzed the characteristics and the movement of mosquitoes and determined what would be the best way to shut out the mosquitoes using a screen door.
Countries, especially in Southeast Asia and Africa, are suffering from malaria and dengue fever caused by mosquitoes, so we want to take this product to those countries which are suffering from these mosquito and insect diseases, first focusing on Southeast Asia, which is close to our location, namely Singapore, Vietnam, Indonesia.
Our products will help solve this problem, and that also acts as a social contribution. That is our international strategy currently. We have some clients in Central America. They also have the same kind of problem with mosquito-borne diseases, such as dengue fever, and we want to help them solve their problem.
I have one more question for you, and this is maybe a question to get to know you and your vision a bit better. As we understand from this interview, you've been working in the company for decades.
As I mentioned before, it is thanks to all the wonderful people I have met that have allowed me to continue the company. Today, two new people have been added, and we are so thankful for you to join us.
As you mentioned in the interview, you have been the president and chairman for many decades. I would like to ask if there is a lesson that you have learned that you would like to share with future employees of your company?
First and foremost, Japan has based its business culture on supplying goodness for the three parties involved - the customers, the society, and ourselves. This is what we call the cycle of goodness, and as a company, we want to continue to base our philosophy upon the traditional Japanese business culture of goodness.
At the same time, the leader must show leadership and be the heart of the company. For example, in Ukraine, the president strongly stated that he is there and present, which inspired Ukraine to be unified. Likewise, leaders should stay strong but at the same time be grateful to all the employees and customers who support the company together.
---
Interview conducted by Paul Mannion & Antoine Azoulay