What is your assessment of the current state of the Japanese construction sector and your forecast for its evolution in the years to come?
Although the overall construction investment has been decreasing on a long-term basis, a substantial number of existing building structures older than 50 years need refurbishing and maintenance, and the missing link of the transportation network needs a solution for it. Those investments in social infrastructure and demands for infrastructure upkeep will continue to increase for some time.
One of Japan's social challenges is depopulation. We need to create core bases in the urban area of local cities to connect them to their surrounding area. Those local areas need an integral arrangement for people to reside, work, and have a pleasant time. I think we can enhance their attractiveness by establishing an energy base or developing the natural surroundings of the area.
Nowadays, each municipality is working on the concept of "Compact City" and/or "Smart City". They are working on new facility building for this purpose by promoting collaboration with private enterprises using the PFI method, for example. We, Sato Kogyo, have a series of achievements in the completed PFI project as well as ongoing projects.
Today, there has been an increasing need to use renewable energy sources. And our company has a business record of solar power generation in the form of its own business as well as EPC business. We are now emphasizing a small-sized hydropower generation project to utilize the water flow of a local river. In this way, we will contribute to the local consumption of locally generated energy.
Sato Kogyo was certified as an Eco-First company in 2020 by the Ministry of Environment. What does this declaration mean to your company and what are some of your initiatives for sustainable development?
First of all, this declaration is well connected with awareness-raising among our staff as a member of an environmentally advanced company. Our Eco-First targets will be the contribution to a decarbonated society by way of CO2 emission reduction, recycling society by way of waste reduction, promoting the formation of a symbiotic society by way of biodiversity conservation, and promoting the environmentally friendly behavior of our staff.
These targets will directly contribute to the achievement of SDGs and the problem-solving of ESG challenges. One of the examples of our specific efforts will be the utilization of hybrid type construction machinery by which we can reduce CO2 emission of the construction site and the use of environmentally friendly design technology like ZEB or ZEH by which we can enhance energy-saving performance and reduce the level of life cycle CO2.
Sato Kogyo will further develop the environmental technology and know-how we have already gained through construction activities and will take social responsibility for the realization of a sustainable society.
Your company has long-standing continuous operations in overseas markets, particularly in Singapore. There are only seven Japanese companies that have A1 certification in the Singaporean market. As the president, what do you believe to be the competitive advantages of Sato Kogyo that distinguish you from the other A1 certified Japanese companies that you compete with within Singapore and Southeast Asia?
One of our competitive advantages in Singapore and other Southeast Asian markets is our 50-year history of business operation and proven track record. Thanks to our staff's dedication to meeting the timeline and having a strong belief in completing projects successfully, we have gained the trust of our customers in Singapore and other Southeast Asian markets.
In one of the subway line construction projects, for example, although we had a slower start with a two-year delay compared to other contractors, we became the first contractor, in the end, to get to the final stage and complete the project.
Our competitors from China and Korea used to have a greater advantage in price, but their increasing prices have narrowed the gap and given us, the Japanese contractors, a higher chance to secure projects, showing the comprehensive competitiveness of Japanese contractors with a firm and sincere commitment to the project. In our case this year, Sato Kogyo has secured the contract for the MRT Cross Island Line project and the LRT depot expansion project for the light rail transit system.
---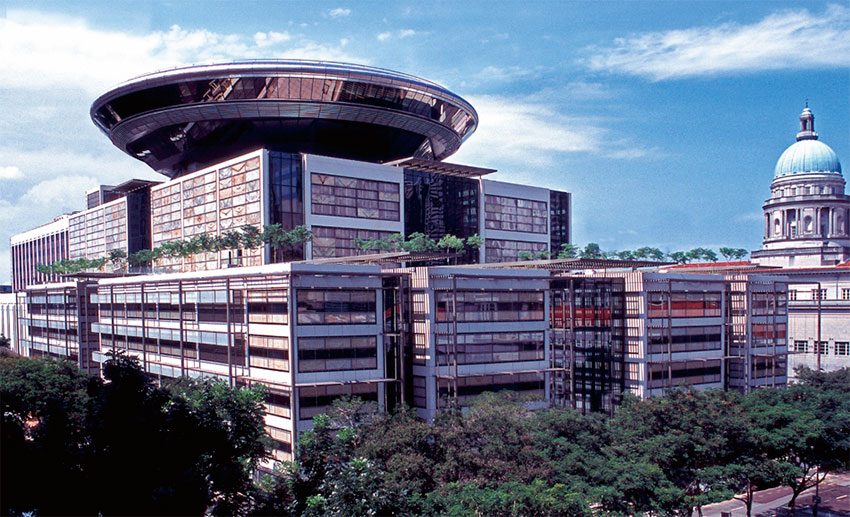 Supreme Court of Singapore
---
Price competitiveness is one of the main criticism of Japanese contractors operating overseas. Singapore, however, is an outlier as a market that gives greater emphasis on quality than price. In fact, it has acted as a gateway for your company to other Southeast Asian markets. Can you tell us about your strategy to replicate the success you have had in Singapore in other nations in Southeast Asia?
Business customs, cultures, and rules are unique to each country. Therefore, we need to understand thoroughly what our clients in foreign countries are looking for, or their real needs and demands and the prices will depend on each market of each country too. Although we have been successful in Singapore, it does not automatically mean that we will attain the same measure of success in other countries. We need to gather information about the local region and the local market so that we can find a way to expand our business effectively. In Singapore, we employ and work with a number of local engineers, staff, and workers. We plan to use the same approach when entering new markets, although it may take time to expand. Our strong points are that we have a long history of business presence and a proven track record in Singapore, Malaysia, Thailand, and Cambodia. Our overseas business accounts for approximately 20% to 25% on average in terms of sales volume. This ratio varies from year to year, of course. We would like to grow our overseas business further in the countries where we already established a firm business base. Our business resources are not unlimited. So, concentration in the countries where we have already established our presence is the answer for the best and most efficient use of our resources.
A common issue among the construction firms throughout Japan is the departure of skilled workers. It has been reported that in the next 15 years, a third of people in Japan will be senior, but already a quarter of construction workers are over the age of 65. How are you approaching the challenge of transferring technical expertise and know-how to the next generation?
As a general contractor, it is essential to transfer gained technologies and expertise to the next generation. We, Sato Kogyo, are aiming to strengthen human resource development in anticipation of productivity improvement. To improve general construction capacity including safety management, quality control, environmental impact control, productivity, and cost control, HQ together with the Technology Centre are supporting each of the construction sites in improving productivity and work style reform. We are working on the business standardization, development, and spreading of ICT technology and enhancing the utilization of BIM and CIM to support the daily operation of construction sites. We firmly believe our new Technology Centre, which just started its operation in this February, will take the main role for this purpose. We will promote our DX and data science technology to increase the overall business efficiency of our company. We will plan to reform the current construction business model by leveraging data and digital technology.
Imagine we come back in five years to interview you all over again. What would you like to tell us? What are your dreams for this company, and what goals would you like to have accomplished by then?
This year, we celebrate the company's 160th year in business. We are proud of our assets of company history and tradition which made the impossible possible in the challenging construction projects with the enterprising and pioneering spirit inherited from the age of foundation. As we did in the past, with pride and a mission to contribute to social development, we will polish up the essence of our corporate message, "Total Project Excellence" which shows our commitment to quality and customer satisfaction and aim at a further leap to become a trusted and selected enterprise by society. In five years, we, the Sato Kogyo group with a solid business base and high earning capacity, plan to reach JPY 200 billion in our company sales.