We would like to use your company as an example to challenge this misperception that Japan has lost its innovative or quality edge in the eyes of the West. With that in mind could you share with us what you believe to be Kinjo Rubber's core strengths and competencies that set you apart from your regional manufacturing competition?
To give you an overview of Japan's history, after WWII there was a big population boom and by around 1950 the population tripled. At that time we had a big enough market domestically that we could sustain ourselves by only providing to the Japanese. From its establishment, our company's mission was to provide monozukuri to the devastated Japanese society after WWII.
Since our establishment 87 years ago we have been focusing on providing high-quality products in a stable manner. During wartime, it was the Japanese government that controlled the manufacture of rubber so we started off as a trader of rubber. After the end of the war, we started manufacturing rubber, first from natural rubber obtained from rubber trees before expanding into compounds such as silicone. We began diversifying our products to meet social needs, providing those products in a steady manner. I would say that these days our biggest strength is in silicone rubber, with 60% of our sales coming from this particular material, applied to such products as swimming caps.
Coming back to your question about our uniqueness, in rubber production there are usually a number of companies involved in the manufacture. I think one of the biggest strengths we have is in our integrated system from material procurement, all the way through to inspection and delivery. This entire process is covered by ourselves in-house. By having this integrated system we are able to conduct our operations seamlessly, which in turn allows us to provide efficient production as well as innovative developments.
The company currently makes around 5000 components, and with each of these components, the product cycle is around 3-5 years. We cater to various industries such as home appliances, sports, medical, and automotive. At the stage of every innovation in the industry, we provide new products. Our role and contributions are to provide new parts and components that are required for the assembly of finished products. To summarize, our biggest strengths are our development capabilities, our innovative spirit, and our technical capabilities, all acquired throughout our 87-year history of producing from basic materials all the way down to finished products.
Could you talk to us about how you are guiding Kinjo Rubber through this new era for Japan given its declining and aging population?
As you have mentioned Japan's demography has shifted from a growing population into a more saturated market with a decreasing population, however, having said that the population is still over 100 million people so there still remains a market for ourselves, especially in welfare. There are many areas where our rubber products are needed and can be adapted. At the same time, we are also focusing on our international expansion using our accumulated and extensive rubber production capabilities. We are particularly focused on the physically disabled and visually impaired people, with an emphasis on products for them. One product, in particular, is Kinjo Glass, a drinking vessel that is made of silicone rubber but looks like glass. Using the traditional kiriko design, the glass offers a completely new drinking sensation made possible by the unique character of the silicone material combined with the Japanese craft aesthetics. I believe that Kinjo Rubber is one of the few companies in the world that can produce such transparent rubber, and if we take advantage of this to brand our products, we will be able to spread our products and name around the world.
---
---
This product is fascinating and it is actually unbreakable, durable, and heat resistant all while being eco-friendly and sustainable. The heat resistance and the durability are a bit easier to understand, but the sustainability is a little more complex. Can you explain how a product like this can contribute to a more sustainable society?
The reason this product is eco-friendly is firstly because of its durability. The material itself is also eco-friendly and we use silica meaning that the material is not derived from a crude oil base. In that sense, there is no carbon included in the production of this material. While the product itself is durable, our mission is to make high-quality products that people choose to use for longer. In capitalistic societies, there is a drive for mass production and mass consumption, but in our opinion, it is vital to change this mindset and have people go back to using products for a long time.
I'm sure you did a lot of testing before bringing this product to market, so I'm curious to ask if you were able to break it, and what does it take to do so?
We haven't actually tested it, but I think it might not break even if an elephant stepped on it. It really is that amazing.
---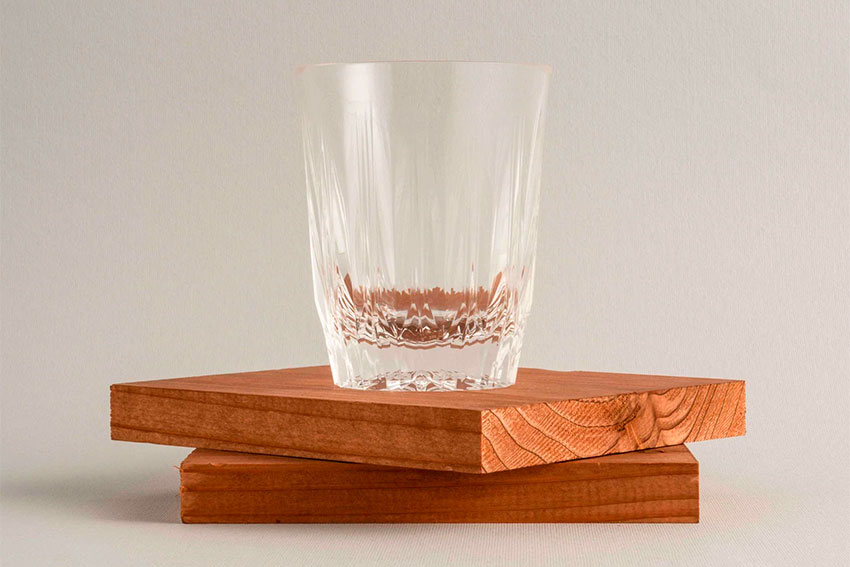 ---
You talked about first being a trader of rubber products in order to cater to a booming post-war Japan. Then you talked about shifting to be more of a manufacturer that is focused on B2B markets. Now in this new era, you've entered the B2C arena. What have been some of the challenges you've encountered as part of your mission to build your B2C brand?
We originated our business in the B2B field and it remains our core business, but diversifying is important, and as part of that strategy we have started our B2C business. Also, we have been diversifying into other areas of B2B such as automotive and medical, and with automotive in particular there is now the shift from conventional internal combustion engines (ICE) to EVs. We are now focusing on sensors and appliances that are not waterproof, thus they need rubber coverings which we can provide.
Our B2B model has one issue, and that is because of our wide range of products we find it difficult to market ourselves due to the vast amount of NDAs we have at any one time. This became such a massive problem when even our employees couldn't fully understand how our products are used in our customer's products as well as how we are contributing to society. In order to maintain the motivation of our employees and their engagement it is important to be proud of what you are doing and know the importance of your work. I felt that the best solution to this problem is to develop our own brand of products by utilizing our amalgamated monozukuri spirit and technology. With this ethos, we developed the KINJO JAPAN brand as a B2C operation. As you can now understand, the purpose of establishing the KINJO JAPAN brand is actually inwards to provide our employees with ample motivation and products that they can be truly proud of.
It makes me happy to hear that employees are now able to go home and talk with their families about the attractiveness of rubber, silicone rubber, and their work with the company. As a B2C business, we want to convey the wow factor not only domestically but also overseas.
One of the areas you mentioned in your answer was automotive, and you spoke a little about how the switch to EVs has impacted your company. Rubber as an insulator to waterproof materials is key, and rubber really has come to the forefront when discussing how to make EVs safe, both in terms of waterproofing electronics but also vibration management and noise control. Is there a particular type of application within the EV field that your products are focusing on or specializing in?
There are many utilizations of rubber, and there are many different rubber companies out there with different rubber specialties. Our specialty is providing waterproof rubber for sensors and electric appliances. As cars evolve towards autonomous driving there will be a greater number of sensors, thus there will be opportunities for us to expand into this field by providing our high-quality products.
Earlier you talked about the importance of the B2C channel as an introduction to your brand and company, and with this, you can find new collaborating partners to assist in entering new channels, and new markets, and assist in new designs. When you talk about these kinds of collaborators are you looking more to find overseas partners or more domestic partners?
Yes, we are very open to partnerships and collaborations both domestically and overseas. In terms of our Kinjo Japan brand project, we now do e-commerce within the domestic market. In February 2023 we attended a German exhibition in order to find a new distributor or partner locally. At this exhibition we were able to exchange business cards with over 100 companies, so by having conversations with them we hope to cement our foothold in overseas markets.
Going forward, how do you envision your global development?
Basically, our strategy is to find a partner or distributor to provide sales channels for us. We feel there is high potential in market sectors like Europe, the US, Singapore, and Taiwan. The biggest attractiveness of our products is that they are very environmentally sound.
I'm curious about how your civil engineering business relates to the rubber business and the welfare business, specifically the Castle Board drain method, which uses a biomass resin and expired rice for soft ground improvement. Can you tell us which kind of application is best suited for the Castle Board drain method?
By having multiple departments and multiple activities the biggest synergy we can achieve is having different perspectives in creating new innovations. We have an extensive background in monozukuri as well as our own history in civil engineering. By combining the two there are new innovations we are able to create in the field of rubber. We have many new and revolutionary products. Specifically in the field of engineering, we provide new types of materials as well as methods and approaches. The spirit of innovation is what ties our company together.
The strength of our civil engineering operation is similar to our monozukuri operation in the fact that we have an integrated system from manufacturing the material to overall design and installation. That is the essence of how and why we are able to be so innovative in the field.
Our technology is utilized in mass land areas such as parking lots and airports while at the same time being used for riverbanks and for disaster prevention. We are contributing greatly to the field of disaster prevention and helping to protect areas around rivers is very important in a country like Japan.
The Japanese government actually has a rice reserve, but after a few years, the rice becomes inedible and expires. Conventionally the government has burned that rice but if you do that you have to deal with the associated carbon emissions. We used this non-edible rice to make our product. This converted material is used in road and home construction. Materials made from this rice were also used in the ground improvement of the New Toyosu fish market, which is famous even among foreigners.
---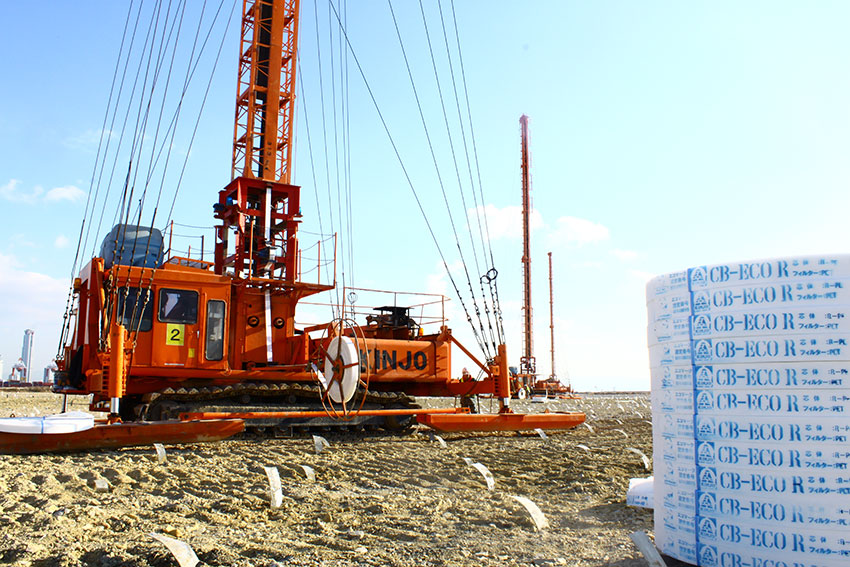 ---
Imagine that we come back 3 years from now and have this interview all over again. What goals or dreams do you hope to achieve by the time we come back for that new interview?
Thankfully we have recovered from the past 3 years because the COVID-19 pandemic forced so many restrictions on our company. What is important is to be active in this post-COVID world, and we stress the need to promote and convey the spirit of our products to the global market. I truly believe that when you come back in 3 years time we will be able to share stories of our success in the global arena.