The last construction boom in Japan was more than 50 years ago, prior to the 1964 Olympics. However, due to the demographic shift, on one hand, there has been an increased need for maintenance and upkeep while on the other, there is less need for newer construction projects. What is your take on the current state of the Japanese construction sector today?
Japan is vulnerable to earthquakes as it is a seismic country. Looking at the last 100 years, there was the Great Kanto Earthquake, and it has been 28 years since the Hanshin-Awaji Earthquake. This kind of earthquake occurs periodically. Today, Japan is reconstructing aging buildings and infrastructures. Yaesu in Tokyo is under redevelopment. Three of the four buildings on the corner of crossings nearby have been demolished to construct new ones. There is an approach toward building anti-seismic buildings.
I think general constructors, including super general constructors, are lacking in manpower. As a rental-lease company, our role is to provide equipment and machinery that utilize lesser human resources to increase our performance on-site. One of the approaches is ICT-construction machinery or i-Construction.
One in four workers in the construction sector is over the age of 65, which is reflective of a smaller labor pool for companies to replace their workers with. What are some of the challenges that you have been facing, and conversely, what are some of the opportunities that you see with this demographic shift? How are you reacting to them?
We are lacking in manpower because the younger generation is not entering the field. The working environment is not comfortable. For example, an operator of a tower crane is left alone in a harsh environment for the entire day. By introducing ICT to this type of machinery, it would become more attractive to the younger generation. The remote-controlled machinery can make it similar to games that can appeal to them. We can hire more workers from the younger generation by changing the environment. Since our customers cannot afford to buy ICT machinery, we are actively renting them daily. Our role as a major rental company is to penetrate this ICT machinery into the industry for them to be used widely.
Imagine we look 5-10 years into the future: how do you believe digital technologies and ICT will change the construction sector going forward?
I believe that there would be two different locations for construction work. Some will remain working on the site, while others will utilize remote controls to perform their work. Everybody is currently working on-site. There is a regulation in Japan that requires having a supervisor throughout the whole day at the construction site. However, with the lack of human resources, we have to start thinking about changing the regulations. For example, one supervisor could take care of multiple construction sites through remote viewing and monitoring.
A core aspect of your business is Rensulting - a term you coined that means "rental that includes consulting" and is applied to many different business fields. Could you elaborate more on this Rensulting concept? What are some of the advantages that this serves or brings to your customers?
Historically, we are a rental company. We could be considered a multitasking company, that deals with everything. During the high-growth period of the Japanese economy, there was about JPY 100 trillion worth of construction work. Major general contractors had their own machinery division, but with the drop to a 50 trillion-yen market size, they have decided to outsource their machinery. When major contractors started to outsource their machinery through leasing and procurement, we likewise responded by providing the service needed. In the past, when general constructors had their own division, the office hours ended at 5.30, including the machinery maintenance and leasing section. Since construction sites can sometimes keep working 24/7, major companies were not able to respond to their needs. On the contrary, as a multitasking solution provider, we were able to provide adequate services.
Major constructors have begun to lose their knowledge of machinery since they started outsourcing them. Around 2000, our current chairman noticed that it is important for us as a rental company to provide not only the hardware but also the software, the knowledge, and the proposal. Therefore, we started our Rensulting services.
In 2019, Aktio worked in collaboration with JR-East's Mito Branch in developing a small rail land vehicle, a light truck-based small railroad vehicle utilized for on-track inspection work. What was the motivation behind the development of this vehicle? Are you looking to replicate the creation of similar vehicles for other railroad companies?
This is a part of our Rensulting services that we discuss with our customers to grasp their needs. If no manufacturers can make it, we make it on their behalf. The purpose is not to penetrate this product throughout the market, as it is only intended for our customers.
We developed this vehicle by modifying a small-sized truck to make it run on the rail. After natural disasters like typhoons, a person walking on the track would not only take a long time but may also encounter wild animals like bears in the mountains. Since it is important to be safe and fast, this vehicle could be used.
---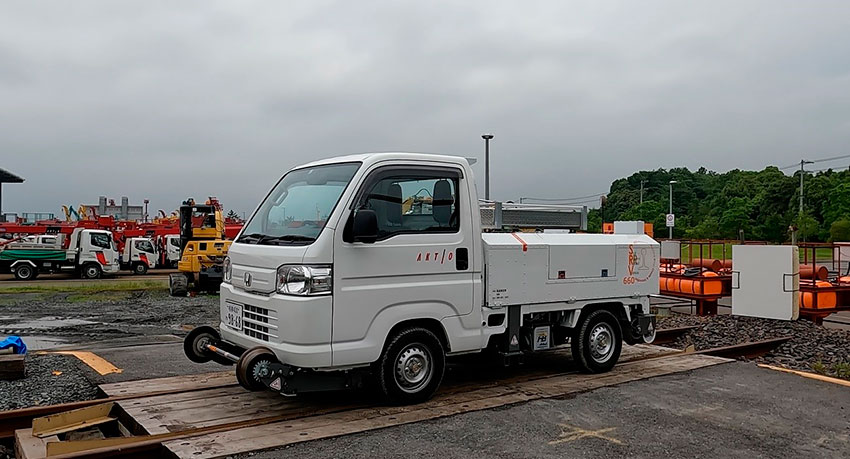 Railway truck
---
Aktio has been conducting demonstration tests of heavy goods transport drones jointly with Takenaka Corporation with the expectation of a full-scale effort coming soon. When do you believe that full-scale effort will begin? What are your expectations for this project once it has begun operations?
We have a plan to fully endorse it in the Osaka Expo Construction, and we are currently doing a test run so that we can use drones for construction. The venue for the Osaka Expo is on reclaimed land, with just one underground tunnel connected to the area. Since it would be congested and hard to bring everything on land, we have been trying out drone transportation from our Delivery and Laboratory (DL) Center in Osaka (where we plan arrival and departure) to the expo venue, carrying 40-kilogram equipment or materials for construction. We just started, so we have not received the result yet. Nevertheless, we have to complete the construction in two years, so we are quite in a rush.
JR-East and Takenaka Corporation are Japan-based. Are you looking to find similar partnerships for collaborative efforts in overseas markets?
Countries like Myanmar and Thailand where we have group companies have military governments. We are trying to adapt to the changes as of now in those areas. We may be looking for partnerships in the near future.
Aktio is a part of the Aktio Group which consists of different companies such as Sanshin Construction Industry, Aktio Transport and Asahi Corporation, among many others. What are some of the synergies that you can create and leverage as part of this group?
We have a collaboration scheme within our group under the theme of construction. For example, we can exchange knowledge and opinions with Sanshin Construction and receive more detailed feedback about the needs of construction companies. With Aktio Transport, we deliver the machinery to general contractors that are mainly in urban areas, whereas those that are in the local regions pick up the equipment themselves. When we deliver the machinery, we need to develop a unique type of vehicle solution that provides the most efficient logistics. There are many synergies within our company in providing a comprehensive service.
Asahi Corporation does the sales and management of secondhand machinery. We first purchase new machinery, then rent it for 5-10 years. If it breaks down, then it would be metal scrap. However, if it is well-maintained and operable, we determine when and which country would be the best area to resell that second-hand machinery. We sell these domestically and overseas. Asahi takes care of domestic, while our Overseas division takes care of overseas.
Starting with the Sano Techno Park Factory in 2001, you have established maintenance and distribution factories such as R&D bases as well as training fields across the country. How have your Techno Parks helped elevate your R&D and your business capabilities?
We established our business as one that deals with machinery maintenance and repair. The founder was a member of Shimizu Construction in the Machinery Division, but he left the company and started his own business. Since he had the technology to do repairs, he began a company based on that. He initially only repaired underwater pumps. When a particular contractor had an extra one more week of construction work, they asked for an alternative or a replacement while the underwater pump was being repaired. The contractor later paid more for the rental than the repair. The current chairman realized that rental could be a business.
The founder first focused on underwater pumps. Since underwater pumps require electricity on the construction site, generators are needed. He purchased and rented generators, then later added more items. Currently, we have 2.1 million different types of machinery. Our reason for establishing Techno Park is to cater to this massive maintenance. The purpose of it is to standardize our maintenance system. We have so many different units and determining the years of use, wear and tear as well as the extent of fixing needed takes time. Standardizing and aligning the maintenance has made maintenance much easier and more efficient than before.
We are struggling in hiring young engineers. To fix one piece of machinery, one must know everything. Only knowing about electricity, motor or engines is not enough. To that end, our Techno Parks are used as training centres to gain more extensive knowledge.
---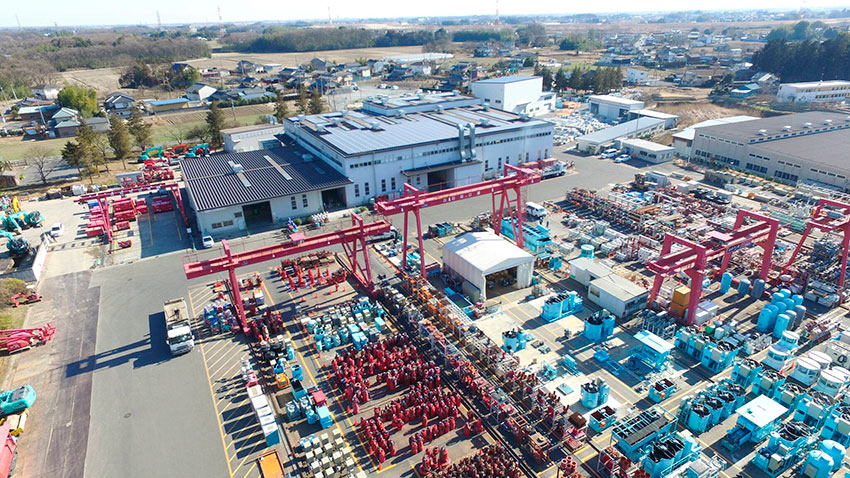 Sano Techno Park
---
Are you looking to do more overseas recruitment as a way to offset this problem?
Yes, we are trying to hire foreign employees as well. We have 14 trainees from the Philippines.
Aktio participated in setting up different events such as outdoor exhibitions and sporting events. Do you have any favourite events that you have participated in setting up?
Among the many sports events we sponsor, the World Aquatics Championships is one of the most remarkable ones I remember as well as Carling.
Are there any countries or regions that you are targeting and find key for your international business?
I need to ask the founder why he decided to take the business abroad. Based on my understanding, secondhand excavators, even after renting, can bring in quite a good fortune. The underwater pumps could be taken overseas as a rental business. It is hard to bring money from Japan, but you can take products out of Japan. Also, since Japanese general contractors were going abroad, we followed suit.
While Japan's domestic market for the construction industry is shrinking, there is a rise in the construction industry in Southeast Asia. Being already present in that region, how do you plan to take advantage of this growth?
We feel that overseas markets, especially Southeast Asia, have a different culture compared to Japan, which is an island nation. In Japan, if you borrow something from others, you will certainly give it back. There is a trusted relationship. On the other hand, it is sometimes difficult to collect payments and get the machinery back from borrowers overseas. Therefore, our overseas business is conducted together with Japanese general contractors, and those deals are done in Japan. Nevertheless, we also have our overseas bases. We are now trying to consolidate these overseas bases with the Japanese engineering and Overseas departments so that we can altogether collaborate in expanding to overseas markets.
Imagine we come back in four years and have this interview all over again: what goals would you like to have accomplished by then?
Aktio has been recognized as a rental company within the construction industry, but it is not yet well-known to the public. Japan is vulnerable to earthquakes and natural disasters, and our machinery is used to mitigate and serve as countermeasures for disasters. During the Great East Japan Earthquake, our employees assembled machinery outside the danger zone in the Fukushima Daiichi nuclear power plant and were used. This is not well known to the public. As the president of the company, I want to change that and make our company well-known to the public and make them aware of our rental business and how it is contributing to society. Furthermore, our business is not only contributing to new builds but also to the recovery and remedy for natural disasters and other situations. Presently, we have 580 municipalities that have signed disaster lease agreements (360 disaster agreements). By fully utilizing this network, we want to brand our business as a socially contributing company.
---
Interview conducted by Karune Walker & Sasha Lauture