Over the last 25 to 30 years, Japan has seen the rise of regional manufacturing competitors who have replicated the Japanese monozukuri process but doing so at a cheaper labor cost, pushing Japan out of mass industrial markets. However, we still see that many Japanese firms are leaders in niche B2B fields. How have Japanese firms been able to maintain this leadership despite the stiff price competition?
When it comes to the uniqueness of the Japanese industrial structure, the ratio of SMEs is high when compared to other parts of the world. The advantage of having this thick layer of SMEs is that unlike the large companies which take their time when it comes to decision making, the SMEs are quick to make decisions. The organization is more compact, and at the same time, the cost of production can be reduced. Many of these SMEs also have unique technologies. In our case, we possess mold and die technology. When you combine these unique technologies with the strengths of the SMEs, Japanese companies are able to remain competitive.
Another strength of ours when compared to Tier 1 manufacturers is that as a Tier 2 company, our mold can be provided in half the lead time of the Tier 1 companies. We are also able to reduce the cost by up to 30 or 40%. We have done business with European car manufacturers, and we have a factory in Romania. That allows us to provide our services directly to Europe. Our customers request for us to provide the same quality products in Europe, China and Mexico, and since we have factories in these areas, we are able to comply with their requests.
We know that you also have operations in Thailand, Indonesia, Mexico and China, as well as Romania. These countries have varying degrees of equipment quality and engineering skills, all of which can affect the final outcome of the product. How are you able to ensure that the quality in all of your international operations is the same as here in Japan?
Our business model is making molds and making components. The basis of plastic manufacturing monozukuri is the mold, which is manufactured in China, Japan and Thailand. The outcome at our Chinese and Japanese factories is the same. When our Romanian, Mexican or Chinese factories need to produce plastic components, we use our mold from China or Japan. As a basis of monozukuri, the mold itself is high quality. At our factories, we have around 200 criteria that our mold manufacturing needs to comply with. We also conduct thorough training to ensure the same level of high-quality manufacturing at all of our factories. These 200 criteria are the know-how of our company. I actually visit the factories once or twice per year to do quality assurance. Also, the facilities are the same at all of our factories, which allows us to retain our high-quality production.
Japan's population is rapidly shrinking and aging at the same time. We are seeing issues such as a smaller labor pool and a shrinking domestic market. What are some of the challenges and opportunities this demographic shift is presenting for Plasess?
Conventionally in Japan, the retirement age is 60 years of age. However, we have extended that to 70 years, which allows us to retain our experienced engineers and our management. That helps us to pass down our knowledge to the younger generation. Also, conventionally in Japanese companies, if you are rehired after 60 years of age, your salary substantially decreases. However, we no longer do that. We provide positions according to the ability of those aged 60 and above. If they are valuable to our company, then we provide them with sufficient rewards.
Another way in which we have been responding to the demographic situation is through digital transformation (DX), which we have been implementing throughout our operations. We are putting a strong emphasis on the training and education of the younger generation using Toyota's TPS system. Twice per month at our factories, we have training courses and activities so that we can enhance the level of the genba or factory site. We want to expand this training to our overseas factories as well.
We know that you have independently developed and manufactured the Auto Stocker, which helps with unmanned mass production at factories. Can you tell us a little more about your Auto Stocker, and how it increases the efficiency of your facilities?
---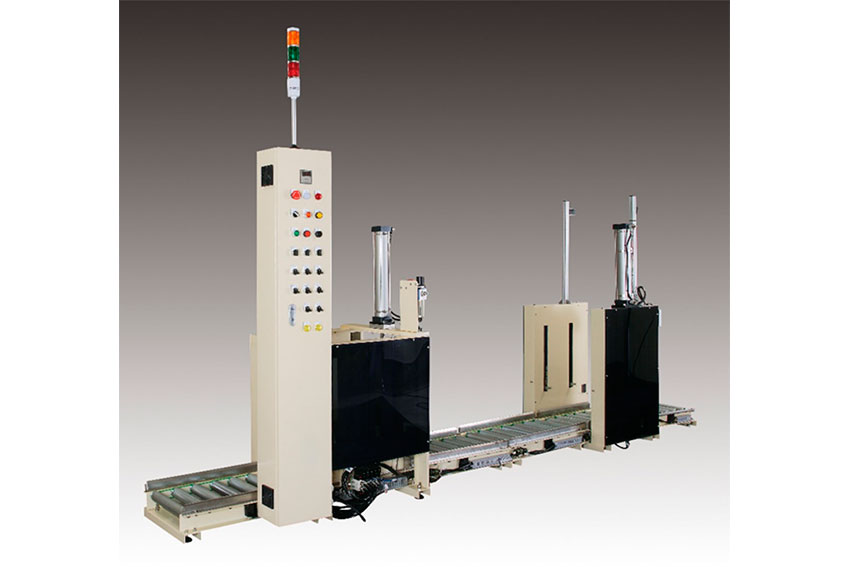 ---
The development of the Auto Stoker was one of our automation processes introduced for our injection molding production line. This was first developed for in-house use to increase the efficiency of our production. We then started to sell this product to other companies as well. The advantage of the Auto Stocker is that through automation, we can reduce the lead time by one day. Conventionally, you first make the product through injection molding and then you wrap it and package it, and finally store it. That process took two days. However, this has now been reduced to one day thanks to the Auto Stocker.
We know that many of your products are used in the automotive sector which of course is undergoing a time of great change with the switch to Electric Vehicles. As a result of this, cars are now requiring more specifications, such as being lighter to offset the weight of the lithium-ion battery. We are seeing materials such as CFRP, aluminium, magnesium and others becoming more prominent in the manufacturing of cars. As the switch to EVs continues, what opportunities do you see for your firm, and how do you plan to take advantage of them?
The materials used in cars are being replaced to make the cars more lightweight. However, at the same time, you must consider the price. With this pricing issue, I believe that a move towards highly functional plastics will be a good prospect. I think that there is a higher percentage chance that we move towards new types of plastic such as bioplastic or nano plastic. When it comes to EVs, the use of plastic is required for many new components, and we have already received orders for new EV components that use plastic. Simultaneously, there is research being conducted on autonomous driving, and there is a higher need for the use of plastic for the sensor units. When it comes to components for EVS, they will require the use of highly functional plastics at low costs.
At the same time, there is a need for carbon-neutral targeted components using plastic. I believe that this is a good business opportunity for us. However, our conventional business will decline for sure.
Plastic is a material that is well-known to have pollution issues. Can you tell us about the efforts your company is making to ensure that your products are more sustainable going forward?
Our short-term target was to reduce our greenhouse gas emissions by 20%, by 2030. However, we already achieved that this year. We were able to reduce our carbon emissions by 20% by making our production more efficient. Our philosophy is to continue reducing our emissions so that we can achieve carbon neutrality by the year 2050.
At the same time, we are finding new business opportunities in the move to carbon neutrality, namely when it comes to plastic waste. You mentioned earlier the figure of 90.4 million tons of plastic waste being generated in Japan each year. How to reduce plastic waste is the key. One of the issues in our production of automotive plastic parts is that there is waste residue from the manufacturing. While we do recycle this plastic waste in the next round of manufacturing, there is a limit to how much we can use to ensure safety standards. There is some plastic waste that cannot be used in manufacturing. We are now considering making an outlet for the use of this plastic waste. We want to take this plastic waste and make something useful for society to use. For example, we have developed our crime prevention gravel, Replastone. In Japan we want to take the lead in recycling. We want to enhance our innovative approach and our technology so that we can brand ourselves in this carbon neutral society.
Replastone is crime prevention gravel made from 90% plastic waste, which has the functional equivalent to a lot of glass materials. However, unlike glass, it is hard to break and does not generate dust. Could you tell us a little more about Replastone and what are some of the other applications you have in mind for this product?
---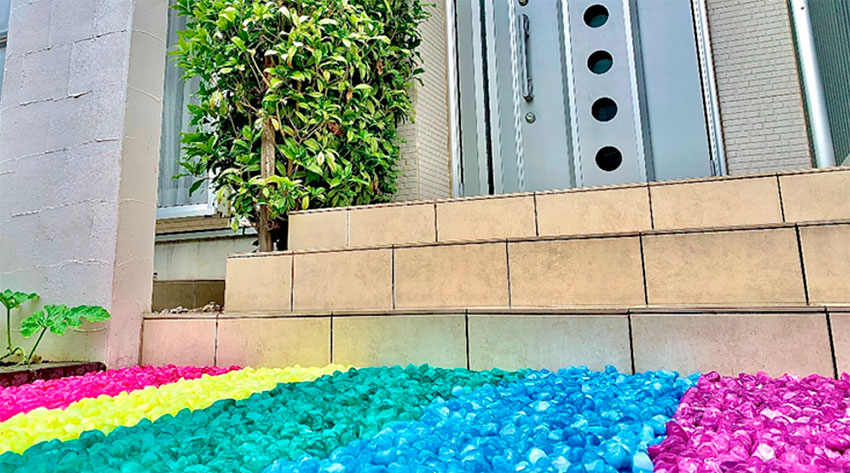 ---
In 2020, we gathered a team of our employees to find a way to make the best use of plastic waste and reduce the amount of plastic waste our manufacturing generated. It needed to be a new product that was unique. There also needed to be a need in society for such a product. In due course, we developed Replastone which is recycled plastic gravel that makes noise. It provides safety and serves crime prevention purposes. There are 37 colour variations and the noise it makes is audible enough for crime prevention and safety purposes. We further added to this product by making it glow in the dark. We took the waste plastic and recycled it into a product that is needed in society, and one that has its own attractiveness.
Are you only selling it here in Japan, or are you also looking to sell it overseas?
We are not selling it overseas yet, but if there is an opportunity to do so, we would be happy to sell it overseas. In December last year at Nagoya Station, it was utilised for a 15-meter-high glow-in-the-dark Christmas tree. We provided 50,000 of these glow-in-the-dark Christmas decorations. There were TV interviews with people who were passing by who said that it was amazing how waste plastic could be turned into something so wonderful. We want to make applications of our technology so that we can continue to elevate the value our company.
---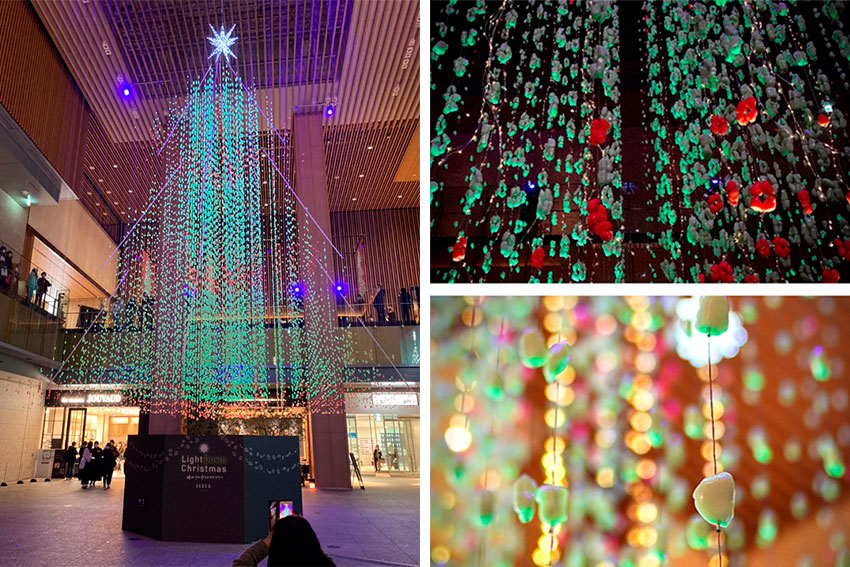 ---
We also know that your products are utilized in OA, electronics and many more industries. Is there a specific industry that you are currently focusing on, or are there any new industries that you would like to introduce your products?
Our focus is currently on the automotive industry and this will continue in the future. As a Japanese company, we have been working with Toyota, Nissan, Honda, Mazda and Mitsubishi. Recently, however, by having our factories in Romania and Mexico, we have been able to expand our business with Tesla, Ford, Daimler and Benz. We want to continue enlarging our customer portfolio so that our products are used in cars around the globe. For Daimler and Benz, we provide the room lamp unit. We provide that to Tier 1 companies.
Another new vision that we have relates to companies that want to reduce the amount of residue and waste generated in the process of building things. There are also companies that want to increase their corporate value by reducing the amount of residue and waste. We have the technology to convert waste to bioplastics and reduce them as a result. We want to act as a bridge to connect those companies who want to reduce their residue and waste with those who want to increase their corporate value.
During Covid, we saw the use of acrylic boards for protection. Now post-Covid, those acrylic boards are going to waste. If we could take them and recycle them into something of use, that would be ideal for us. We have this in mind but have not taken definite action yet.
Are you looking for partnerships, whether that be domestically or in overseas markets?
With regard to the automotive industry, we are looking for new customers rather than partners. We are targeting global based automotive manufacturers and will open up factories if they are needed in that area. As for new businesses, it is more about finding those who want to reduce and make the best use of resources, and also finding those who have the technologies to do so. They are the companies that we are currently looking for.
Moving forward, have you identified any countries or regions that are key for growth in your international business?
We are currently putting our emphasis on our Mexican factory. Mexico is an attractive country that is under development. Also, our factory in Romania will serve as an important base for the European market. Mexico and Europe will be the two pillars of our manufacturing and they will provide components to global car manufacturers. Unlike Japan, Europe and the US are highly attractive markets.
Imagine that we come back four years from now and have this interview all over again: what goals would you like to have achieved by then?
My goal for the next four years is to expand our European and Mexican factories so that we can provide more to our global customers. I want to increase our customer portfolio as well as increase the number and types of cars that we provide. Also, with regard to our new growing sustainability business of resource circulation, I would like to be able to tell you in that new interview that we have a new type of business in this field and that we have contributed a lot to global environmental issues. Those are my dreams and goals for the future.
---
Interview conducted by Karune Walker & Sasha Lauture