Japan's last construction boom occurred more than 50 years ago prior to the 1964 Olympics. Since then, due to the demographic shift, on one hand there is an increased need for maintenance and upkeep, however on the other hand, there is less need for new construction projects. What is your take on the current state of the Japanese construction sector?
As you mentioned, the period around the 1964 Tokyo Olympics saw drastic advancements in Japanese infrastructure. The ratio of the infrastructure in Japan that is over 50 years old is now increasing. For example, there are currently around 730,000 bridges in Japan, with about 39% of them being more than 50 years old. In 10 years' time, that figure will increase to 63%. When it comes to tunnels, today there are around 11,000 in Japan, with around 27% of them having been built more than 50 years ago. This will increase to 42% in the next 10 years. Right now, Japanese infrastructure is facing an aging issue, and as a result, maintaining sustainability is extremely important.
The number of elderly people in Japan is growing. However, with advancements in medicine, elderly people are now healthier and more active than before. In the future, Japanese society will be mainly driven by the elderly, so we will need infrastructure to cater to their needs. We need to work on public facilities and public transportation to maintain the health of the elderly population. However, that is going to be a burden on Japan's national finances. Efficient financial distribution is very important. We need to focus on what is essential when it comes to new construction projects. At the same time, we need to elongate the existing infrastructure, by making it more useable through reinforcement. That is my overview of the construction sector.
We know that the Japanese government has already stated that Japan must be a carbon neutral society by the year 2050. What initiatives are you undertaking in order to contribute to a more sustainable society?
In order for the Japanese construction industry to contribute to an environmentally friendly society, recycling is a big focus. The manufacturing of materials that are used for construction such as cement and steel produces a lot of CO2 emissions. By recycling, we are trying to create a life cycle that is more sustainable. This involves the recycling of the steel itself and the reuse of concrete ruins as the foundation for the building of new roads.
Around 70% of Japan is covered by forests. However, Japanese people have been reliant on the foreign import of wooden materials for construction. Replacing this with domestic wood would also contribute to environmental sustainability. Recently there was a change in materials. Conventionally, steel and concrete has been used to make medium-sized and large-sized buildings. However now, especially when it comes to public facilities, cross laminated timber (CLT) is procured from Japanese forests for sustainability. The mindset of the construction industry has also been changing. When it comes to new construction projects, people are now more aware of recyclability, and the reuse of materials. The buildings are also designed in a way that is easy to maintain and inspect, which of course increases its usability.
The construction site itself is changing. The temporary material that is used for constructing buildings is now more lightweight and more environmentally friendly. The material is also recyclable. In the case of Otaka Construction, we use a recyclable and reusable frame for constructing concrete object.
You have developed various construction methods, but one that stands out is the Geo Fiber construction method, a form of slope stabilization construction. How is the Geo Fiber construction method superior to more conventional ones when it comes to slope stabilization?
Conventional technology uses concrete and mortar, which are applied to the surface of the slope to stabilize it. However, our Geo Fiber method uses a long fiber mixed with an environmentally friendly soil-oriented type of material that is applied on the surface to fortify the ground. When using the conventional method, the surface remains as concrete after construction. However, the advantage of our Geo Fiber method is that trees and grass can grow on top of it. It not only stabilizes the slope, but it adds to the scenery as well.
Another construction method you have is the DK Bond method, which prevents rocks from collapsing by adhering them together and moving the mechanical centre of gravity backwards. Could you elaborate more about the DK Bond method?
---

DK Bond method before and after
---
You can see from the images that the treatment has been done, but the scenery has not been greatly changed. This method allows for the retention of the area's natural aesthetics. The uniqueness of this technology is that we apply a mortar-based adhesive between the cracks of the rocks which stabilizes them and prevents their collapse. The advantage once again is that it retains its appearance. The Kurobe valley and Tateyama area within Toyama Prefecture is designated as a national park. In order to maintain the environmental prosperity and aesthetics, the DK Bond method is highly appreciated. There is a train system in the Kurobe valley and a large rock hit the railway and damaged the surrounding area. We applied the DK Bond method to stabilize the rocks and prevent further disasters.
---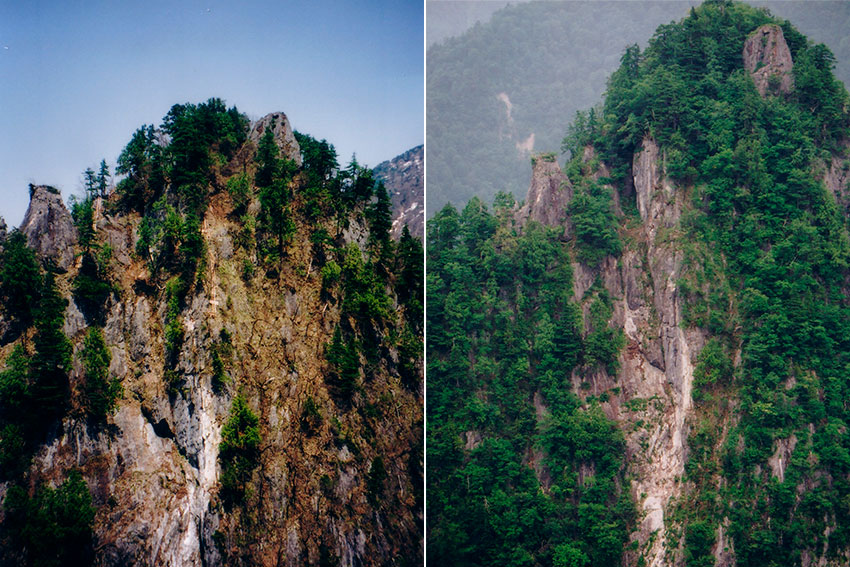 DK Bond work done at Kurobe Valley before and after
---
The DK Bond method proved its strength during the Great Hanshin-Awaji Earthquake. When there are earthquakes, the advantages of this method are not only does it allow for the retention of the aesthetic beauty of the environment, but it also provides strength and stability to the area, and therefore helps with disaster prevention.
Japan is notorious for its natural disasters. Not only is it seismically active, but there are also others such as typhoons, flooding and landslides. However, with global warming, many of these disasters are becoming stronger and have in fact intensified by 50% over the last 40 years. Can you tell us more about some of your disaster preventative measures? As global warming continues to bring stronger disasters, how are you adapting to this?
Our business scope is the Kurobe River, which runs from a mountain that is 3,000m high and 85km long. The area is known for heavy rainfall, and many hydropower plants have been installed on the river. There is often flooding in the area, so we use a special method to fortify the riverbanks. Usually, flooding occurs elsewhere in Japan when the water level of the rivers rises and crosses the banks. However, the speed of the water flow in the Kurobe River is so fast that it actually collapses the riverbanks. Therefore, the bank wall needs to be higher, and the structure itself needs to be robust so it does not collapse due to the speed of the river flow. Usually, riverbanks are made from soil or concrete. However, for the Kurobe River, the riverbanks need to be strengthened, so we use pebbles together with concrete to reinforce them. This construction method is unique to Toyama Prefecture.
---

Method used for the Kurobe River
---
Are you looking to export some of your technologies to more flood-prone regions of the world?
The technology that we use is very particular and created especially for Japanese rivers like the Kurobe River, where the flow is fast. This is often not the case for overseas rivers, such as the rivers in Australia, where the flow is usually slower. When flooding happens in these slower flowing rivers, it is more to do with the overflow rather than the speed of the river. Therefore, it is hard for us to apply our technology to overseas rivers.
Kurobe River itself is quite unique even within Japan. It is in a unique area and requires unique technology. The Kurobe River area has the highest rate of collapses in Japan because there is a tectonic plate underneath this region. The mountain itself was created as a result of the plates pushing against each other, and when the mountain experiences pressure, it results in collapse, affecting the river. That is why we have to do sabo work. There are many collapses in the area, so we have many sabo projects to do.
The landslides and collapses in the area can be massive. Robust walls that can withstand these massive landslides need to be built. When it comes to dam construction on the mountain side, we actually built a concrete manufacturing plant nearby, so we are able to deliver the concrete easily.
Since our workplace is within the national park, we are keen about environmental preservation. We want to preserve the ecosystems in the area. All the equipment we bring is cleaned beforehand so that no outside species enter the local ecosystems. We have also introduced hybrid machinery as well as EV trucks and were in fact one of the first construction companies in Japan to do so.
There are no roads from Unazuki to the mountain, so we use the Torokko train to carry all of the equipment to the mountainside. Our heavy-duty machines are disassembled so that they can be carried on the Torokko trains. We then reassemble these machines at the mountainside. For things that cannot be carried by Torokko train, we use helicopters, and reassemble on site. This is unique to Kurobe.
The Kurobe River often overflows, so we are particular about safety. The Unazuki area rainfall is double the average national rainfall. The acuteness of the river also makes it one of a kind in Japan. Safety is our main concern when we work in the area. We use web cameras to remotely monitor the situation at the construction sites, and we closely analyze and monitor the weather conditions for risk prevention. We also place sensors upstream as the conditions may change rapidly. We are constantly monitoring the area, using our unique technologies.
What role do partnerships play in your business model, and are you currently looking for any overseas partnerships?
We have a list of group companies, and Otaka Myanmar is included as one of them, which we established in 2018. With the shrinking of the Japanese market due to the decline of the Japanese population, we began to look outside of Japan to overseas markets. There was an event in Tokyo where we met with a company from Myanmar. We partnered with a company called Ayeyar Nagar, who knew about our firm and were keen to create a partnership with us.
In 2018, Aung San Suu Kyi became the president of Myanmar, and democracy started to flourish there. At the time, Myanmar was regarded as the "last frontier" of Asia where the infrastructure was yet to be constructed. Ayeyar Nagar told us that Chinese companies had started to enter into Myanmar's construction industry, however they prefer to build relation with Japanese Company. Our partner company had approached some major Japanese firms, however, they preferred to use them as a subcontractor, and did not want to provide technical support or form an alliance with them.
Our partner in Myanmar wanted to enter a technical alliance so that they could receive knowledge from Japanese SMEs, who could then continue to provide support for the construction of infrastructure in Myanmar. We first established a contract with Ayeyar Nagar in the form of a technical alliance. However, they wanted more from this alliance, so we decided to establish a joint venture - Ayeyar Otaka. Currently, we have expanded our partnership and we now have three local companies there that work together with us. Two are joint ventures, and the other is a technical alliance. We are working together to build the infrastructure in Myanmar.
Are you looking to replicate these partnerships in other Asian countries?
With limitations on our management resources, we first want to focus on Myanmar and create a solid foundation. However, we have had approaches from Vietnam to create a similar business model there.
You have conducted many different types of projects throughout the years. Could you tell us what was your favourite project, and why?
One of our most memorable projects is actually an ongoing one. That is our initiatives towards a carbon neutral society. We took the lead together with other stakeholders and community members in the building of a micro-hydropower plant. We used that energy to generate small community EV buses for the local area. We are also providing environmental education to the children of the area and stressing the importance of locally produced and consumed products. Our project is contributing to the growth of the locality.
---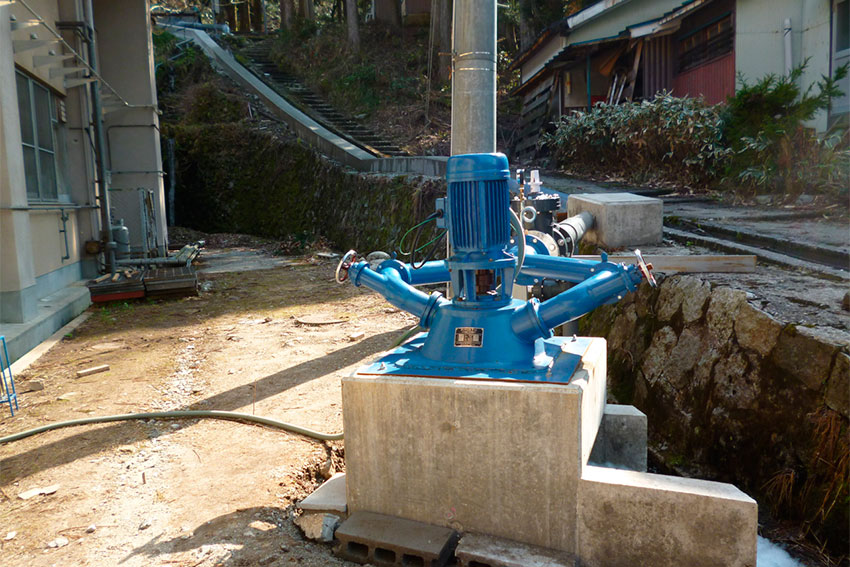 Micro-hydropower plant
---
Other projects include the utilization of hot springs water to melt the snow, without having to spray the water itself. We also use renewable energy sources for the air conditioning of our buildings. There are many other projects in which we are taking the initiative to help solve local issues and create a sustainable society.
Imagine that we come back four years from now and have this interview all over again. What goals would you like to have accomplished by then?
First and foremost, we are the only company that is able to cater to the harsh Kurobe environment. It is our mission to provide safety and prevent disasters in the local area, and we want to continue to fulfil our mission there. At the same time, carbon neutrality is becoming a serious topic. By developing environmentally friendly technology and applications, we want to contribute to the sustainability of the locality as well as contribute to global society. When it comes to our overseas operations in Myanmar, we want to continue to expand and instigate growth in that area. Japanese companies in overseas markets, especially in Myanmar, are highly recognized for their reliability and diligence as well as their considerate generosity towards the local community. We want to continue to meet their expectations. We hope to become a role model and pioneer in overseas markets, so that other SMEs can follow and provide Japanese technology to the global market. Those are my goals for the future.