As a construction firm with a specialty in marine and land civil engineering. What is your assessment of the requirements Japan will need in infrastructure in the years to come?
Japan's social challenge is the declining population and birthrate. We are aiming for a compact city in the future to bring more people into the urban cities because renewing aging infrastructures is difficult and costly. If we can encourage people to move into such compact cities, we can manage those cities more efficiently. Due to the Ukrainian war and Hong Kong issues, there is an increasing demand for land defense. The Japanese government plans to allot an increased budget for military defense, requiring social infrastructure. It is not relevant to the declining population, but it is a required infrastructure.
What do you see as the advantages of Japanese construction overseas? What are the qualities of Japanese contractors compared to Korean or Chinese contractors?
Japanese construction companies frequently receive instructions and guidelines from Japan's government. We are managing our business according to very strict rules and regulations. Besides that, we are required to report the progress of our projects very often. Being used to that practice and gaining the trust of our local partners overseas are some advantages of Japanese contractors.
As opposed to other firms, Japanese companies not only complete projects but also loyally provide follow-up, maintenance and upkeep which fosters a long-lasting relationship. Do you agree with that? What was your post-project experience in maintaining that kind of relationship?
We were the subcontractor in projects in Sakhalin, Russia and Bosphorus, Turkey. The major contractor in Sakhalin is Nippon Steel, and Taisei Construction in Turkey. The team is split equally between Japanese contractors and local partners. Since they were not certain about the capabilities of the local partners, they brought in Japanese companies to be safe and ensure the completion of the projects. For the tunnel project in Bosphorus, IHI's ship is used. The captain of the ship is our employee, but the crew members are Turkish.
---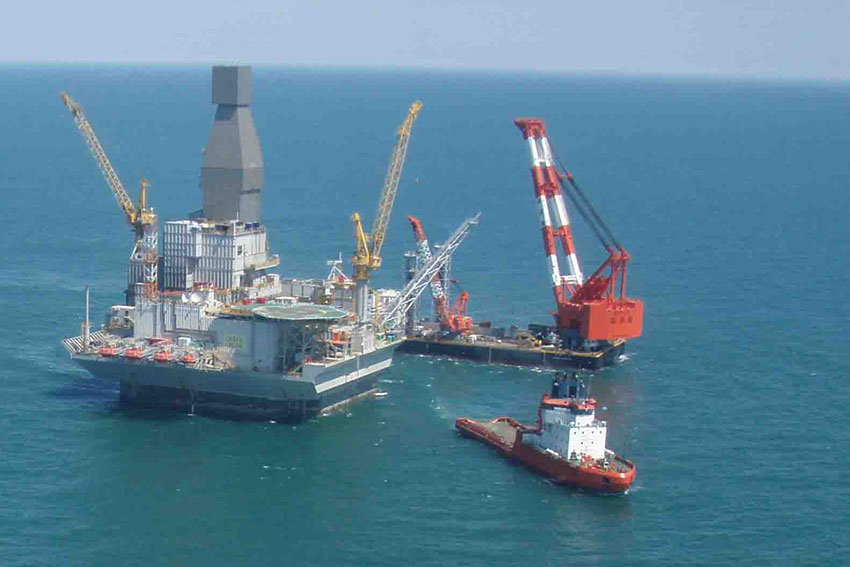 Sakhalin project
---
Your Dai-Ichi-Yutaka, a rotating 1800-ton crane, is one of the largest cranes in Japan. Why is this equipment so essential for piping projects or other marine engineering projects?
The neighboring area of our Sakhalin project is not a residential area, so this ship can carry 1500 kiloliters of fuel, which is one year's worth of fuel. It can also carry a large amount of drinking water for members of that project. The equipment is highly reliable, and it hardly breaks down, especially if it is properly maintained in advance.
Japan has a declining and aging population with a fertility rate of 1.36. There are going to be less than 100 million people by 2060, which would mean less demand for domestic construction projects. Are you looking to further expand your international capabilities in Asia and compensate for the lack of demand domestically and move overseas?
I have never seen similar vessels overseas. I think these are unique to Japan. Doing the concrete work offshore is very useful in Indonesia and the Philippines, which are coastal countries needing more marine construction projects. Jakarta is known for its heavy traffic. If concrete mixers are caught in traffic for a significant amount of time, the concrete may solidify. It is better to transport large loads of concrete through the sea.
Transporting concrete using mixer trucks requires controlling the temperature, especially in Southeast Asia, but it is easy to control the temperature in our vessels using ice.
---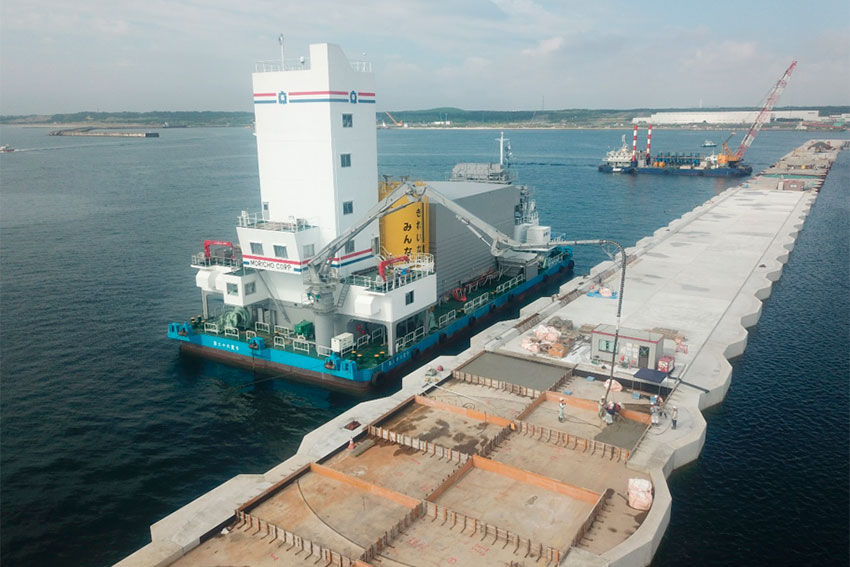 Concrete plant vessel
---
Are you looking to implement this in Southeast Asia?
No, but I believe that we have a potential project in Southeast Asia in the future. We brought a similar vessel to Sakhalin in the summer, and we had the experience of creating a concrete plant vessel in Johor, Malaysia.
Although we want to work on new projects in the Philippines and Indonesia, we have very limited resources, which makes it difficult to send our workforce from Japan to those countries. If we can recruit enough people, we are waiting to participate in such local projects.
What are you working on in terms of research and development?
We want to be able to use our ships for piling work. Dutch piling machines have the best quality in the world. We have been the agent of piling ships for more than 20 years.
One of the reasons Japan's construction industry finds it difficult to recruit young graduates to their business is their slower adoption of digital tools. In the case of your firm, what kind of digital tools or AI-based technology are you looking to integrate into your projects to help you increase your efficiency?
We are using analog technologies to decide the positioning of the ship because of the constant movement of the waves. Modern machines cannot follow that kind of movement. We are looking forward to new technologies that we can utilize, but we will need to partner with measurement companies to develop such equipment. Some Dutch companies have the technology that decides the positioning for offshore wind power generation. With the project on the coast of Ishikari, Hokkaido, we tried to purchase that technology, but it was really expensive. Currently, we are using digital technologies and automatic measuring tools to set the position. The final visual check, however, is done by our people. In the offshore generation project, Japan has set a very strict margin of error - 10 centimeters, while the overseas allowance is up to one or two meters.
Recently, the Strategic Energy Bill was introduced, which states that Japan will have 38% of energy coming from natural resources, solar and wind power, by 2030. Since Japan does not have much land space for wind power, ocean-based turbines are seen as the next solution. How can your company provide services for this future huge demand for wind and ocean-based turbines for energy generation?
Our prevailing methodology for offshore wind power generation is the 10-meter diameter monopile method. With a larger-scale project, we may apply the jacket methodology, which is a combination of multiple piles. It is a triple pile.
The 10-meter diameter pile is too big for our present technology, but the diameter is much smaller for the triple pile, giving us more possibilities to do more. I think we need to focus more on geothermal power generation because Japan has the third-largest potential in that aspect.