In 2019, overseas arrivals to Japan saw a high of 31.8 million, the best year on record, however with the COVID-19 pandemic, this dropped to a paltry 250,000. Despite this, Japan ranked number one on the World Economic Forum's Travel & Tourism Development Index during the pandemic and the government maintains a target to welcome 60 million visitors annually by the year 2030.
Japan is a very popular destination for tourists. I believe that one of the main reasons why people choose to visit Japan is the fact that Japan is clean. The infrastructure is in place and there is proper sanitation throughout the country. There are also many tourist attractions to visit and transportation timing is accurate. Japanese food is tasty as well. All of these elements combined make Japan a popular tourist destination. The exchange rate also makes Japan attractive at this moment, and according to the government's statistics, they expect to welcome 28 million tourists this year. In addition, in 2025, the Kansai World Exposition will be held, which will see a large influx of tourists for the six months of the year around the time of the exposition.
APA Hotels are famed for our functionality, our high quality, and our eco-friendliness and sustainability. We are focused on providing the maximum amount of comfort in the tightest of spaces. The Japanese people have inherited from their ancestors Mottainai spirit which means using limited resources, space and energy carefully and not wasting them. Therefore, that is the Japanese mindset towards accommodation. We want to provide all the required functions, such as a comfortable bed and a bigger television screen. Often, when I go abroad, I find that hotels and accommodations that prioritize functionality are quite rare. However, that is what we are aiming for with our hotel group.
APA focuses on comfort and functionality, and you really push that to the limit. For example, you have your Cloud Fit bed system that was developed in-house to ensure maximum comfort. Could you explain how exactly you differentiate yourselves? When we talk about comfort and functionality, what makes an APA Hotel better than another brand?
Digitalization is being steadily implemented in the Japanese hotel industry. Under this circumstance, APA has been initiating, creating and implementing new technologies since our foundation. For example, we have our own APA Group mobile application and membership system, which has over 20 million members, and approximately 4 million people have downloaded the application. These numbers are far higher than our competitors such as Toyoko Inn, whose application members number around 100,000.
---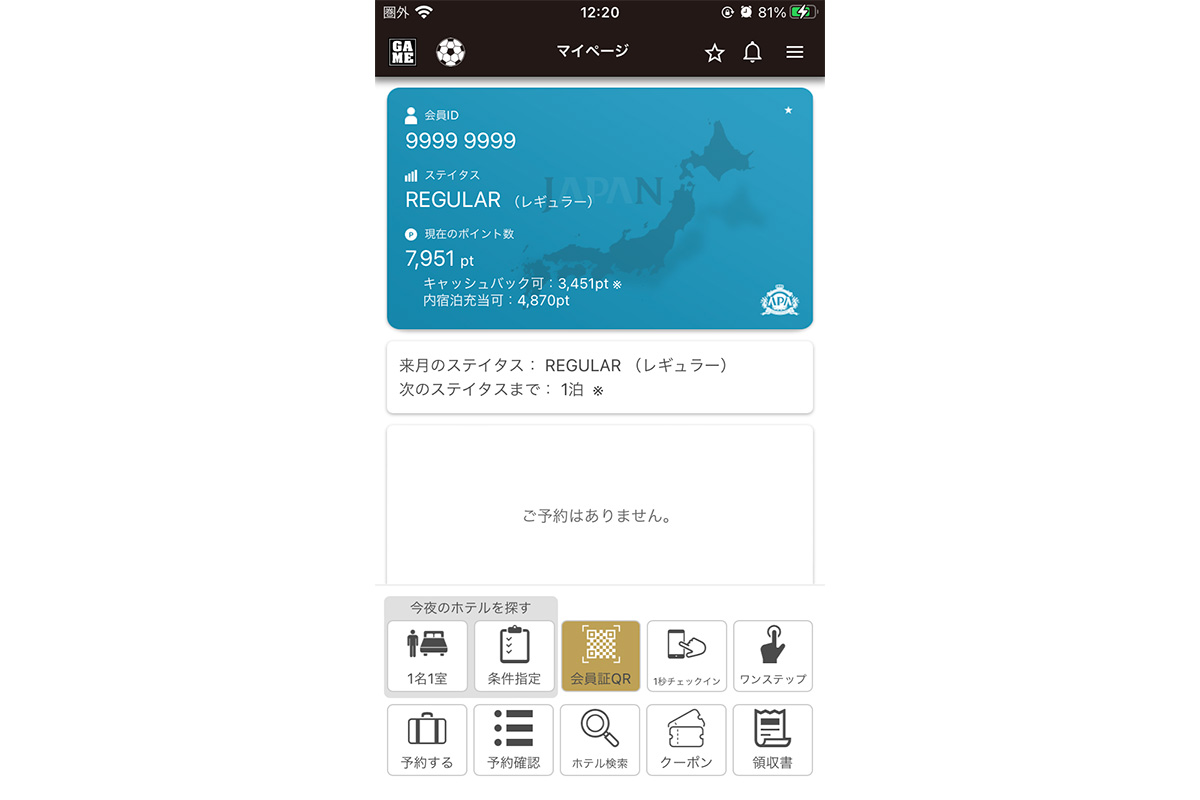 APA app
---
We focus on various clientele in a week; from Tuesday to Thursday, business travellers are our main clientele, while it is predominantly tourists that stay at the weekend. Also, international travellers stay regardless of what day of the week it is. Therefore, we have a high occupancy rate throughout the week. Considering Japan's demographic has been declining, we need to rely on tourists coming to Japan to increase business in the tourist industry. Welcoming these international tourists is vital for our industrial sustainability. We hear many different languages spoken at our hotels, such as when our guests are calling reception, for example. To cater to this, we recently created a fresh set of 353 pictograms, which we have begun to incorporate into our hotel rooms and facilities. We did this to ensure that basic information can be communicated regardless of the language barrier.
---

Pictograms
---
We recently released a second mobile application, the APA Stay Here. Through this application, each of our guests are provided with a private digital concierge service while they stay. I believe that these kinds of services will begin to trend and become more mainstream in the future. From our experience, we know that it is difficult to continually provide top-notch concierge services on a one-to-one basis with only one concierge. Our APA Stay Here app addresses this issue. We believe there is aggregated satisfaction with this service, which will result in our hotels being ranked higher and lead to more guests.
---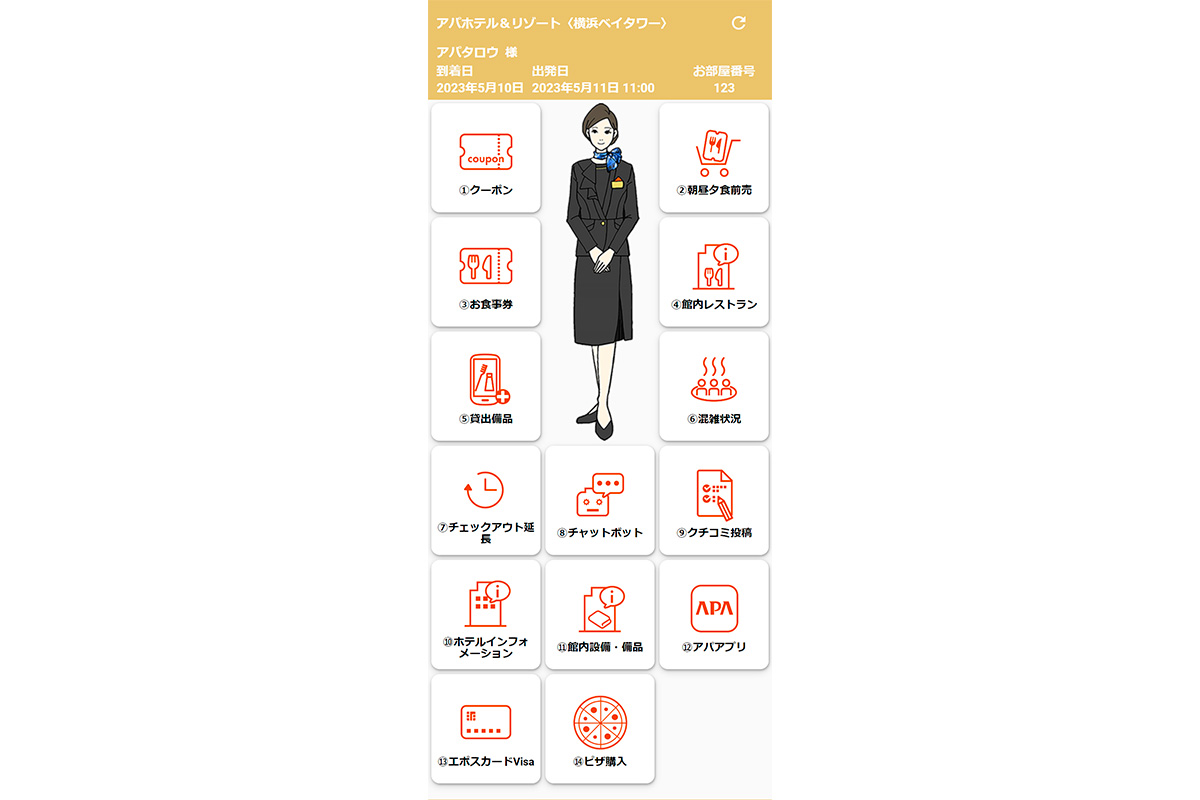 APA Stay Here app
---
If we look at the visitors that came to Japan in 2019 prior to COVID, China, South Korea, Taiwan and Hong Kong accounted for 70% of Japan's total visitors, with only two countries outside of Asia, the US and Australia, being placed in the top ten nations whose citizens came to Japan. Why do you believe this is the case, and how important is it to attract visitors from other countries, particularly Western nations?
Recently there have been increasing numbers of direct flights to Japan from other Asian nations. That has certainly been a factor in why there have been so many tourists coming from those countries. Also, as I mentioned earlier, there are many attractive points for coming to Japan, including the large numbers of tourist sites in the country. The number of sites in Japan that are registered as World Heritage has increased in recent years. Japan's well-developed transport infrastructure makes these sites accessible to tourists. Japan's climate of four seasons creates a varying landscape, with each season having something different to offer. The fact that Japan is one of the more developed countries in Asia also makes it an attractive destination for wealthier visitors, and there are many opportunities to shop for luxury brands in the cities.
Japan is widely known for its omotenashi spirit or its high level of hospitality that is oriented to wholeheartedly looking after guests. That is something that you do not often find in other countries, and unless the guests already know about it, they can be quite surprised by the levels of respect and the manner in which Japanese people conduct themselves. All of these points make Japan a very attractive tourist destination.
If we look at the Japanese tourism industry specifically, there are major challenges due to this surge in international arrivals. Japanese airlines are not scheduling the amount of pre-pandemic flights they had. Also, the hotel and hospitality industry lost nearly 10% of its workforce during the pandemic and is going through a labor shortage, affecting the level of service that is provided. What have been the challenges this surge in international tourism has presented to the APA Group and how have you been reacting to it?
Indeed, the surge in international tourism has presented its fair share of challenges, one of which is a labor shortage. To address this issue, we have included many digital tools to help make the work more efficient. As I mentioned earlier, we have different applications and software to help our customers. In addition to this, we have outsourced some of our cleaning and hotel staff to mitigate staffing difficulties and we have increased the wages to make the positions more attractive. While these challenges persist throughout the industry, I believe that we are relatively better positioned to handle them compared to our competitors.
There is a lot of investment into the hotel industry in Japan coming from specifically Thai and Singaporean high-end hotel developers. This was showcased by the opening of the Centara Grand Hotel Osaka, a joint venture between Centara Hotels and Resorts, Taisei, and Kanden Realty & Development. With this increase in investment that we are seeing from foreign developers, what impact will it have on APA?
I think that our targets are different. We are not aiming for luxury clientele. Our target is 'upper upscale', which the average rate per night is around JPY 9,000 to JPY 12,000. Therefore, I believe that we can co-exist with those players as our targets are completely different. The target category that we are aiming for is mid-level budget travellers, which is quite rare to see in many other countries. We aim to make compact spaces the most comfortable accommodations, while also prioritizing high-quality functionality and eco-friendliness. However, the targets of the hotels located in large cities are different. We are efficient when it comes to using space. A hotel with 200 rooms and half the space is more profitable than a hotel with 100 rooms and double the space. This efficient use of space leads to a high profit.
We are currently creating a new room category which is a connecting room called the SS Connect Twin, which has two single rooms with separate bathrooms in each room. This prevents congestion issues and provides additional privacy to each of the guests. I believe that there is an increasing trend of people wanting their own private space even within units. The SS Connect Twin will become mainstream within the industry in the future.
We created a unique type of door that prevents noise, for example, from the TV in the next room. Every time we launch a new hotel, we ensure the 'One Hotel, One Innovation' tagline. This means that every one of our new hotels is an "Even Better! APA HOTEL".
We are looking toward the 2025 Kansai World Exposition. At our upcoming APA Hotel & Resort Osaka Namba Ekimae Tower, we will have some SS Connect Twin rooms. By having SS Connect Twin rooms, we will be able to adapt to the demands in various ways.
---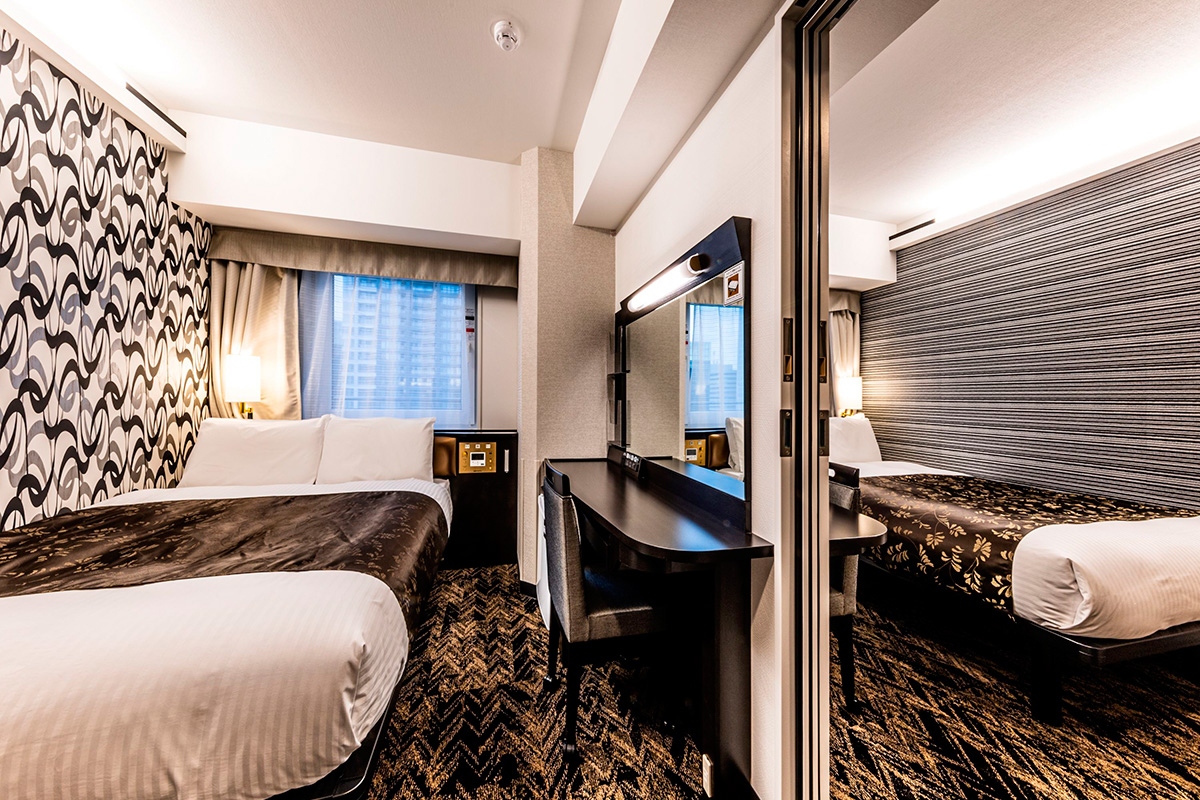 SS Connect Twin room
---
In February, APA opened the largest condominium and hotel-integrated project in East Japan, the Premiere Niigata, which links apartment life and hotel hospitality. It has a capacity of 19 floors and 208 units, and furthermore, it is only located eight minutes away from JR East Niigata Station and is also close to Bandai City, one of the commercial hubs of Niigata. Why did you choose Niigata as the location for this project and how do you believe this hotel will contribute to the tourism sector of the Niigata region?
---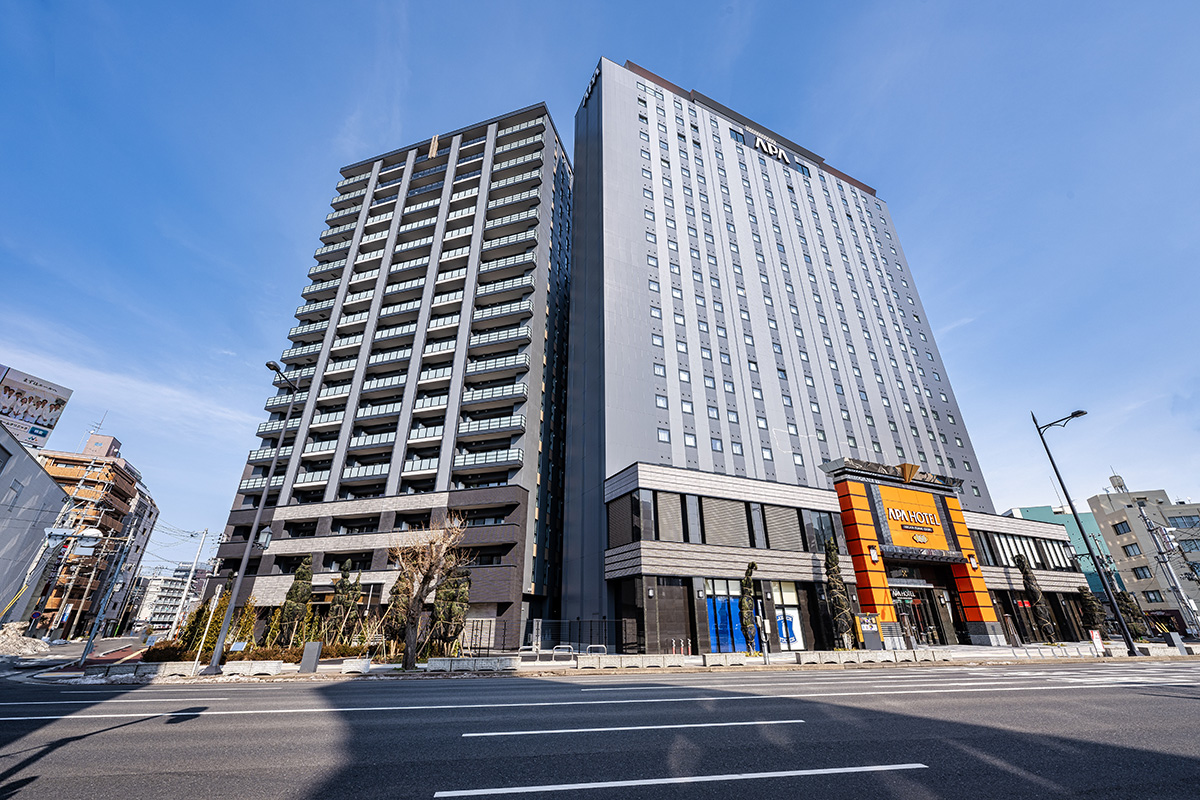 THE PREMIERE Niigataeki Bandai and APA Hotel & Resort Niigata Ekimae Odori
---
Niigata's location next to the Sea of Japan makes it a popular tourist destination. There are many attractive sites for tourists to visit in the area. The aim of hotel and condominium integration is to be a facility that can cater not only to tourists and business travellers but also to the needs of the local community. Our facility can be used as a place to hold local events or as a place to stay for people attending local events. Also, for example, if people decide they would rather go out to eat rather than cook dinner, they can go to a restaurant that is connected. We can provide many different services by connecting elements of apartment life and hotel hospitality. APA is recognized as a hotel company. However, we started as a real estate business. The hotel and real estate business is therefore not new for us, as we have already operated multifunctional properties in the past.
Even though 2019 was a record year for tourism in Japan, 47% of the tourists went to Tokyo, while half of the nation's prefectures such as Niigata only saw 1% or less. Just last year, the government considered tourism as key to regional development as a way to revitalize local economies that have been affected by Japan's demographic decline. What can be done to attract more visitors to these hidden locations like Niigata, and how can hotels like APA contribute and promote regional tourism?
I think we need to dig deeper when it comes to analysing this situation. When you consider tourism as a whole and how people visit other countries, they tend to focus on the major cities. The rural areas or the areas outside of the major cities tend to be less travelled. That is a normal trend across the world. It is not unique to Japan. It would be interesting to see what percentage of travellers visit rural areas in other countries and compare this with Japan.
As we mentioned earlier, transportation in Japan is highly convenient and reliable. You can travel from Tokyo to Niigata in two hours. It is a popular destination with several attractive points such as tasty food, Japanese sake, the Yahiko mountain and many skiing facilities. Perhaps the issue may be that the PR has not been good. If we can strengthen our promotion and marketing, then I believe we can solve this issue and attract more tourists to the area.
When you consider global trends in tourism, and travellers to France for example, they too oftentimes focus on the major tourist destinations such as Paris, Lyon and the other big cities. The public transportation and infrastructure make it easier to get around those places. That is a major factor in determining where tourists decide to stay. My style of travel is to rent a car and travel around the country. However, this style of travelling is quite rare. Wherever you go in the world, there are many attractive sites and cities beyond the popular tourist sites. From that perspective, Japan's transportation infrastructure is vital. Even if you do not have a driver's license, there are many ways you can get around Japan. The problem is that some of the lesser-known destinations are not very good at promoting themselves.
Is there an underrated location in Japan that you would recommend or is a personal favourite of yours?
I am originally from Kanazawa, the capital of Ishikawa Prefecture. In Ishikawa Prefecture, most people tend to go to Kanazawa. However, there is an area in Ishikawa Prefecture called the Noto Peninsula which is very beautiful. Although it is quite a distance to travel, it is definitely worth visiting. Kaga is another area that I would recommend. We have a luxury Japanese-style ryokan there.
We know that in 2020, APA announced its Summit 5-III mid-term plan which set numerous targets based on the prediction that Japan will become a major tourist destination. Set goals include becoming the overwhelming number-one presence among domestic hotel chains as well as enhancing the brand through collaborations and increasing total sales. How has your mid-term plan been so far, and are you on track to achieve the targets that you have set?
Last April I was appointed as the new President and CEO of APA Group, following in the footsteps of my father and we presented our renewed 5-Year-Mid-Term Strategic Plan, "AIM5-APA Innovative Movement" from Summit 5-III, and our goal is to expand our hospitality market share and achieve a 150,000-room hotel network by 2027. Currently, we have already a 110,000-room network and I believe we are on the right track.
In 2016, APA acquired the Coast Hotels brand in Canada. What other countries or regions have you identified for further expansion, and could you elaborate more on your international business strategy?
---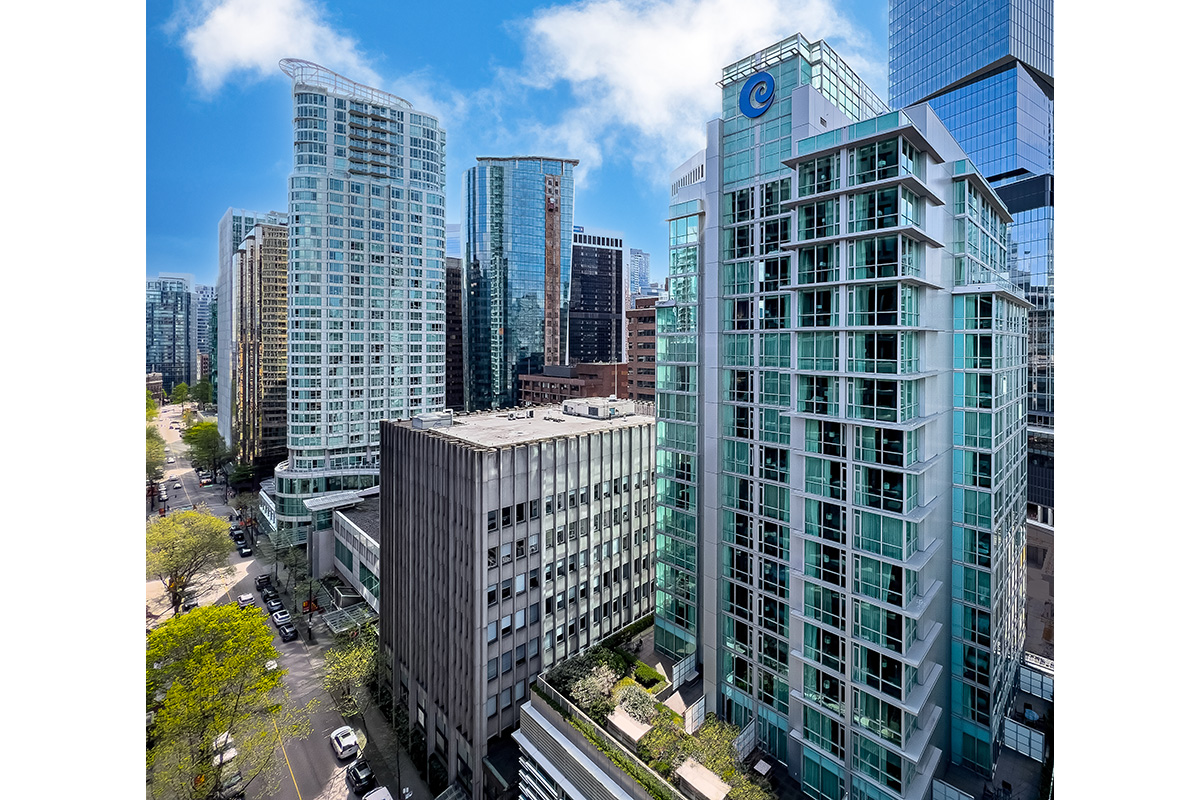 Coast Coal Harbour Vancouver Hotel by APA
---
We acquired Coast Hotels in 2016 and each property is as unique and varied as its locations, with a style, personality and sense of place all its own while delivering exceptional value and an unmatched dedication to our guests. Our owned hotels in Canada are located in British Columbia and Alberta. We currently have over 39 hotels in our North American portfolio, and we are planning to continue expanding in the major cities along the coastline of the Pacific Northwest including Seattle, San Francisco, Los Angeles, and San Diego. We are aiming to have a total of 10,000 rooms in that region. Our expansion plan is similar to how we expanded in Japan. The idea is to establish Coast Hotels by APA and incorporate the elements of Japanese services that people find attractive. For example, in our Canadian-owned hotels, we incorporate elements such as Washlets and handheld showers that guests appreciate. Washlets are very popular, and introducing handheld showers also helps our housekeepers to work efficiently. Our innovative approaches are not only aimed at our clientele but also our Ambassadors (we call our staff Ambassadors at Coast Hotels). They are also aimed at improving our business and the hotel industry as a whole. We currently have 4,501 rooms in the region. Once we can cover the major cities in those areas, we then plan to expand to Australia and other English-speaking countries.
Imagine that we come back to interview you again in 2031 for your 60th anniversary as a company. What goals and ambitions would you like to have achieved by then?
I believe that it is important to establish goals in response to the times and the climate that we live in. Otherwise, we will not be able to achieve our dreams. The strength of being a privately owned company such as ours is that we have the flexibility to navigate through turbulent periods while maintaining a long-term perspective. Oftentimes, companies that are listed on the stock market end up having to focus on short-term goals as profit during their tenure is their main concern. However, our company is focused on being sustainable in the long term. We want to continue to be a resilient company that can evolve with the times so that we can become a 100-year company and a 200-year company. I want to ensure that this DNA is passed on to the next generation.
For more information, please visit: https://www.apa.co.jp/
---
Interview conducted by Karune Walker & Antoine Azoulay