In your view, what must be done by the logistics sector to prevent the dramatic global disruptions of the past few years from happening again?
There are complex reasons behind the disruption of logistics and so there's no simple answer to what we can do to prevent this happening again. The global supply chain was established to be as efficient as possible so there's no leeway or buffer to protect us from issues that deviate from the norm, such as Covid-19 and the shortage of manpower due to quarantines.
For example, air freight basically uses the excess space used in passenger aviation. There's no extra capacity that allows air freight cargo to continue as usual as there are fewer overall flights. It's very efficient to combine passenger air freight with cargo freight but with Covid-19, this efficiency has been lost. The option to create a dedicated mode of cargo freight transportation would not be efficient and the cost would be higher. The same could be said of container shipping terminals, which are very congested. However, if we were to build extra container terminals, it would mean that during normal times they would sitting idle.
One provider trying to take countermeasures alone is not good enough. It has to be the whole economy or industry taking measures to first decide whether to prioritize efficiency and go the conventional route where we maximize efficiency and accept that disruptions may occur from time to time, or to create some allowance which could be called on in abnormal situations, and accept the extra cost of doing so.
---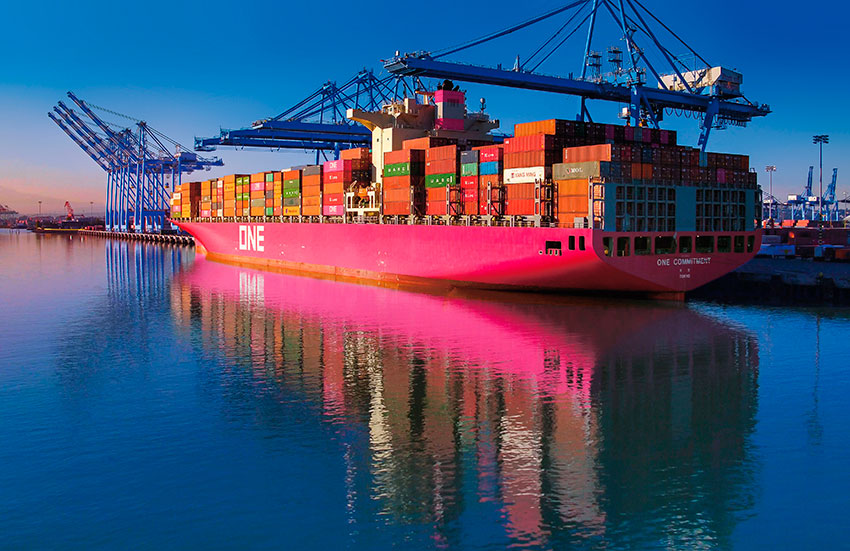 ---
There has been a trend of diversification among Asian shipping routes as foreign players in Europe or America feel they need to lessen their reliance on China. Many of our interviewees see this trend as an interesting opportunity for Japanese firms to take advantage of traffic previously handled by China. Do you agree with this sentiment, and if not, how do you believe Japan's role in the region is changing?
I don't reject the possibility of Japan playing a vital role. It is not good enough just being a hub port, you have to have a big market in that port there. My perspective is that China has a massive market by itself behind their ports, so it could be sustained as a port hub. However, Japan, although it has a big market, is shrinking, and compared to China it's smaller, so it may be difficult for Japan to sustain its economy as a hub port.
An example of a hub port is Busan in Korea where the government has made a strategic plan to invest heavily only in Busan port, whereas Japan has so many ports like Tokyo, Osaka, Nagoya and Kobe so the investment in ports by the Japanese government and other entities is scattered throughout the country. Busan therefore has a strategic advantage.
However, there's a practical reason to choose Japanese ports, since depending only on China - Shanghai port - is risky due to the recent lockdown. Furthermore, Japan is at the forefront of Asia in terms of DX and green logistics.
Japan's ports are known for being technologically advanced and conveniently located, but there are some structural issues such as Japanese ports not being open 24 hours a day, seven days a week, and secondly a lack of foreign workers, which can make it difficult for international companies. As the chairman of the Japan Association for Logistics and Transport, what are some of the policies that you would recommend Japanese ports adopt in order to increase their international competitiveness?
Japanese ports are not open 24/7, unlike Singaporean ports for example. Recently in Japan and globally there has been a focus on changing work styles, and we have to ensure the well-being of port workers. We have to have a good working environment for them in order to attract the right personnel to the field. At the same time, digital technology is crucial in supplementing manpower to cater to the personnel shortage as well as to have more efficient operations such as the handling of cargo through DX.
A lot has been written about the new Arctic route that would pass from the east of Asia via the Arctic to Europe, which would cut by half the time and fuel consumption of more traditional routes. How realistic do you think the Arctic route is, and how long do you think it will take for it to become truly operational?
The ice gets thicker during the winter time, but Russia is actually making an attempt by using a tug boat with an icebreaker to go through the eastern side of this route, which has the thickest ice, connecting Siberia to the Bering Strait. Although the ice is thickest there, the effect of global warming could lessen its thickness, and there's a possibility that we may be able to operate through there even during high winter times. There would still be a risk of getting caught in the ice, though. Taking this route during winter is still a challenge.
Furthermore, you would have to consider what would be the appropriate containerized cargo that should be carried through this Arctic route, because the advantage of the conventional route is that from Asia to Europe the ships call at ports in countries such as Singapore and India and other big economies before arriving in Europe. If you took the Arctic route, there are no major economies from Northeast Asia to Europe.
Our vessels carry LNG gas from Siberia, and we use this Arctic route through necessity to get the gas. We cannot foresee what the result of the Russia-Ukrainian conflict will be, but once things settle down, this Arctic route will be a crucial transportation route.
Digital technologies are seen as a means to manage various labor issues, delays, and disruptions in many industries. How do you expect digital transformation to impact the shipping and logistics sector, and what opportunity do you believe exists for Japan to accelerate the adoption of digital technologies?
The key technological advancement that the shipping industry is seeking is autonomous piloting. Currently it takes about 25 crew members to operate a ship. We could cut that number down to five or even to zero and make ships fully automated.
We expect digital transformation to massively reduce the number of accidents and promote safety in the industry. And with regards to land transport, autonomous trucks will attempt to compensate for the shortage of truck drivers. Also, if the digital platform that connects cargoes to trucks can become more widespread, it will create more efficient transportation and decrease the idling of trucks and mitigate the shortage of truck drivers as well as promote greener logistics.
Recently I heard of an interesting attempt to use a drone to deliver items to remote areas. They're still at the testing phase now. You have to closely monitor the wind movement in order to let a drone fly, and although there's existing technology to monitor wind movement to some extent in the sky, there is no such technology yet at low altitudes such as below 100 meters so on.
There is a new technology that's been developed through the application of existing technology, and that is to monitor particles in the air such as aerosols and detect the movement of air using a Doppler monitor to determine the wind direction and speed. With that information, the operator can decide whether to go ahead with a drone delivery or avoid areas with strong winds. This new technology can be applicable not only in this field, but other areas also.
The technology and testing has been done by a European company, but there is a Japanese startup which is making it less expensive by using smaller, miniaturized parts. This technology can be applied not only for shipment deliveries, but also for example in aviation where most airplane accidents happen during landing because of sudden unexpected winds at low altitudes, so by using this Doppler monitor, you're able to monitor sudden winds and avoid them to prevent accidents.
As you mentioned, reducing the environmental impact of the global logistics and shipping industry must be addressed by the whole industry, not just one company or organization. Some ship owners feel that achieving carbon neutrality by 2050 is unrealistic. How can carbon neutral neutrality in this sector be more collaboratively realized, and do you think that 2050 is a realistic time frame for the shipping logistics sector to become carbon neutral?
First and foremost, it's not a matter of asking whether it's realistic or not. It's something we have to do, so we have to change our mindset. Global warming and carbon dioxide emission is scientifically proven to be a common issue for the whole human race, so as a human race we have to tackle this issue together. Each country and government is taking measures and some countries are saying 2060 but the Japanese government and companies are committed to pursuing 2050 as our goal to achieve carbon neutrality.
As global shipping industry, all of us need to collaborate together to achieve this 2050 goal. As an international ship operator, our role is to shift energy sources from fossil fuels to ammonia, hydrogen or other alternatives. The role of the shipbuilder is to make environmentally friendly ships and develop the required technology. The role of the energy companies to provide environmentally friendly energy sources.
All of the parties concerned need to fulfill their roles, and once that is done, I believe that the 2050 carbon neutrality goal is feasible and at the same time it's something that we really have to do. The Japanese government is taking a leading role, with good awareness of the situation and high morale, and there are multiple private and public collaboration efforts in terms of, for example energy, where there is work being done to develop new types of hydrogen energy as well as ammonium, or synthetic methane based energy. There are many, many ongoing approaches towards achieving carbon neutrality.
Your company has some very interesting initiatives like the Wind Challenger project and an ammonia fuel project. Could you give us an overview of Mitsui O.S.K. Line's strategy to reach carbon neutrality?
The details of our initiatives are on our website (MOL Group Environmental Vision 2.1 (disclosure.site)), but of course 2050 is the target for carbon neutrality. Zero carbon dioxide emission is the goal, and the alternative fuels are hydrogen and ammonium. We performed intensive research and it looks like ammonium has the more rapid potential to be commercialized. Our target is to introduce an ammonium fueled vessel in the 2020s.
Our strategy is to use LNG fuel as a bridging solution from regular combustion engines to alternative fuel powered engines. We'll be using LNG until we can secure a stable provision of ammonium, or other alternative zero emission fuel become available. At the moment we're not completely sure if we can depend 100% on ammonium, so we are looking into many alternative energy sources. For example, bioenergy is a zero emission energy that could be an option. And although wind power cannot fully operate a ship, it could be used as a supplemental power source for ship operations. As for synthetic methane, it does emit carbon dioxide but we can recycle this carbon dioxide to make new synthetic methane, so in a way it's a form of recycling that can help achieve carbon neutrality. We are looking into diverse energy sources.
---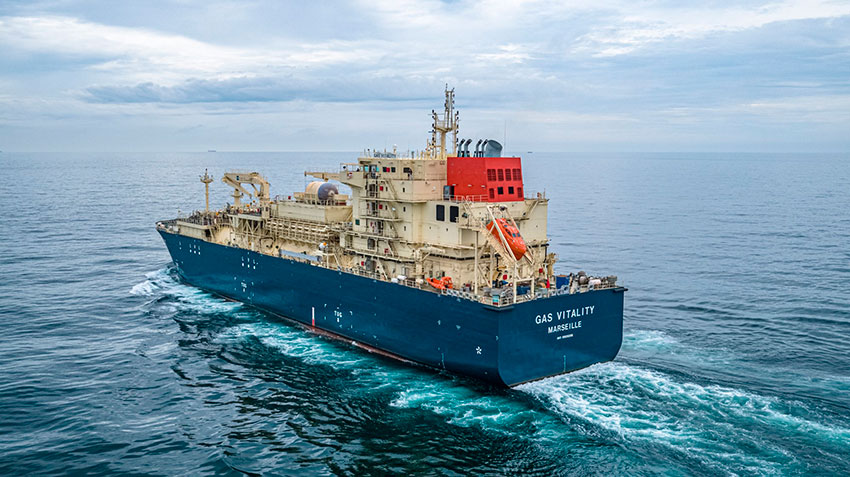 ---
Ship operators are often wary of ordering new ships out of fear that regulations might change while they are under construction, which can delay the whole process of going green in the industry. What is the role of your association, and how important is it for MOL to maintain that relationship and communication with regulators? What do you think can be done to ensure smoother communication between regulators and ship operators?
The association doesn't have a lobbying function, it's more about information sharing. I send our member companies information regarding the government's policies and approaches to the industry.
There are many associations within the industry, including The Japanese Shipowner's Association which I'm also the chairman of, and the role of these associations is to have a very close relationship with the government. We discuss the situation of the industry and the companies that are in it, and find out about the government's approach to the Japanese logistics industry.
Although it may seem that European countries are leading the way in terms of carbon dioxide emission reductions, the Japanese government is also playing an important role in the IMO and presenting new ideas that could be the foundation of future regulations so it's not only information sharing, but we have a good relationship with the Ministry of Land, Infrastructure and Transportation. We send them information about our industry and we gain an understanding of the situation regarding the regulation field as it pertains to the global society.
As a bridging solution, Mitsui O.S.K. Lines is pushing for LNG fueled vessels to become the standard and we are currently developing and constructing a number of new LNG fueled vessels.

Are you currently looking for collaborative partners either in Japan or overseas?
Mitsui O.S.K. Lines is collaborating with multiple companies. In terms of establishing energy infrastructure for the supply side, we are making approaches to Japanese and overseas energy companies for ammonium, hydrogen and other possible alternative fuels. In Singapore, for example, we will promote the development of off-shore facility such as floating storage unit and/or ammonia bunkering ship, and safety guidelines of ammonia bunkering together with other partners which have experience of LNG bunkering business there.
It's also a case of us making representations to the Japanese Government - the Ministry of Land, Infrastructure and Transportation - and those energy companies in order to realize a stable supply of alternative energy.
We are actively investing in collaborating with companies that have possible technologies we would be interested in. We completed concept study on an ammonia/liquefied CO2 carrier which can play a key role in efficiently transporting captured liquefied CO2 to storage reservoirs or usage sites in the value chains of carbon dioxide capture utilization and storage (CCUS). "Wind Hunter Project" Zero Emission Ship Sailing by Wind and Hydrogen is also one of the example.
We are still at the trial and error phase so we're not sure what the path will be in the future., however, as a shipping company who operates one of the world leading merchant fleets, we will contribute to decarbonization by leveraging our various ship types and business portfolios.
Let's imagine that we come back to interview you again on the last day of your position, both as the chairman of Mitsui O.S.K. Lines and as the chairman of the two associations. Is there an ambition or an ultimate goal that you would like to achieve with these positions, before you retire from them?
Since I became the leader of Mitsui O.S.K. Lines I've been saying that my goal is to make international shipping infrastructure very stable, reliable and safe. There have been accidents, disruptions and delays, and these things cause stress to our customers and consigners, so creating a stress free service is very crucial.
There are many approaches that we can take to make it safer and more reliable. Arriving on time and having stable costs without volatility are key to establishing a more stable infrastructure that contributes to the global economy. This international shipping infrastructure and ship operations are very important in terms of sustaining the economy.