One of the enduring social issues facing Japan has been its population decline and its super-aging society, which has a pronounced effect, especially in the construction sector. Can you tell us the impact of the demographic decline on your business? What are some of the challenges and opportunities it presents?
There are projections that there will be a decline of around 1.2 million workers in the construction industry in Japan by 2030, so our biggest goal is to increase the productivity and efficiency of our workers. Smart construction has become one of our major solutions to enhance productivity. Smart construction is a program that has four devices and eight applications. In 2016, Japan's Ministry of Land, Infrastructure, Transport and Tourism announced its new "i-Construction" program. We had already started advancing our systems before this program was launched, so we have a domestic share of about 60-70% in i-Construction. The smart construction program is a hybrid business model that incorporates the hard OEM infrastructure devices and the soft ICT and software. We have just launched a three-year mid term management plan where we outlined the vision for this program. The vertical axis refers to level 1 to 5 processing. The horizontal axis refers to various automation solutions and digital technologies in machinery. These are solutions and machinery that can contribute to the goal of carbon neutrality. This layout and plan are designed to provide support to our customers in their manufacturing processes from conventional machinery all the way to digital transformation and carbon neutrality. We are currently at levels 2 and 3, but we are conducting R&D to reach level 5. In 2021, in order to provide level 1-5 support, we started a Joint-Venture called EARTHBRAIN. We have partnership with NTT Communications Corporation, Sony Semiconductor Solutions, and the Nomura Research Institute, Ltd. to development, provision and maintenance of digital solutions for the construction industry including visualization devices, platforms and applications. We needed three things to succeed in this project — fast and decisive corporate management, agile development, and human resources that can provide the required digital resources. Komatsu is a large corporation and it might not be able to move as quickly and decisively as needed so we created a new format and method with the new company.

Some of our major projects in digital transformation. We launched Autonomous Haulage System (AHS) in 2008 ahead of others. We are the first in the industry to do so. Some of our products are already at level 4 or 5. Our strategy to achieve carbon neutrality by 2050, is to decrease our CO2 emissions by half within the next 10 years, so we are looking to electrify and introduce automation and DX technologies into more of our devices and mining machinery. In comparison to electrifying regular cars, construction and mining equipment require a large amount of energy. As an example, our construction dump trucks run on about 1,000 KW. The operating times also vary depending on usage. Excavators might be used only a few hours a day, but mining dump trucks are used almost 24 hours a day. Mining equipment is also used in various climates and landscapes, so they need to be very durable, dust-resistant, and can withstand rough climates and rugged terrains. When it comes to cars, perhaps they only have to deal with the battery element, but we are doing R&D on fuel cells, hydrogen engines, e-fuel, and biodiesel. Unfortunately, when it comes to mining equipment, there is no viable market for its electrification yet. With the rising trend towards carbon neutrality and awareness to contribute to eco-friendly solutions, we consider it our duty and obligation to be able to provide our customers with a choice to use such equipment.
How has Komatsu been able to pioneer digitalization in such a traditional field? In 10 years, what do you think are the major changes in construction sites brought about by digital technologies?
We adopted digitalization in 2000 when we introduced the Komtrax (Komatsu Machine Tracking System which is monitoring on the location and operating conditions of construction equipment) . Although the term IoT did not exist at the time, it was essentially what we were doing when we enabled devices to be operated remotely. We believed in the value of accumulating data from machines for future use, so we installed the Komtrax free of charge in many cases to establish a database. Through the Komtrax, users are able to monitor vehicle fuel consumption, and positioning of the vehicles, see abnormalities and use such information to manage their construction site operations. The introduction of the Komtrax led us to later create unique business models. Digitalization is the starting point in creating and developing viable business models that will create added value for our customers.
The current challenge for digital transformation is integrating it in a flexible and affordable way. Can you tell us more about these programs and how you are working to realize low-cost ICT construction sites?
EARTHBRAIN is made up of four companies, which draws out the different strengths of these companies. Sony Semiconductor Solutions provides the sensors, NTT Communications Corporation's strength is communications, Nomura Research Institute's strength is in project management, and our company provides the data and know-how with regard to equipment. We combine all of our strengths in order to create optimal and affordable programs for our customers. An example of this is our Smart Construction Retrofit kits. We have already introduced ICT machines in the industry since 2013. The Retrofit kit from EARTHBRAIN can digitalize conventional machines that are already being used. To succeed in the Smart Construction business, it is important not only to have the application and platform but also to have strong useful data. Newer models of ICT machinery that have been introduced in construction sites since 2013 are quite new and there are only a few of them. ICT excavators in Japan make up only about 2-3%. The Retrofit kits enable us to expand the number of vehicles that have ICT technologies in the industry. ICT machines are considered machine-controlled. However, the ones with the Retrofit kit are considered machine guided. We are able to provide a machine guidance system at an eighth of the cost of our competitors. It is a business that is going to support the industry here in Japan and is providing a viable solution to the issues of demographic decline and the aging workforce. This is a business model that is profitable and contributes greatly to society.

Komatsu's basic corporate philosophy is to continually contribute to society through business activities, so we have made our main business just that. In September, we launched a Komatsu report where we outlined KPIs on how we are achieving our ESG solutions and improvement of earnings. We provided our stakeholders with a transparent three-year plan for 2024.

There are two main pillars in our business. One is creating closed platforms for construction machinery. EARTHBRAIN is an open platform that helps customers visualize construction sites. Since it is an open platform, it allows different companies to utilize the data to improve their manufacturing processes. This business model is the same for mining equipment. Our customers need to visualize the data on different elements, processes, and phases of the business. For example, there are various phases and elements in the mining process, such as autonomous mining or dumping. If all the elements are using DX technologies but are performing in isolation, it does not increase productivity or efficiency. Complete System integration of all the elements involved is important. Although increasing the number of machines that have ICT functions in the industry is necessary, it is even more critical to enhancing data connectivity and total process integration for our customers. The shift from products to services is becoming mainstream, but we have to consider both and create a model that caters to both products and services. This was the reason why we discussed the vertical and horizontal axes earlier. The vertical axis pertains to providing solutions for customers and enhancing their manufacturing processes, and the horizontal axis relates to the machinery or products. Our ultimate goal is to have both hard and soft elements become the industry standards. This will make more customers use our machinery, platforms, and applications because they are all connected. The goal of the Smart Construction program is the full integration of both hard elements such as machinery and soft elements as platforms and applications and provide it as a package to our customers to enhance and optimize their productivity.
In April 2023, we plan to launch a new mining platform with our American partner that holds a 40% to 50% share within the fleet mining management systems. We are looking to enable this platform, which is a part of our AHS (Autonomous Haulage System), to penetrate and enhance our business in that industry. Through that, we are able to provide all of these systems with the goal of enhancing the productivity of our customers. Komatsu and Caterpillar are the only companies that are able to provide AHS (Autonomous Haulage System). The shares are split fifty-fifty between us. We believe that the key to having an edge on Caterpillar is our fleet management system and how we can expand that.
---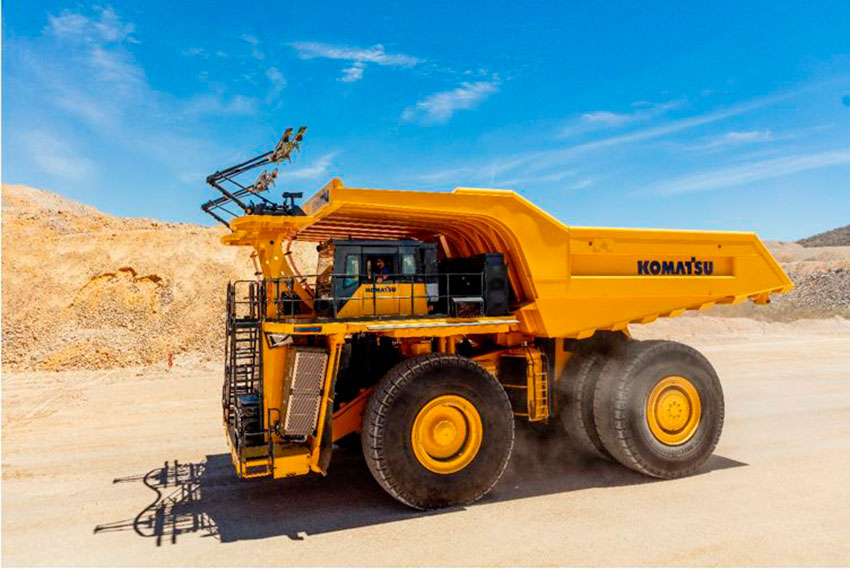 ---
This summer, you announced another collaboration with a US firm called Cummins to develop a zero-emission dump truck for mining applications. As you just explained, the electrification for a car or a mini-excavator, a vehicle that only operates for a few hours at a time, is fundamentally a different challenge from something like a dump truck that has to operate continuously. Can you tell us more about this collaboration, and what approach are you going to take to solve this challenge?
All the larger and major mining companies like Anglo, BHP, Rio Tinto and Varley have already committed to their stakeholders that they will achieve zero-emission by 2050, which also puts pressure on us to create zero-emission machinery. However, there are various challenges that we have to overcome, such as being able to develop zero-emission machinery that can still be able to run 24 hours a day. Hence, we are considering everything on a step-by-step basis to meet the challenges and achieve carbon neutrality in this department. The greatest requirement in the mining business is the electrification of dump trucks, as they have the most carbon emissions. Interestingly, our dump trucks are creating a situation in which the motor itself can regenerate energy to run continuously. We are mixing diesel and electricity in order to create a situation where the electric motor generator can capture and regenerate energy. We also have trolley technology that is included. Up to this point, we have been moving in the direction of diesel & electric, diesel trolley, then battery trolley. Eventually, we want to develop a dump truck that can run on all kinds of fuels, whether on fuel cell, battery or hydrogen, which we call the power agnostic dump truck. We are in the R&D stage for that development, and we are looking to roll that out. At the recent MINExpo, we were able to exhibit our power agnostic dump truck and our concept for it.
We have made the Greenhouse Gas (GHG) alliance with our mining customers, which is not a co-creation between OEM and customers; rather, it is an information exchange type of alliance. For example, the OEM side would provide information such as vehicle-related developments while the other side gives the mining plans or the infrastructure environments for fuel cells or other different energy-generation platforms. Through that exchange of information, we can accelerate carbon neutrality within the field of mining, which is the aim of this GHG alliance.
Furthermore, we are aiming to complete our power agnostic dump truck by 2029. There are many loops we have to fill and various hurdles in technology, such as fuel cells and hydrogen engines, that are still in the process of development. Nevertheless, we are proactively pursuing R&D in the technological realm by considering various partnerships and working with other parties. As recently announced, we are working with Cummins to develop a fuel cell battery. Since they are seeking to expand and develop that, we really want to work in partnership with them in that field. Lately, At bauma 2022 we have introduced some electric construction mining equipments, so we are thinking about expanding our battery-related elements through such partnerships. Unfortunately, Komatsu does not have specialized know-how on electrification in-house. It is an area where we want to continue to grow and strengthen with the help of our partnerships and accelerate development in that field through this model. Through these partnerships, it is also my goal to accumulate in-house knowledge and technological expertise in areas where we may be weak. We want to truly learn from our partners and begin to develop a strong, solid basis of know-how in-house. Our important strategy includes an element called the key component strategy, which is about developing and manufacturing the key components that really influence the functioning of the machines in-house. That process needs to be done in-house, which is part of our strategy. Some of the elements that we consider to be key components are the engine, transmission, hydraulic motor and digitized components which we manufacture and develop in-house.

One feature of our entire business model is going beyond just selling the vehicle because we include the after-services and selling various auxiliary components. It is very important for us to continue to expand our aftermarket business while carrying on with fortifying our key component business. Through this strategy, customers can purchase genuine Komatsu parts. When our customers undergo an overhaul or go through the process of remanufacturing, we are prepared to provide our services and products. The life cycle costs and the amount of investment of our customers with new machinery only make up 20% to 30% of the total. Apart from new machinery, our customers also have to handle other costs like fuel, operator, parts and overhaul costs. As such, we need to pour our energy into all these areas in order to improve and expand our business opportunities, remain a viable & profitable company and maintain leadership in the industry. Our latest total sales and profits are at JPY 3.4 trillion, from which after-sales account for over 40%. All of that is essential. With electrification, it is our priority to keep accumulating the wisdom, know-how and technological expertise required in-house to keep manufacturing the most relevant components. One of the major areas we are putting our attention to is the expansion of our after-market services. I always keep in mind how we can begin to expand our base with technological expertise as a result of our partnerships.
---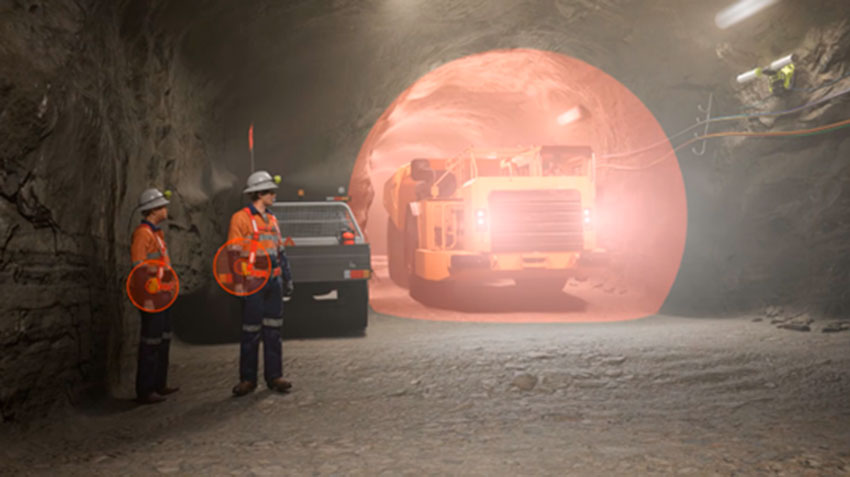 ---
The developing markets for Africa and Asia were key for Komatsu's growth, which is significantly different from developed countries. The climate is often more humid and warmer in those regions. Also, since rental or second-hand or even third-hand purchases are more common, there is a bigger need for maintenance and repair. How are you tailoring your services and approach to local requirements?
In the construction sector, we are operating through a distribution network. We are utilizing that kind of channel of distribution in play. For the mining industry, we go through direct sales. This is quite different from Caterpillar, which is fully utilizing distribution channels and has no direct sales, even in the mining business. We have divided between construction and mining our strategy in Africa, Asia and other areas with great growth potential.
With mining, we are looking to employ the last-mile approach and be able to leverage our strengths and direct sales network. We have several elements and goals to continue to grow in the construction field. It would not just be expanding with new vehicles but also penetrating the entire value chain, extending to the rental, used or refurbished vehicles, and aftermarket business. We have been moving toward the African market from Japan, but we decided to change our strategy by approaching it from Europe. Since April this year, we have shifted our strategy for Africa. We are organizing and tackling it through Komatsu Europe, where it often shows that the distribution network is shared between Europe and Africa, as well as other overlapping elements. Although the African market still has a lot more room to grow, the business there is not yet stable. It is a region that has a volatile climate, famines and political instability, making it difficult to do business. However, due to its promising potential, we want to strengthen and accelerate our efforts in that area. To that end, we believe that it is also important to think about financing and become more ambitious in that regard.
The number of construction vehicles in operation doubled in 2010, from 150,000 to 300,000 in emerging markets such as Asia. Since then, however, we have not seen any drastic increase. We believe that there will be another significant rise in the volume of construction vehicles from the African continent. We are in the phase of creating the ripest conditions to respond to that increase in demand that we foresee to happen very soon.
Imagine we will interview you again on the last day of your presidency. Is there a goal or ambition that you would like to have achieved by then?
The most important thing is to successfully pass the baton to the next generation. Last year, our company reached its 100-year anniversary since its founding. In line with what we have emphasized in our newest mid-term management plan, it is vital to consider the next stage, the next 100 years and the next generation. 'Next' is the keyword that appears throughout our future plans. Succession is my duty as president. To create a successful next generation, we have to pay attention to the kind of seeds we are planting now. One of those seeds is electrification. As I mentioned, since there is no market for EVs in the construction industry, our efforts in this field may not necessarily bring about gains in the short term. However, we will continue to make investments in that area with a long-term view in mind. We want to strengthen and accelerate our Smart Construction business. It is still in its early stages, but my role is to continue the solution business, plant seeds and expand our investments in that.

For example, with EARTHBRAIN, we are investing JPY 10 billion every year in the platform or application. We are eager to see how those seeds can blossom and bear fruit in the future. As the president, my role is to identify areas to plant seeds now and ensure a successful next generation for the company. We have a very solid and clear vision of how we foresee the expansion of our business, which is about creating and enabling the world's construction environments or sites to achieve safe, highly productive, smart and clean workplaces of the future through our "Monozukuri" process and technological innovation. We want to be known for quality and reliability by our customer. That is the essence of Komatsu's business. We want to leverage our strengths and have an edge over our competitors. Moreover, we want to make sure that our founding principle or corporate philosophy is to be successfully passed down to the next generation.